Lesson Objectives:
- Improving quality and length of life
- Yunus and microlending
- Continuing social modernization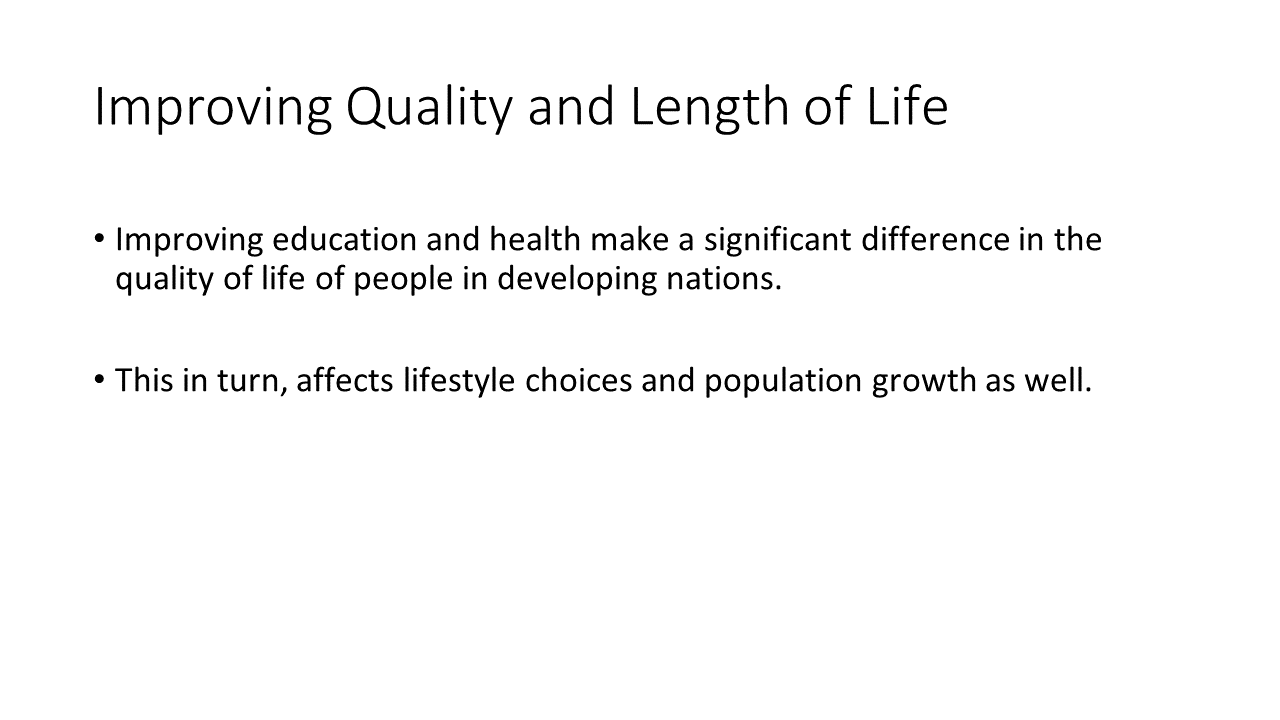 Improving education and health make a significant difference in the quality of life of people in developing nations. Life expectancy in 1955 was 48. Today, life expectancy is past 68 and is expected to reach 73 worldwide by 2025.

Eradicating disease and having better sanitation has a remarkable effect on quality and length of life. In addition, education and healthcare for reproductive health, especially for women, and family planning where people can choose when to have kids and only if they want them and when they are ready, have helped improve health standards.

This in turn, affects lifestyle choices and population growth as well.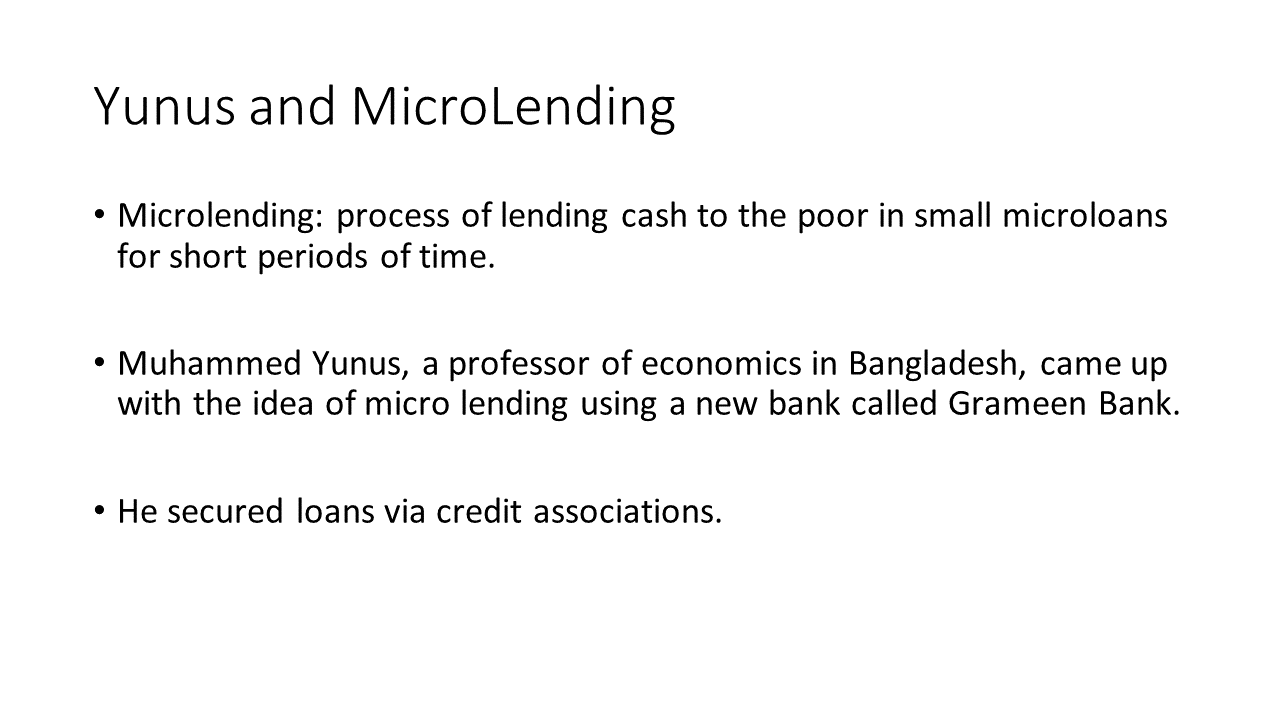 Microlending is the process of lending cash to the poor in small microloans for short periods of time.

Muhammed Yunus, a professor of economics in Bangladesh, came up with the idea of microlending using a new bank called Grameen Bank. Most micro loans averaged $370 and were paid back over 4-6 months. These were given out to farmers, auto mechanics, bakers and small businesses. By 2011, more than 3.5 million people had taken out loans.

He secured loans via credit associations where groups of people among the recipients agreed to be responsible for each other's loans. This process was very successful with 97% payback of all loans. Microlending has been highly successful in raising standards and quality of life for women.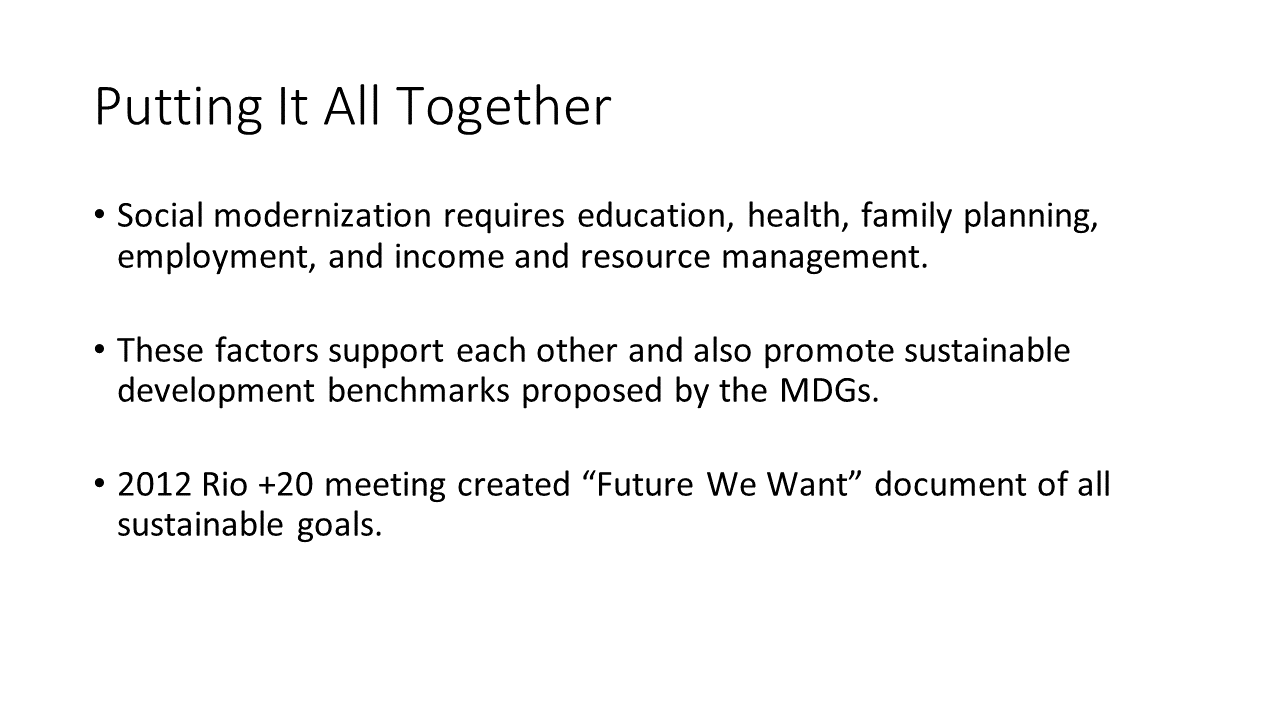 Social modernization requires education, health, family planning, employment, and income and resource management. These factors support each other and also promote sustainable development benchmarks proposed by the MDGs.

The 2012 Rio +20 meeting created the "Future We Want" document listing out all sustainable goals. The challenge lies in continuing the progress in developing countries for economic and social improvement while following sustainable practices.