Lesson Objectives:
- Subsistence agriculture
- Modern agriculture
- The Green Revolution
- Animal farming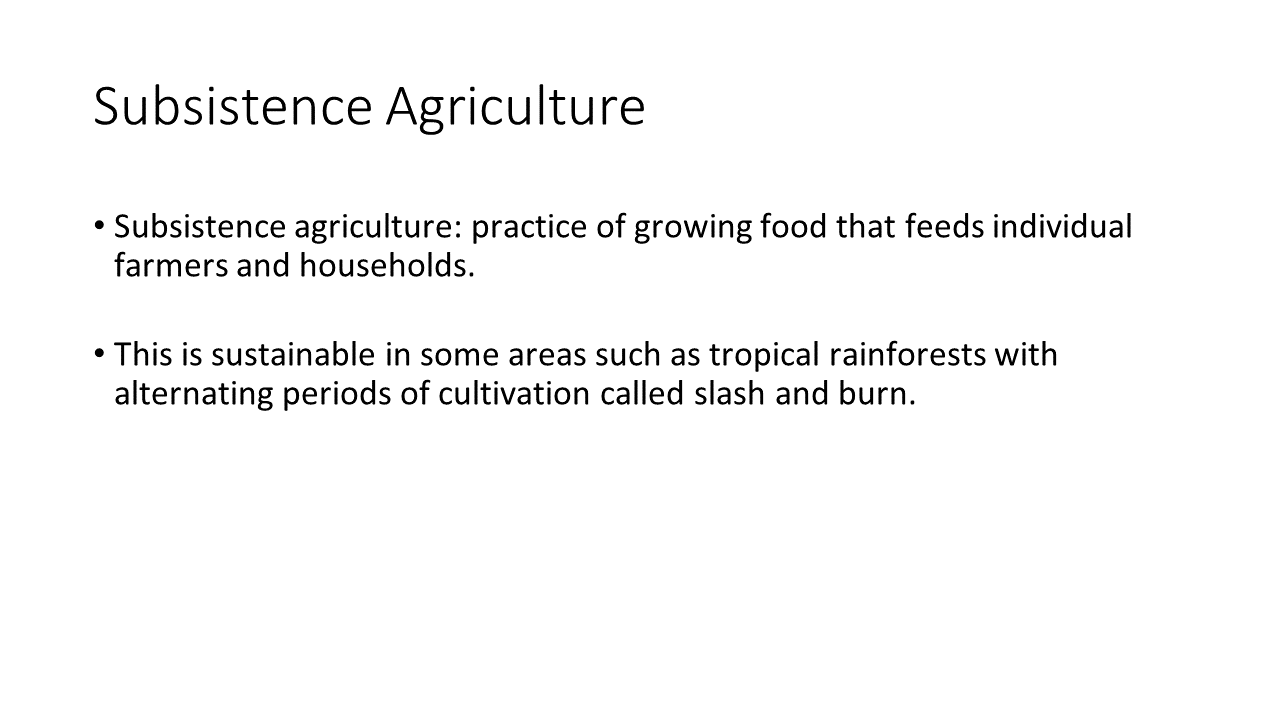 Since the Neolithic Age, human beings have been relying upon the land for food. Subsistence agriculture is the practice of growing food that feeds individual farmers and households. This is common all over the world. Human societies have expanded upon this to develop commercial practices and have succeeded in putting food on the table and storing food for the future. World food production has doubled in the past 30 years.

This is sustainable in some areas such as tropical rainforests with alternating periods of cultivation called slash and burn.

Africa has mainly subsistence agriculture in about 2/3 of the continent. However, high population growth, unstable governments, low yields, poverty, and lack of basic amenities has made this form of agriculture inadequate to meet the needs of people. Africa also imports food at higher prices. African scientists are now working to bring their countries up to speed and are using agricultural practices common throughout the rest of the world to feed growing populations.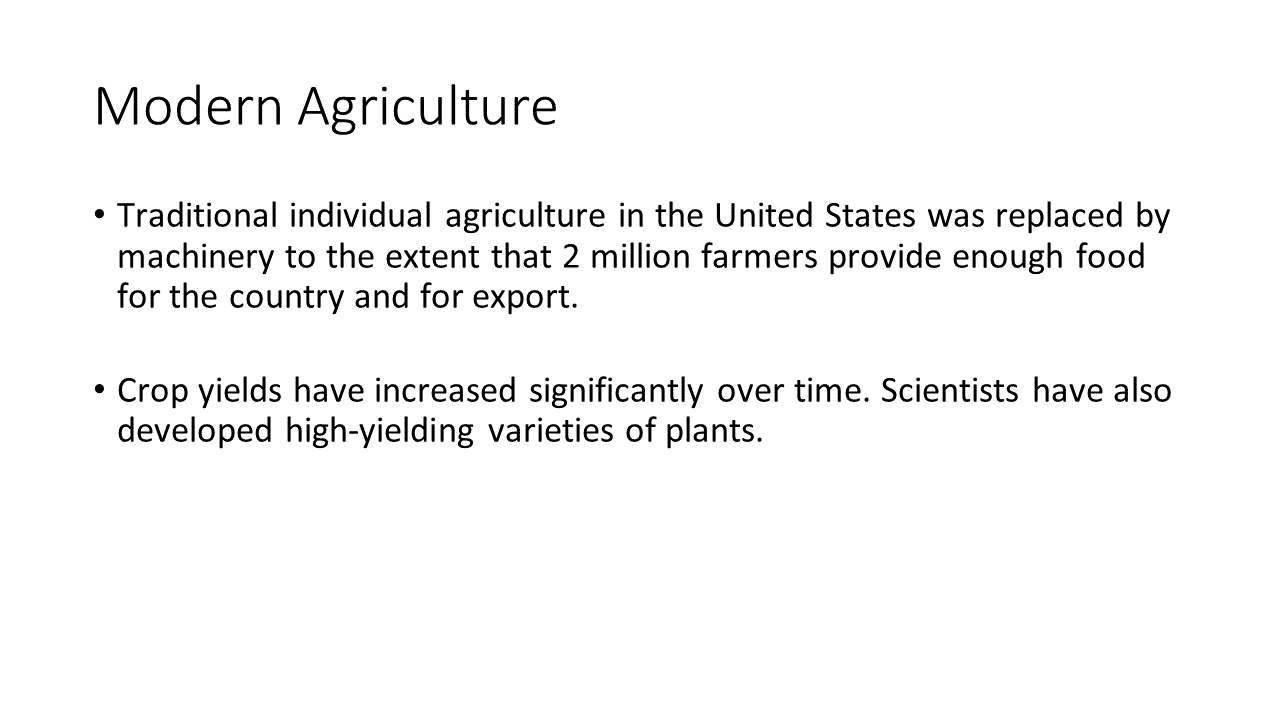 Traditional individual agriculture in the United States was replaced by machinery to the extent that 2 million farmers provide enough food for the country and for export. While the number of farms decreased from 6.8 million in the 1930s to 2.02 million in the 21st century, the size of farms has grown fourfold, averaging 418 hectares apiece. Farmers in the United States have access to every type of machinery available for all stages of production from working the soil to harvesting.

Crop yields of staple foods like corn, wheat and soybean have increased significantly over time. Scientists have also developed high-yielding varieties of plants.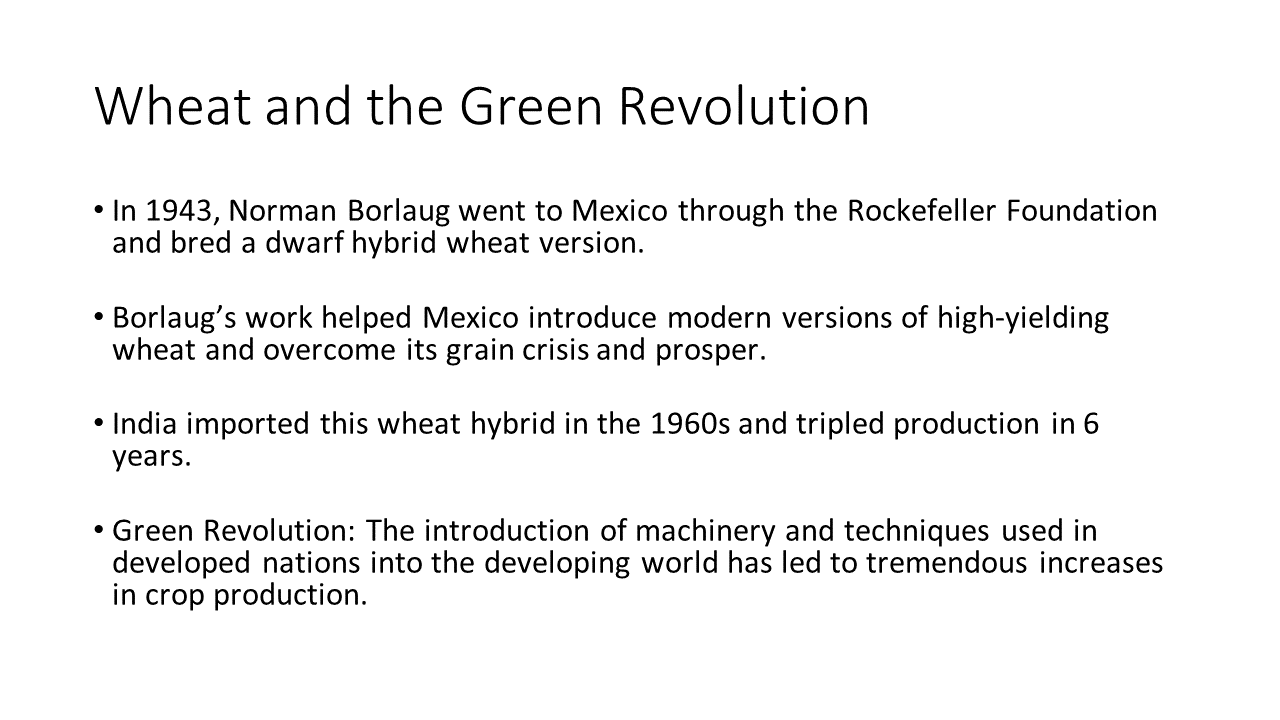 In 1943, Scientist Norman Borlaug went to Mexico through the Rockefeller Foundation and bred a dwarf hybrid wheat version.

Borlaug's work helped Mexico introduce modern versions of high-yielding wheat and overcome its grain crisis and prosper. India imported this wheat hybrid in the 1960s and tripled production in 6 years. Despite population growing at 2% a year, the world's most populous countries have increased rice and wheat production by 4% or more.

The introduction of machinery and techniques used in developed nations into the developing world has led to tremendous increases in crop production. This is known as the Green Revolution.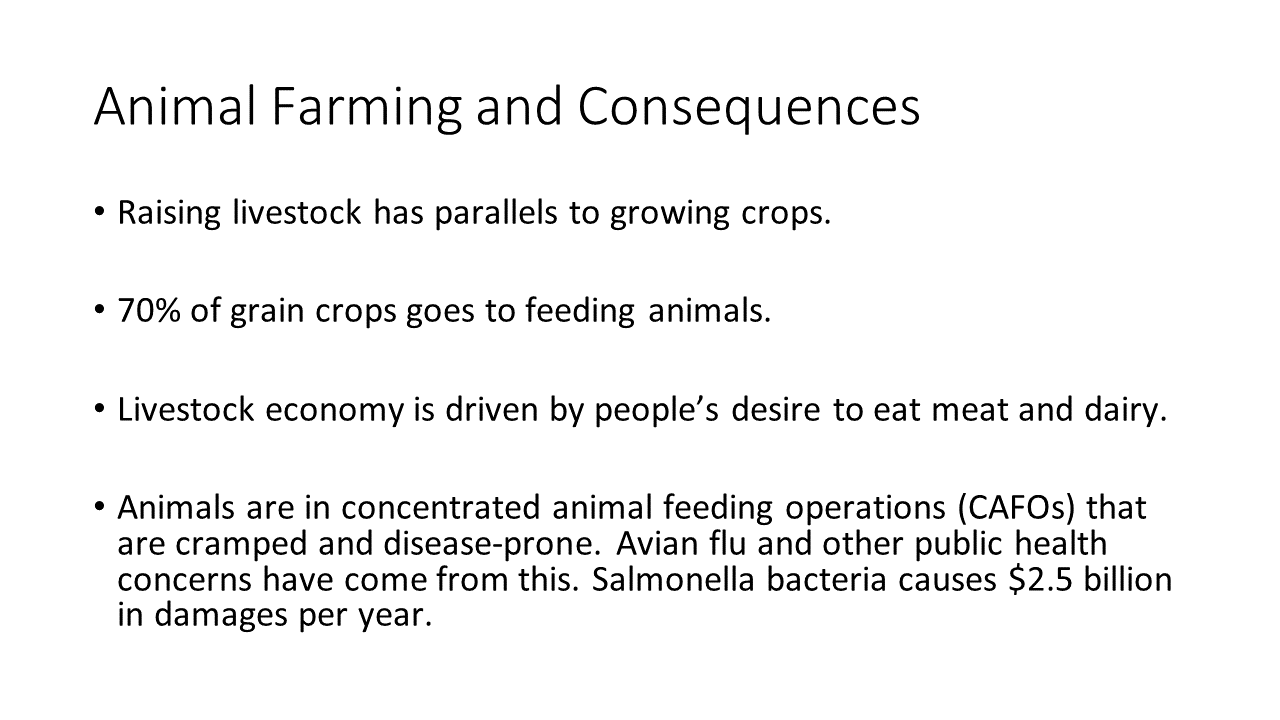 Raising livestock has parallels to growing crops. 70% of grain crops in the United States goes to feeding animals. The livestock economy is driven by people's desire to eat meat and dairy.

Animals are in concentrated animal feeding operations (CAFOs) that are cramped and disease-prone. Avian flu and other public health concerns have come from this. Salmonella bacteria causes $2.5 billion in damages per year. Cattle emit 80 million tons of methane, a greenhouse gas that contributes to climate change. Better diets can lower methane production.

Animals that are well-managed can enhance the soil and enable farmers to maintain a balanced ecosystem.