Lesson Objectives:
- Economics and the environment
- Economic systems
- International trade
- The need for a sustainable economy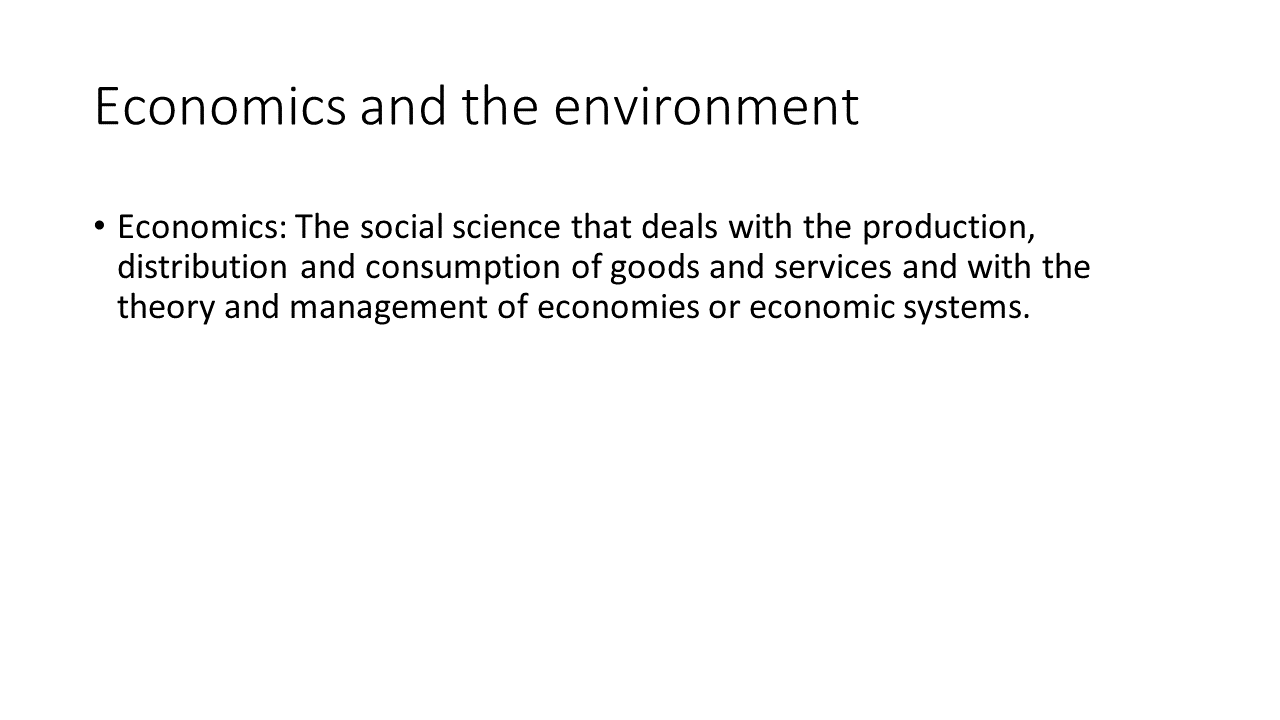 Economics and the environment have a strong impact upon each other. Economics is the social science that deals with the production, distribution and consumption of goods and services, and with the theory and management of economies or economic systems.

Having a strong economy offers greater opportunities along with more income for individuals. In the past 40 years, China has led the world in economic growth, creating millions of jobs and becoming the factory of the world, producing almost everything imaginable. With a population of 1.35 billion, China has a massive pool of labor and a growing middle class of 100-150 million. Chinese schools are also growing at an accelerated rate and there is a lot of social mobility with this economic boom. However, the country also has some of the most polluted cities in the world where you have to wear a mask to protect from the air pollution, and cancer and respiratory diseases have increased substantially due to toxic water and pollution. In recent years, China has started developing environmental policies to stop toxic waste from being dumped into local rivers.Having an environmental policy is thus imperative to protect natural systems and people.

Since economic systems are connected to and dependent upon environmental goods and services, economies need to be grounded in an understanding of the biological and physical world.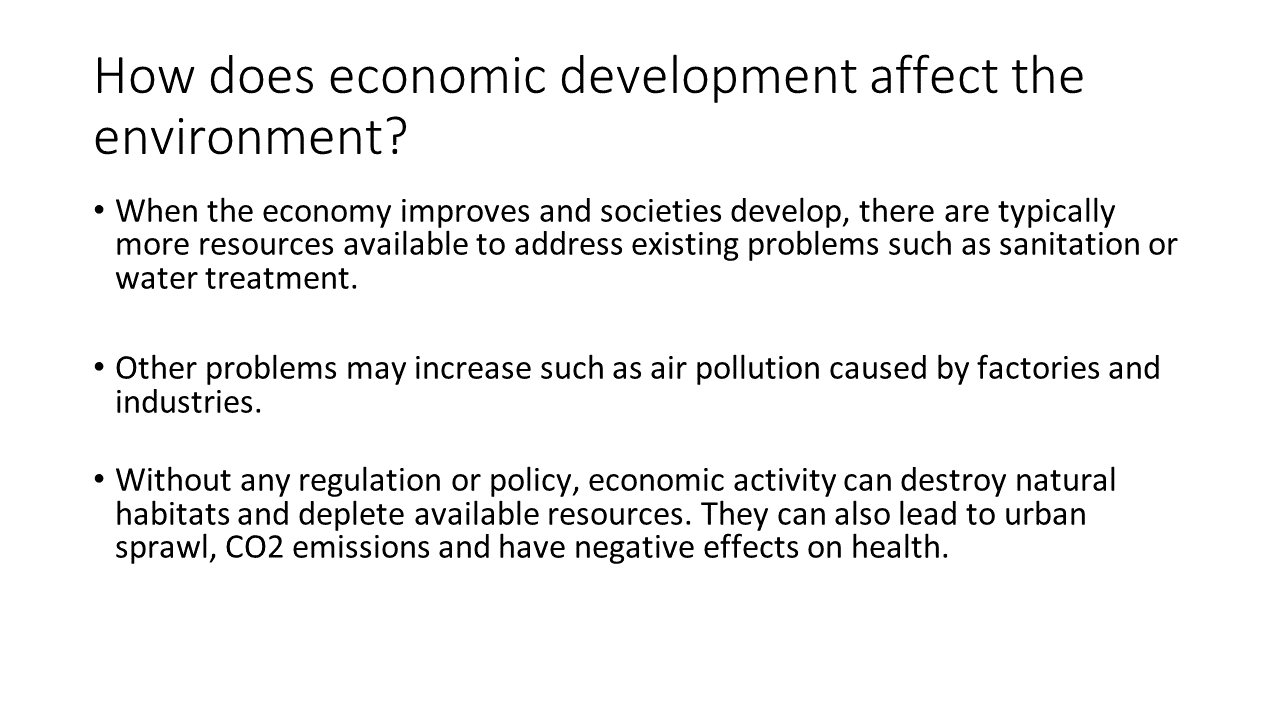 When the economy improves, there is more capital and other resources available to address serious environmental problems such as sanitation. However, other problems may increase as there is more economic activity. Industrial production by factories leads to air pollution and can lead to respiratory diseases.

Economic activity is vital to a nation's growth but it does require some planning and checks and balances. Natural resources are limited. With increased economic activity, there is increased encroachment on lands, biodiversity and ecosystems. Without any regulation or policy, economic activity can destroy natural habitats and deplete available resources. They can also lead to urban sprawl, CO2 emissions, and have negative effects on health.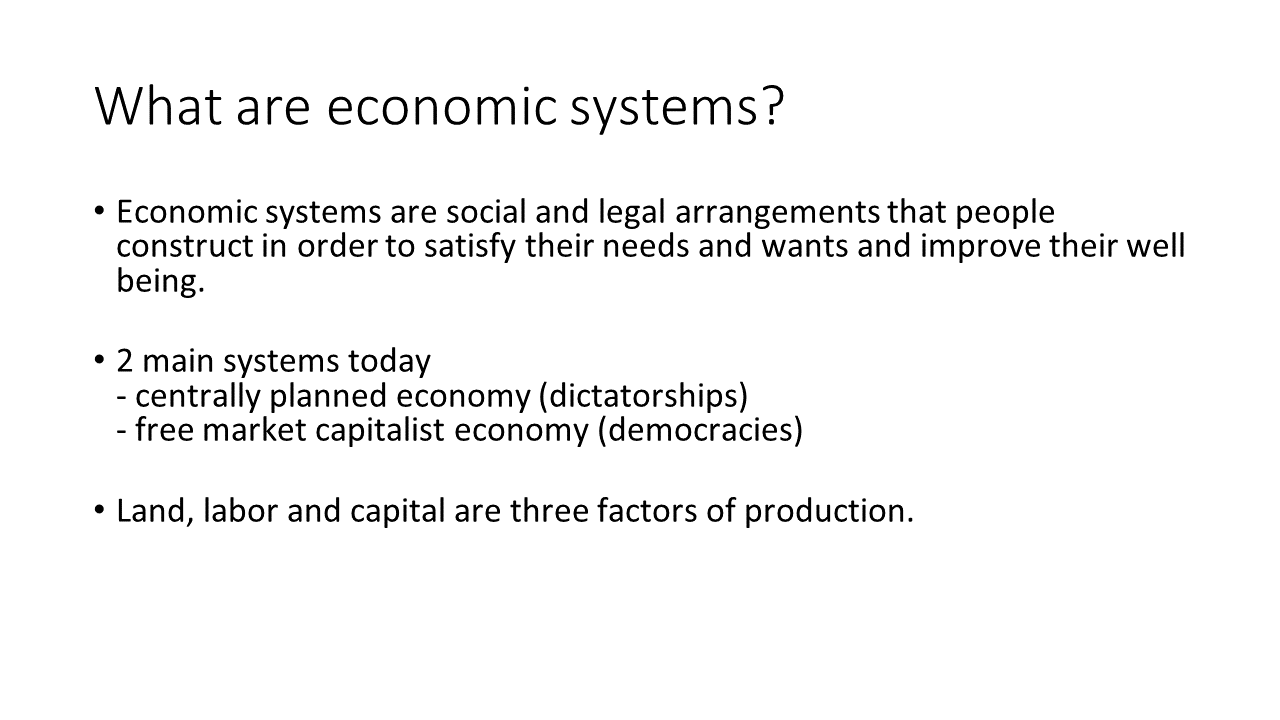 Economic systems are social and legal arrangements that people construct in order to satisfy their needs and wants and improve their well being. Every country has an economic system. Today there are principally 2 main systems in effect:
- centrally planned economy (dictatorships)
- free market capitalist economy (democracies)

Economic activity is based on production using three factors - land, labor and capital.




Most economies are hybrid systems with a varying role of government. Some governments like China have state capitalism, where they use their country's resources (labor, land and capital) to build up their own country and state-owned corporations. They restrict democracy.

In free-market economies, governments exert influence over financial systems while owning and operating infrastructure and public transport systems.




Trade is an essential economic activity. The exchange of goods drives the free market economy. Trade has become increasingly globalized and world trade today dominates society.

In 1993, the World Trade Organization (WTO) was founded to implement trade rules. The WTO also enforces these trade rules and can add or eliminate trade barriers (tariffs).

While the WTO has encouraged global economic trade, it has also developed a reputation for choosing free trade over human rights or environmental issues.

There have been many protests at WTO talks, and also failure to come to consensus, with key players - US, Japan and Europe - refusing to budge from their positions.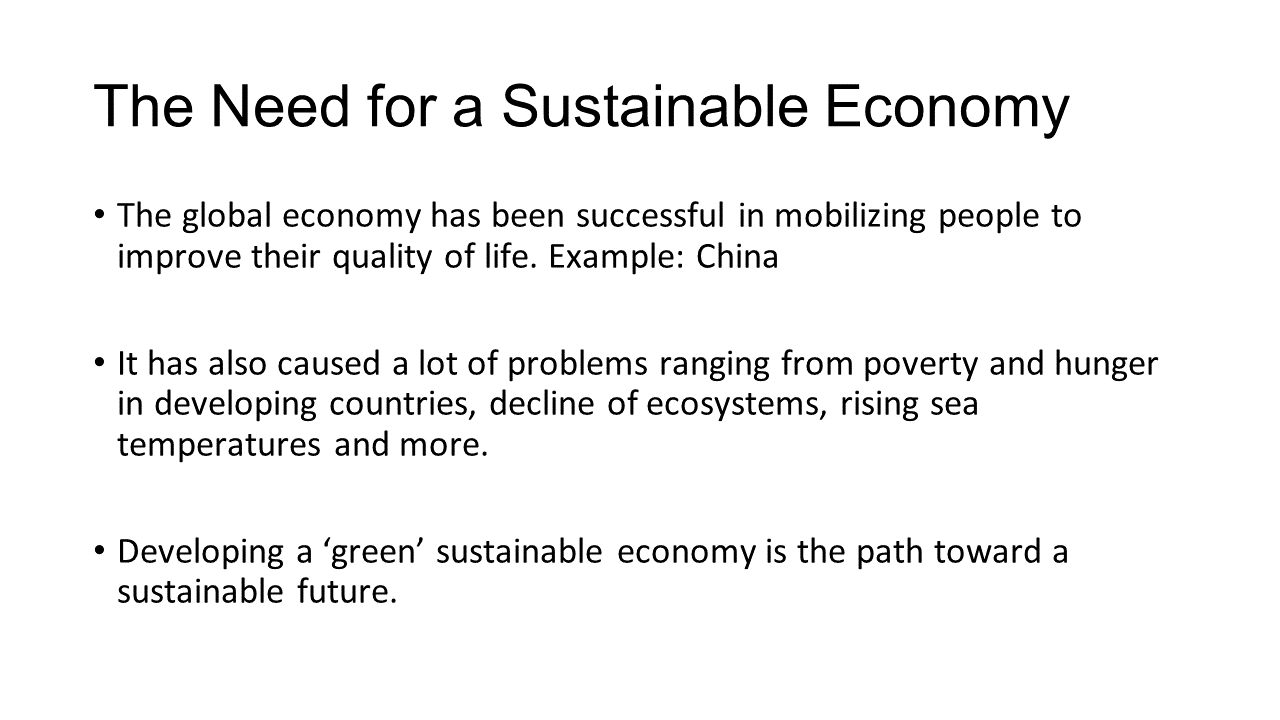 The global economy has been successful in mobilizing people to improve their quality of life. China is a great example of this as increased economic activity has pulled millions out of poverty.

However, it also has caused lots of problems ranging from poverty and hunger in developing countries to declining ecosystems, rising sea temperatures, and more.

There is a vital connection between the environment and the economy. There is also a need to develop a new 'green' sustainable economy where ecosystems are preserved, resources are sustainably harvested and the main goal of the economy is improving human well-being.