Lesson Objectives:
- Eutrophication
- Effects of eutrophication
- Combating eutrophication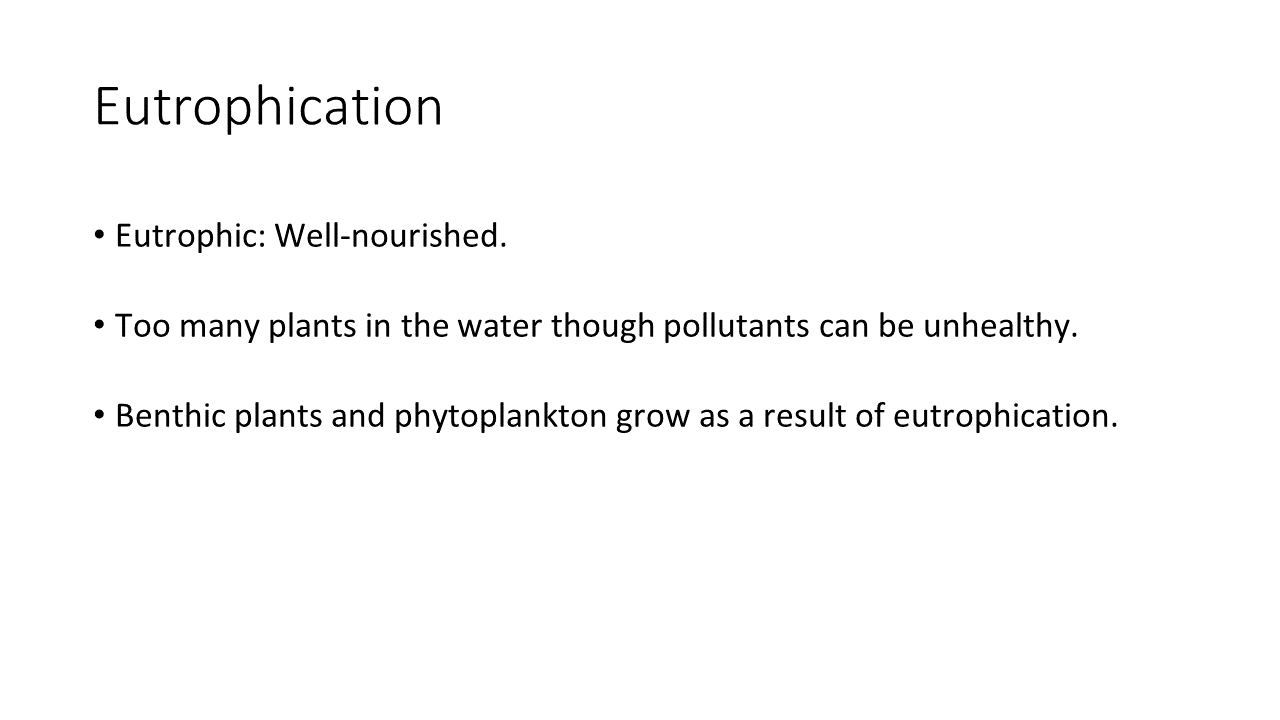 The word eutrophic means well-nourished. Eutrophication is the process where there are too many plants in the water due to high levels of nourishment or too many nutrients.

There are too many nutrients because of pollutant runoff and this excessive plant blooming in water can be unhealthy for existing fish, animals and other plants.

Benthic plants and phytoplankton grow as a result of eutrophication. Water changes color with the presence of these plants and visibility is poor.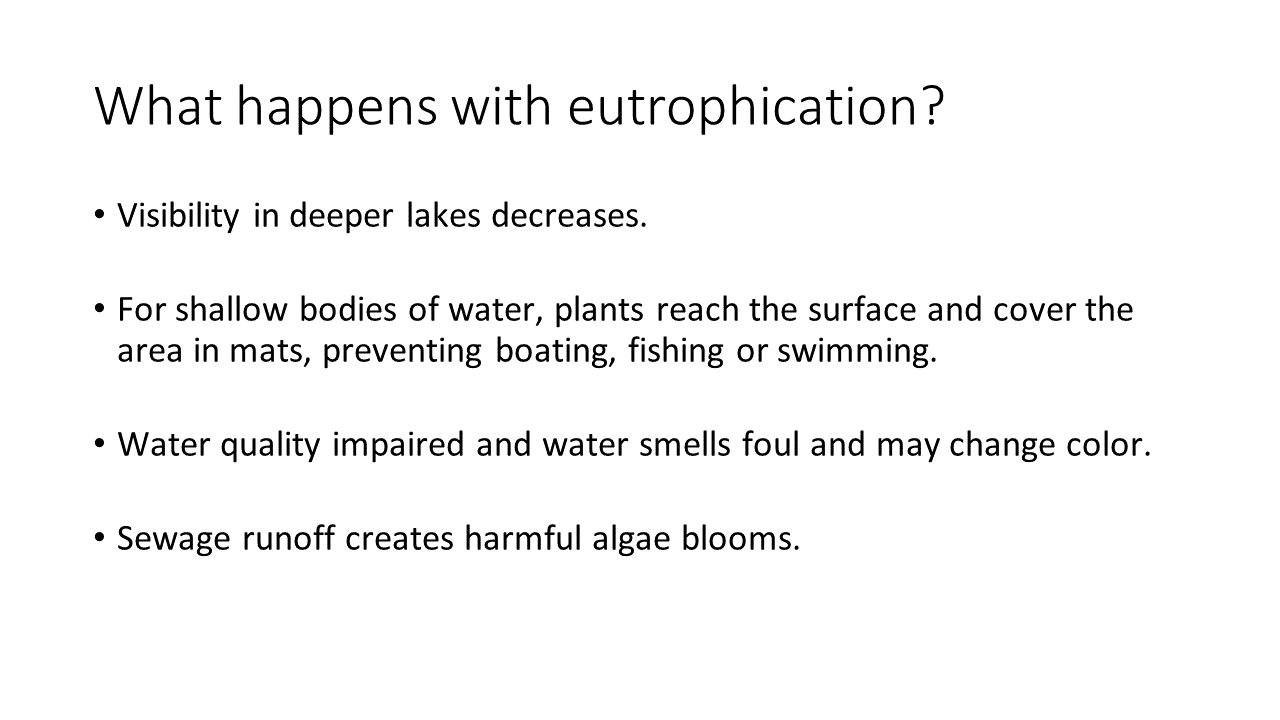 There are many negative effects of eutrophication.

Visibility in deeper lakes decreases.

For shallow bodies of water, plants reach the surface and cover the area in mats, preventing boating, fishing or swimming.

Water quality is impaired and water smells foul and may change color.

Eutrophication is generally a natural process. However, with human activity, more pollutants enter the water. Plants feed off the nutrients. Sewage runoff creates harmful algae blooms.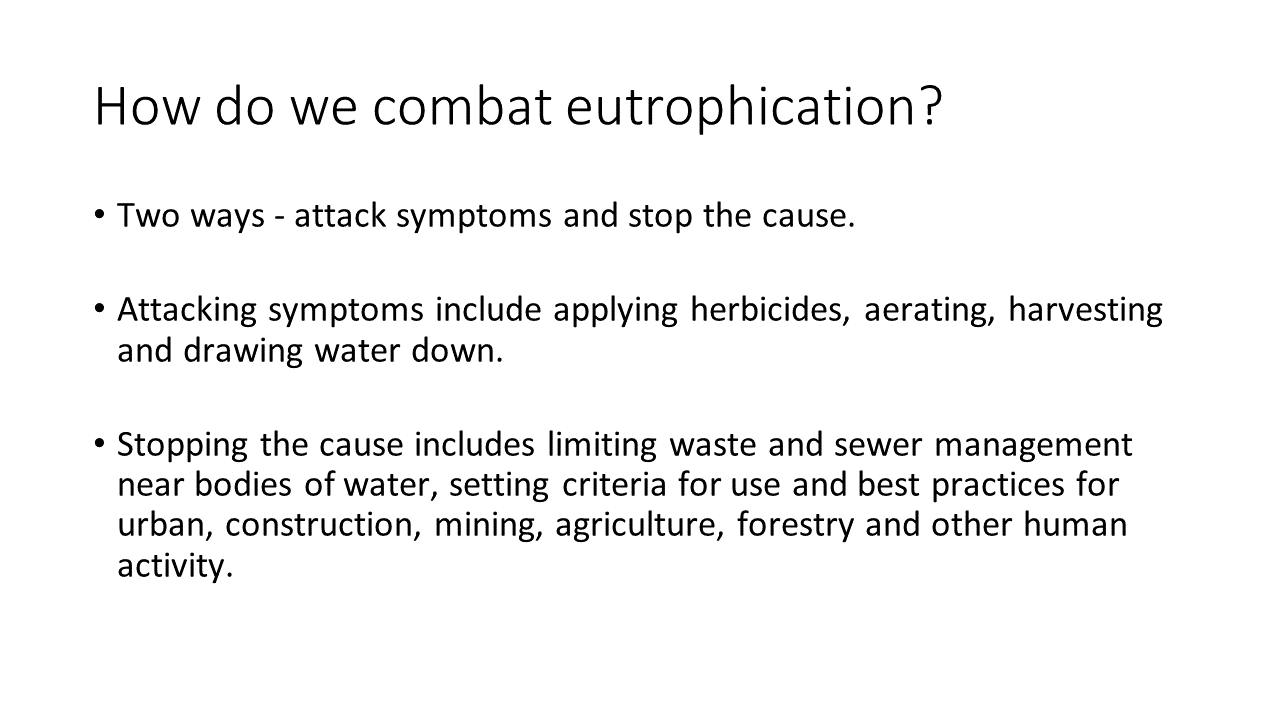 Combatting eutrophication can be done in two ways - by attacking the symptoms and by stopping the cause.

Attacking the symptoms of eutrophication can include applying herbicides, aerating, harvesting and drawing the water down.

The causes of eutrophication can be addressed by limiting waste and sewer management near bodies of water, and setting criteria for use and best practices for urban, construction, mining, agriculture, forestry and other human activity.

Watershed management approaches have been successful at stopping cultural eutrophication. An example is Lake Washington east of Seattle. During the 1940s and 1950s, it was extremely polluted with 11 sewage plants dumping in waste daily at the rate of 20 million gallons a day, resulting in large blooms of blue-green algae. Today, Lake Washington is clean and clear after citizen efforts. Treatment plant refuse was diverted away from the Lake completely by 1968 and algae blooms stopped.