Lesson Objectives:
- Municipal solid waste
- Landfills
- Combustion of MSW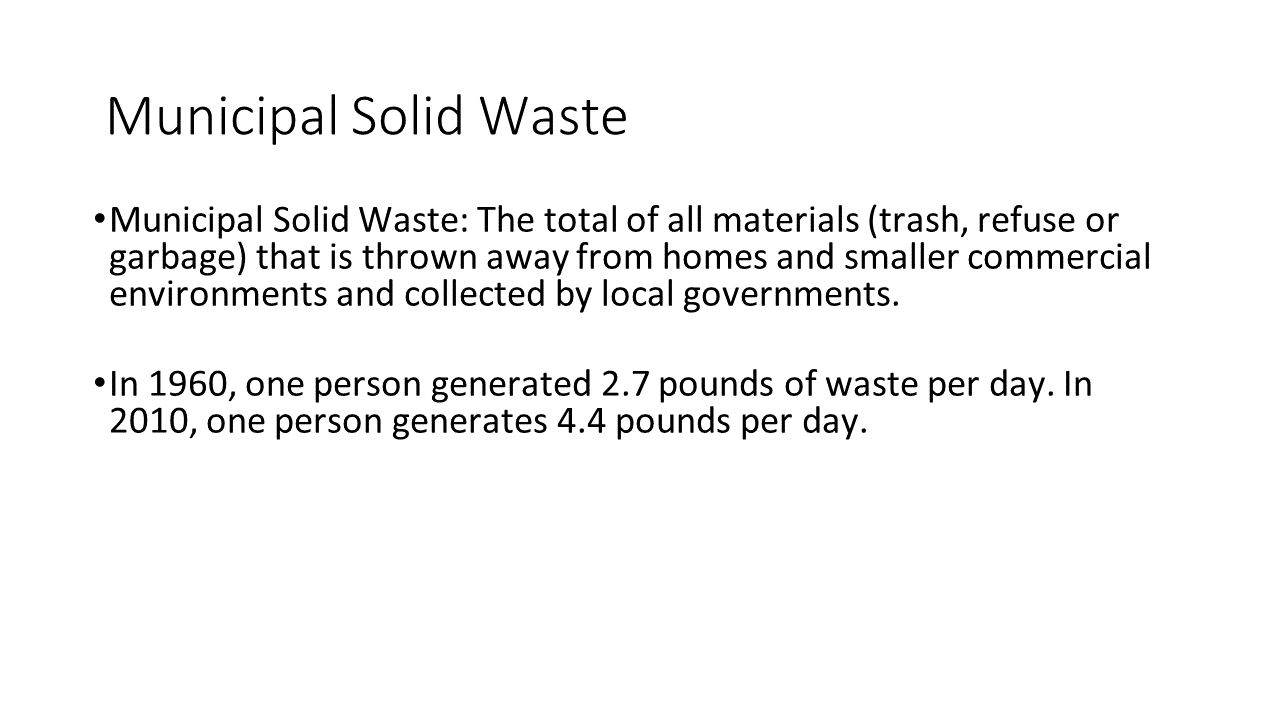 Municipal Solid Waste is the total of all materials (trash, refuse or garbage) that is thrown away from homes and smaller commercial environments and collected by local governments.

In 1960, one person generated 2.7 pounds of waste per day. In 2010, one person generates 4.4 pounds per day. Today, we generate so much municipal solid waste that it is expensive to dispose of it in ways that are environmentally responsible and protect human health.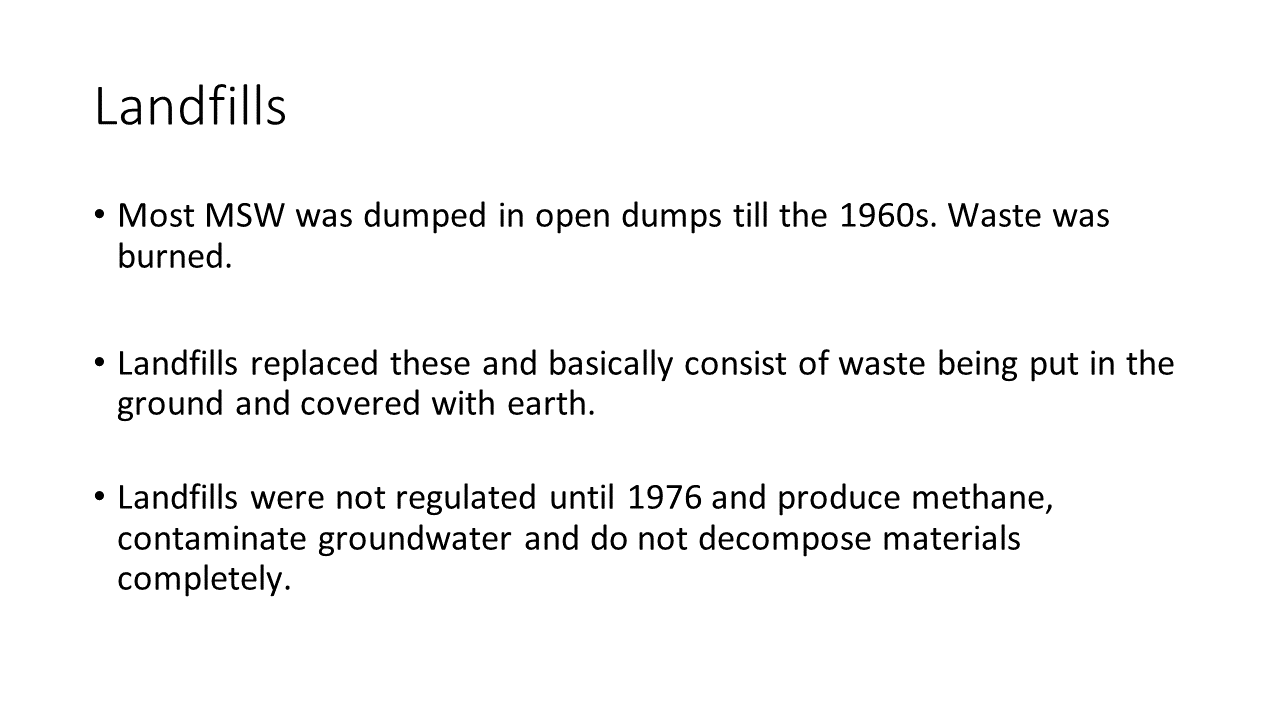 Most MSW was dumped in open dumps till the 1960s. Waste was burned.

Landfills replaced these and basically consist of waste being put in the ground and covered with earth. No other effort was made. After a site was full, it was covered over and ignored. Only in recent times has any attention been paid to landfills. There was no regulation about landfill use until 1976.

Landfills produce methane, contaminate groundwater and do not decompose materials completely. Since the waste is buried, it does not have access to oxygen and fails to decompose completely.

Since 1976, after the Resource Conservation and Recovery Act (RCRA) was passed, landfills are required to sit on higher ground above the water table, away from airports, and in stable areas with sides covered with plastic liner to prevent leachate percolation. Landfill use has decreased from 8,000 in 1998 to 1,908 in 2009.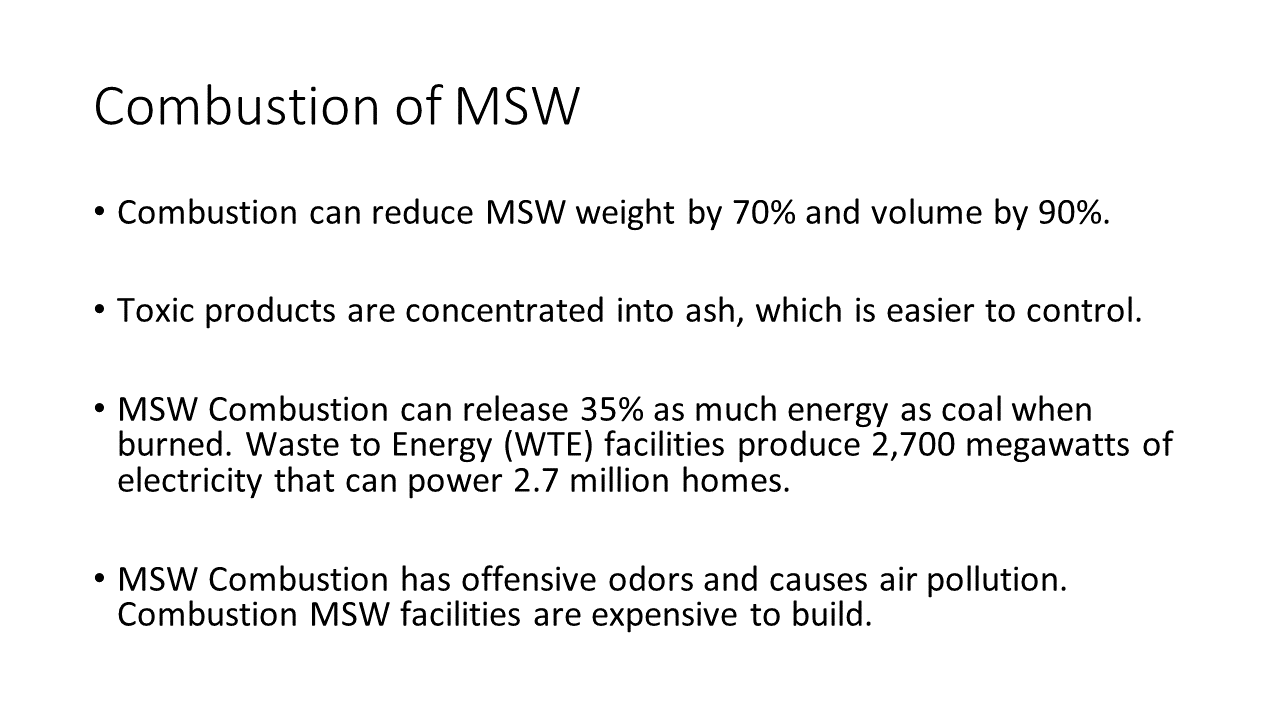 One of the ways to dispose of MSW is through combustion. Combustion has advantages. Combustion can reduce MSW weight by 70% and volume by 90%.
Toxic products are concentrated into ash, which is easier to control.

MSW can release 35% as much energy as coal when burned. Waste to Energy (WTE) facilities produce 2,700 megawatts of electricity that can power 2.7 million homes.

Combustion of MSW also has drawbacks. Combustion of MSW leads to offensive odors and causes air pollution. Combustion MSW facilities are expensive to build.

Getting rid of trash is a big problem. It is better to not produce as much in the first place (better design) and to recycle materials.