Lesson Objectives:
- Toxins and the endocrine system
- HAZMATs
- Types of dangerous chemicals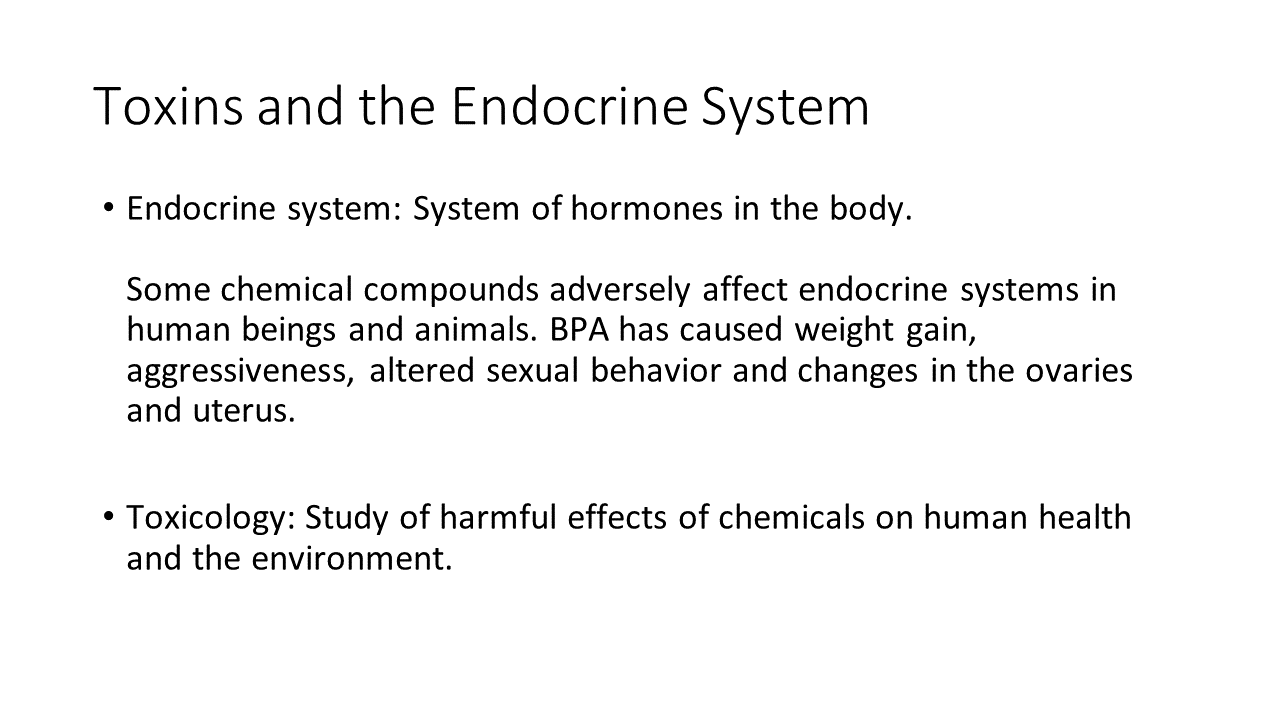 The Endocrine System is the system of hormones in the body.

Some chemical compounds adversely affect endocrine systems in human beings and animals. BPA or Bisphenol A is a chemical found in certain plastics that has been found to cause weight gain, aggressiveness, altered sexual behavior and changes in the ovaries and uterus. This has led to the banning of BPA in baby bottles.

Toxicology is the study of harmful effects of chemicals on human health and the environment. Some toxins cause irritations while others cause cancer and are deadly. The EPA establishes thresholds for toxins with minor effects on human health. Toxins that cause cancer are called carcinogenic and the EPA considers any dose above zero unsafe.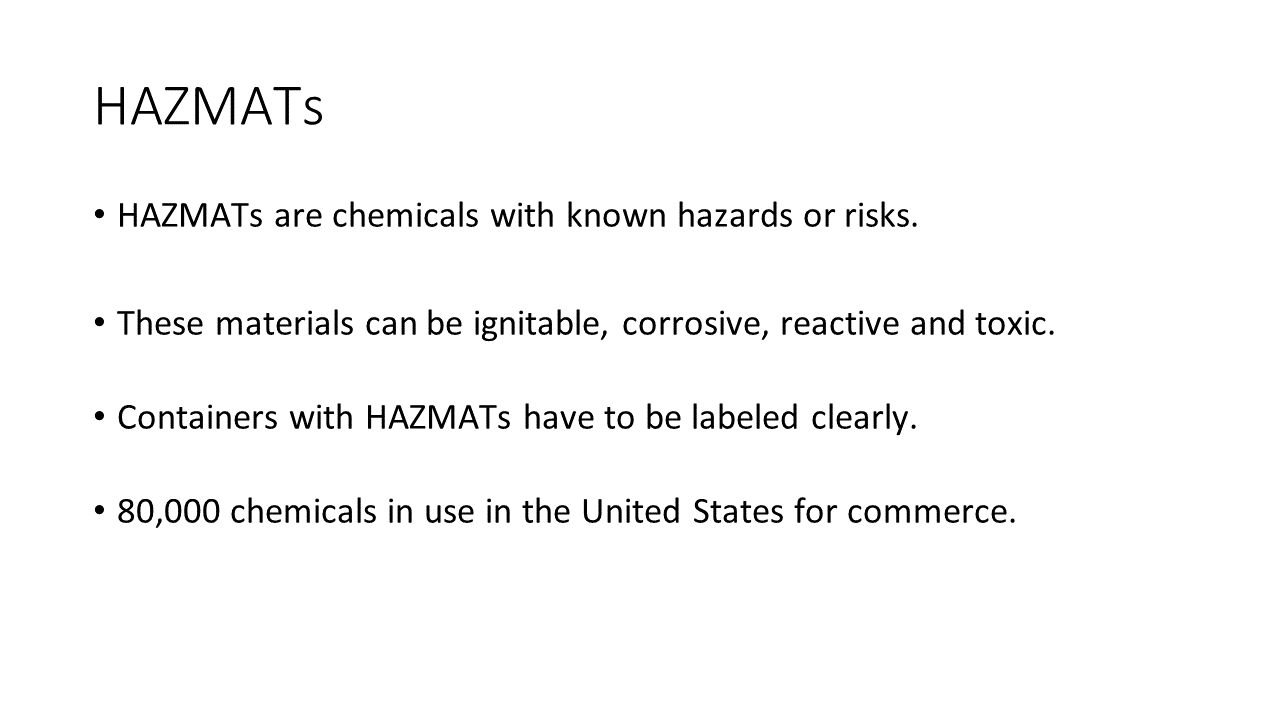 HAZMATs are chemicals with known hazards or risks. These materials can be ignitable, corrosive, reactive and toxic.

Containers with HAZMATs have to be labeled clearly.

There are over 80,000 chemicals in use in the United States for commerce. These chemicals interact with human beings and the environment at every stage from mining raw materials to manufacturing, use and disposal. Examples range from pesticides to lubricants and by-products of gasoline and other fuels.

Leakage from storage tanks can be accidental and deadly. In 1984, over 15,000 people died in Bhopal, India due to the release of toxic gas.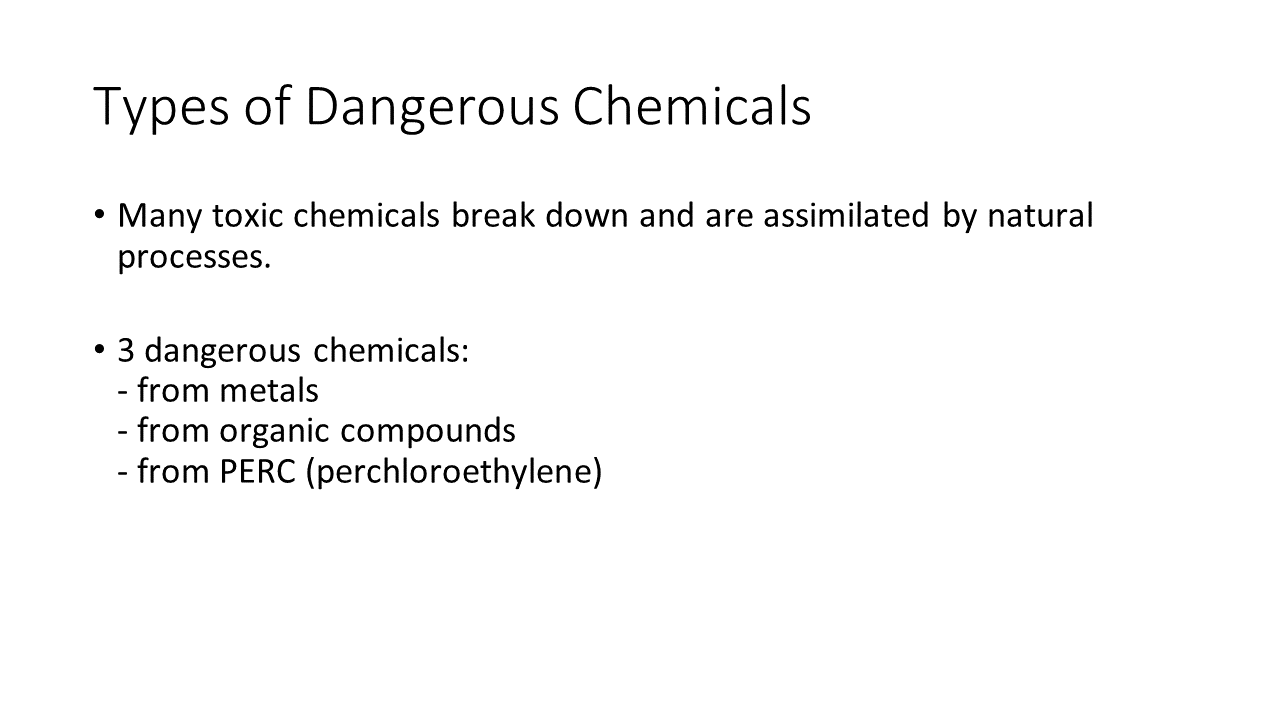 Many toxic chemicals break down and are assimilated by natural processes. After that, they do not pose long-term risk but they may be highly toxic at a high level even with short-term exposure.

Today, there are 3 main categories of dangerous chemicals: those that come from metals, those from organic compounds, and those from PERC (perchloroethylene). Heavy metals such as lead, mercury, arsenic and tin have long been used for industrial production. They were also used in dyes because of their brilliant colors. However, they can be toxic to human beings. Children have died due to exposure to lead-based paint. Lead paint was banned in 1978 but many older painted surfaces still hold lead.

Organic compounds derived from petroleum and synthetic processes are valued for their durability but they are non-biodegradable and can be toxic if ingested. Low dose exposure over a long period of time can cause mutations, cancer and birth defects as well as sterility. 12 persistent organic pollutants have been banned since 2004.

PERC is colorless and nonflammable. It is a halogenated hydrocarbon that is used in household and industrial cleaning. PERC can cause dizziness and lead to unconsciousness. Long-term, it can cause liver and kidney damage and risk for cancer and neurological impairment.

Toxic organic compounds can move up in food chains leading to death and health problems for all the organisms involved, from plants to fish to carnivores and human beings, if left unchecked.