Lesson Objectives:
- Cleaning up groundwater
- Superfunds
- Leaking underground storage tanks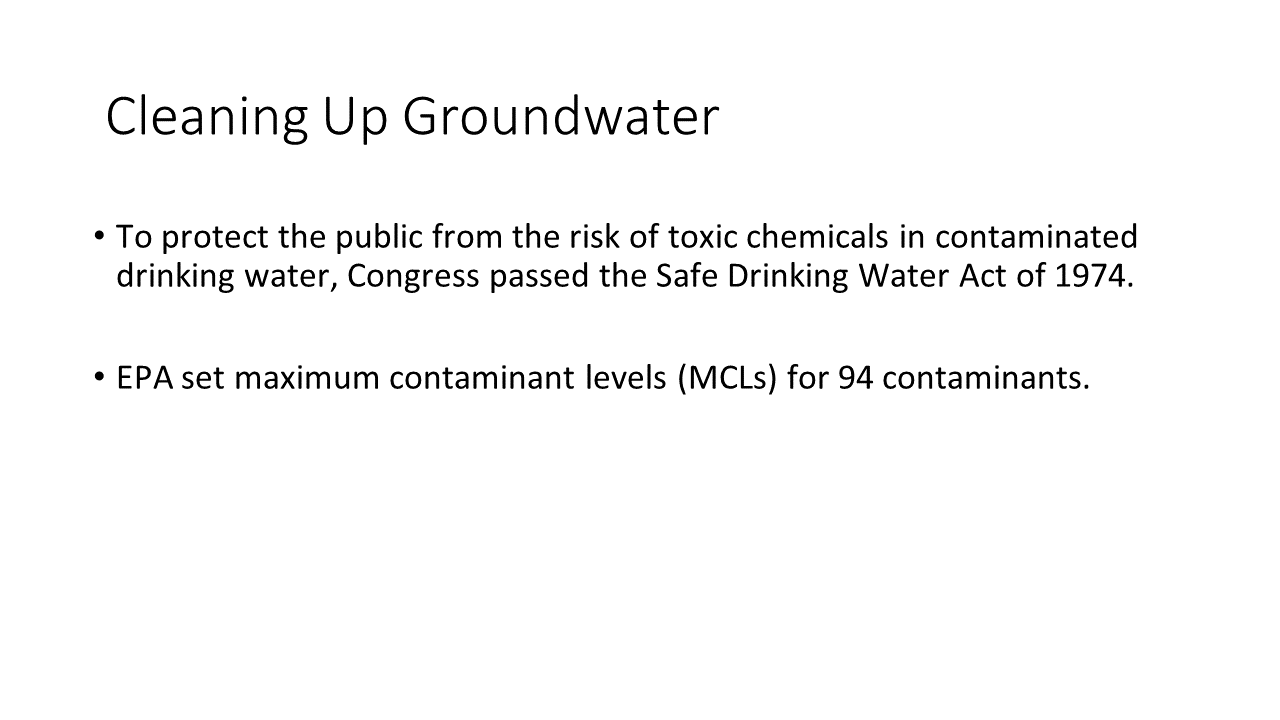 One of the main concerns of toxic waste disposal is the clean up of groundwater that was contaminated. To protect the public from the risk of toxic chemicals in contaminated drinking water, Congress passed the Safe Drinking Water Act of 1974.

The EPA set standards to protect public health. If contaminants exceed these maximum contaminant levels (MCLs), then the water supply has to be closed until there are additional purification procedures in place. The EPA set MCLs for 94 contaminants.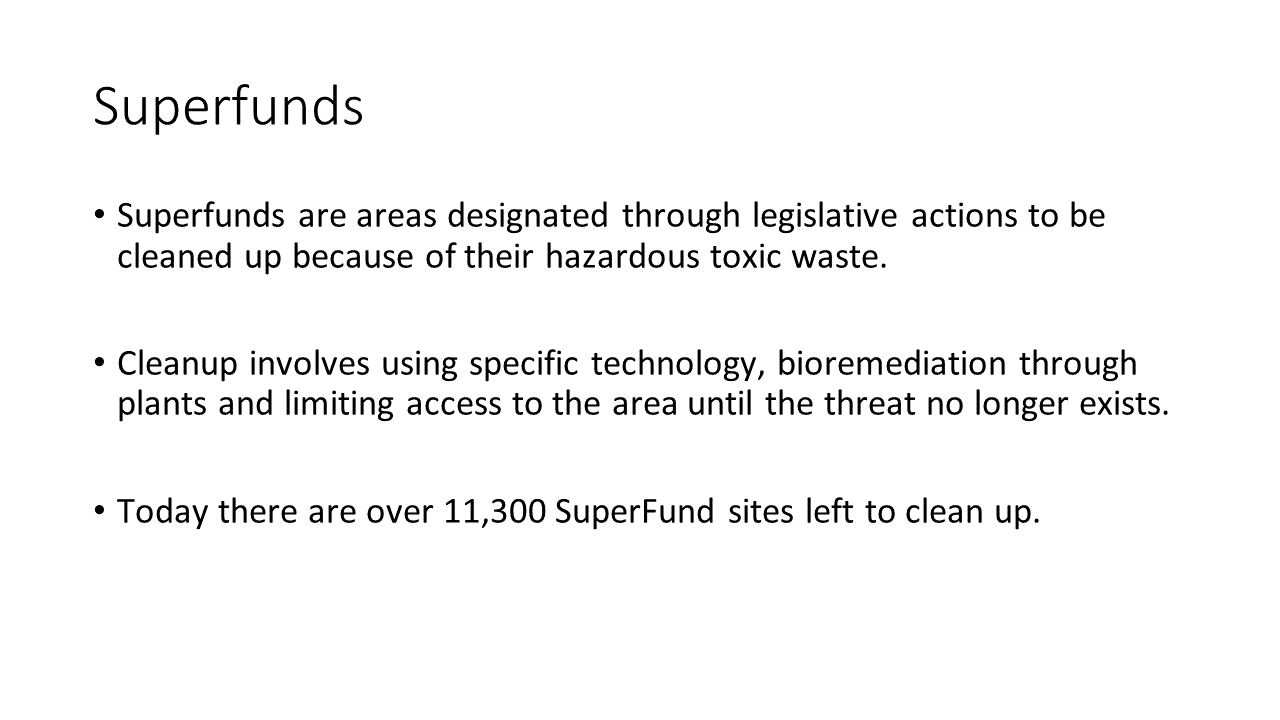 Superfunds are areas designated through legislative actions to be cleaned up because of their hazardous toxic waste. After the Love Canal incident, Congress enacted the Comprehensive Environmental Response, Compensation and Liability Act of 1980 (CERCLA) known as Superfund. By taxing raw materials, the law provided a trust fund to identify chemical waste sites, protect groundwater, clean up groundwater supplies if contained, and clean up the sites.

Cleanup involves using specific technology, bioremediation through plants, and limiting access to the area until the threat no longer exists.

Today, there are over 11,300 SuperFund sites left to clean up.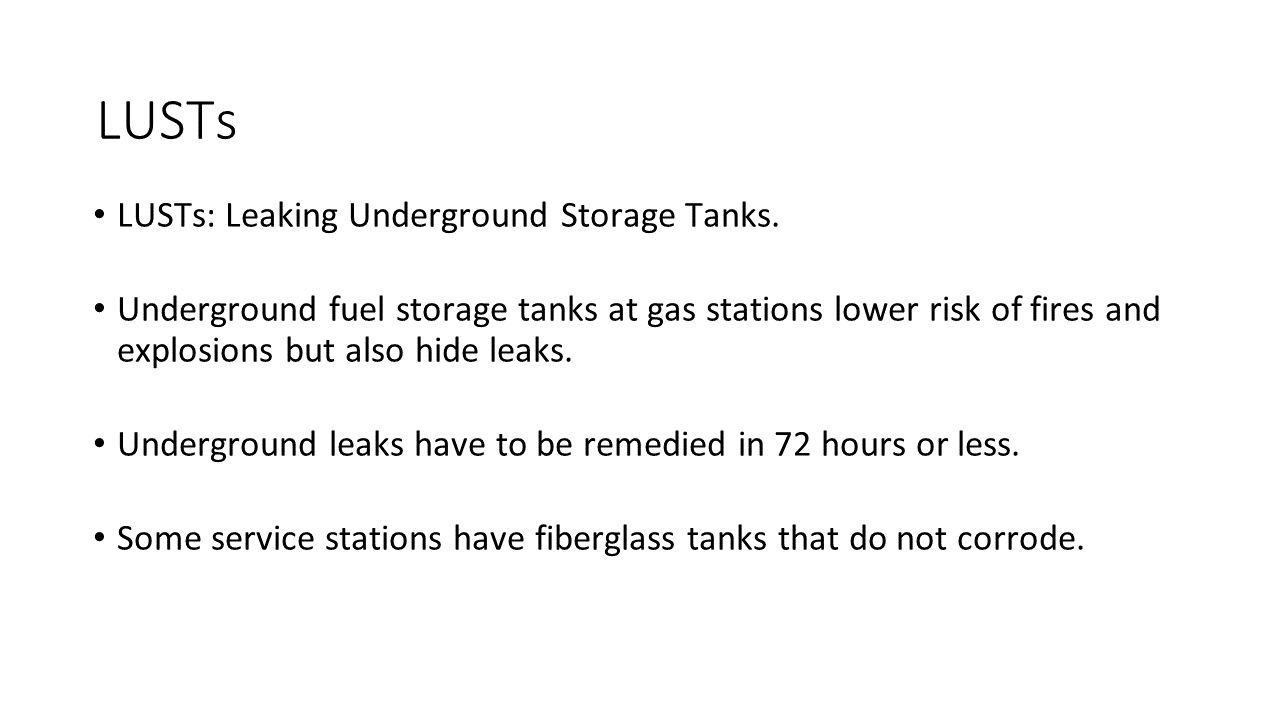 LUSTs are Leaking Underground Storage Tanks.

Underground fuel storage tanks at gas stations lower the risk of fires and explosions but also hide leaks. Without monitoring, underground leaks can go undetected until residents nearby begin to smell fuel-tainted water flowing from their faucets.

Underground leaks have to be remedied in 72 hours or less. Some service stations have fiberglass tanks that do not corrode.

By 2011, 413,000 cleanups were completed. There are still over 80,000 left to be addressed. States have reported that LUSTs are the number one source of groundwater contamination.