Lesson Objectives:
- Regulating discharge
- Regulating solid waste disposal
- Regulating the workplace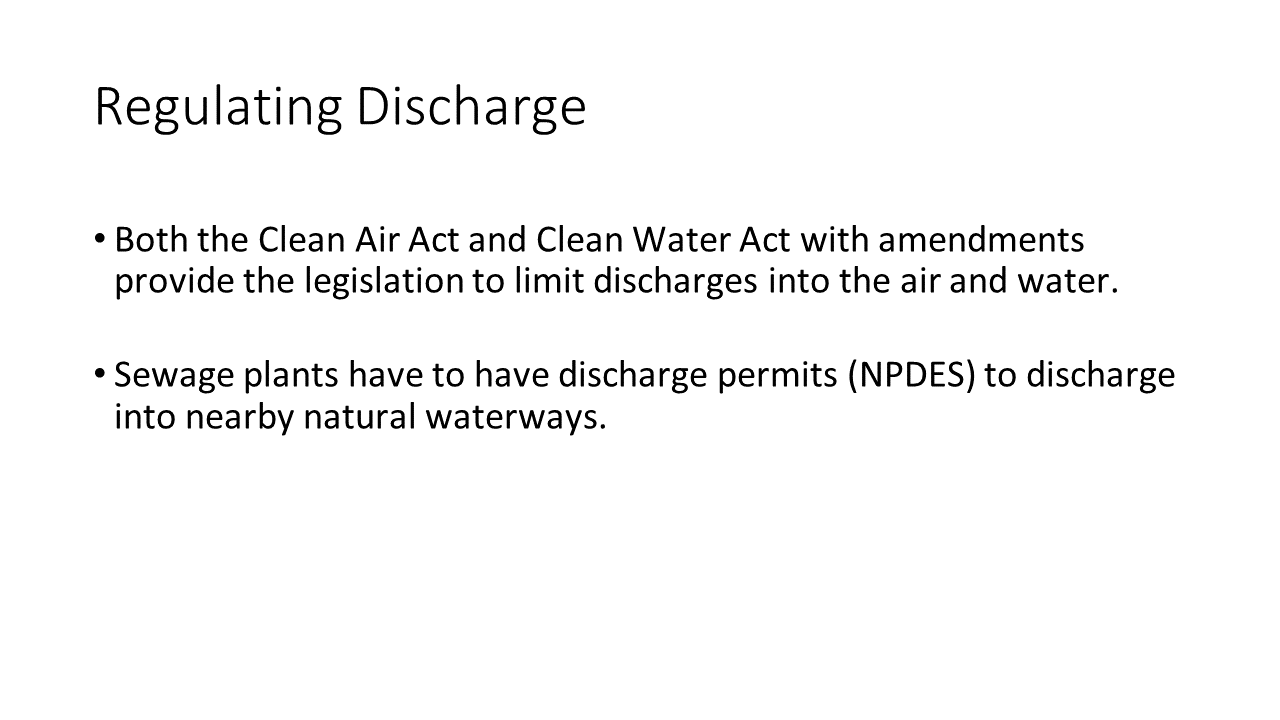 Both the Clean Air Act and Clean Water Act with amendments provide the legislation to limit discharges into the air and water.

Sewage plants have to have discharge permits called the National Pollution Discharge Elimination System, or NPDES, permits to discharge into nearby natural waterways.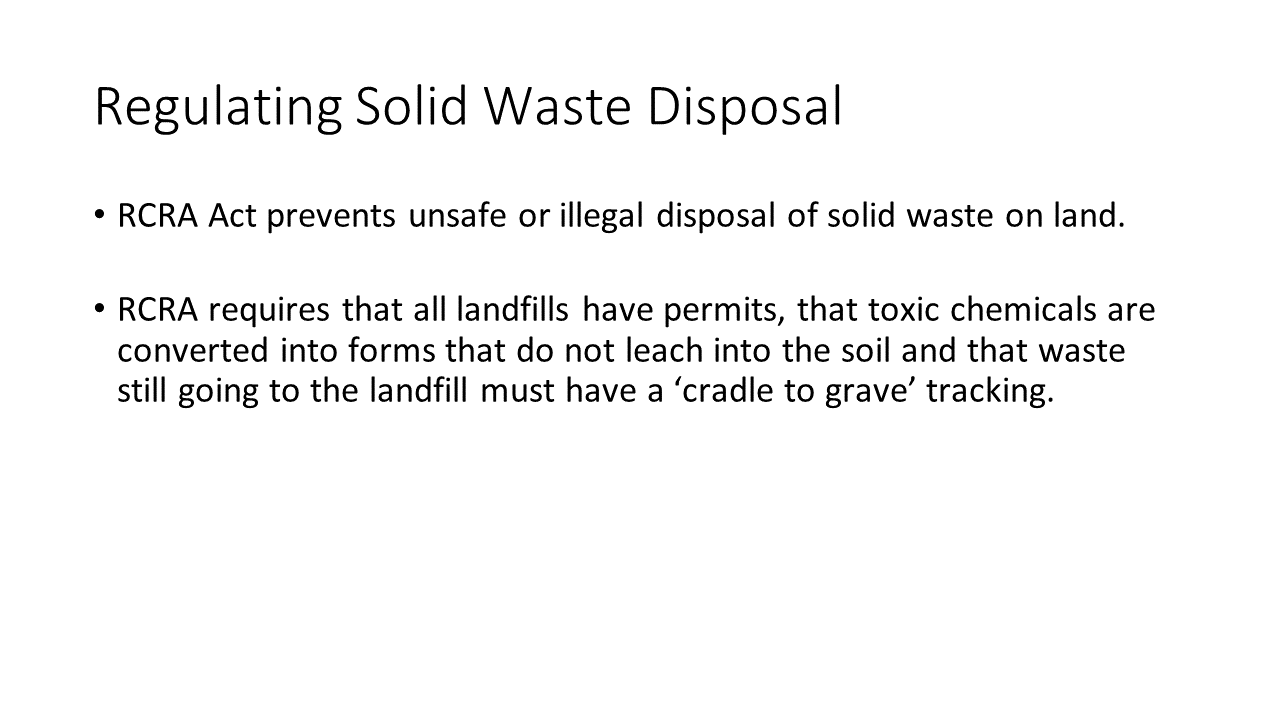 The Resource Conservation and Recovery Act or RCRA prevents unsafe or illegal disposal of solid waste on land.

RCRA requires that all landfills have permits, that toxic chemicals are converted into forms that do not leach into the soil, and that waste still going to the landfill must have a 'cradle to grave' tracking. All landfill owners and operators have to sign forms attesting to the waste, quantity and disposal methods used.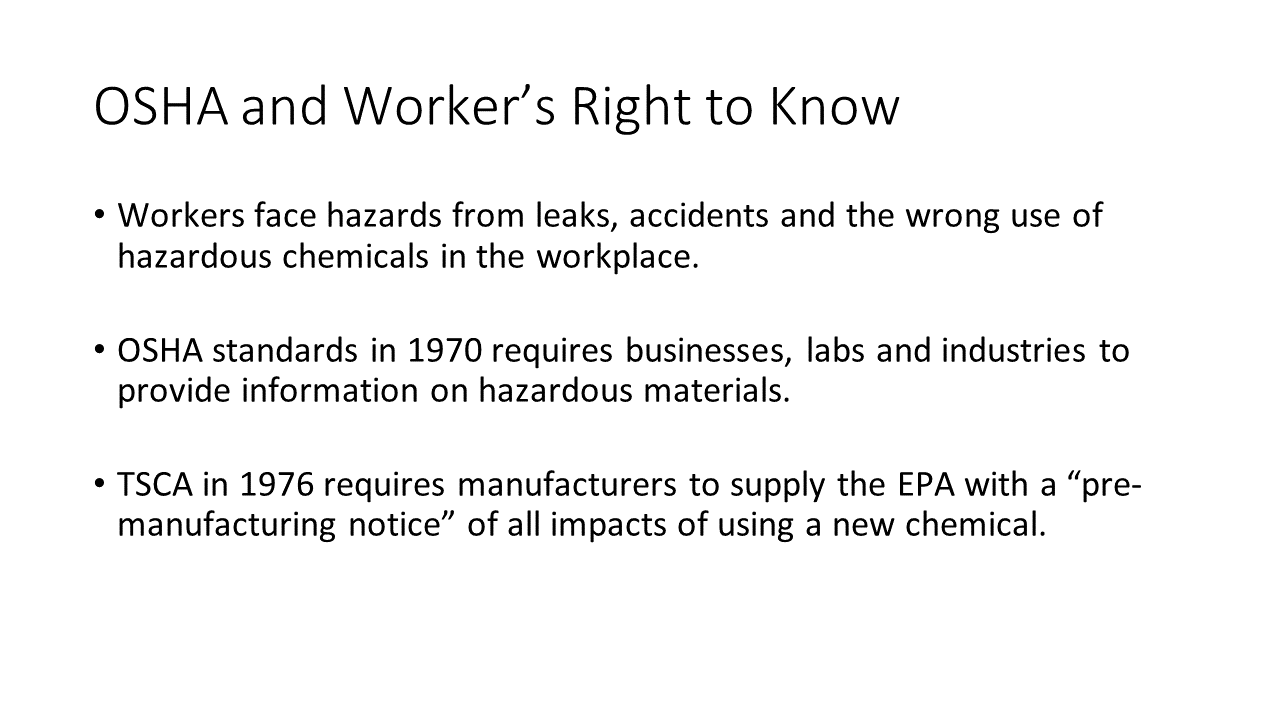 Workers face hazards from leaks, accidents and the wrong use of hazardous chemicals in the workplace.

In the past, workers were often exposed to toxins and hazards that they were not informed about. In 1970, the Occupational Safety and Health Act or OSHA set national standards that required all businesses, labs and industries to provide information on hazardous materials on site or in use. One method is via the material safety data sheet, or MSDS, that provides information on materials being shipped, stored and handled. It is up to the worker to read these documents, however.

The Toxic Substances Control Act, or TSCA, of 1976 requires manufacturers to supply the EPA with a "pre-manufacturing notice" of all impacts of using a new chemical and to indicate that it is safe for specific uses. However, many manufacturers have failed to comply with this requirement citing trade secrets for their chemical recipes. Only 200 chemicals have been tested.

In addition to these laws, the Emergency Planning and Community Right to Know Act, or EPCRA, informs people about the storage and release of new chemicals. Finally, the Department of Transportation (DOT) ensures safe transport.