Lesson Objectives:
- Define political ideology
- Conservatives and the conservative movement
- Liberals and modern liberalism
- The traditional political spectrum
- Libertarianism
- Downsides to the political spectrum
- The Four-Cornered Ideological Grid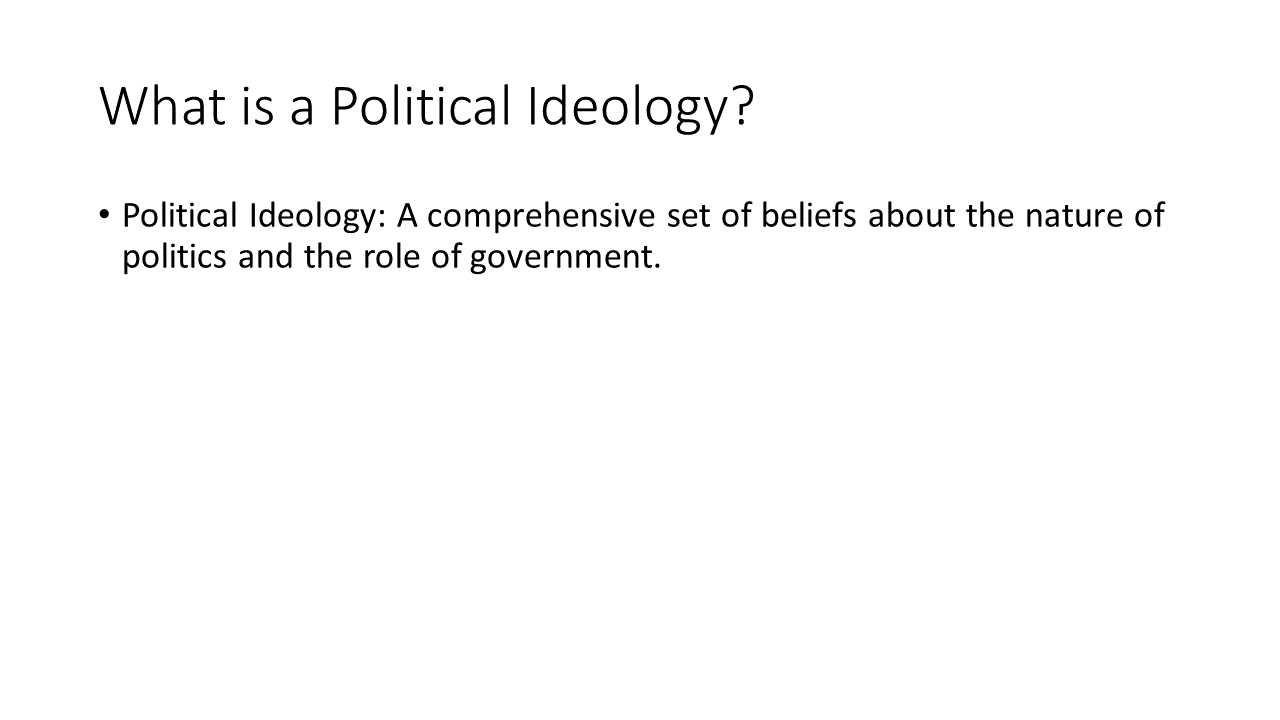 A person does not have to be on any particular political extreme to have a political ideology.

A Political Ideology is simply a comprehensive set of beliefs about the nature of politics and the role of government.

Anyone with a political opinion has an ideology.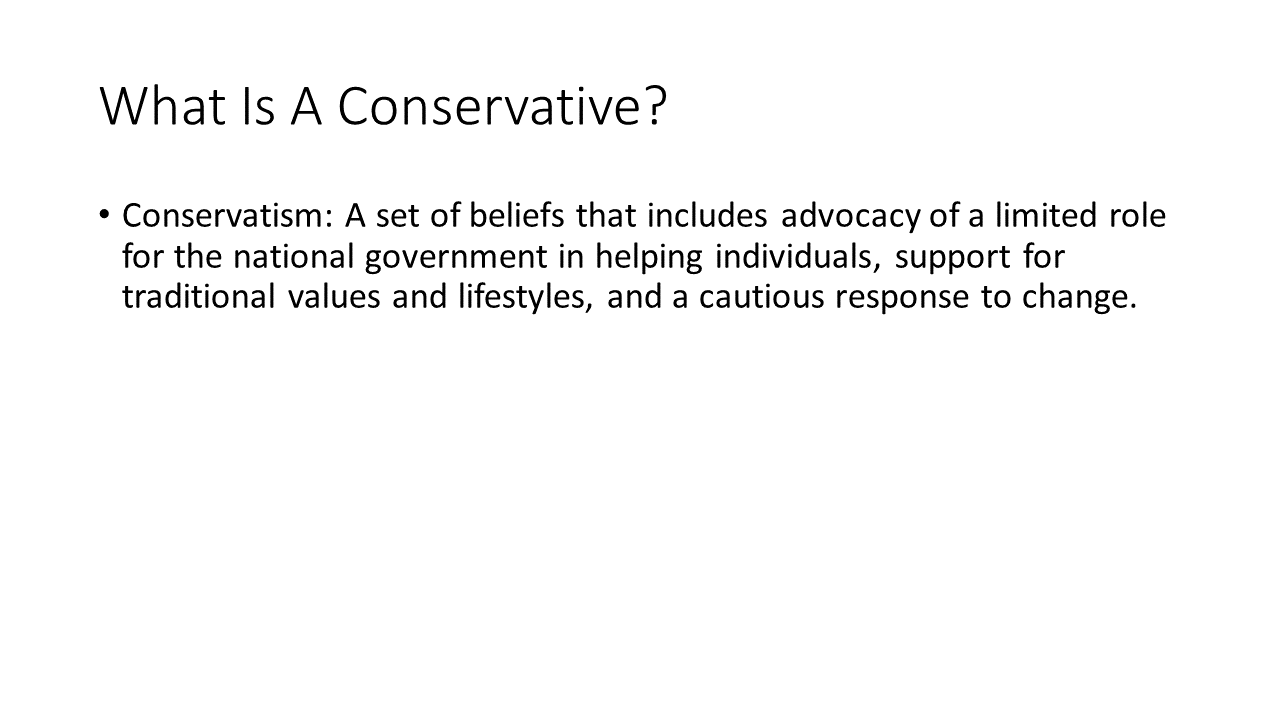 Being conservative means having a strong favor for traditional practices.

Conservatism is a set of beliefs that includes advocacy of a limited role for the national government in helping individuals, support for traditional values and lifestyles, and a cautious response to change.

Conservatives are more likely to want less impact of government in our lives and are more hesitant when it comes to accepting new ideas.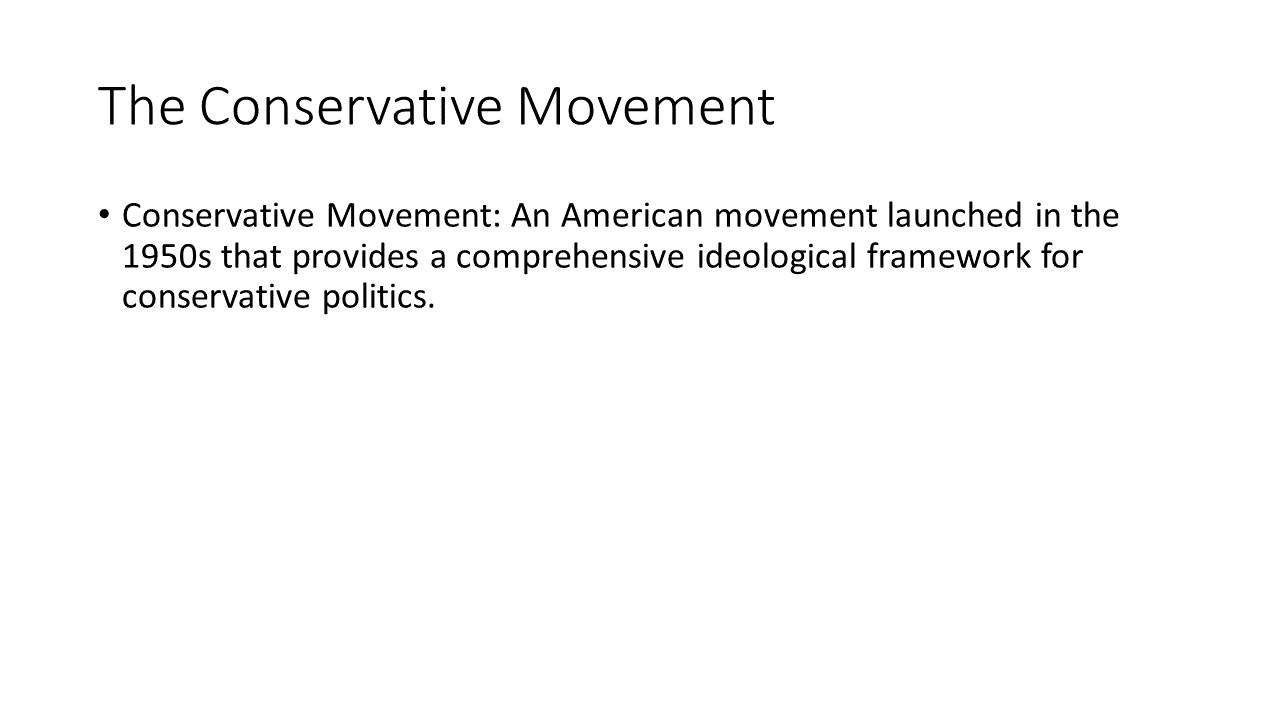 The old school way of thinking was about to get a makeover.

The Conservative Movement launched in the 1950s to provide a comprehensive ideological framework for conservative politics.

With a changing political landscape, conservatives were forced to face new issues and come to terms with them.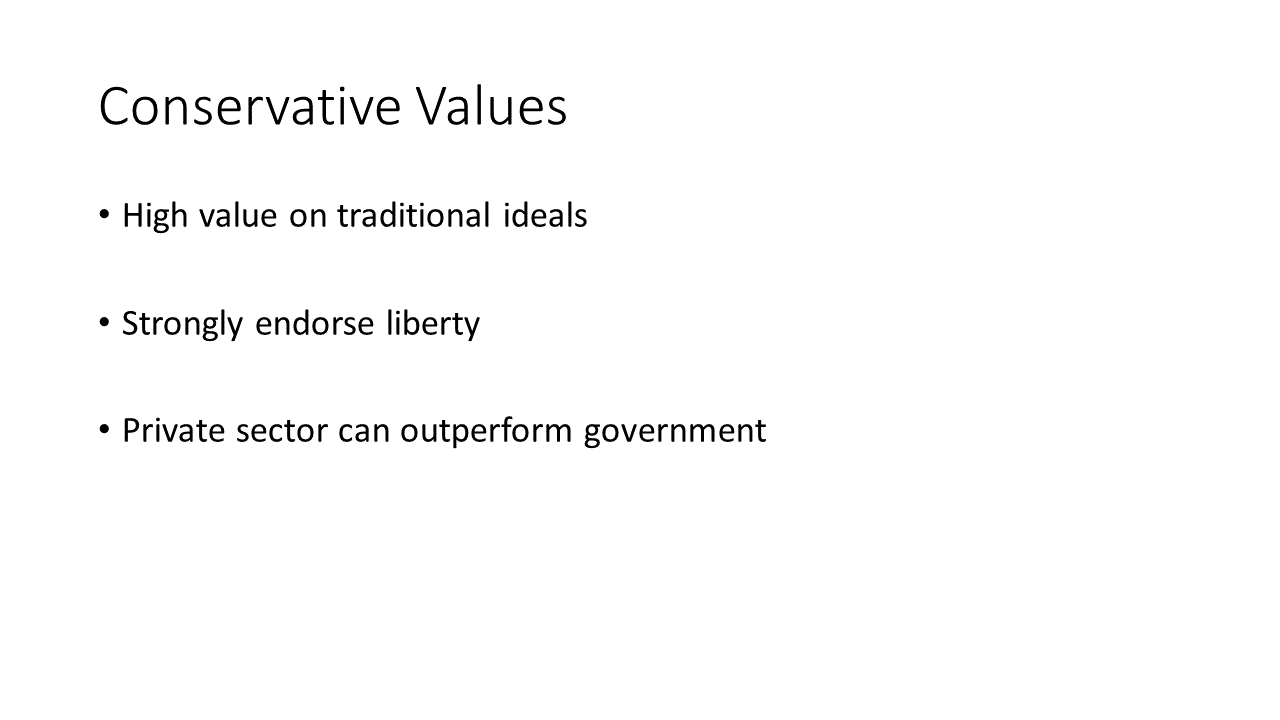 Conservative values cannot be summed up into simple terms, but there are some generalizations that can be made.

Conservatives place a high value on traditional beliefs. They strongly endorse liberty. They believe that the private sector can outperform the government in all areas.

However, those values often lead to political conflicts such as how they feel about gay marriage and social welfare programs.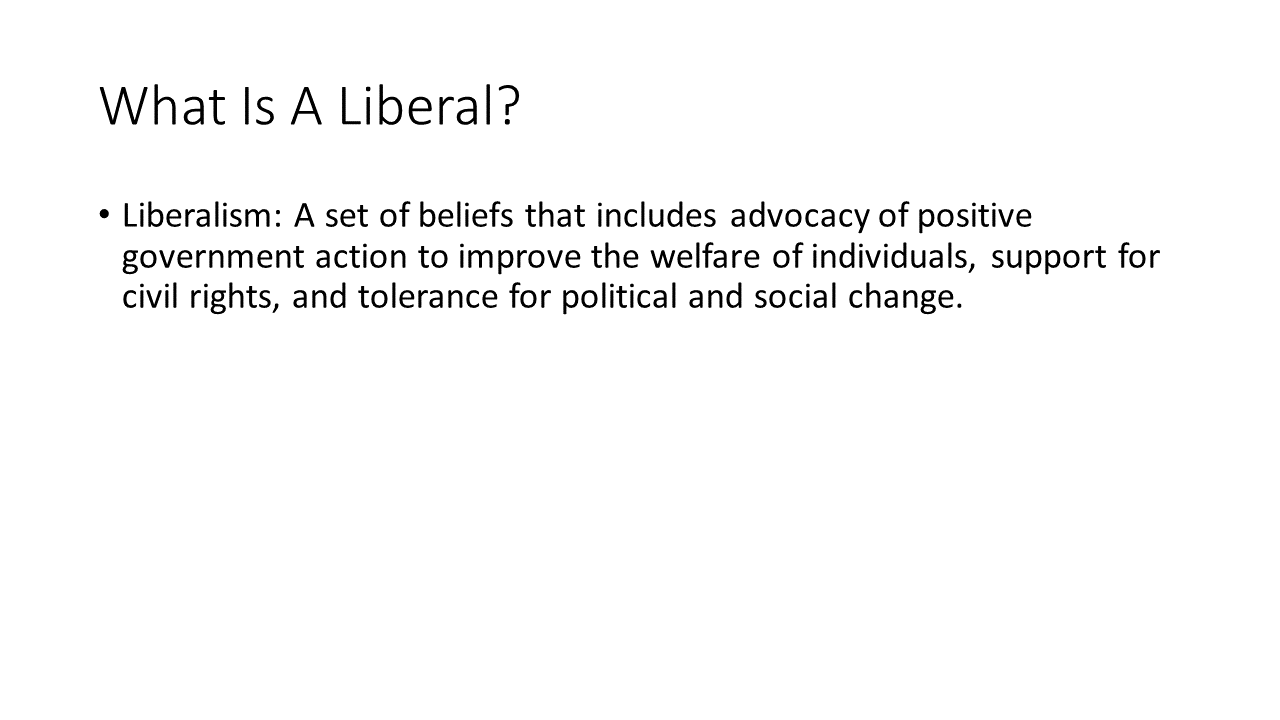 Originally, Liberalism means "Free from prejudice in favor of traditional opinions and established institutions."

To be more accurate, Liberalism is a set of beliefs that includes advocacy of positive government action to improve the welfare of individuals, support for civil rights, and tolerance for political and social change.

In the distant past, Liberals went to government to seek help in economic and social change. It began with initiatives like organized labor, Social Security, and unemployment insurance.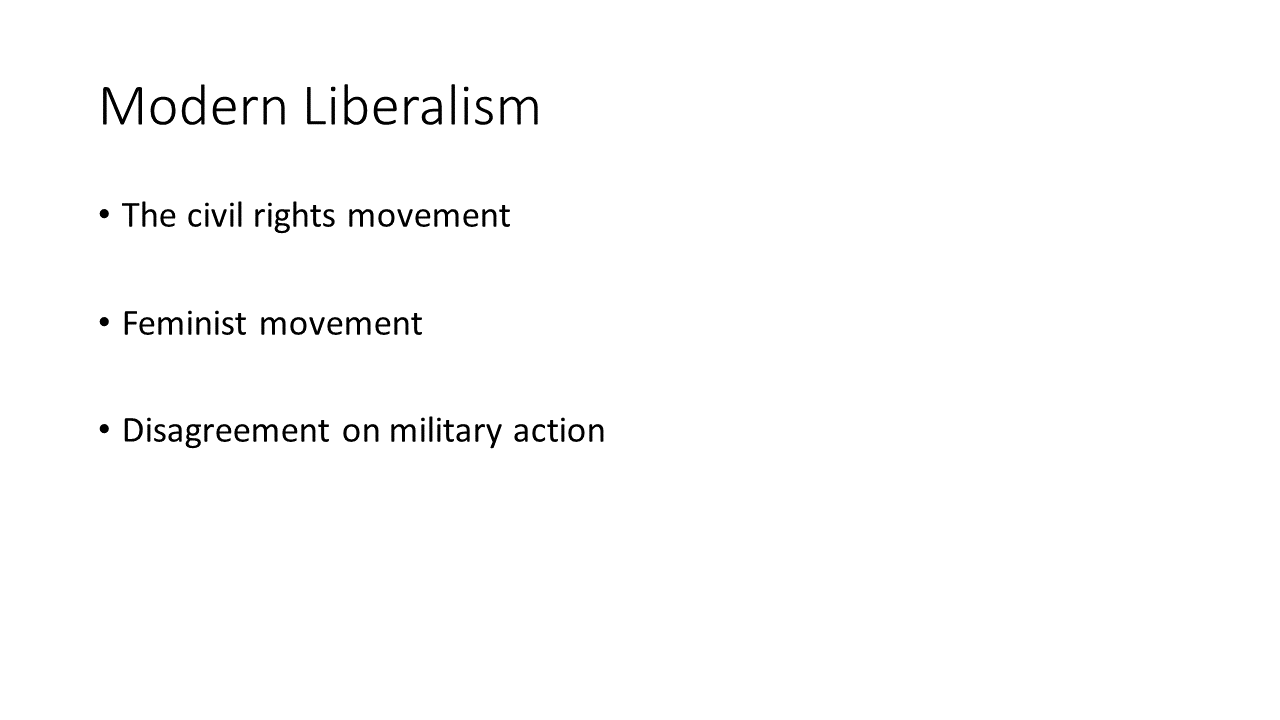 The old liberal initiatives gave way to newer ones in the 1960s.

The civil rights movement and the feminist movement gave the liberals battles that they could get behind. The rights of minorities and the rights of women often coincide.

At the same time, liberals were against participation in the Vietnam War. This stance associated them with their longstanding opposition to military action.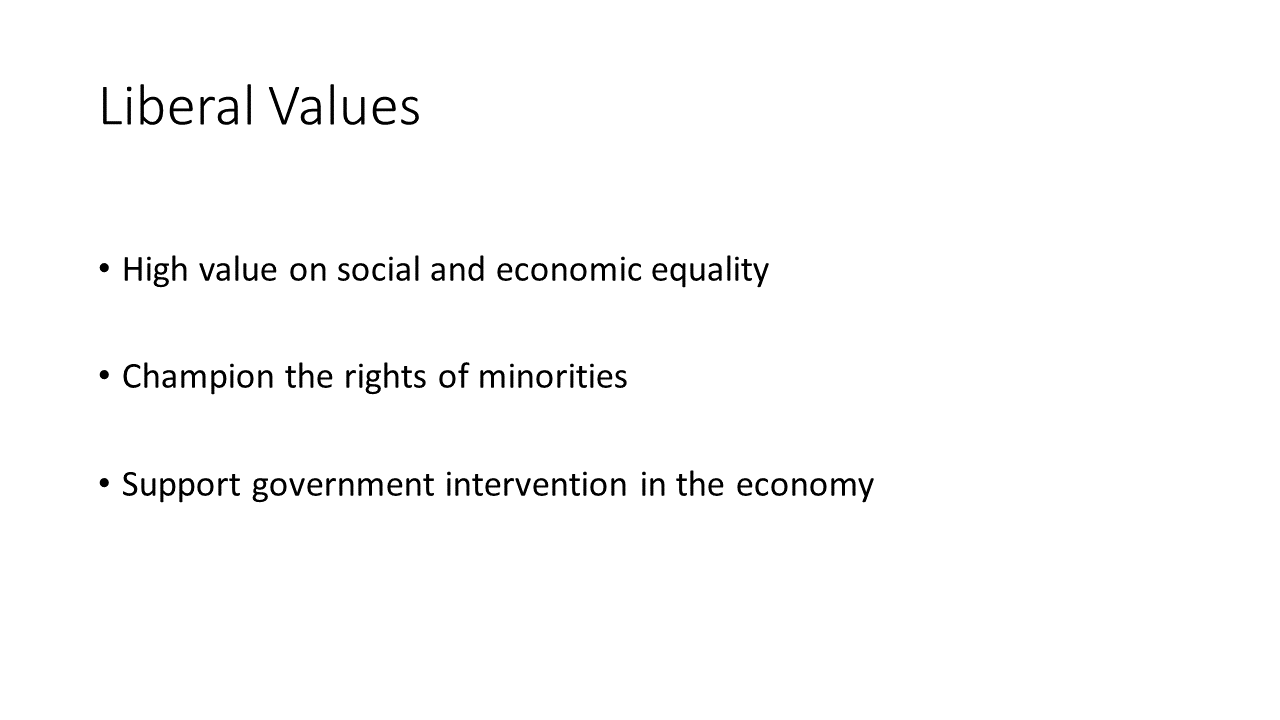 Just as with conservative values, liberal values cannot be summed up in simple terms.

Liberals place a high value on social and economic equality. They champion the rights of minorities. They support government intervention in the economy.

These values put them in political conflict because they often want government intervention in everything, and that goes against some people's ideas about liberty.




Some scholars outline the political ideologies on a political spectrum that goes from left to right. Take Socialism for example.

Socialism is a political ideology based on strong support for economic and social equality. Socialists traditionally envisioned a society in which major businesses were taken over by the government or by employee cooperatives.

Socialism falls to the left on the spectrum. It actually falls more to the left than Liberalism.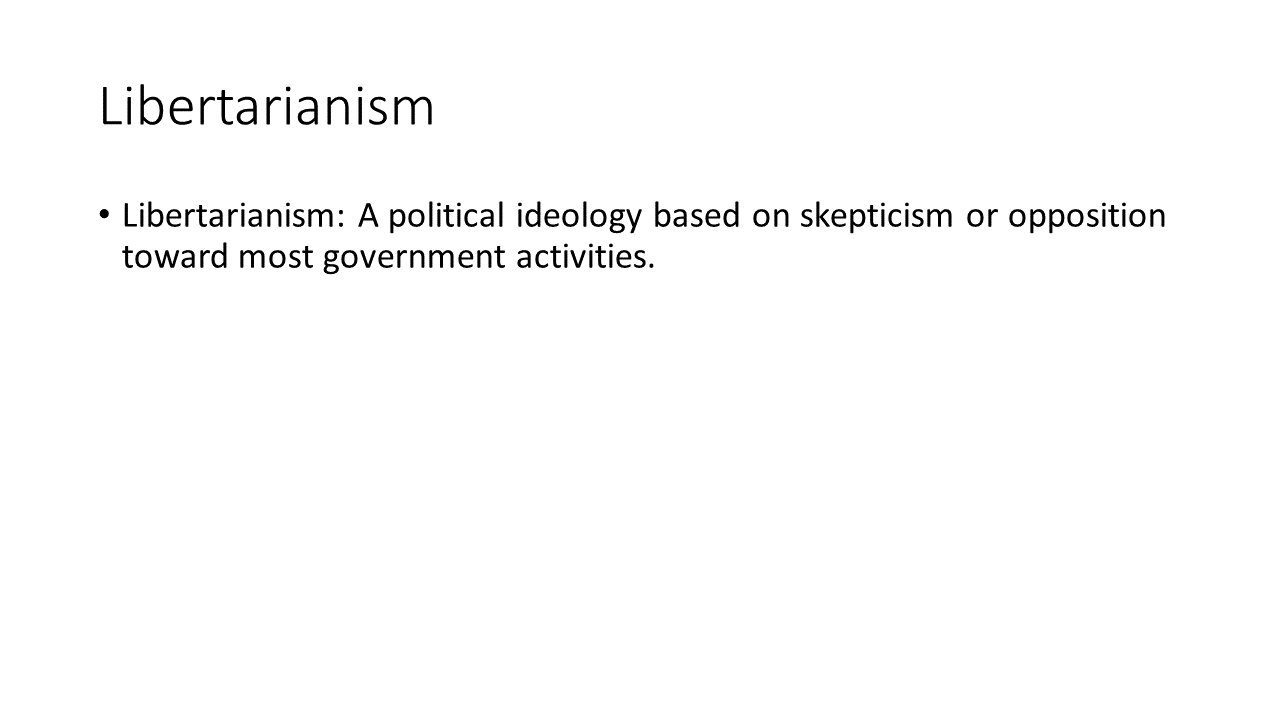 On the other end of the spectrum from Socialism is Libertarianism.

Libertarianism is a political ideology based on skepticism or opposition towards most government activities.

Libertarianism falls on the right end of the spectrum, further to the right than conservatism.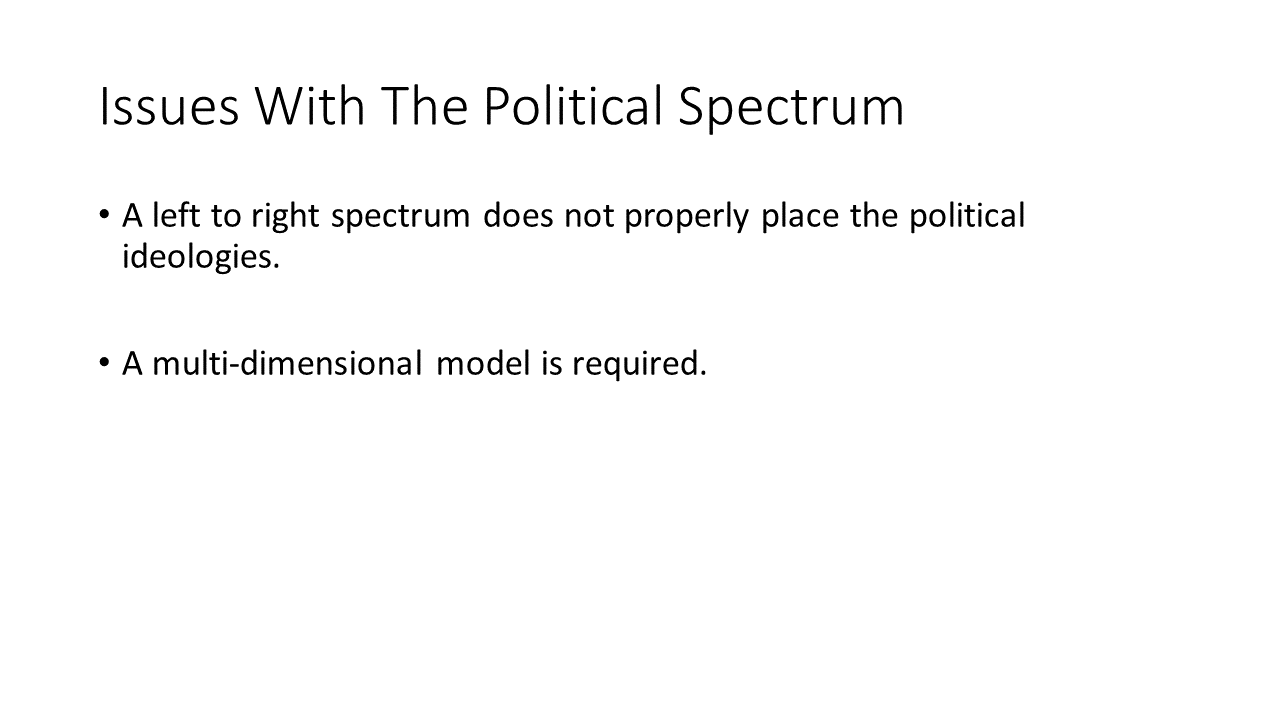 When all the political ideologies are taken into consideration, there are issues with the political spectrum.

Some political ideologies do not necessarily fall on a left-to-right spectrum. So, a more multi-dimensional model is required.

But, what kind of dimensional look will suffice?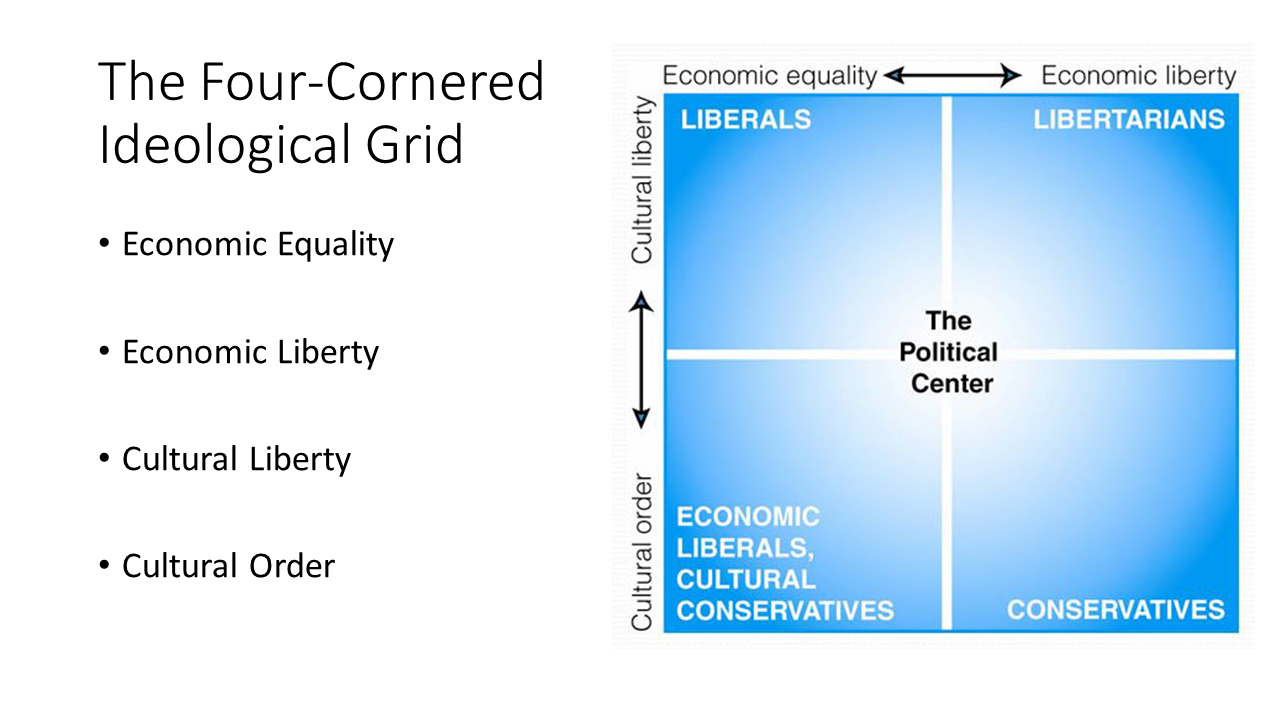 When each of the political ideologies are placed on a Four-Cornered Ideological Grid, it helps us to see more clearly how they correspond to each other.

Economic Equality to Economic Liberty goes left to right. The liberals belong in the top left corner.

Cultural Liberty to Cultural Order goes top to bottom. That places the conservatives at the bottom right.

Anyone can be placed anywhere on this grid based on their own particular political ideology. They will fit somewhere depending on their economic and cultural leanings.