Lesson Objectives:
- Public opinion
- Political socialization
- The media and agenda setting
- The New Media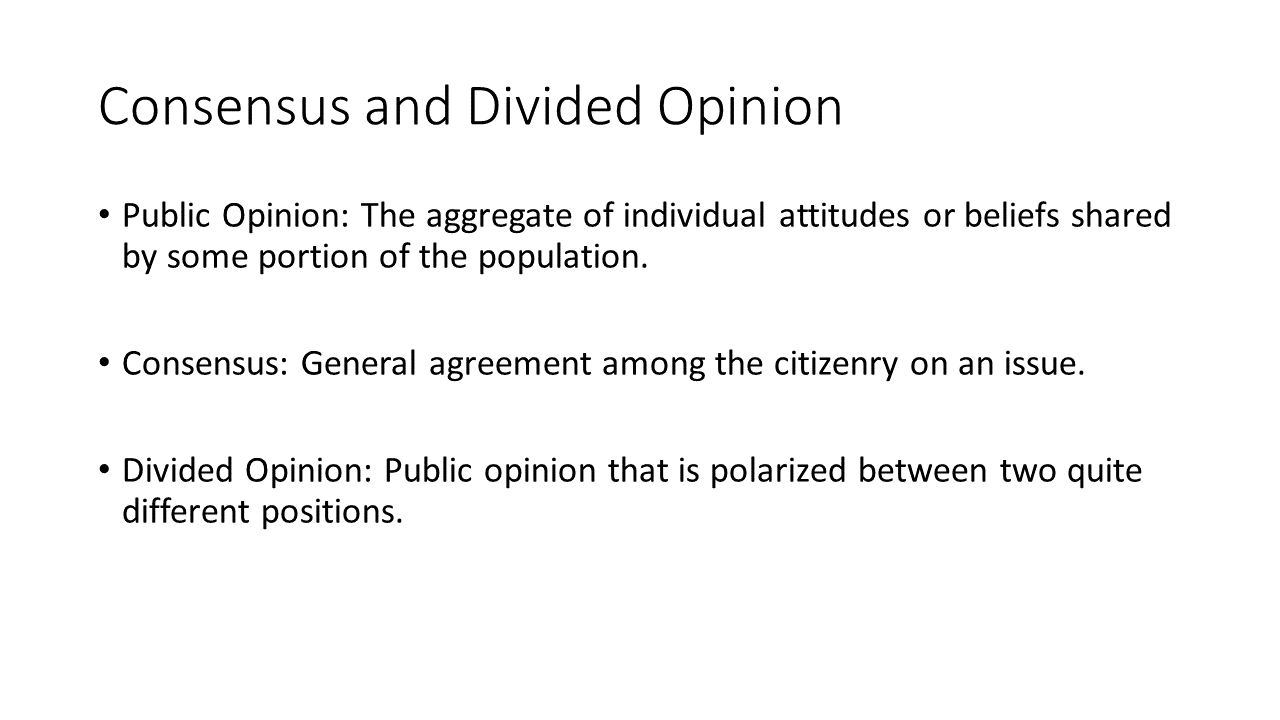 There are many different opinions across the nation on any given topic. There are variations in those opinions from one extreme to the other.

Public Opinion is the aggregate of individual attitudes or beliefs shared by some portion of the population. There are two different types of public opinion; it comes down to whether most people agree or whether there is a division.

When there is a Consensus, there is a general agreement among the citizenry on an issue.

A Divided Opinion means that the public opinion is polarized between two quite different positions.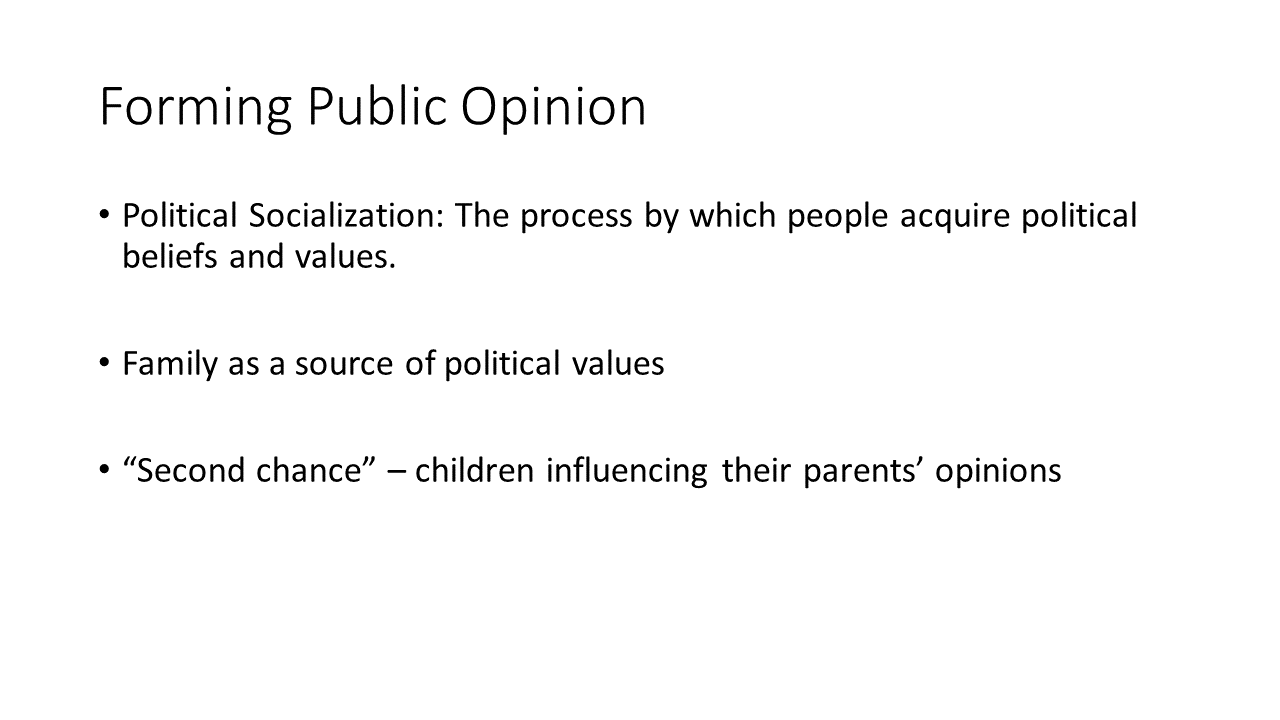 When you ask questions concerning politics, most people have an opinion. But, how did they come about it in the first place?

Political Socialization is the process by which people acquire political beliefs and values.

The Family plays a big roll in affecting our opinions. Parents communicate feelings and preferences, which influence how their children view the issues. In return, children can influence their parents when they communicate thoughts they pick up from the media and in the schools. This gives parents a "second chance" to reconsider their opinions.




As children are educated, they develop a greater understanding of politics and how they feel. They might begin with the basics of learning a patriotic attitude toward the country. Then, they develop more complex ideas as they advance through government classes in middle grades, and eventually get to form concrete political opinions in high school.

Political attitudes are also molded through friendships and associations in Peer Groups. A peer group is a group consisting of members who share common social characteristics. Such groups play an important part in the socialization process, helping to shape attitudes and beliefs.

Another source of political socialization is an Opinion Leader, or a person who is able to influence the opinions of others because of their position, expertise, or personality. Parents and peers play an unofficial role as opinion leaders who influence our political opinion. Formal opinion leaders are in influential positions like politicians, news commentators, and activists.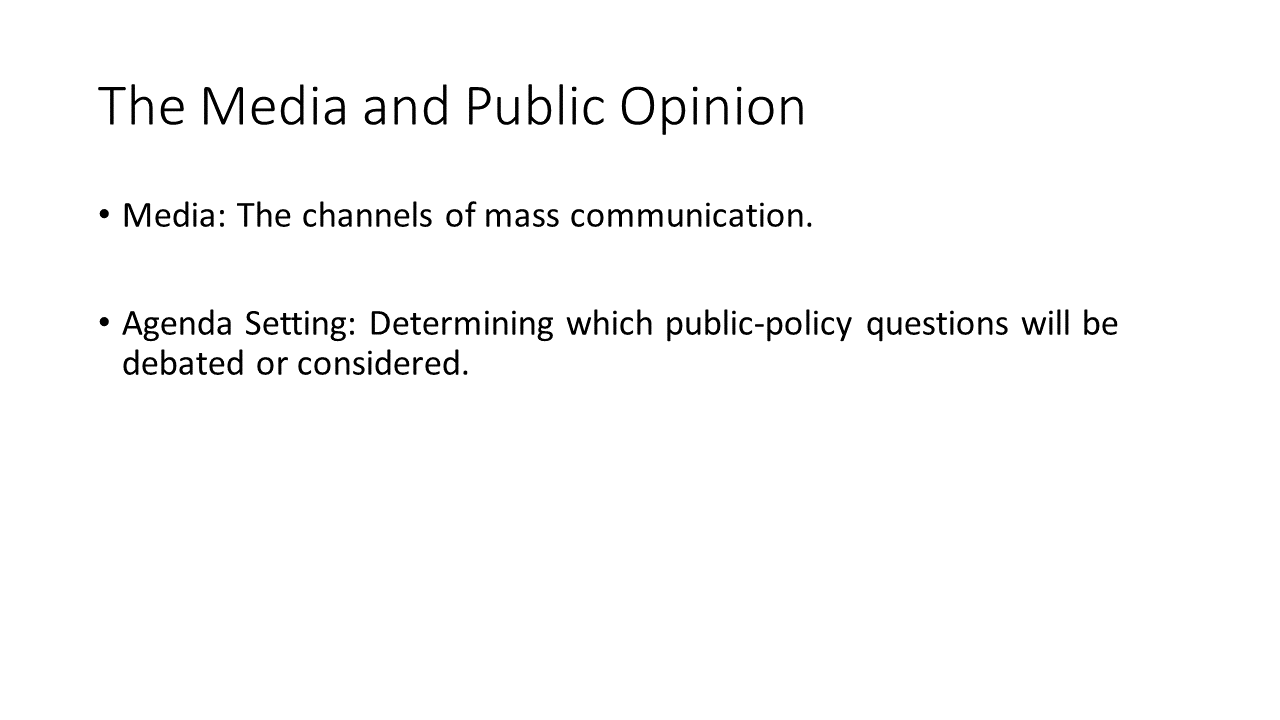 The media refers to channels of mass communication, and comes in various forms such as newspapers, television, radio, and the internet.

It is easy to say that the media plays a part in influencing public opinion because even though they may not tell their audience what to think, as Bernard Cohen once said, they are "stunningly successful in telling their audience what to think *about*."

To put that in other words, they are Agenda Setting. They determine which public-policy questions will be debated or considered.

The media has grown to be as influential (if not more) than the family. Doris A. Graber, a media scholar, notes that when high school kids are surveyed about where they get their views, they substantially mention media sources over anyone else.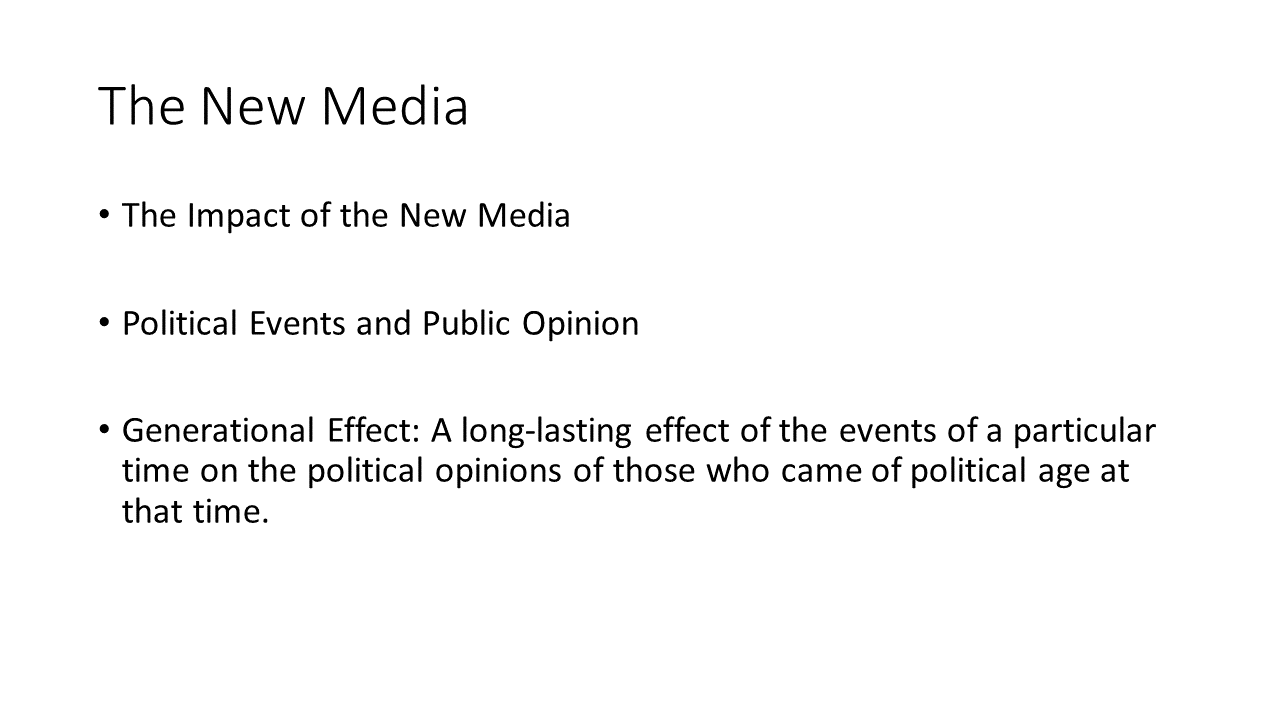 With the advent of the Internet, New Media is rapidly replacing many of traditional media sources such as major newspapers and magazines.

Talk radio seems to have a new life that goes in stride with cable networks, but often gets blamed for polarizing listeners rather than socializing them. Political blogs are also blamed for polarization since visitors most likely share the same views. However, social-networks like Facebook bring members together who actually make up a peer group and might have a variety of views.

When something momentous occurs, it has an effect on a whole generation. The Great Depression had a lasting effect on those who lived during the 1930s. The September 11th Attacks have had a lasting impression on everyone who was alive during that time.

These events are examples of a Generational Effect, or a long-lasting effect of the events of a particular time on the political opinions of those who came of political age at that time.