Lesson Objectives:
- Measuring biodiversity
- Biodiversity around the world
- Declining biodiversity
- Consequences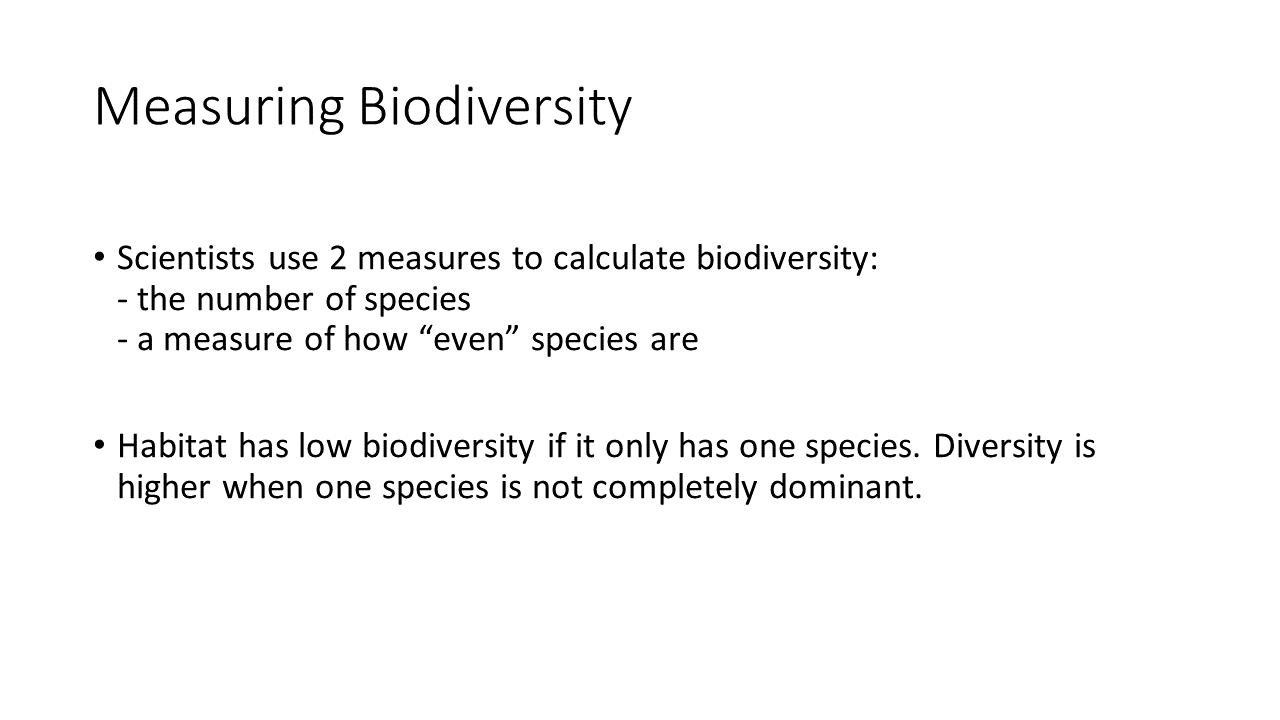 Scientists use 2 measures to calculate biodiversity:
- the number of species
- a measure of how "even" species are

A habitat has low biodiversity if it only has one species. In this case, there are few members of other species that might leave or die. Diversity is higher when one species is not completely dominant. While 8.7 million species have been identified, there are an estimated 6 million more species that have not been named or properly identified.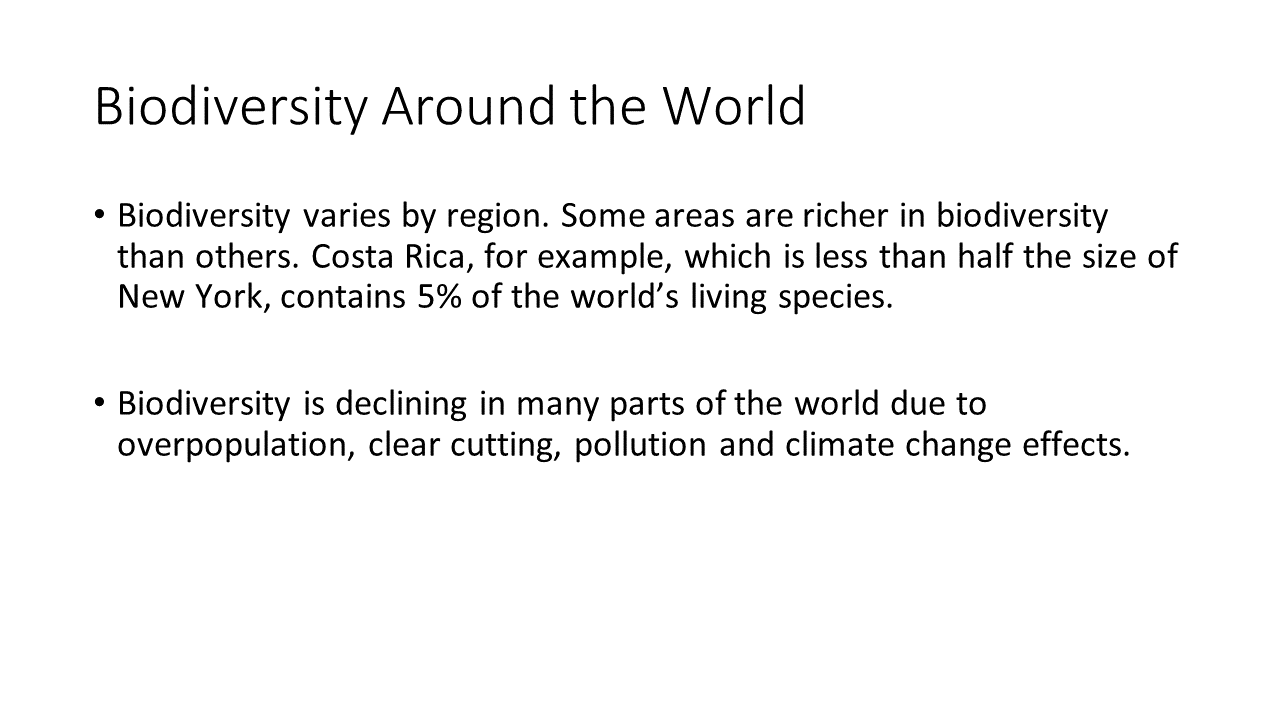 Biodiversity varies by region. Some areas are richer in biodiversity than others. Costa Rica, for example, which is less than half the size of New York, contains 5% of the world's living species. Biodiversity represents an amazing and diverse storehouse of biological wealth.

Biodiversity is declining in many parts of the world due to overpopulation, clear cutting, pollution and climate change effects. In North America, over 500 native species in the United States have gone extinct. This includes 100 vertebrates or animals with spines. Species that depend on freshwater habitats such as crayfish, fishes, amphibians and mussels are at the greatest risk.

Species population is an important element of biodiversity along with the species' existence. Populations of species occupy different habitats and contribute to biological wealth as they provide goods and services important to ecosystems.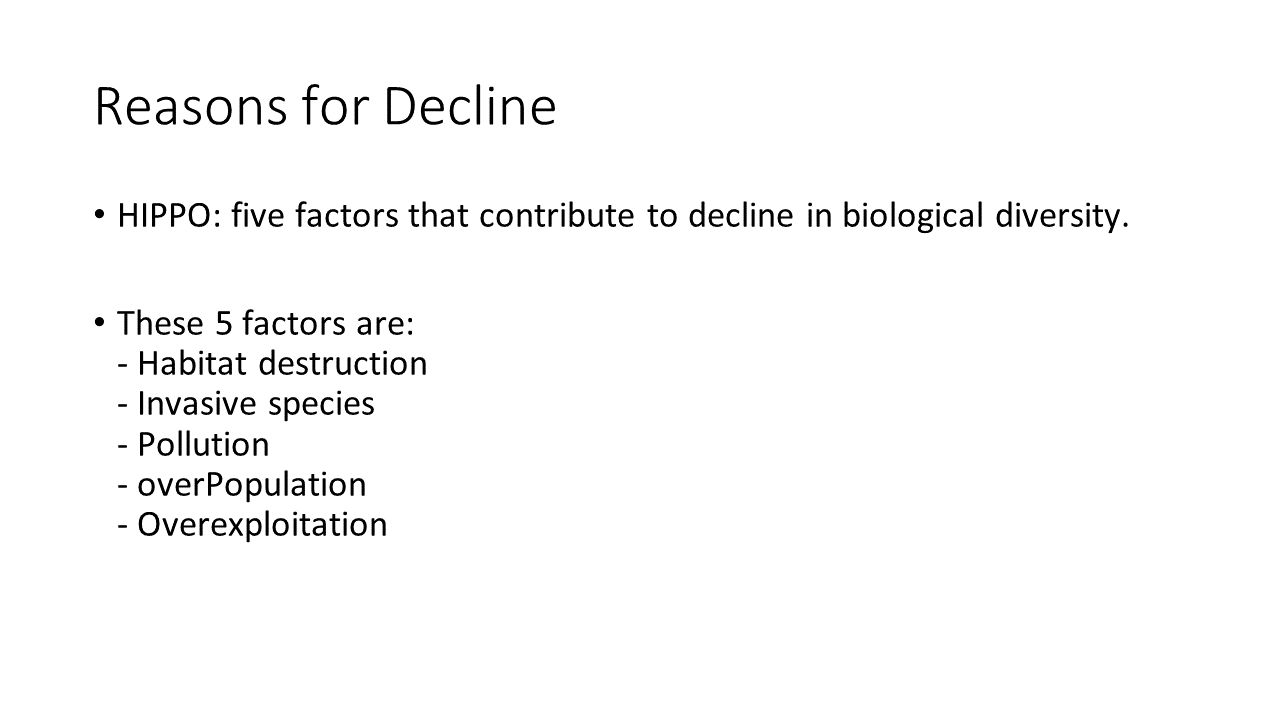 Birds lead the category of all species at the highest risk of extinction, followed by amphibians, mammals and reptiles in an extensive report published by the UN in 2010. HIPPO is the term used to describe the five factors that contribute to decline in biological diversity.

These 5 factors are:
- habitat destruction
- invasive species
- pollution
- overpopulation
- overexploitation

Both Asia and Africa have lost almost two thirds of their original habitats, leading to dramatic loss of biodiversity and changes in climate. Habitat change has occurred largely due to conversion of areas into farms, housing, shopping areas, malls, industrial centers and marinas. Small habitats have quickly disappeared under the onslaught of human development that breaks up natural areas, resulting in a mosaic of different habitats that no longer support prior species. This is called fragmentation. Invasive species come from foreign areas and decimate local populations of food and other competitors in the space. An example is the black rat that came from Europe where it caused the plague, and has been deadly to birds. Rats also eat crops, destroy property and cause other harm to humans. Pollution directly kills both plants and animals. It can also spread disease.

Human population growth has exploded in the past fifty to sixty years and has led to overconsumption of natural resources and lands, destroying habitats and also wildlife. Overexploitation occurs when people consume too many natural resources without giving them time to replenish and thus decimate areas and all life in the area. This happens as a result of greed, ignorance and desperation. Also, illegal trade of wildlife is a destructive trade with poachers getting over $12 billion in income illegally, right after drugs and guns.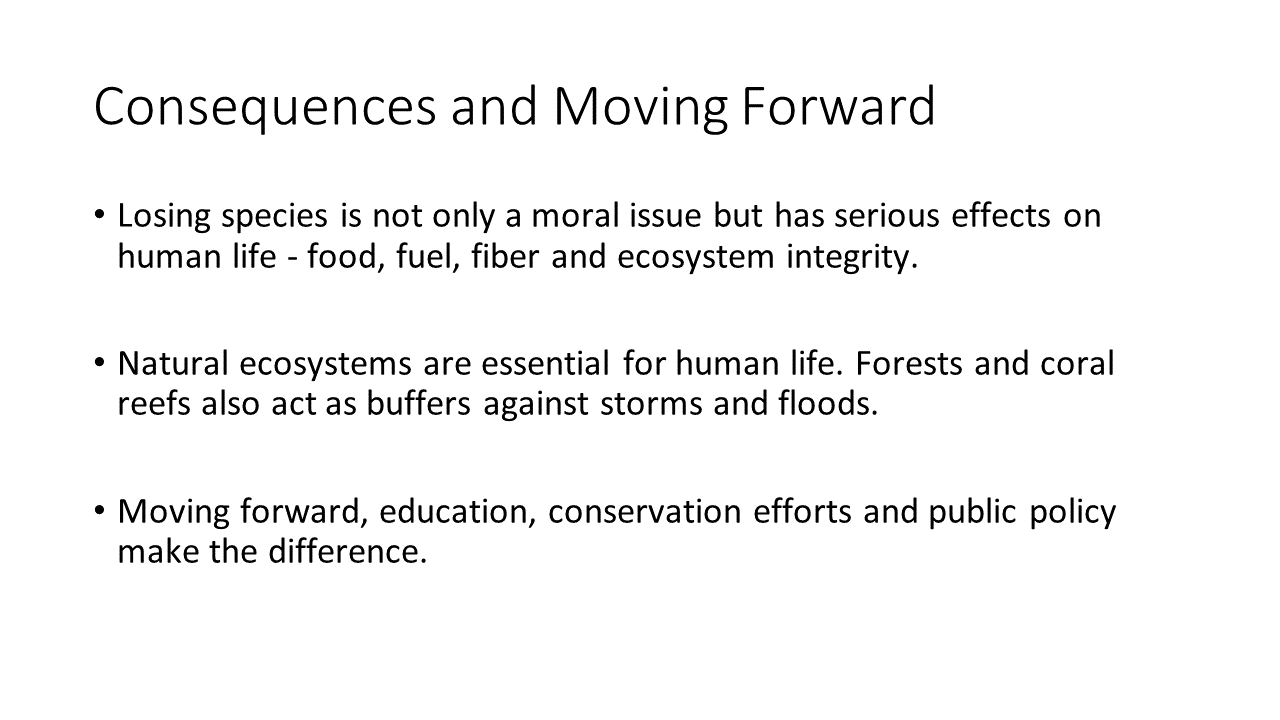 What are the consequences of losing biodiversity? Losing species is not only a moral issue but has serious effects on human life - food, fuel, fiber and ecosystem integrity.

Natural ecosystems are essential for human life. Forests and coral reefs also act as buffers against storms and floods.

If the loss of biological diversity continues unabated, the natural world as we know it will be far different. It will be a lot less beautiful and varied.

Moving forward, education, conservation efforts and public policy make the difference.