Lesson Objectives:
- Protecting biodiversity
- Ways to protect species
- Legislation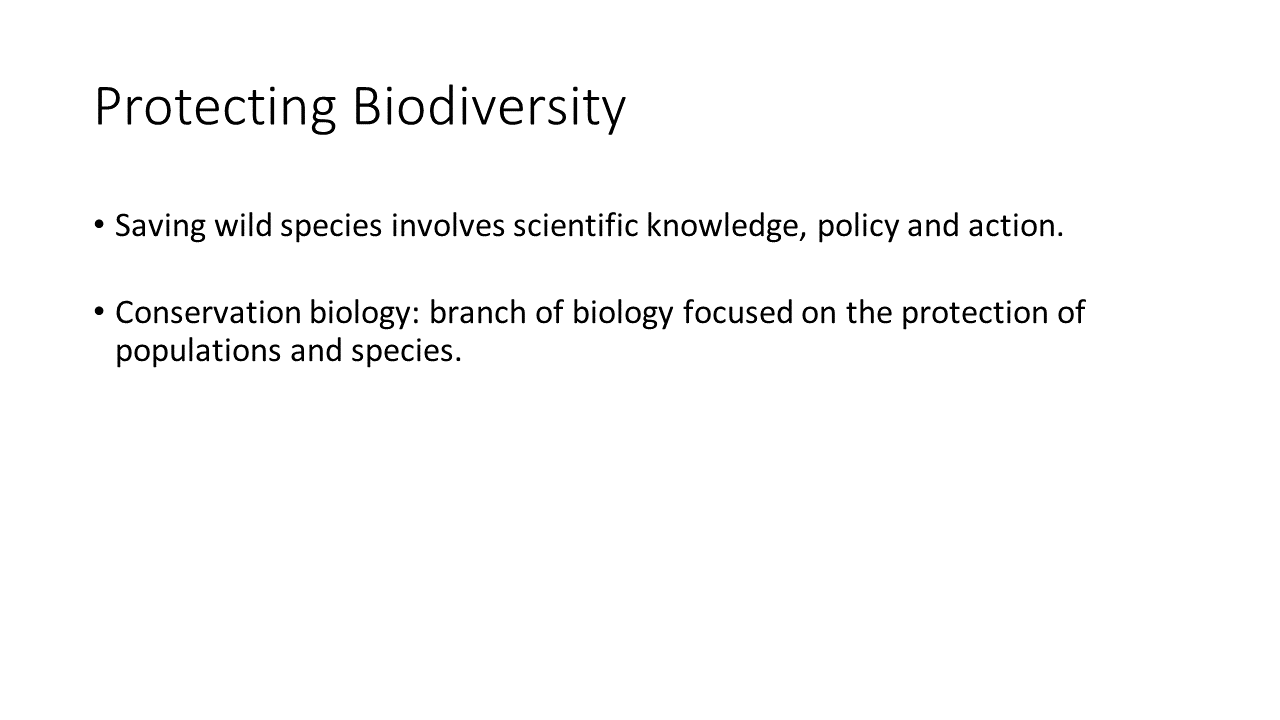 Saving wild species involves scientific knowledge, policy and action. Scientists who study wild species may be able to alert the public of declines in any species, but public policy is required to safeguard large areas and enforcement of those laws. Protection of biodiversity also requires stepping back to look at the big picture and see how people relate to the rest of the natural world and figuring out how we can do things in a more sustainable way.

Conservation biology is the branch of biology focused on the protection of populations and species. Conservation biologists use tools and techniques like captive breeding, telemetry (transmitting data through remote communication) and tracking devices to learn about the natural history of any species and to protect those that are vanishing. Taxonomy is the process of cataloging species and naming new ones.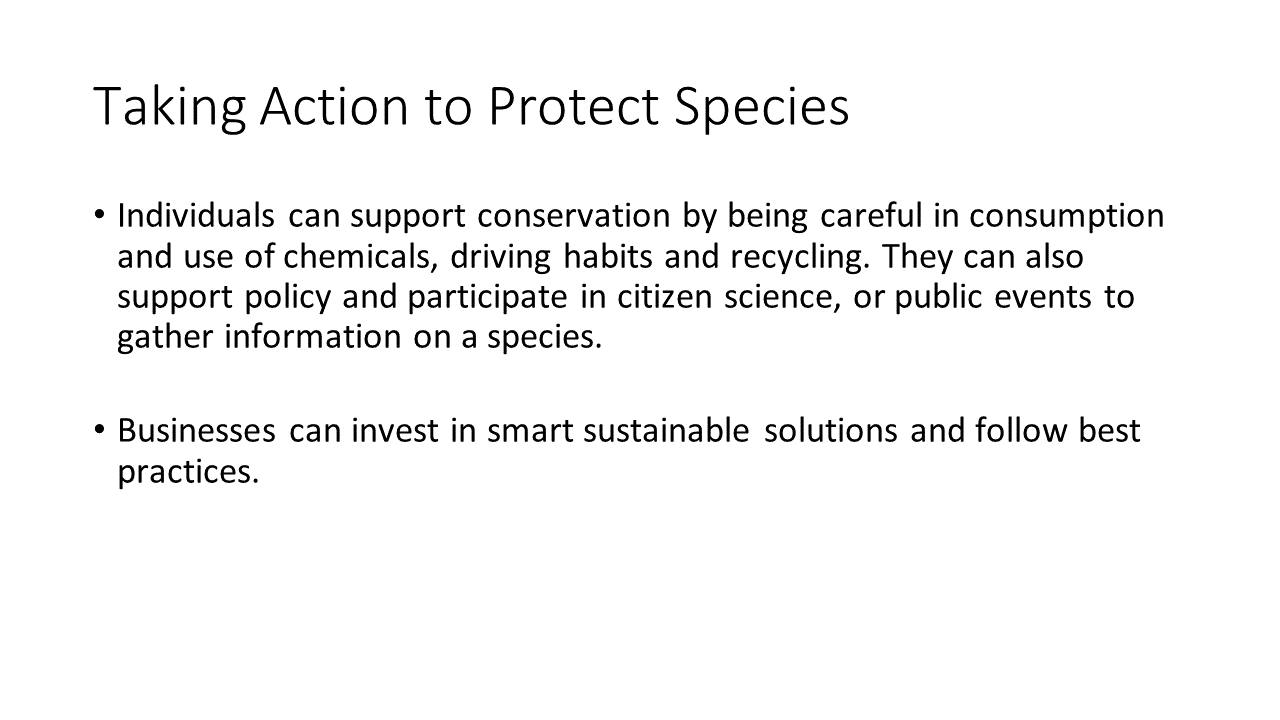 Every group of people from individuals to government agencies can take action to protect species. Individuals can support conservation by being careful in consumption and use of chemicals, driving habits and recycling. They can also support policy and participate in citizen science, or public events to gather information on a species. An example of this is the Great Sunflower project that monitors pollinators.

Businesses can invest in smart sustainable solutions and follow best practices. This can be as simple as buying energy-efficient technology and appliances, and installing recycling bins throughout buildings.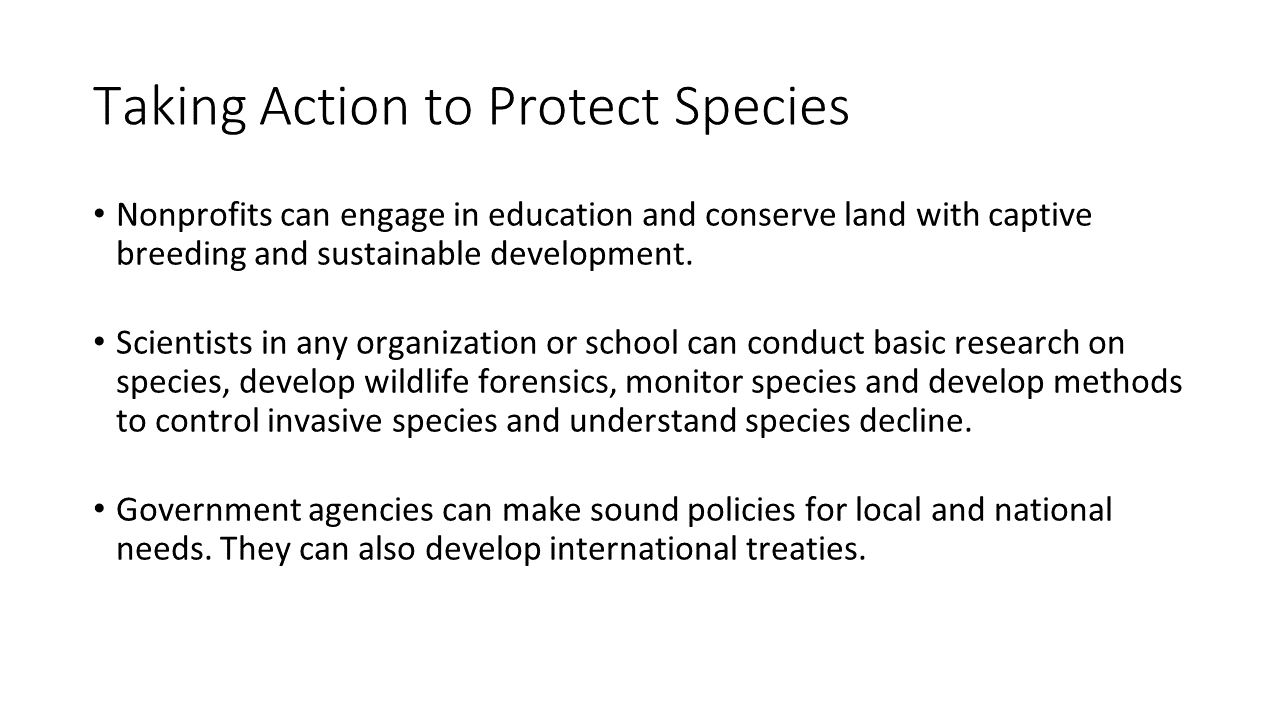 Nonprofits can engage in education and conserve land with captive breeding and sustainable development. For example, nonprofits can work with local groups for conservation efforts, protect marine reserves, provide environmental education and zoo programs. The Humane Society of the United States has done a lot of work in promoting animal care and stewardship. People for the Ethical Treatment of Animals (PETA) has also actively campaigned to limit or end hunting or trapping.

Scientists in any organization or school can conduct basic research on species, develop wildlife forensics, monitor species and develop methods to control invasive species and understand species decline. Examples include rhino breeding studies, effects of cell phone towers on birds, and more.

Government agencies can make sound policies for local and national needs. They can also develop international treaties. This includes legislation such as the Marine Mammals Act, Endangered Species Act, CITES, Lacy Act and holding the Convention on Biology.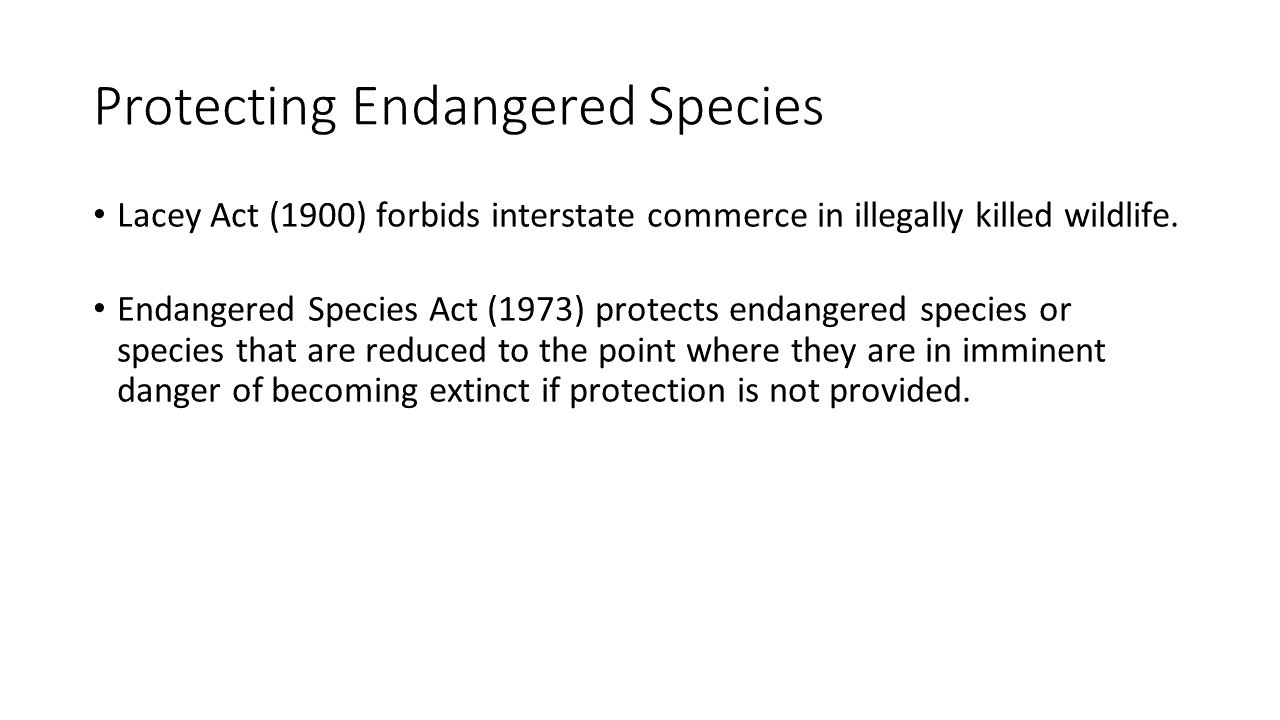 Since the 1800s, several important laws have been passed to protect a wide variety of species. The Lacey Act (1900) forbids interstate commerce in illegally killed wildlife. This law has enabled the U.S. Fish and Wildlife Service (FWS) to bring charges against anyone violating a number of wildlife laws. In 2007, US FWS agents fined people $14 million for breaking the law. Examples ranged from an owner of an animal park in North Dakota who was caught trafficking illegal wildlife animal parts and a couple in Washington State who was selling body parts of 45 bald and golden eagles.

The Endangered Species Act (1973) protects endangered species or species that are reduced to the point where they are in imminent danger of becoming extinct if protection is not provided. The US FWS administers the Endangered Species Act for terrestrial and freshwater species, while the National Oceanic and Atmospheric Administration (NOAA) administers the law for marine species. To be listed as an endangered species, recent, relevant information has to be gathered, critical habitats identified and recovery plans assigned.

An example of success is the American bald eagle, a national symbol, that had declined severely in population due to habitat encroachment and illegal killing. After being listed on the Endangered Species List, populations of the American bald eagle recovered enough to be removed from the list. The peregrine falcon also was on the list and successfully brought back.