Lesson Objectives:
- Forest ecosystems
- Ocean ecosystems
- Whaling
- Coral reefs
- Mangroves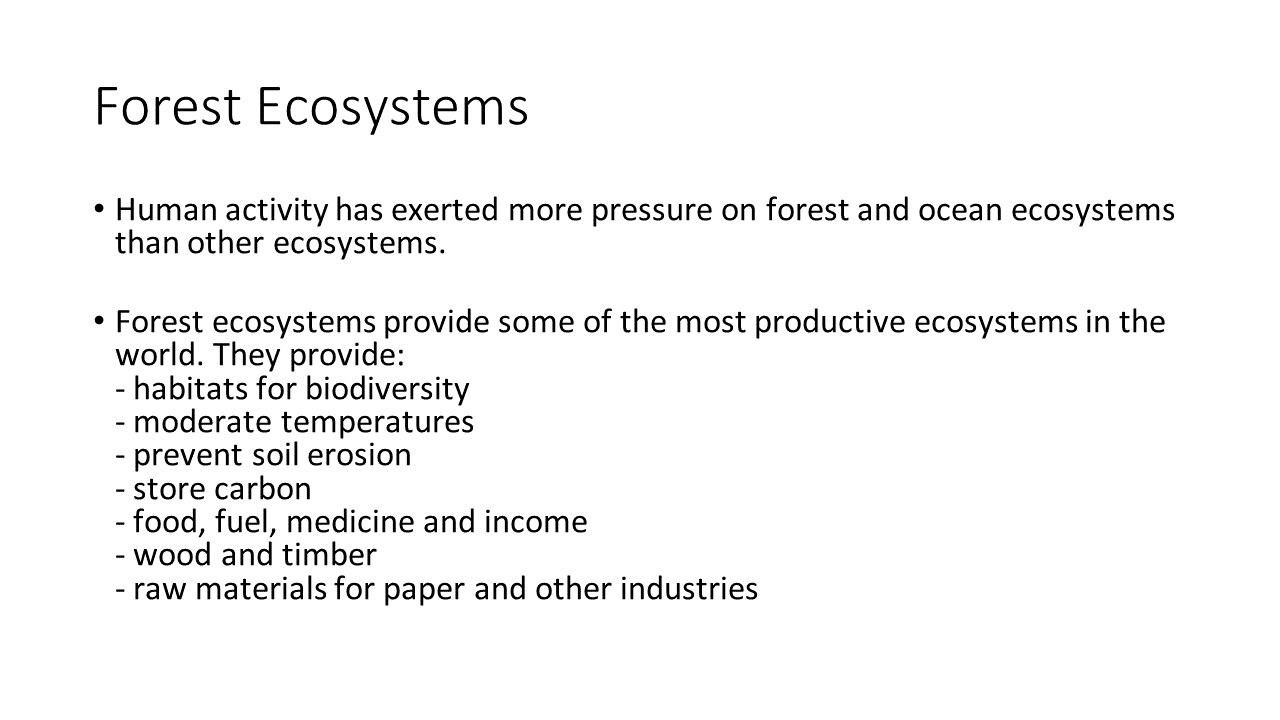 Human activity has exerted more pressure on forest and ocean ecosystems than other ecosystems.

Forest ecosystems provide some of the most productive ecosystems in the world. They provide:
- habitats for biodiversity
- moderate temperatures
- prevent soil erosion
- store carbon
- food, fuel, medicine and income
- wood and timber
- raw materials for paper and other industries

Forests account for 50% of plant productivity. Deforestation continues at the rate of 18 million acres per year. Large-scale deforestation occurs in Africa where population demand is intense, and in the Amazon basin where farmers move in to graze cattle and build ranches. Cutting down forests prevents carbon storage and has increased climate change. Clearing forests have lowered productivity, created more erosion and destroyed habitats and biodiversity.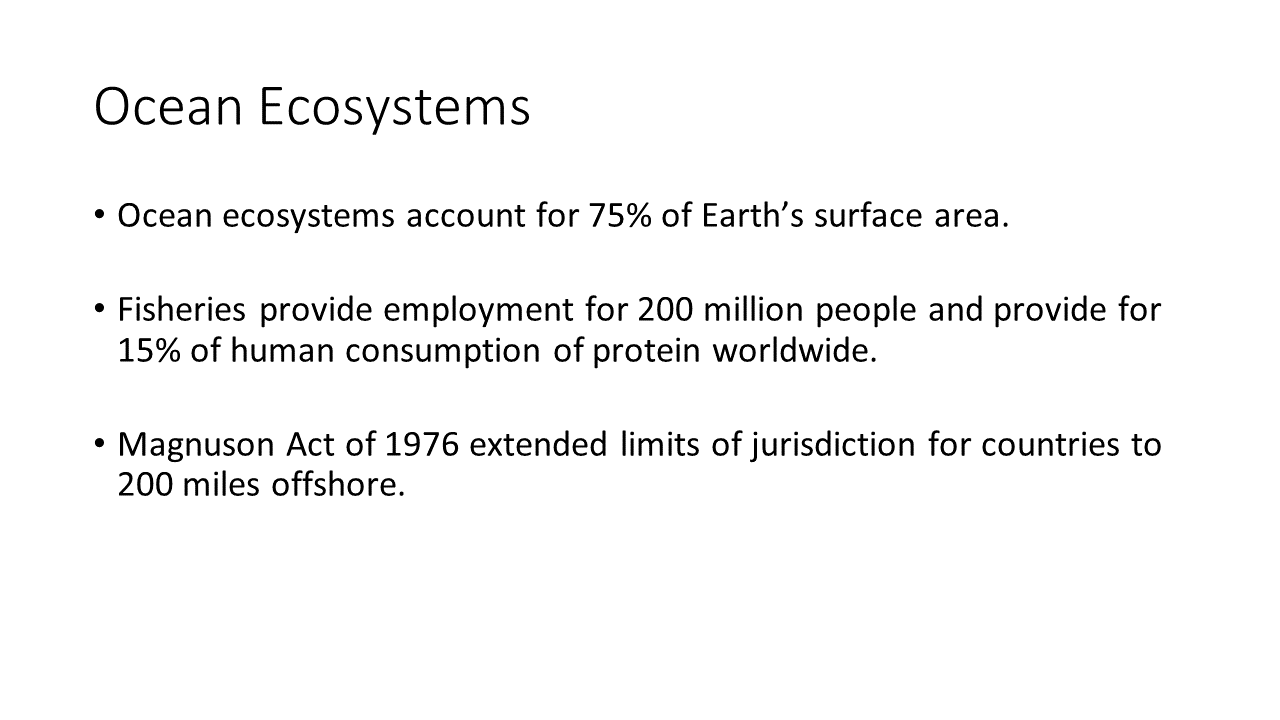 Ocean ecosystems account for 75% of Earth's surface area.

Fisheries provide employment for 200 million people and provide for 15% of human consumption of protein worldwide.

The Magnuson Act of 1976 in the United States extended limits of jurisdiction for countries to 200 miles offshore. This effectively removed fisheries from the international commons and placed them under the authority of particular nations. Some nations recovered fishing areas while others expanded to exploit fisheries.

Overfishing has led to the decline of larger fish like marlin, tuna and swordfish. Fishes are being depleted down the food chain. Aquaculture is the modern practice of farming aquatic organisms. After excessive exploration of fisheries, the government reauthorized the Magnuson Act, requiring regional councils to set catch limits based on sound science and to end overfishing. Annual catch yields have to be less than maximum sustainable yield. In addition, certain marine areas were protected (MPAs) to prevent damage to marine ecosystems. Tourism is allowed in these areas but commercial fishing and mineral mining is not.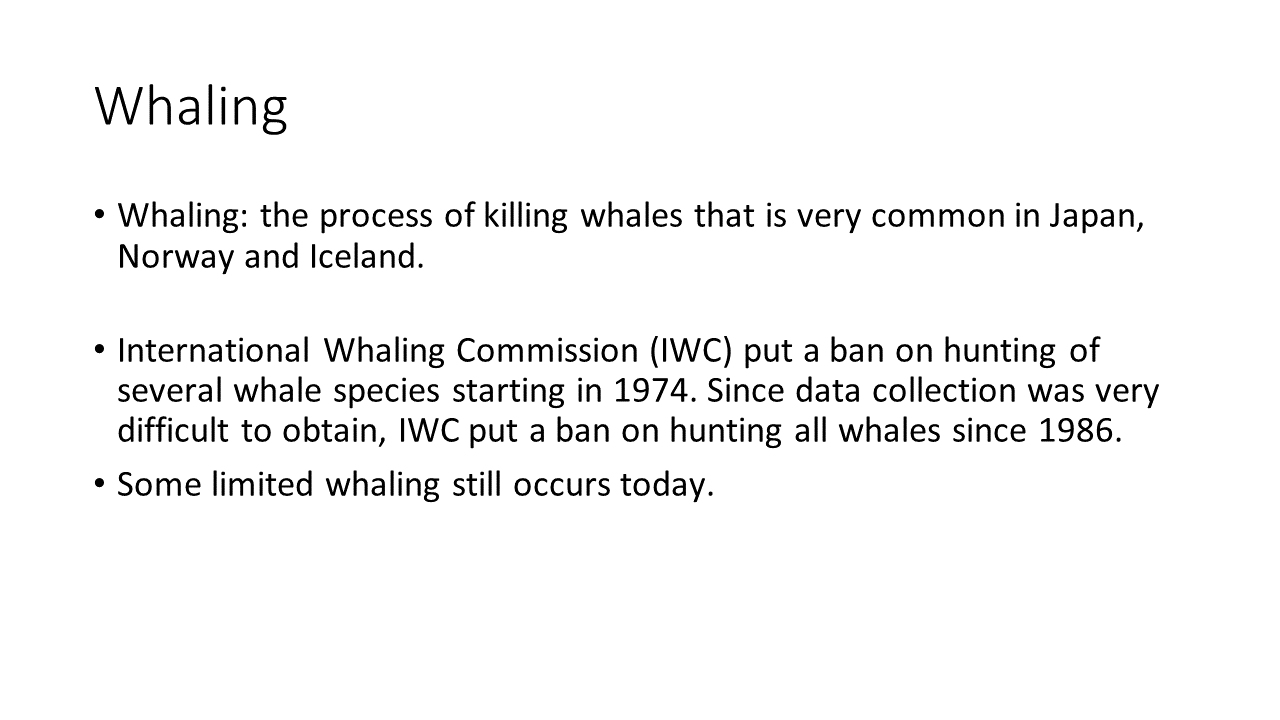 Whaling is the process of killing whales that is very common in Japan, Norway and Iceland.

The International Whaling Commission (IWC) put a ban on the hunting of several whale species starting in 1974. Since data collection was very difficult to obtain, IWC then put a ban on the hunting all whales since 1986.

Some limited whaling still occurs today. Japan, Norway and Iceland have pushed for the removal of the ban.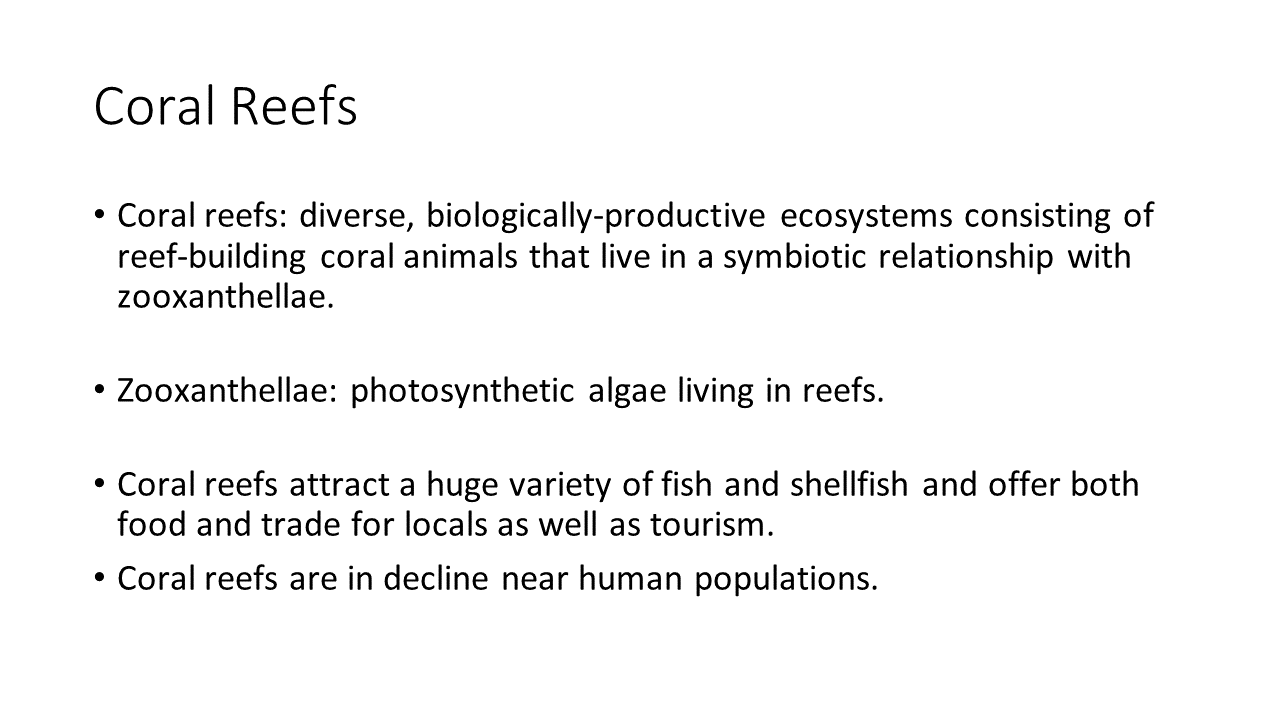 Coral reefs are diverse, biologically productive ecosystems consisting of reef-building coral animals that live in a symbiotic relationship with zooxanthellae.

Zooxanthellae are photosynthetic algae living in reefs.

Coral reefs attract huge variety of fish and shellfish and offer both food and trade for locals as well as tourism. Coral reefs generate $30 billion a year in fishing and tourism revenue.

Coral reefs are in decline near human populations. Since 1998, 20% of all coral reefs have been destroyed. Coral bleaching or whitening of colorful coral reefs happens due to high temperatures. Repeated bleaching due to rising temperatures kills corals. Ocean acidification from excessive carbon dioxide released into the air and turning seawater acidic, has also devastated both corals and all tropical fish and sea life.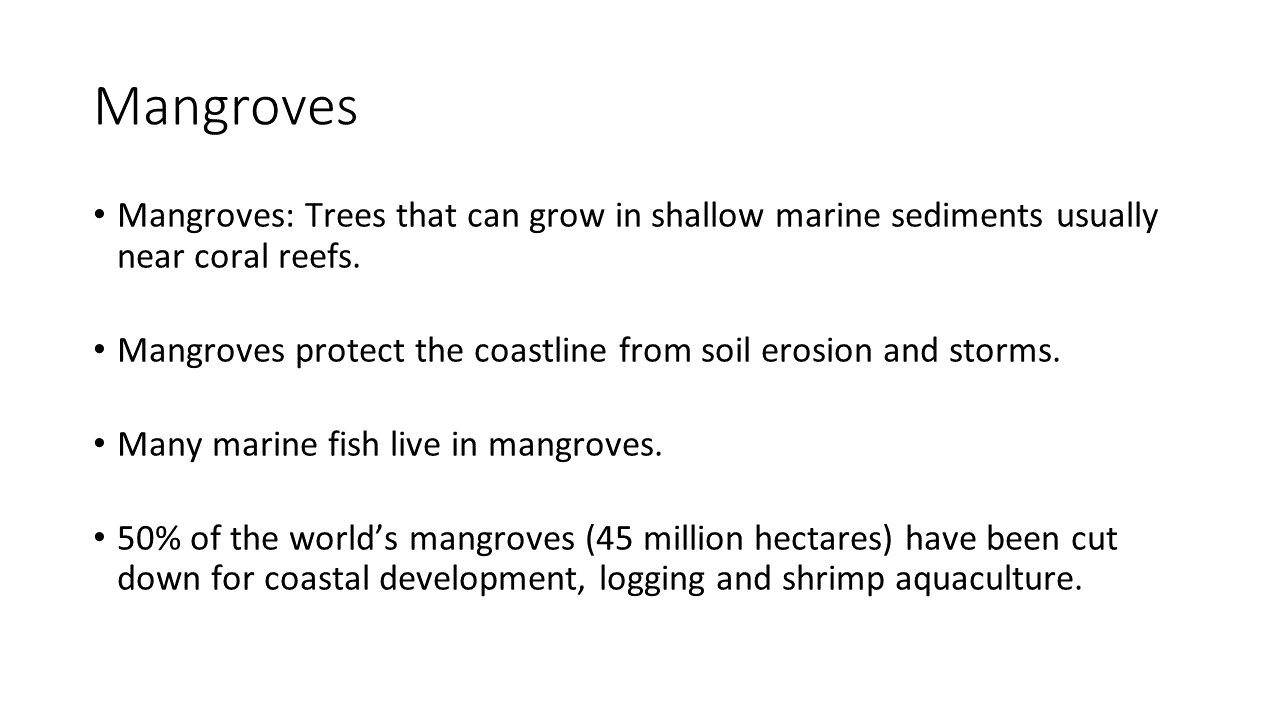 Mangroves are trees that can grow in shallow marine sediments usually near coral reefs.

Mangroves protect the coastline from soil erosion and storms. Many marine fish live in mangroves.

50% of the world's mangroves (45 million hectares) have been cut down for coastal development, logging and shrimp aquaculture. This is common in Indonesia, the Philippines and Bangladesh.