Lesson Objectives:
- Defining environmental science
- The environmental movement
- The environmentalist's paradox
- The earth's population
- Ecosystems
- Global climate change
- Biodiversity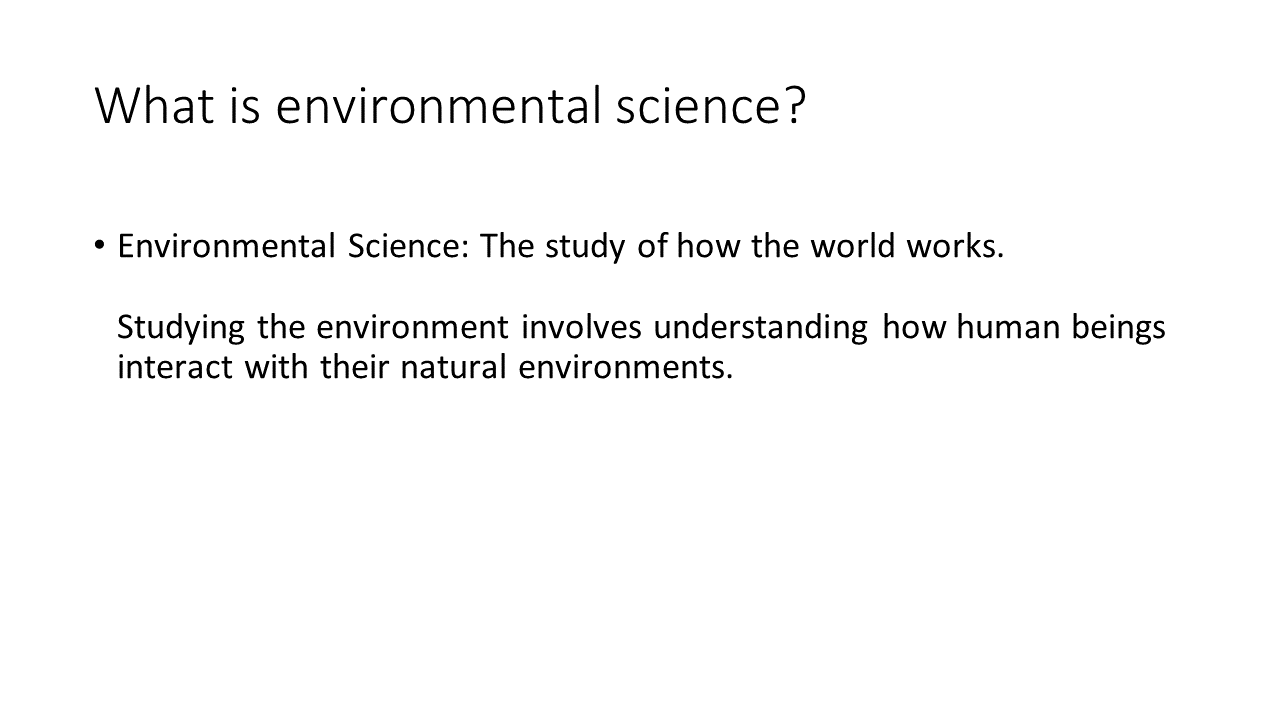 Studying the environment involves studying how the world works on a larger scale and the impact of human activity on physical surroundings. Environmental science has only been studied for the last 60 years, but its roots trace back to the late 19th century.

Learning about the environment helps you better understand what resources we have on Earth, what is required for human beings, animals and plant life to live and flourish, what impact human beings have on their environment and what is needed to sustain healthy populations for the future.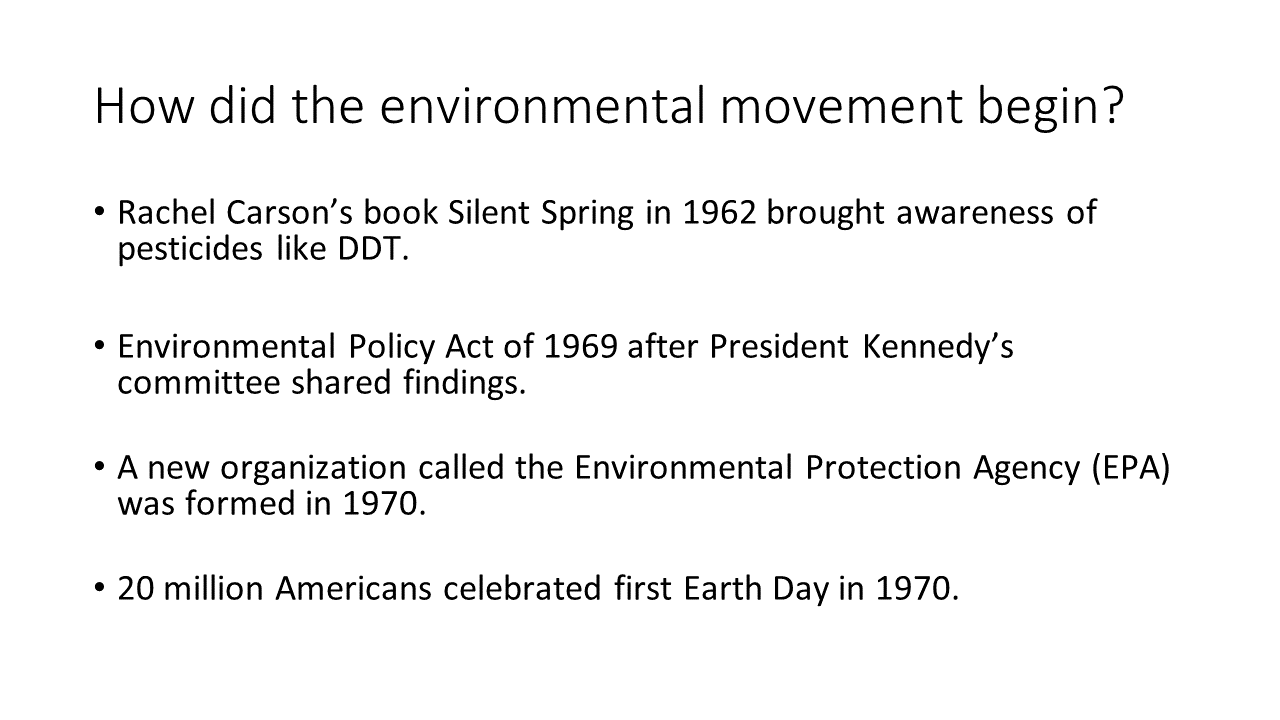 In the United States, a biologist Rachel Carson published a book Silent Spring in 1962 where she documented carefully the effects of pesticides such as DDT. While used to control Dutch elm disease spread by elm bark beetles, DDT unfortunately also killed off birds.

When Carson's book was published, she faced a lot of fire from chemical and agricultural companies. However, President Kennedy read about her book in the New Yorker and set up an advisory science committee to investigate. Less than a year later, the committee offered recommendations fully supporting Carson's theory. Congress held hearings and by 1969, a new Environmental Policy Act was passed. This was the first law to recognize that ecological systems and human enterprise were interconnected.

The EPA was founded with the purpose of protecting the environment against any pressures imposed by other government agencies and companies and to protect the public. DDT was banned in the early 1970s. Also in 1970, 20 million Americans celebrated the first Earth Day.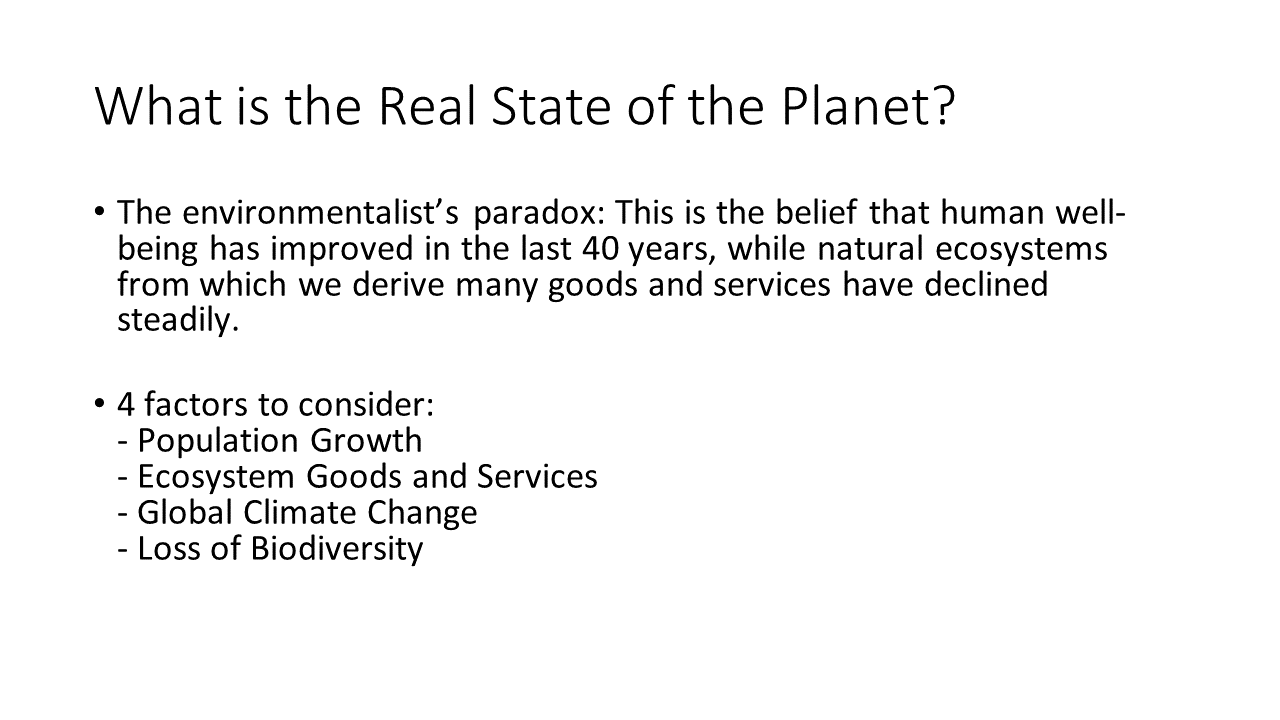 In 2010, a group of scientists at McGill University in Montreal, Canada published a paper defining the 'environmental paradox' where they looked at the assumption that human quality of life has gone up while ecosystems have declined. They challenged this assumption, looking at how much human population has grown, which lowers quality of life, and also how a decline in natural ecosystems affects human life and leads to lower quality of life in the long run.

To understand the real state of the planet, there are 4 factors to consider - Population Growth, Ecosystem Goods and Services, Global Climate Change and Loss of Biodiversity. Looking at these 4 factors will help us reach a more comprehensive understanding of the state of the planet today and also help in looking ahead to the future.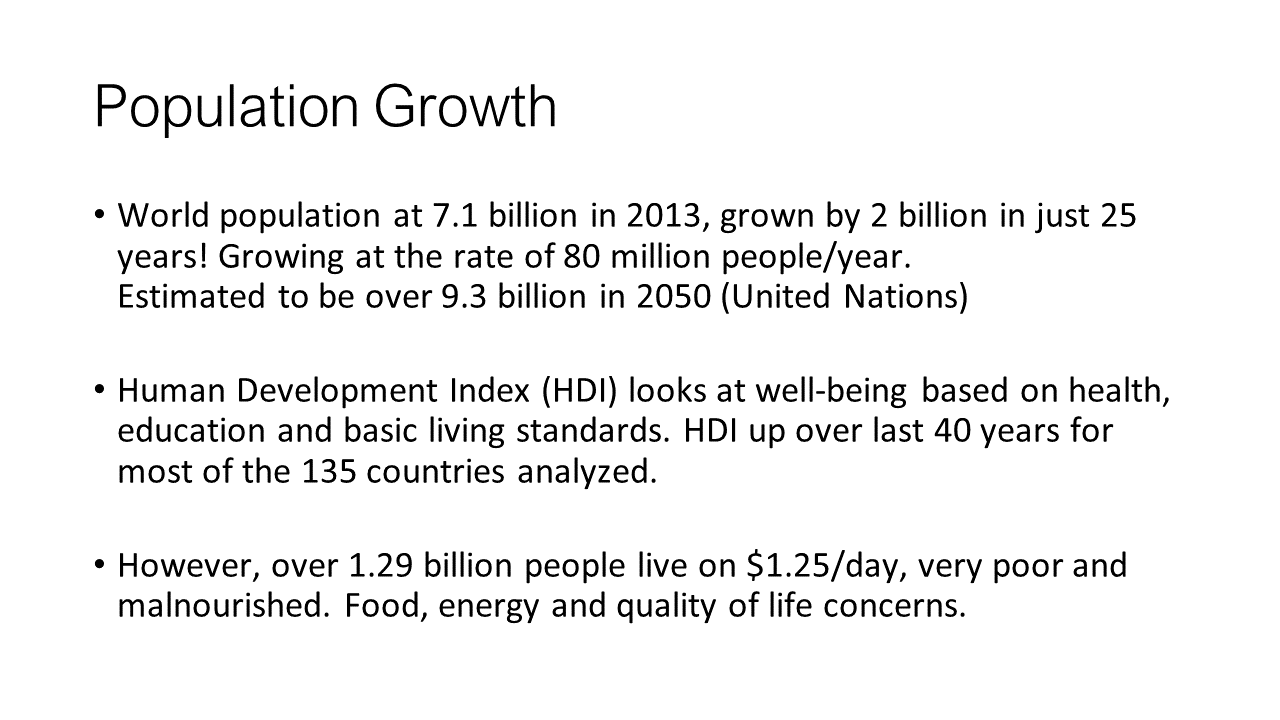 Human population continues to grow at a very fast rate worldwide. With 2.2 billion new people expected in the next 33 years, quality of life can go drastically down when so many more people occupy the same space and compete for limited resources.

The United Nations developed a Human Development Index (HDI) to study the well being of people worldwide in 135 countries over the last 40 years, looking at health, education and basic living standards. These factors contribute to literacy, better employment, longer lives, more fulfillment and greater reported happiness overall. The HDI has gone up and thus 'well being' has mostly gone up.

However, there are many impoverished and malnourished people - mostly located in developing countries - that suffer and have a very low quality of life. As more people are born, food, energy, shelter, education, employment and quality of life become even bigger concerns.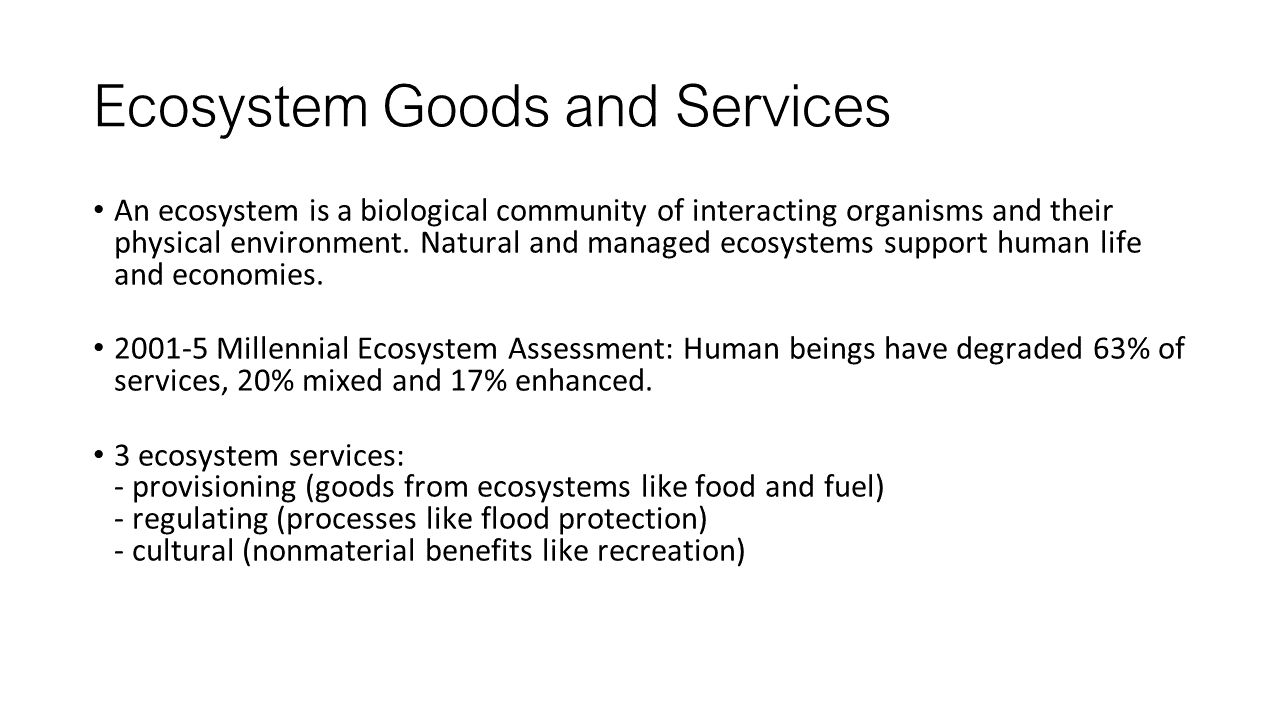 The world economy relies heavily on natural resources such as water, wood, plants, fish, cattle, poultry, leather, furs, raw materials for fabrics, oil, alcohols and more. In fact, 50% of all jobs in the world come from agriculture, forestry and fishing.

These ecosystems also support services necessary for human life and the economy for every country. Goods and services are developed from these resources and through the sale and trade of these resources. The state of any country's environment, particularly in terms of its natural resources, has a large impact on the well-being of its people and the wealth of that nation.

From 2001 to 2005, the Millennial Ecosystem (ME) assessment gathered information worldwide with the help of 1360 scientists in 95 countries to look at ecosystems on a global scale. The summary report revealed that human beings mostly had a negative impact upon ecosystems (63%), 20% mixed impact (some positive and negative), and 17% enhanced impact.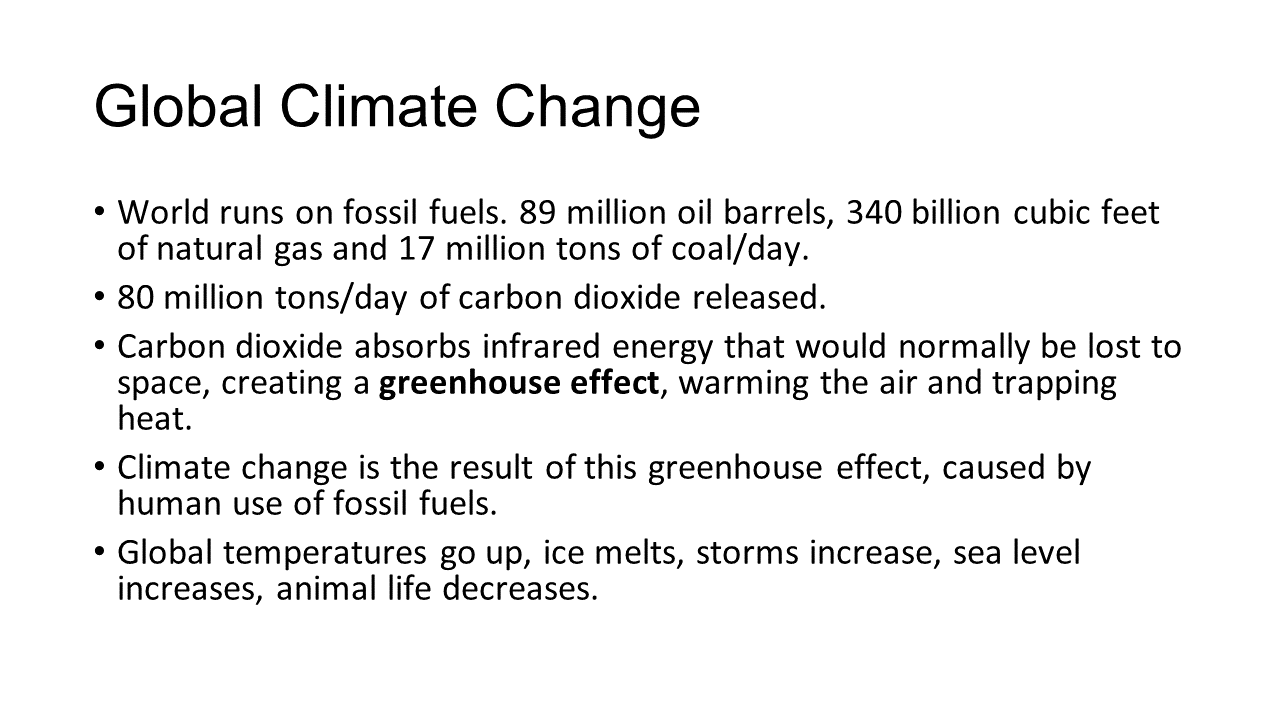 There are real solutions to the Global Climate Change problem, first starting with lowering carbon dioxide emissions. This is called mitigation. Climate change affects extremely poor people more because they mostly live in developing countries where they are heavily dependent upon their natural environments to survive. Animal life is also affected as warming temperatures lead to more acidic environments, killing off plant life, which in turn, destroys the food supply for many animals. Ultimately, this affects entire food chains.

Global climate change is one of the defining environmental issues facing the 21st century and affects every country.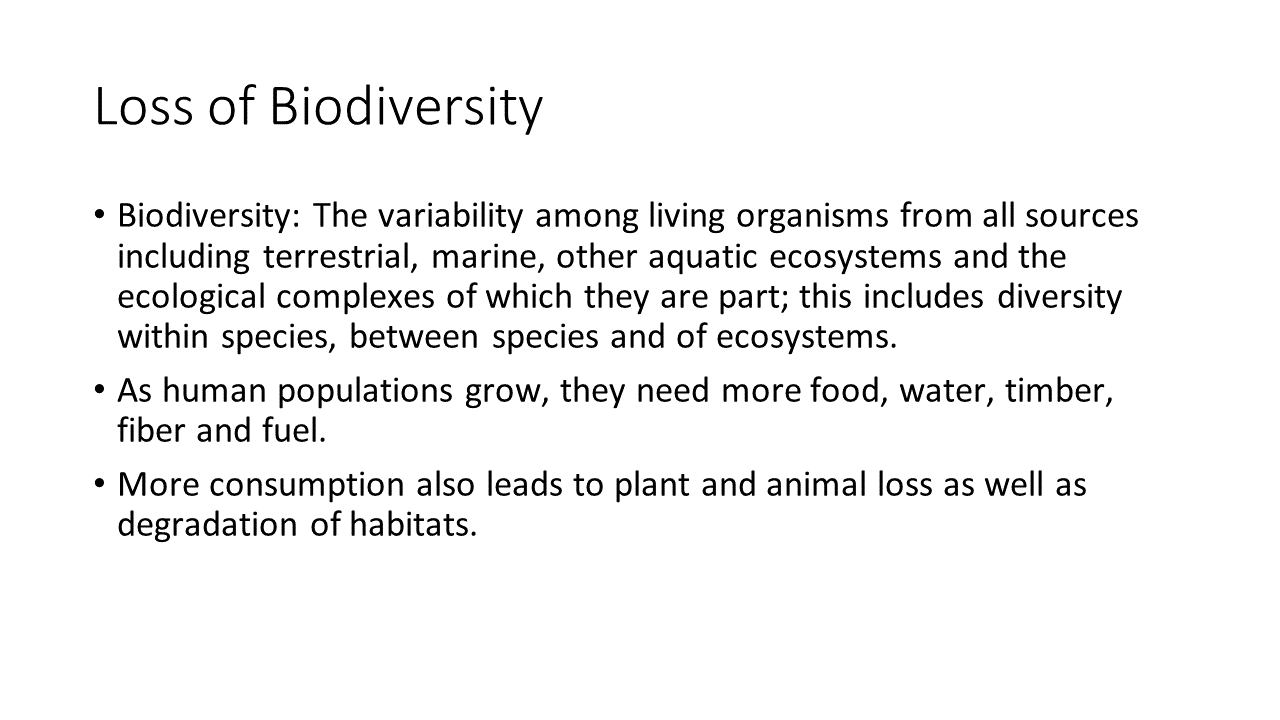 Our Earth is so rich in biodiversity that many species remain unidentified still today. Scientists estimate that as many as 5 to 30 million species exist on Earth. Of known vertebrates (with a spine), however, populations have dropped by 30% between 1970 and 2006. Most of this has happened in the tropics and in the oceans.

Biodiversity is essential to agriculture and medicine. It also helps environments maintain stability and recover from wildfires, volcanoes and other natural disasters. Most goods and services come from various living organisms. When we consume organisms without protecting these natural systems, they get depleted and can even become extinct.

Many animal species are hunted and marketed illegally. Some are protected by law in the United States and in some other countries. Pollution also degrades habitat, leading to significant loss of biodiversity in terms of both plant and animal life.