Lesson Objectives:
- The dangers of radiation
- Radioactive waste disposal
- Choosing sites for radioactive waste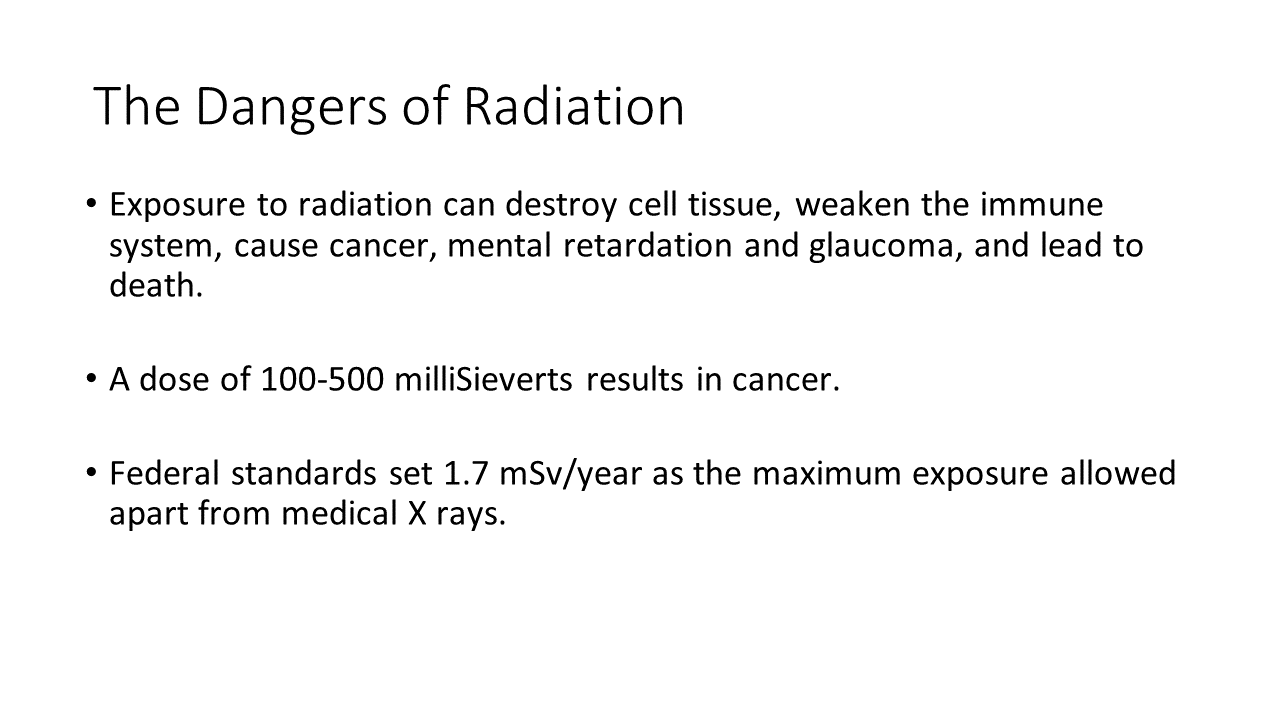 While nuclear energy plants are monitored and carefully built and maintained, concern about exposure to radiation is valid. Exposure to radiation can destroy cell tissue, weaken the immune system, cause cancer, mental retardation and glaucoma and lead to death. High doses of radiation can cause death in a few days. Low levels of radiation exposure can remain undetected at first but then cause serious damage and disease.

A dose of 100-500 milliSieverts can result in cancer.

Federal standards set 1.7 milliSieverts a year as the maximum exposure allowed apart from medical X rays.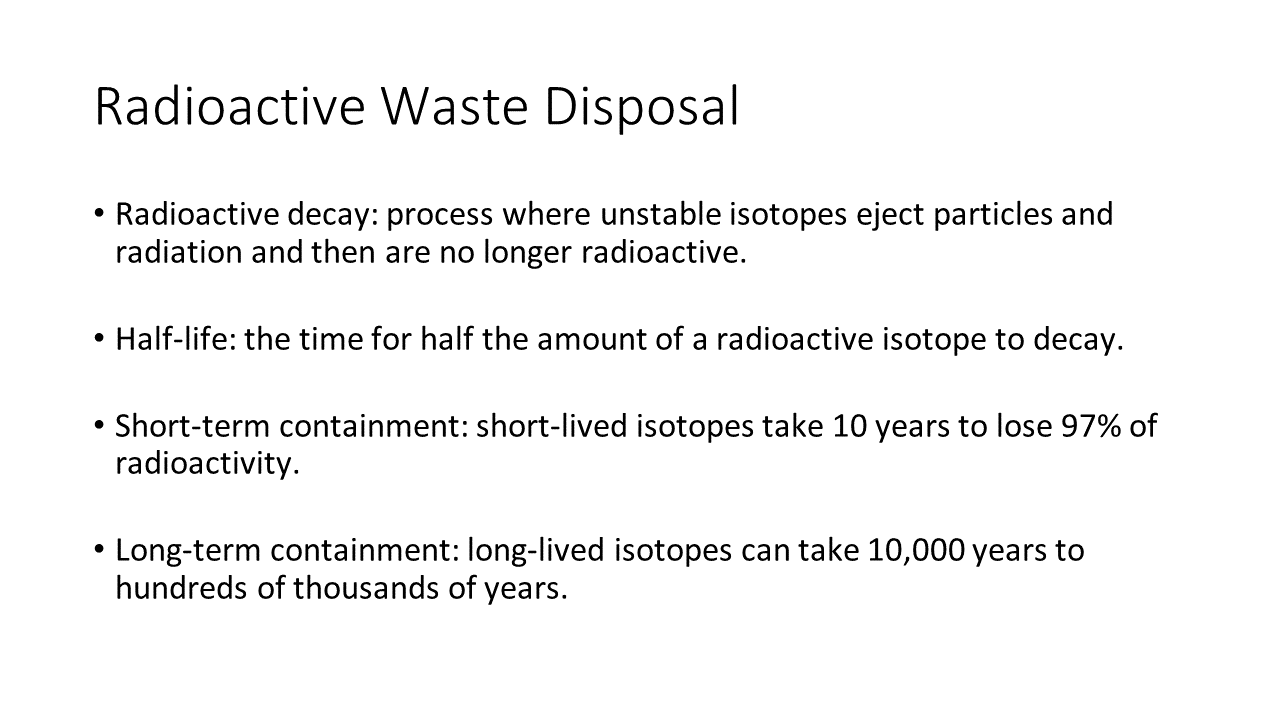 Radioactive decay is the process where unstable isotopes eject particles and radiation and then are no longer radioactive.

Half-life is the time for half the amount of a radioactive isotope to decay.

How do we dispose of radioactive waste? We dispose of radioactive waste primarily in two ways: short-term containment and long-term containment.

Short-term containment is the storage of short-lived isotopes, which take 10 years to lose 97% of their radioactivity.

Long-term containment is the storage of long-lived isotopes that can take 10,000 years to hundreds of thousands of years. Given the concerns about radiation, Congress extended the protection plan to 1 million years.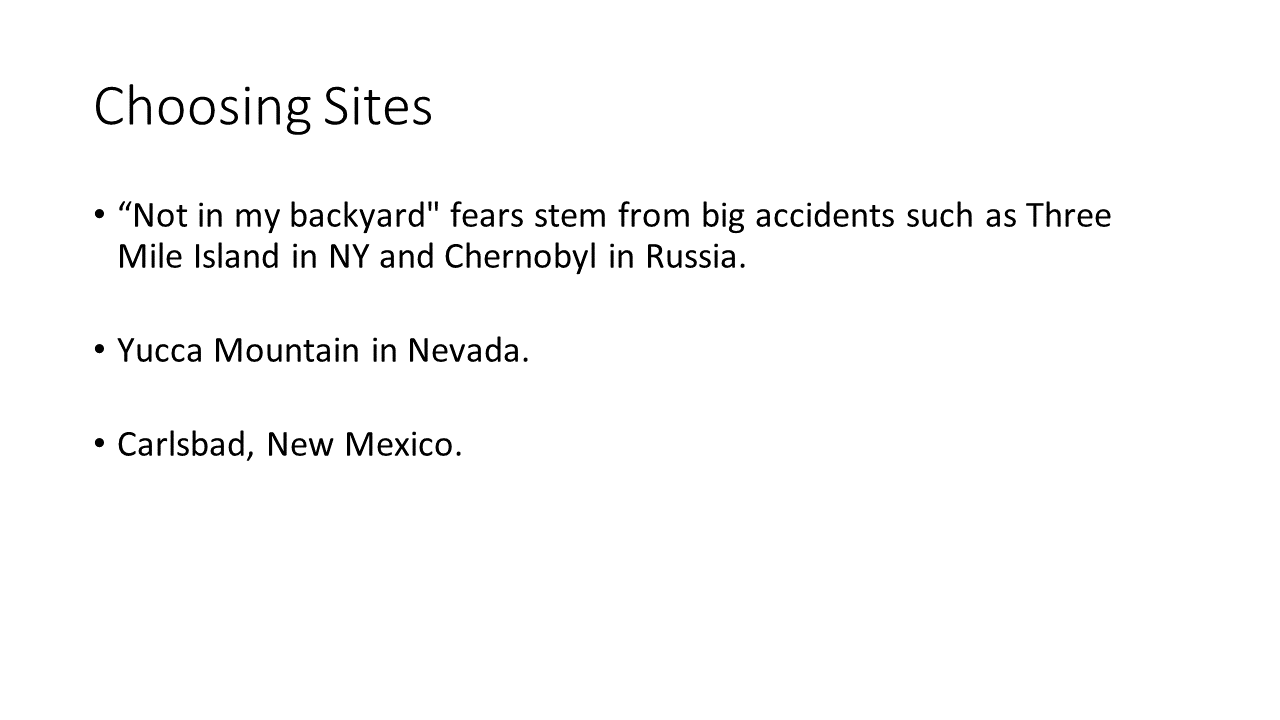 Efforts to locate a long-term containment facility have been thwarted by the "not in my backyard" fears. Some of these fears stem from prior accidents such as the Three Mile Island accident in 1979 in Pennsylvania and Cherynobyl in Russia in 1986 that caused widespread devastation and 500 times the amount of radioactive fallout than the atomic bomb in Japan in 1941.

In 2002, President Bush designated Yucca Mountain in Nevada to contain radioactive waste and stopped the governor from developing the site. However, there were many critics of the site and concerns about natural disasters such as volcanoes and earthquakes.

President Obama shut down the Yucca Mountain facility and appointed a new committee to come up with a better strategy and location. In 2011, a site for waste collection and disposal was chosen in Carlsbad, New Mexico using an existing site. The residents there welcomed the plant.