Lesson Objectives:
- Sustainability
- Sound Science
- Stewardship
- Stewardship Ethics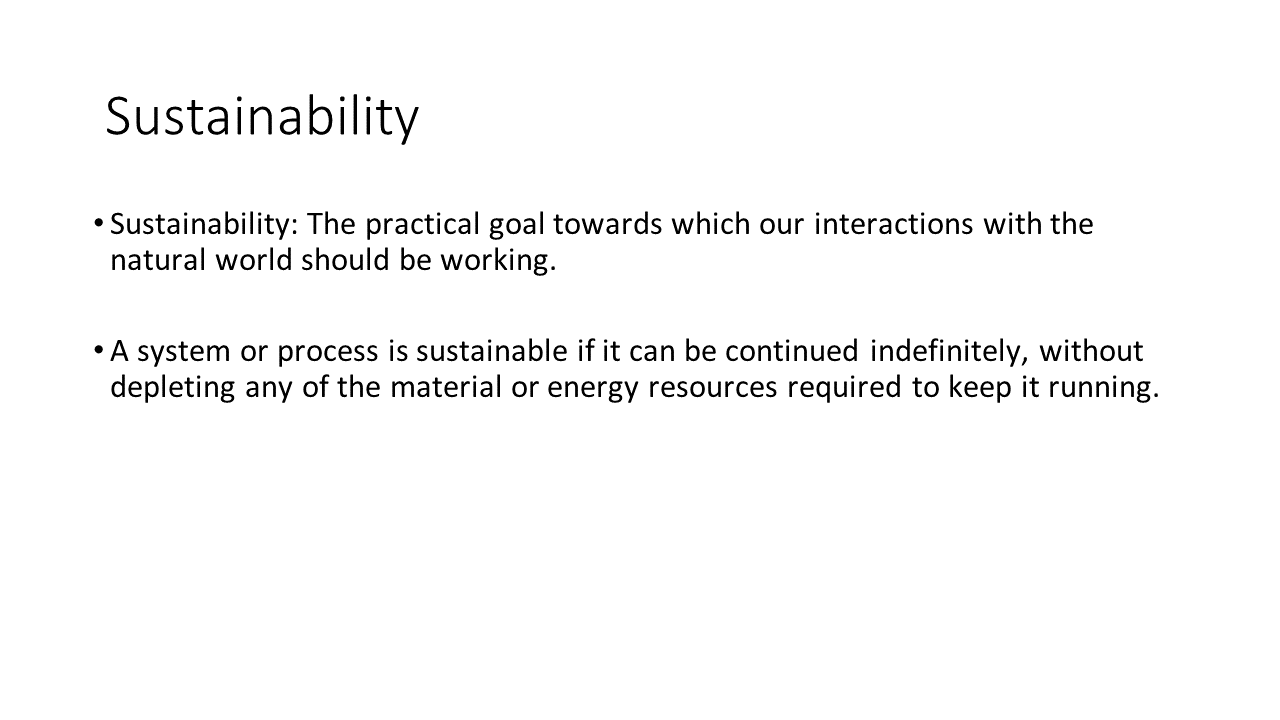 Sustainability is the first of three key unifying principles for healthy ecosystems for human beings, animals, plant life and all biodiversity to exist and flourish. Achieving the goal of sustainability is important as this means that human activity can continue in harmony with the environment without destroying or harming it.

To be sustainable, a system or process can be continued indefinitely, without depleting any of the material or energy resources required to keep it running.

For example, with a forest, you can sustainably cut trees and use them for timber without depleting the forest of all healthy trees. The timber can be used for economic purposes and the forest continues to grow and replace those trees. This harvesting is called a sustainable yield. It only becomes unsustainable if more trees are cut than the capacity to grow and be replaced.

Sustainability can be applied to any ecosystem, to societies and to development. Sustainable development is especially important in developing countries that are heavily dependent on natural resources for their survival.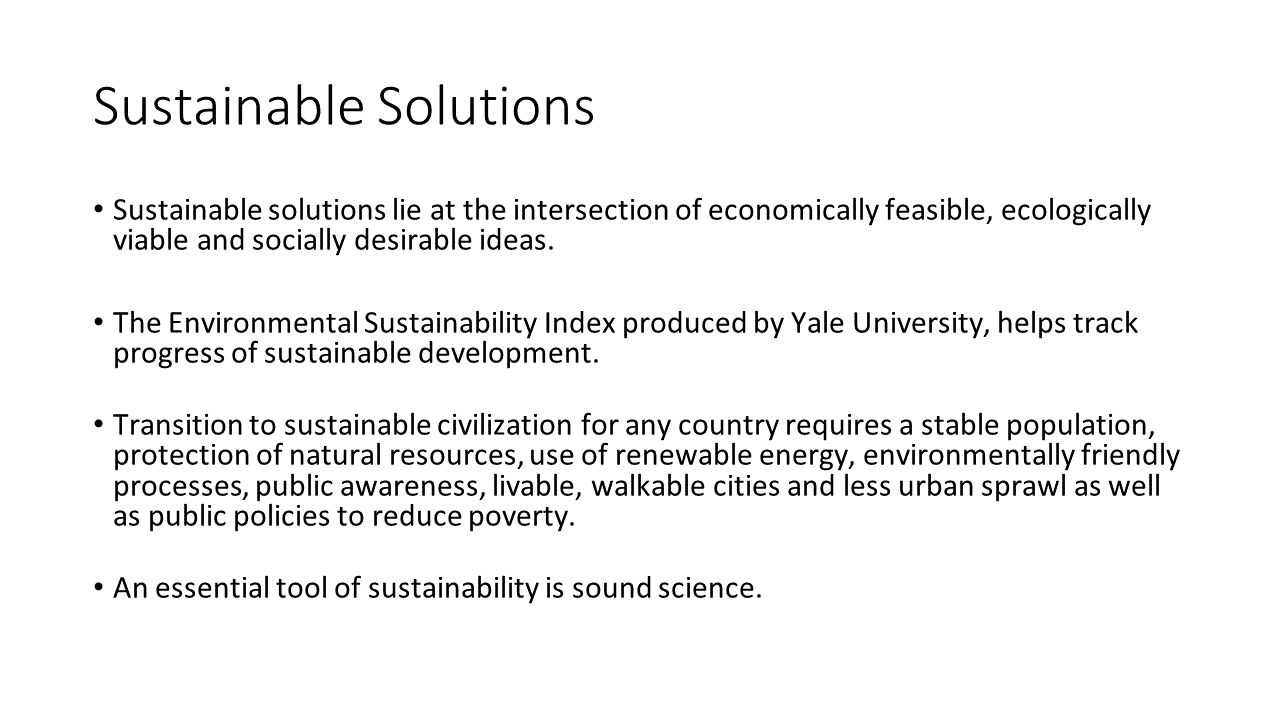 There are many factors that affect sustainable development and the degree of influence of each factor (political, economic, societal and environmental) vary by country. Sustainable development is the ultimate goal and building a sustainable civilization that is in harmony with the environment is the ideal result.

Understanding the effects of human behavior on the environment requires measurement. Yale University created an Environmental Sustainability Index based on research from 1999 to 2005 to track progress of sustainable development. This is an essential tool to track and understand the effects of policies and actions on air quality, soil erosion, impact of toxic chemicals on the environment, and much more. The index has been helpful in evaluating the natural resources available in any country and then understanding what is required for healthy stewardship of those resources.

Creating a sustainable civilization will take time. It requires public consensus as there are many aspects to consider. It requires a stable population, protection of natural resources, use of renewable energy, environmentally friendly processes, public awareness, livable, walkable cities and less urban sprawl as well as public policies to reduce poverty.

Building a sustainable society and civilization is possible and can be achieved through the use of tools such as sound science.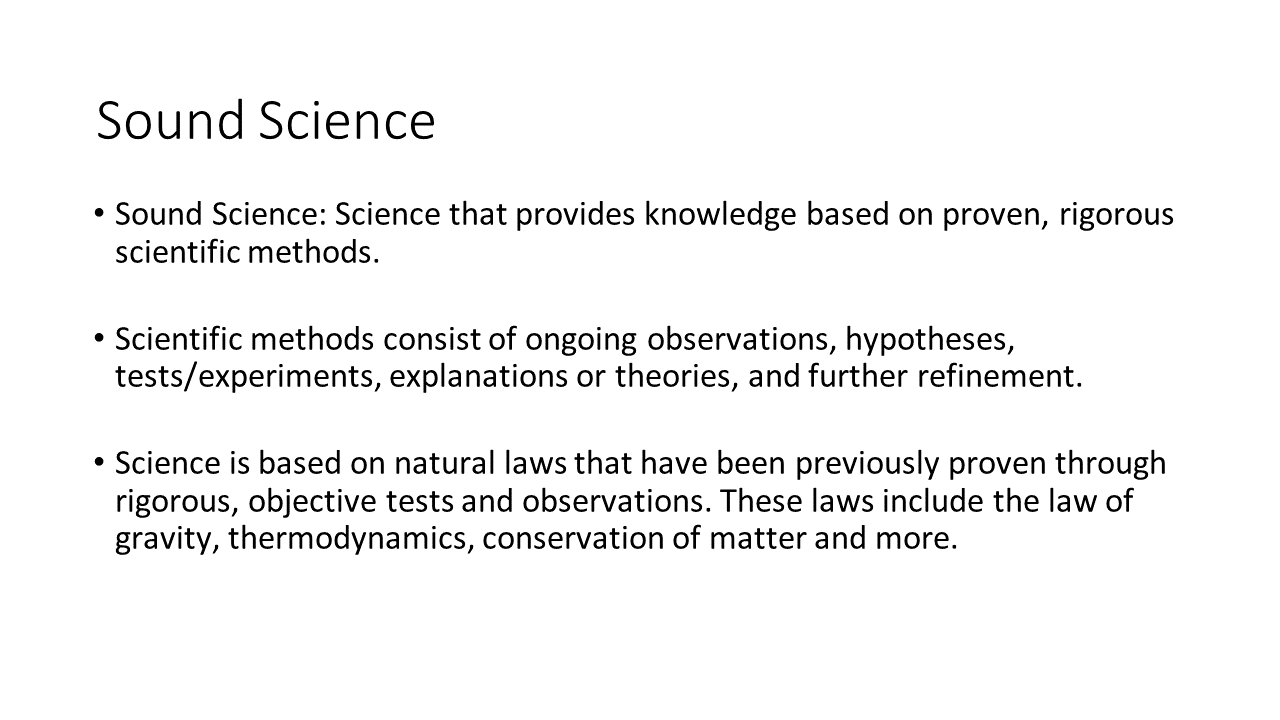 Sound science is the term used to differentiate knowledge gained from genuine scientific methods based on objective observation, theory development, experimentation and refinement, from junk science that is not proven, is opinion-based and is often used inaccurately by special interest groups with political agendas.

Scientific methods are meant to be objective and based on observable data that is unaltered and unaffected by personal opinions or preferences. Science is based on natural laws that have been previously proven through rigorous, objective tests and observations. These laws include the law of gravity, thermodynamics, conservation of matter and more.

Sound science also uses tools and specific instruments to measure and record information. This can range from microscopes to X-rays, thermometers and more.

Sound science is essential to gathering accurate information and making informed decisions.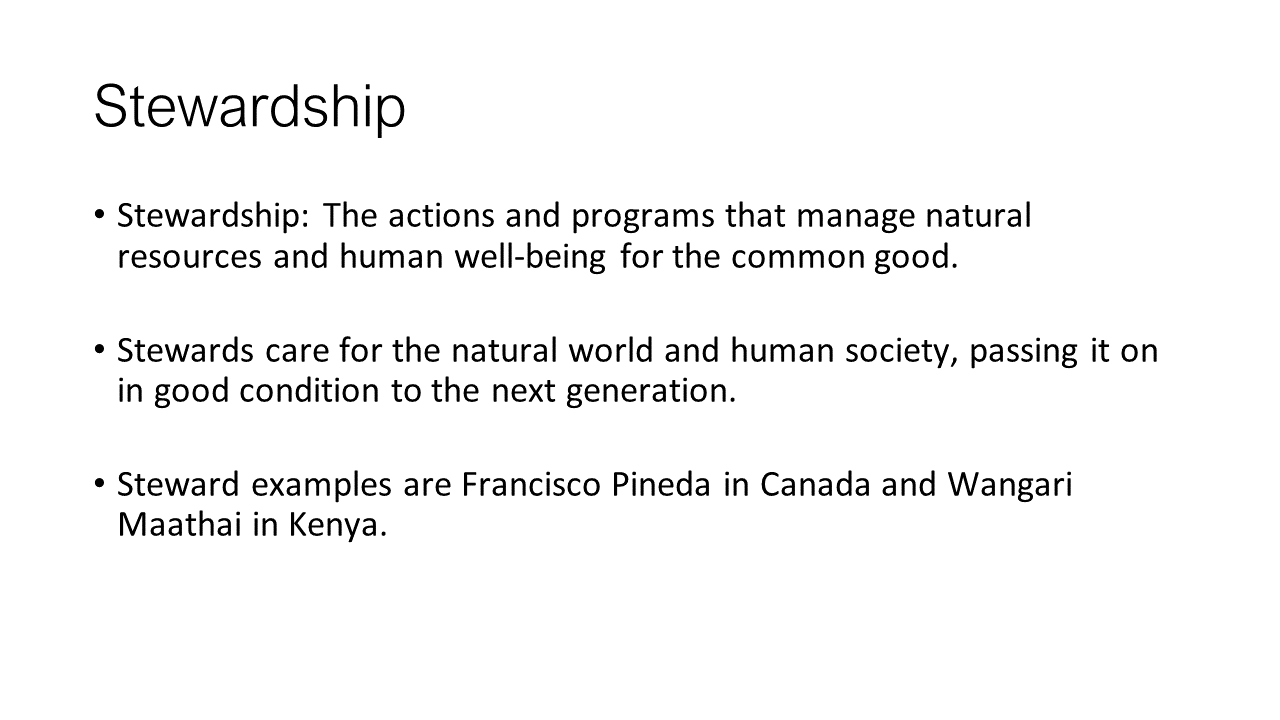 Stewardship consists of the actions and programs that manage natural resources and human well-being for the common good. Being a steward involves recognizing that your control over natural resources is limited and being willing to care for the generations after yours.

A steward can care for the natural world and human society. There are many stewards today taking care of lands, ecosystems and societies in big and small ways. Two examples of brave stewards who faced violence and risks to their lives include Francisco Pineda in Canada and Wangari Maathai in Kenya. Pineda opposed a Canadian mining company called Pacific Rim. He led a large grassroots opposition at risk to his own life, and eventually won protection for the area. He also was awarded the Goldman Prize in 2011. Wangari Maathai helped plant 47 million acres of trees in Kenya, leading large groups of women to do so. She was jailed for opposing the local government for its corruption and beaten. Years later, she was appointed environmental minister in a new government and awarded the Nobel Peace Prize in 2004.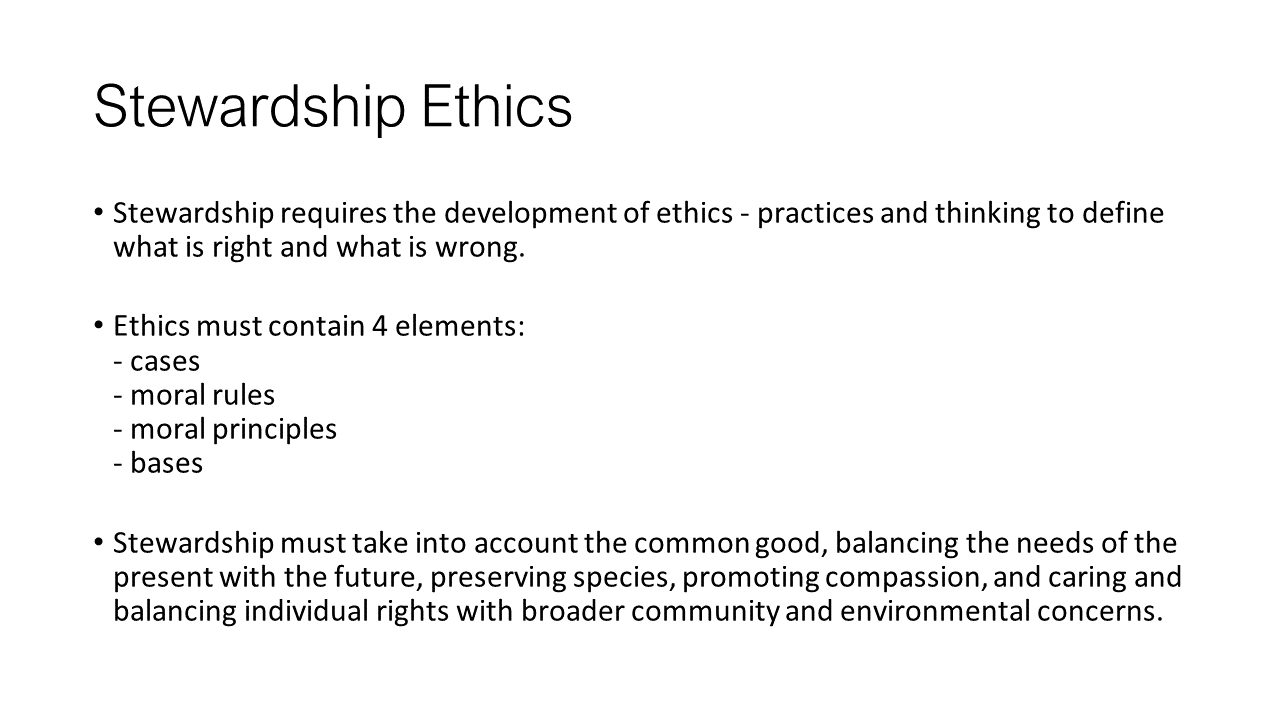 To practice stewardship, we need a code of ethics, or practices and thinking to define what is right and what is wrong. For ethics to work, they require 4 elements: cases, moral rules, moral principles and bases.

Cases refer to specific acts and whether an act is morally justified. The answer has to be based on moral rules. Moral rules are general guidelines used to govern how we act, for example, in regards to endangered species. Moral principles are based on larger general concepts. For example, a moral principle is that everyone should be treated fairly. Finally, bases offer the reasoning behind ethical principles. They can be based on a general philosophy or approach. They can also be based on a theory.

Developing a stewardship ethic requires good thinking and planning as it needs to take into account the common good, balancing the needs of the present with the future, preserving species, promoting compassion, and caring and balancing individual rights with broader community and environmental concerns.