Lesson Objectives:
- Renewable energy
- Replacing fossil fuels
- The push towards renewable energy
- Natural gas, coal, and nuclear power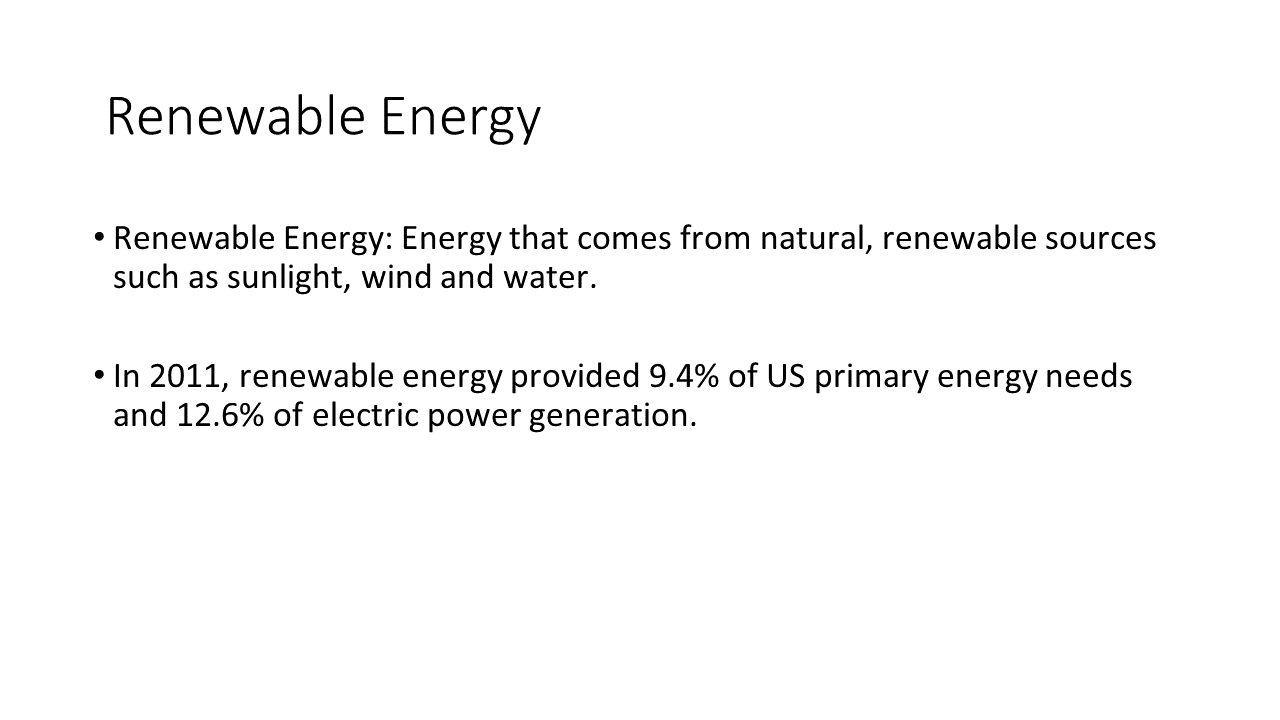 Renewable Energy is energy that comes from natural, renewable sources such as sunlight, wind and water. In 2011, renewable energy provided 9.4% of US primary energy needs and 12.6% of electric power generation.

President Obama called for 80% of the nation's electricity to be generated from clean energy or non-fossil fuel by 2035. Worldwide, renewable energy powers 16% of energy use and 20% of electricity. The UN has called for a reduction of fossil fuel use of 80% by 2050.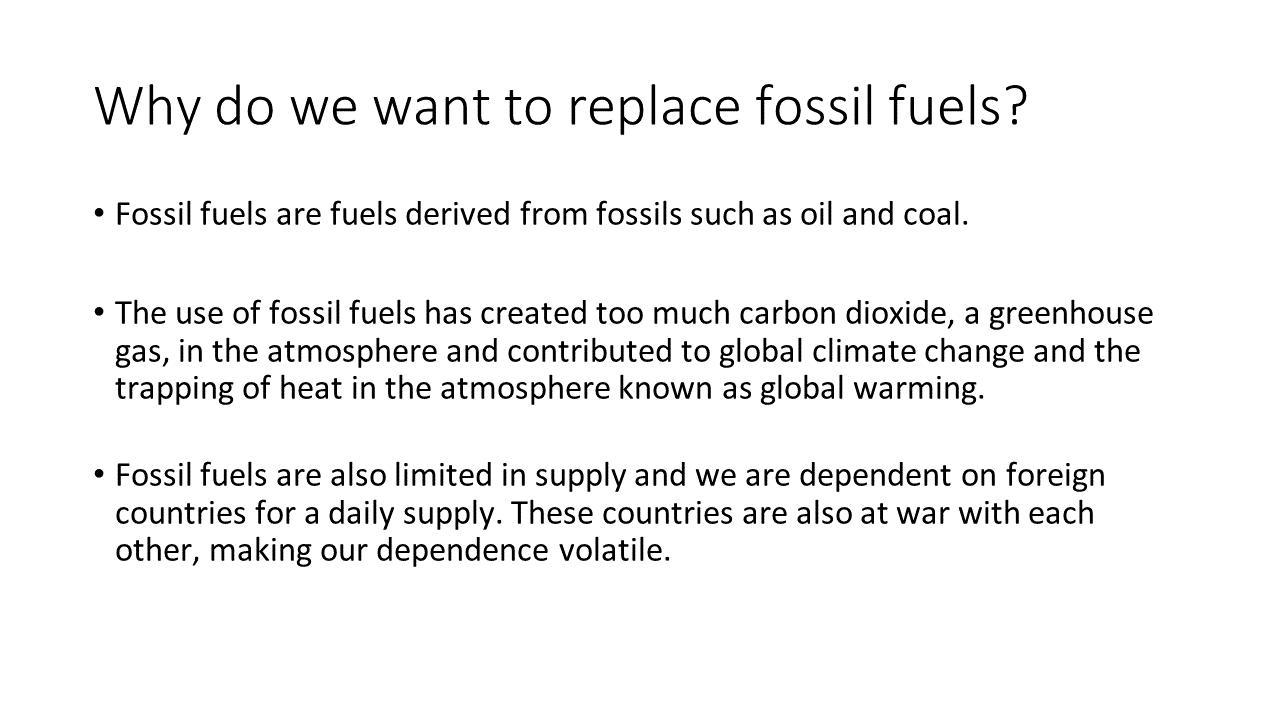 Fossil fuels are fuels derived from fossils such as oil and coal. The use of fossil fuels has created too much carbon dioxide, a greenhouse gas, in the atmosphere and has contributed to global climate change and the trapping of heat in the atmosphere known as global warming. This has led to rising global temperatures and sea levels that affect all living life. If the temperature goes up by even 1 degree Celsius in an area, it renders the climate in that area inhospitable for some plants and animal life. With temperatures constantly increasing due to global warming, the effects would be catastrophic.

Fossil fuel use and industrial production also pollutes the air and causes poor health and fatalities. Leaking oil supplies have decimated fish populations and contaminated the soil.

Fossil fuels are also limited in supply and cause us to be dependent on foreign countries for a daily supply. These countries are also at war with each other, making our dependence volatile.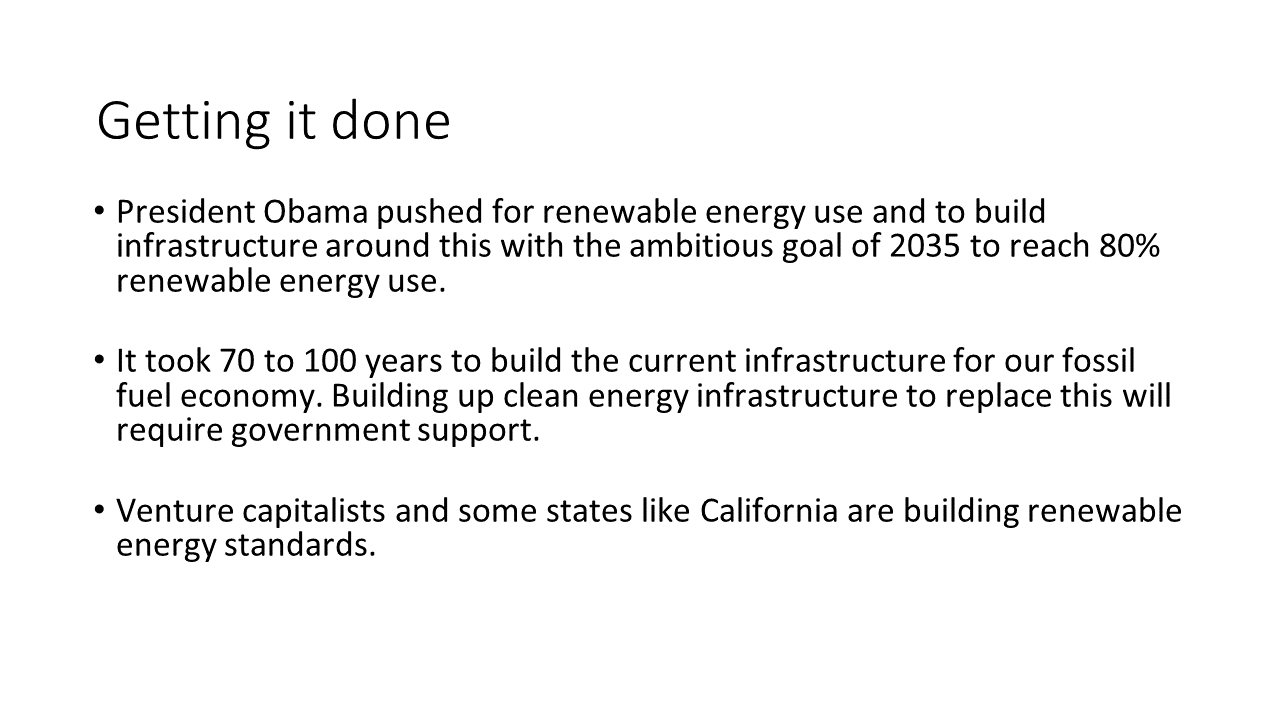 President Obama pushed for renewable energy use and to build infrastructure around this with the ambitious goal of reaching 80% renewable energy use by 2035. The time frame is important to prevent climate change and the destruction of species and habitats.

It took 70 to 100 years to build the current infrastructure for our fossil fuel economy. This happened with government subsidies at a rate of $98 billion per year from 2002-2010 alone. Building up clean energy infrastructure to replace this will require government support.

Venture capitalists and some states like California are building renewable energy standards.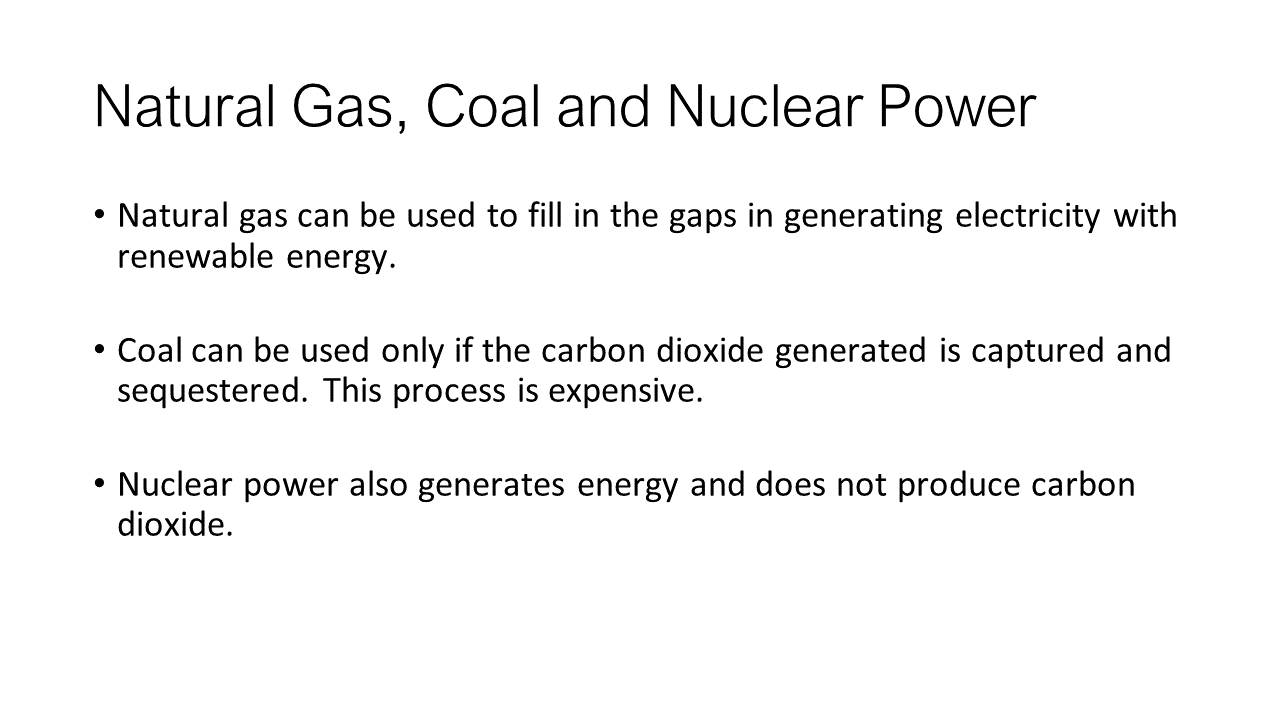 In addition to renewable energy, there are other energy sources such as natural gas, coal and nuclear power that can be used. Natural gas is not harmful like fossil fuel production and is becoming more available through better technology methods. Natural gas can be used to fill in the gaps in generating electricity with renewable energy.

Coal has been a source of energy since the Industrial Revolution but production is dirty and harmful to both people and the environment. Coal can be used only if the carbon dioxide generated is captured and sequestered. This process is expensive.

Nuclear power also generates energy and does not produce carbon dioxide.