Lesson Objectives:
- Hydropower
- Wind power
- Biomass energy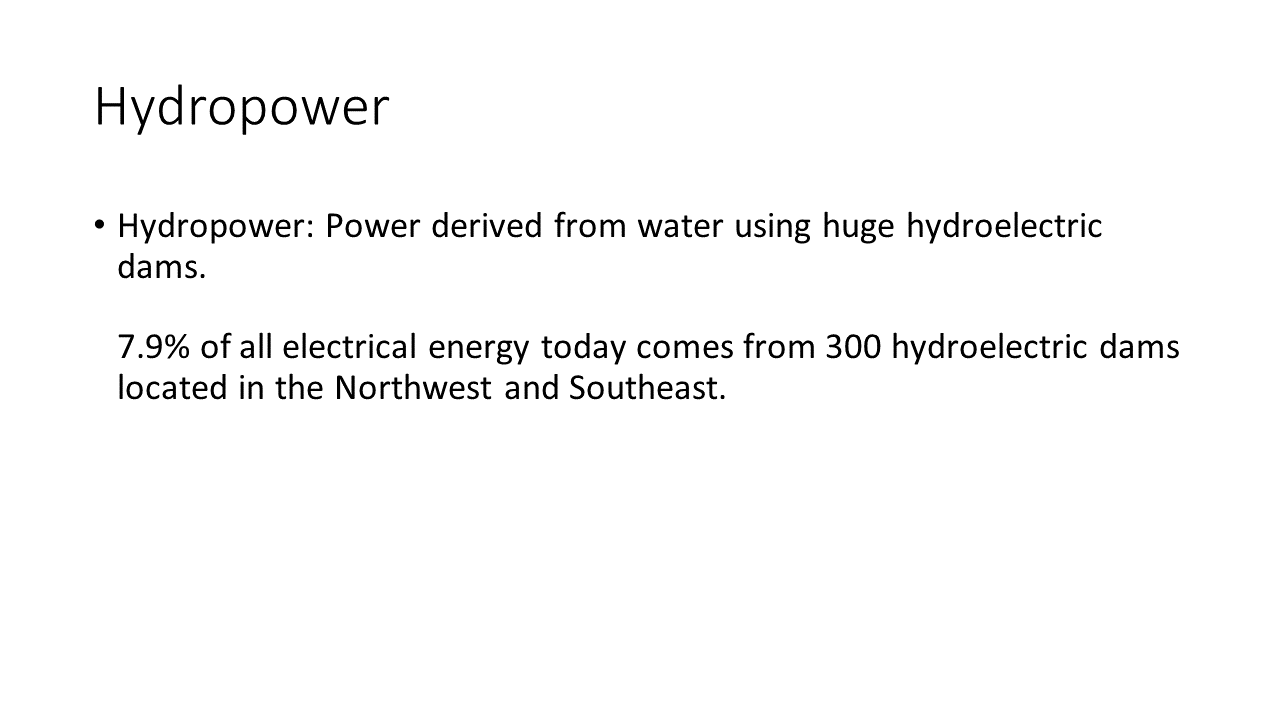 Hydropower is power derived from water using huge hydroelectric dams.

7.9% of all electrical energy in the United States today comes from 300 hydroelectric dams located in the Northwest and Southeast.

Dams have advantages such as eliminating the cost of fossil fuels and nuclear power. They are long-lasting. They also provide flood control, and reservoir areas behind the dams provide recreational opportunities. Dams can also be employed in pumped storage power plants where water is pumped at the rate of demand.

Dams have disadvantages too, such as reservoirs behind dams drowning out farmland and wildlife habitats while displacing rural populations. Dams impede the flow of fish. Dams can also wreak havoc downstream if the flow of water is not regulated sufficiently. Building new dams has thus become very controversial.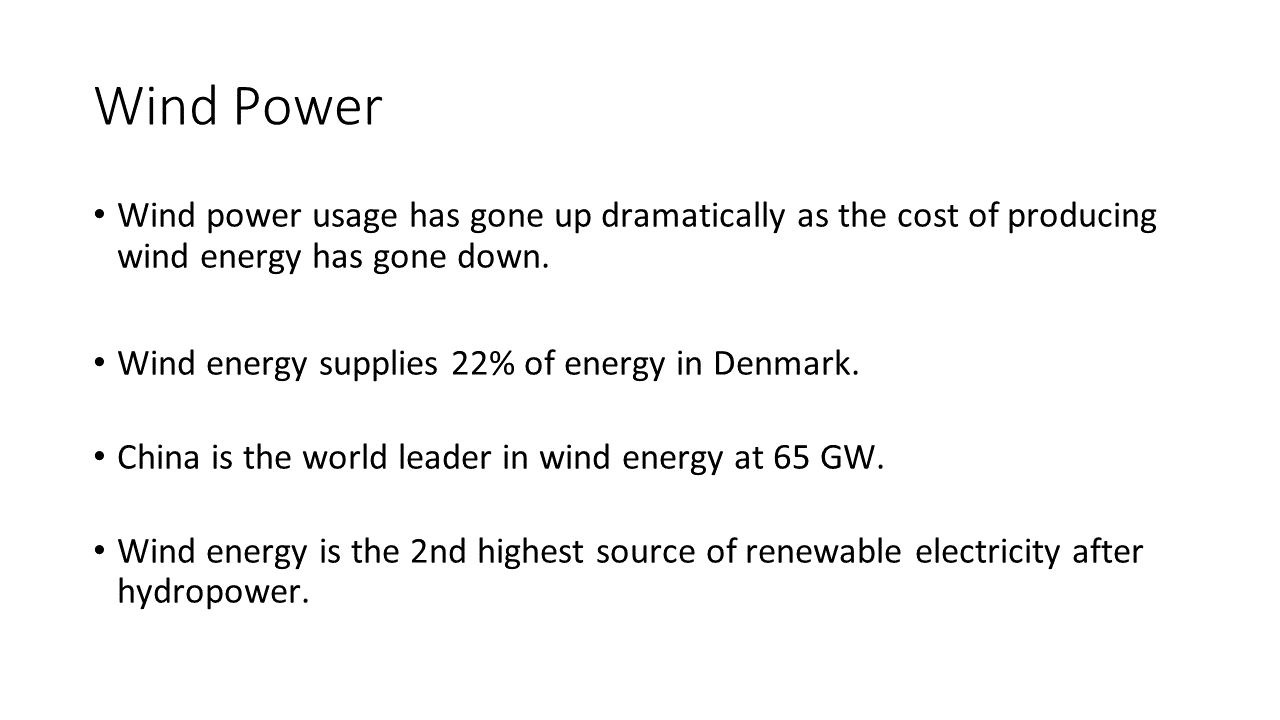 Wind power usage has gone up dramatically as the cost of producing wind energy has gone down.

Wind energy supplies 22% of energy in Denmark. Wind power could supply at least 12% of the world's electricity by 2020 at 1.2 thousand GW (gigawatts).

China is the world leader in wind energy at 65 GW. Global wind power capacity has increased at the rate of 26% per year.

Wind energy is the 2nd highest source of renewable electricity after hydropower. Wind energy is usually harnessed via wind turbines set on wind farms.

While wind energy is non-polluting and does not require as extensive infrastructure as fossil fuels or PV cells, wind energy has drawbacks. Wind energy is intermittent. They are aesthetically unappealing to many people. They can also be hazardous to birds and bats.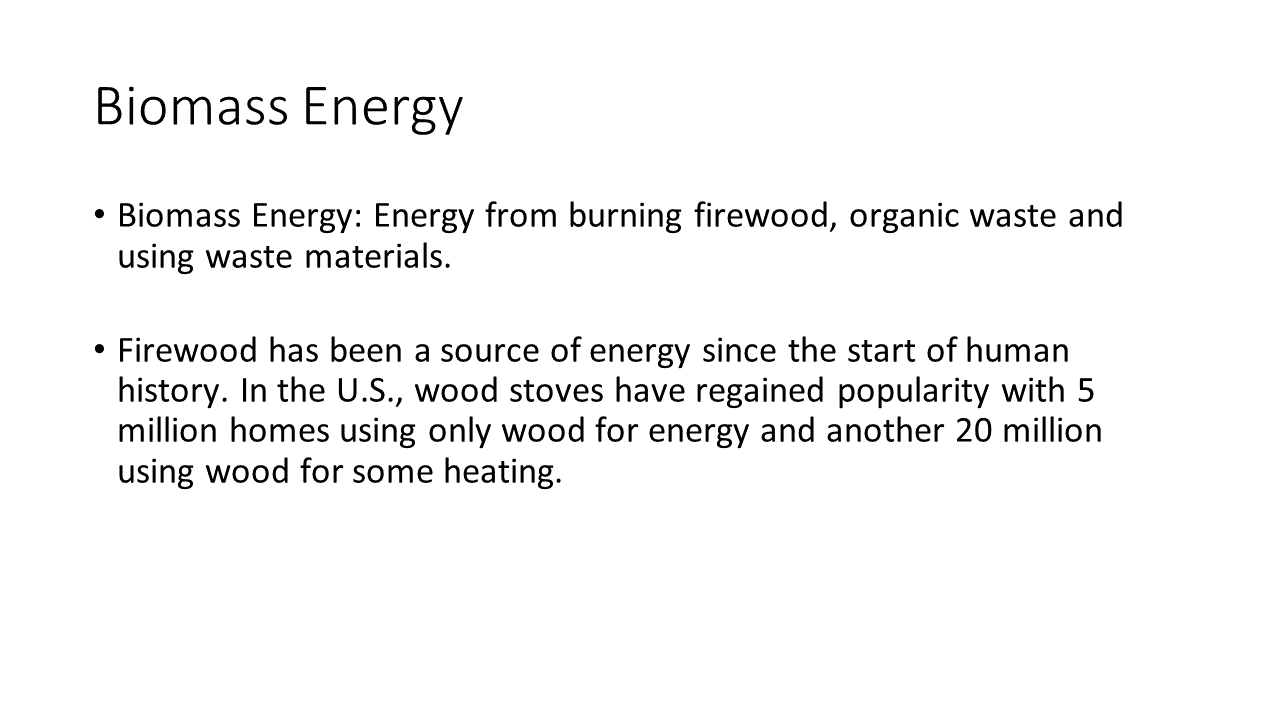 Biomass Energy is energy from burning firewood, organic waste and using waste materials.

Firewood has been a source of energy since the start of human history. In the U.S., wood stoves have regained popularity with 5 million homes using only wood for energy and another 20 million using wood for some heating.

The pellet stove is the latest wood stove and is a device that burns compressed wood pellets from wood wastes. Using biomass sources can provide energy. Burning waste materials like sewage and animal waste can also create biogas that can be used as a fertilizer and heat source. Rural farmers in both China and India use this inexpensive way to cook, heat and light their homes.