Lesson Objectives:
- Biofuels
- Hydrogen
- Renewable energy economy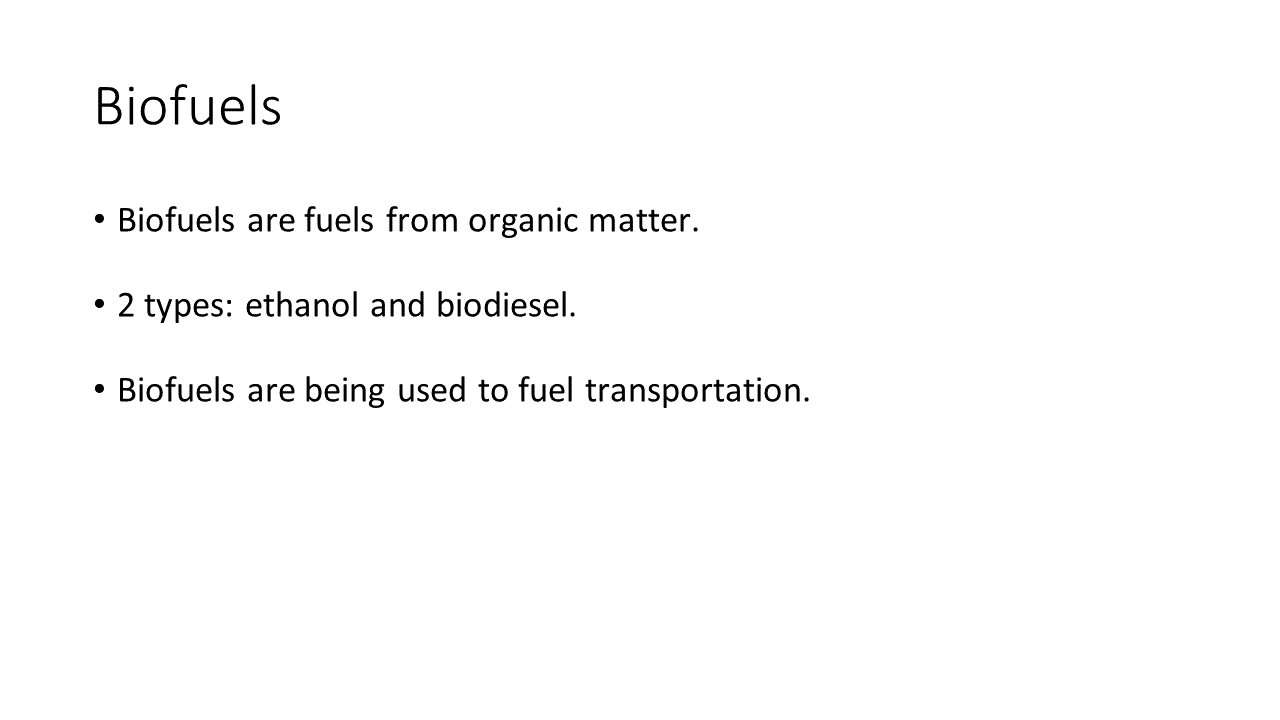 Biofuels are fuels from organic matter.

There are 2 types: ethanol and biodiesel. Ethanol is produced by fermentation of starches or sugars. Biodiesel is natural oil or fat mixed with an alcohol to make the fuel.

To stimulate the industry, the government provides federal tax credits. Today, you can buy fuel with 10% ethanol in it. Farm products like corn are also being considered energy sources.

Biofuels are being used to fuel transportation. Biofuels only account for 8% of energy production in the U.S.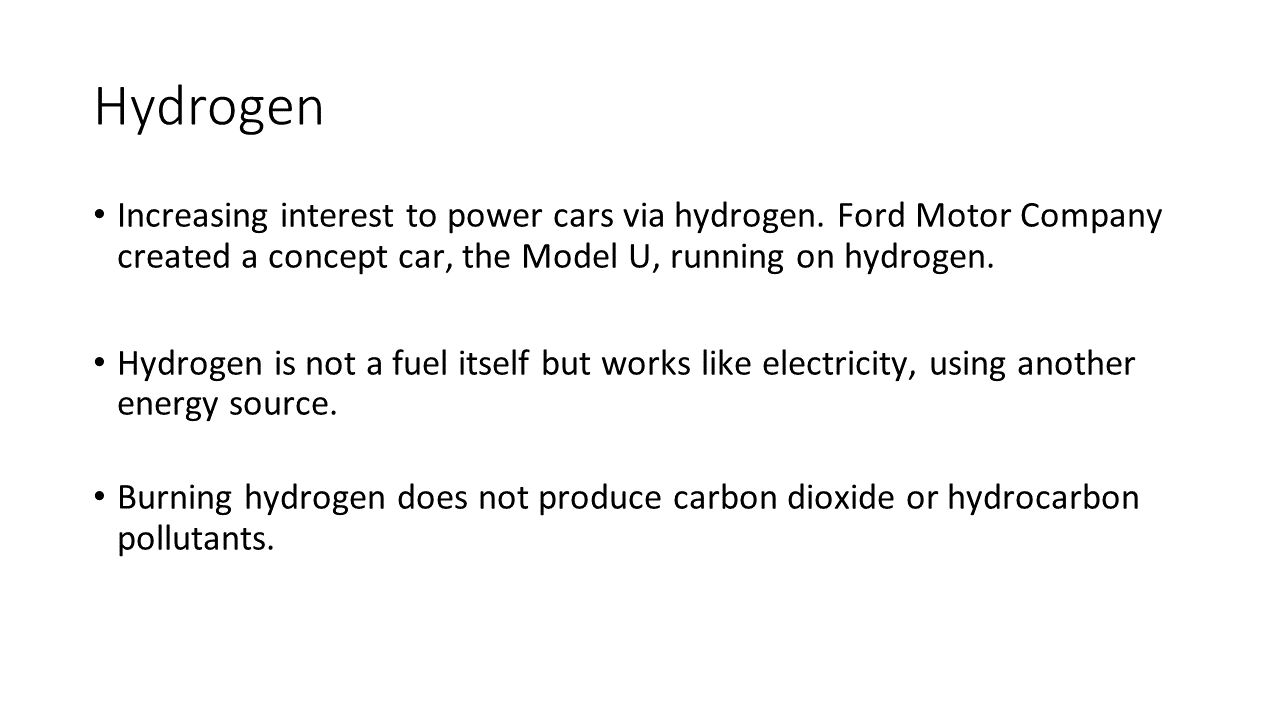 Hydrogen is a potential method for using renewable energy. One area of increasing interest lies in powering cars via hydrogen. Ford Motor Company created a concept car, the Model U, running on hydrogen with a hybrid electric drive.

Hydrogen is not a fuel itself but works like electricity, using another energy source.

Burning hydrogen does not produce carbon dioxide or hydrocarbon pollutants.

Why are we not using it? Hydrogen does not occur naturally on its own - it has to be extracted from water via electrolysis or pulled from other methods. Two other methods are being explored - via photosynthesis and via solar energy.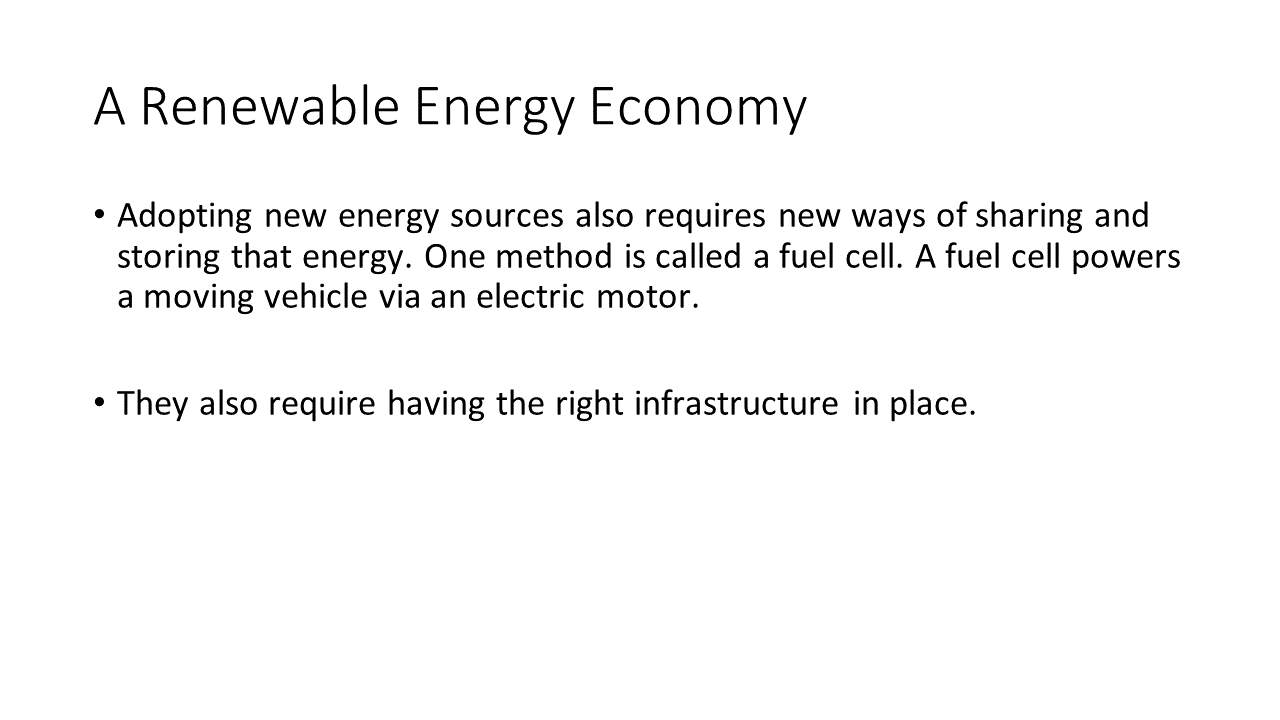 Building a renewable energy economy is possible. It requires new energy sources. Adopting new energy sources also requires new ways of sharing and storing that energy. One method is called a fuel cell. A fuel cell powers a moving vehicle via an electric motor.

They also require having the right infrastructure in place. When we have the right infrastructure and are using renewable energy sources, we can transition to sustainable energy systems.