Lesson Objectives:
- Disease and sickness
- Environmental health
- Measuring health
- Environmental hazards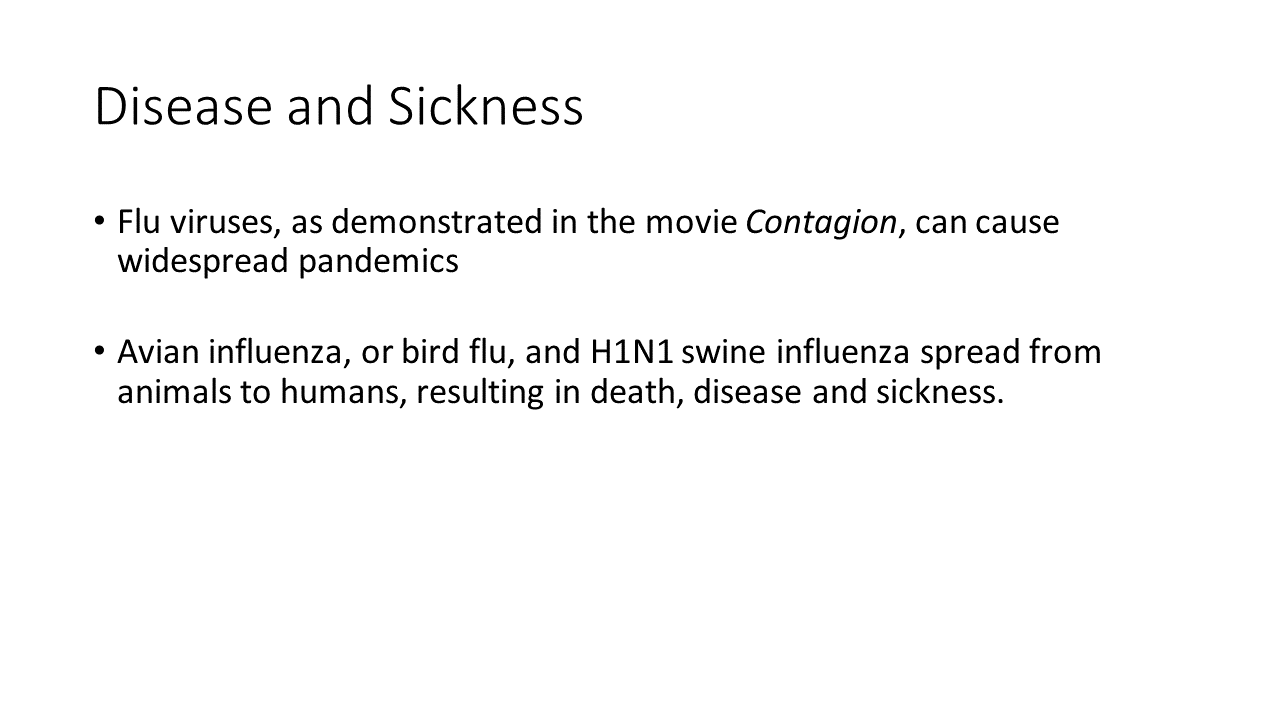 Human health is linked to the environment. Flu viruses, as demonstrated in the movie Contagion, can cause widespread pandemics, killing animals and also human beings.

Today there are many virulent forms of flu that can hurt human beings in addition to animals. Avian influenza, or bird flu, and H1N1 swine influenza both spread from animals to humans, resulting in death, disease and sickness. H1N1 caused over 16,000 human deaths in 2009. Flu viruses have also adapted from pigs, birds and humans to become even more dangerous.

Common diseases like the flu and worm infestations and diarrhea have been known to cause severe damage, especially in developing countries.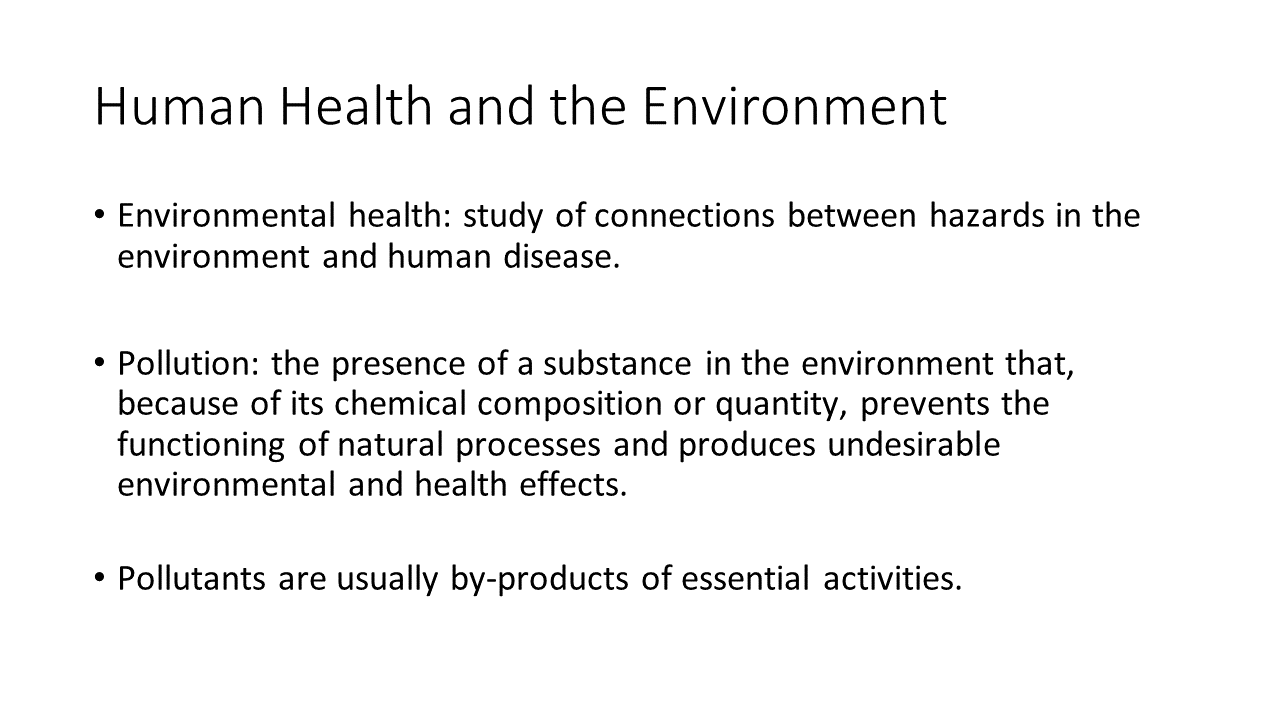 Environmental health is the study of connections between hazards in the environment and human disease.

Pollution is defined by the EPA as the presence of a substance in the environment that, because of its chemical composition or quantity, prevents the functioning of natural processes and produces undesirable environmental and health effects.

Pollutants are usually by-products of essential activities such as providing energy and methods of transportation, as well as building homes and products. Pollution problems have accelerated over the years due to increased consumption and the use of non-biodegradable materials. Non-biodegradable materials such as aluminum cans, synthetic chemicals and plastic packaging resist breakdown from decomposers and, unfortunately, accumulate in the environment as waste. Fish and animals can get tangled up in these products and suffocate and die.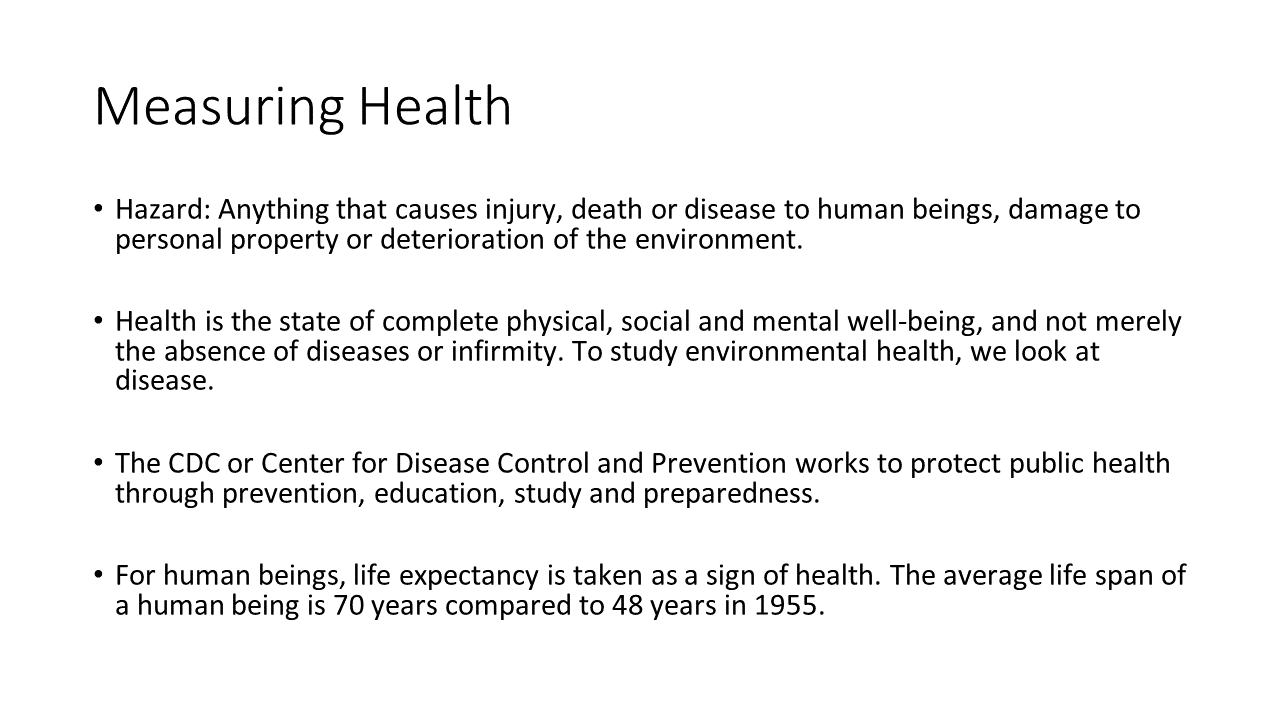 Hazard is anything that causes injury, death or disease to human beings, damage to personal property, or deterioration of the environment. Avian flu is a hazard that people working in the poultry industry face. They are vulnerable to the risks of this hazard.

Health is the state of complete physical, social and mental well-being, and not merely the absence of diseases or infirmity. To study environmental health, we look at disease. Morbidity tracks the incidence of disease in a population. Mortality tracks the number of deaths in a population. Epidemiology is the study of the presence, distribution and prevention of disease in populations.

The CDC or Center for Disease Control and Prevention works within the Department of Human and Health Services (HHS) of the government. The CDC works to protect public health through prevention, education, study and preparedness. Almost every country has a similar health organization or agency. For human beings, life expectancy is taken as a sign of health. The average life span of a human being is 70 years compared to 48 years in 1955. In some areas of the world, it is much higher and in others, lower. Mortality is higher in developing countries.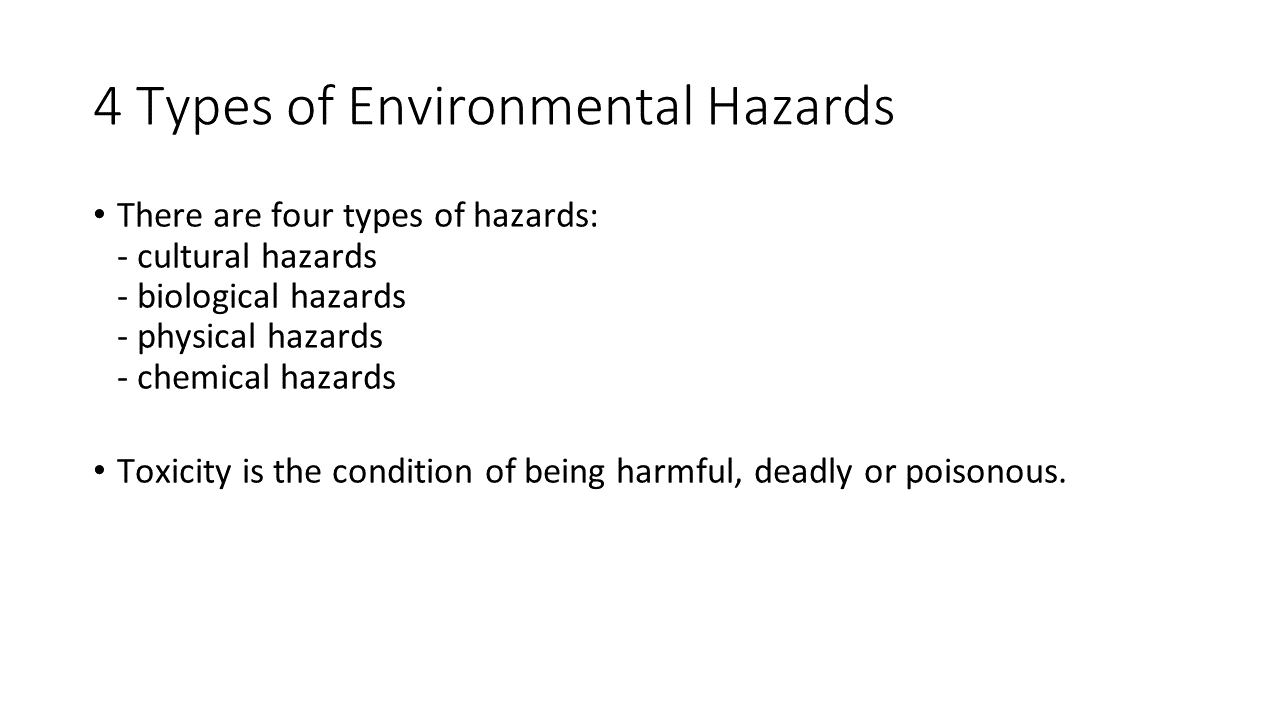 There are four types of environmental hazards. They are cultural hazards, biological hazards, physical hazards and chemical hazards. Cultural hazards involve risky behavior such as smoking cigarettes, drinking too much alcohol, overeating, lack of exercise, driving too fast, risky sexual practice and more. Obesity is a cultural hazard in the United States with 1/3 of all adults at an obese level and another 1/3 being overweight.

Biological hazards involve pathogens such as bacteria, worms, fungi, viruses and protozoans that cause disease and death. 1/5th of all deaths in the world come from infectious and parasitic diseases starting with acute respiratory infections such as pneumonia and influenza, followed by HIV/AIDS, diarrheal diseases, tuberculosis and malaria. Many of these diseases occur in the developing world. Diarrheal diseases like rotavirus are rarely diagnosed but caused over 1/3 of the 1.2 million deaths in children under the age of five in 2008. Lack of sufficient treatment and vaccines was an obstacle that has now been overcome as the virus itself is not life-threatening unless left unchecked.

Physical hazards include natural disasters like hurricanes, floods, volcanoes and fires. The highest mortality rates by natural disasters in 2010-2011 were in Haiti, followed by Russia, Japan, China and Pakistan. Chemical hazards are created from human industrial activity that has produced waste and toxic substances that affect the skin, eyes, organs and bodies of exposed human beings. Toxicity is the condition of being harmful, deadly or poisonous. Some chemicals such as heavy metals are not only toxic but they are carcinogenic, meaning they produce cancer.