Lesson Objectives:
- Risk assessment
- EPA risk assessment
- The 2002 World Health Report
- Risk management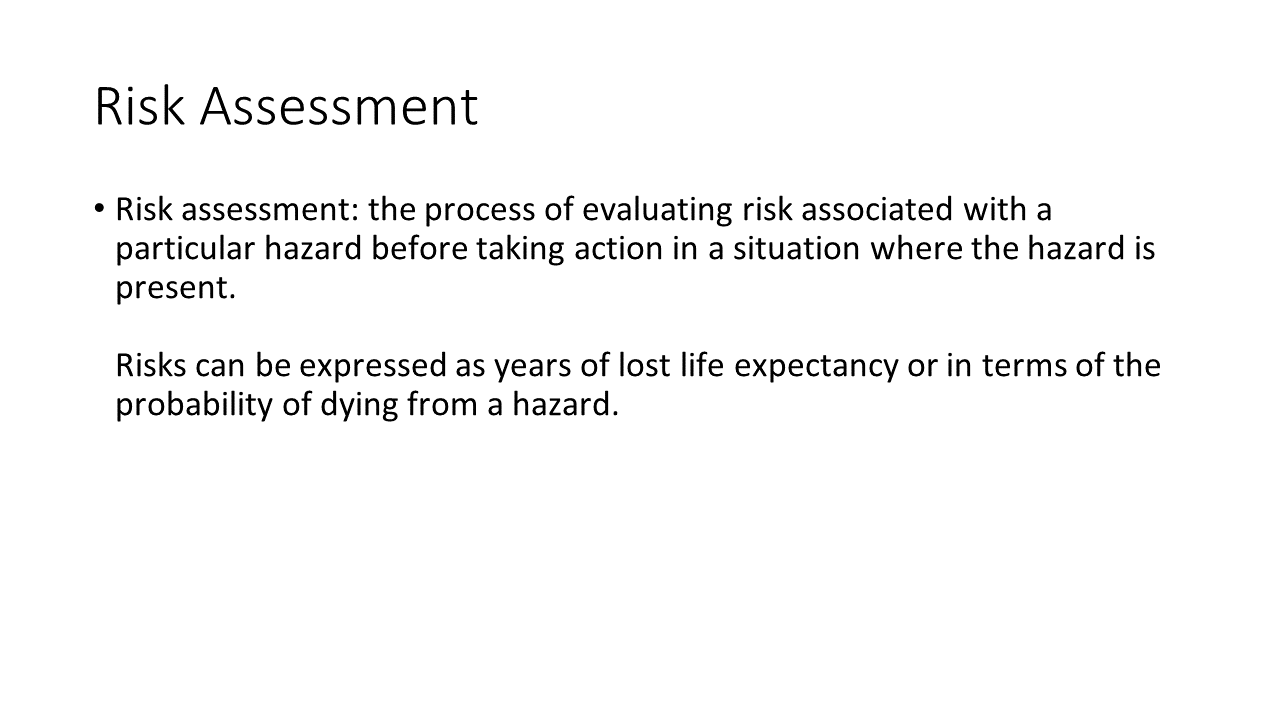 Risk assessment is the process of evaluating the risk associated with a particular hazard before taking action in a situation where the hazard is present.

Risks can be expressed as years of lost life expectancy or in terms of the probability of dying from a hazard. For example, the annual risk of dying from smoking is 1.5 per 1,000 according to a study conducted in Denmark in 2011. This is equivalent to 3 and 1/2 years of life for a man.

Most people do not consider risk assessments in their life choices; however, the EPA does.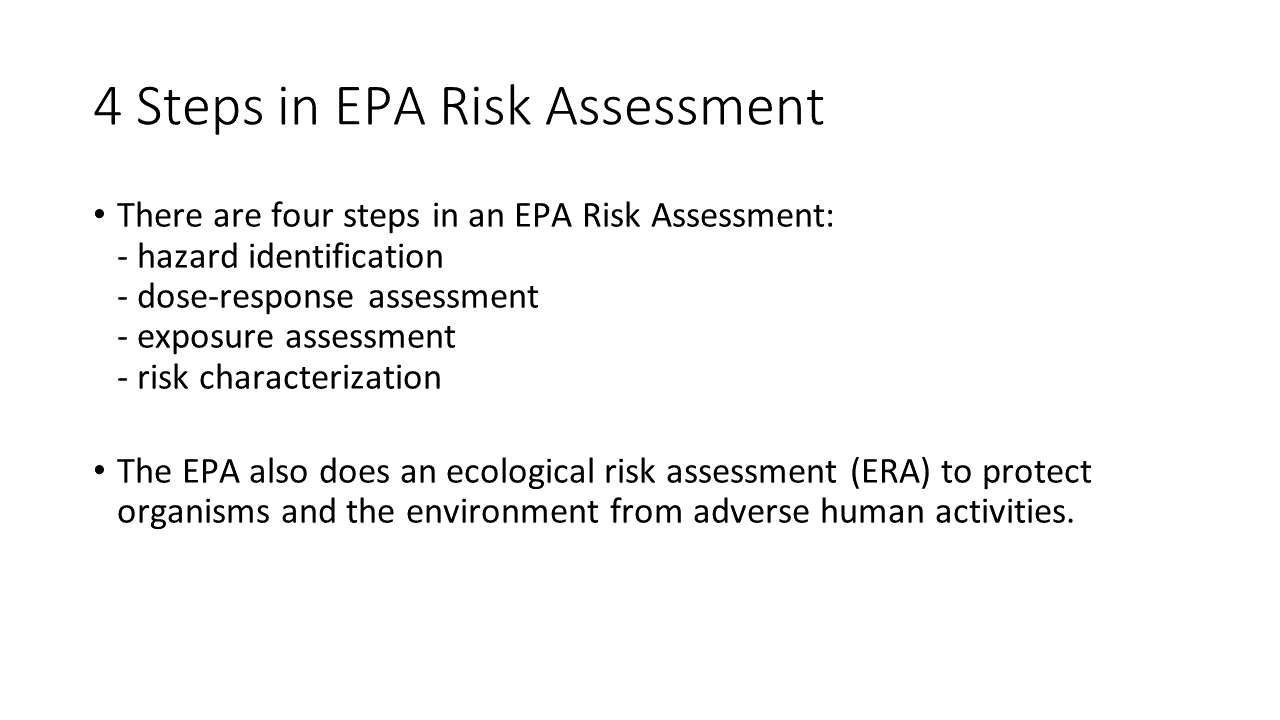 There are four steps in an EPA Risk Assessment. They are hazard identification, dose-response assessment, exposure assessment and risk characterization.

For hazard identification, we can ask the question, "What health problems are caused by the pollutant?"

For dose-response assessment, we can ask the question, "What are the health problems at different exposures?"

For exposure assessment, we ask, "How much of the pollutant are people exposed to during the specific time period?" and " How many people are exposed?"

For risk characterization, we ask, "What is the extra risk of health problems in the exposed population?"

The EPA also does an ecological risk assessment (ERA) to protect organisms and the environment from adverse human activities.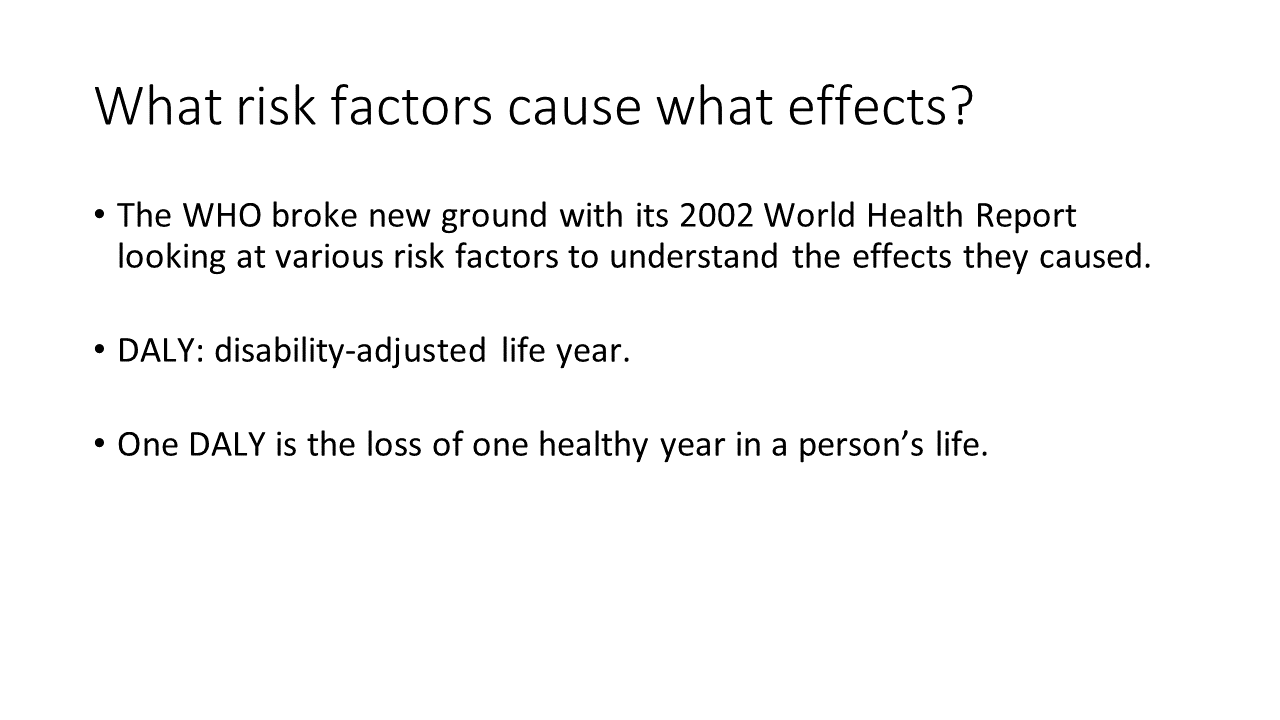 The WHO broke new ground with its 2002 World Health Report looking at various risk factors to understand the effects they caused. "What risk factors cause what effects?" was the primary question for each examination of data. The WHO came up with the term DALY to represent one disability-adjusted life year.

One DALY is the loss of one healthy year in a person's life. They assessed risk factors and determined how each factor contributed to DALY or loss of life span and thus quality of life. For example, being underweight and malnourished had a DALY score of 82 million!

Public health officials must act as stewards of public health to ensure healthy populations.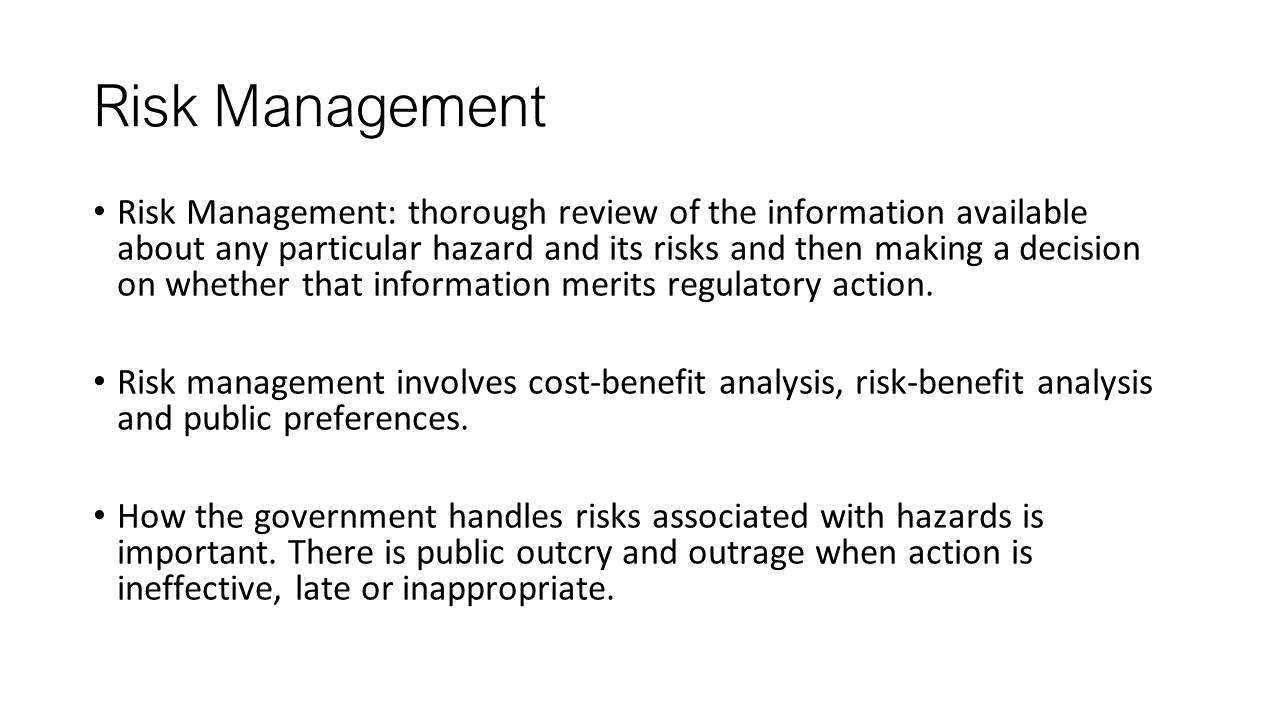 Risk Management is the thorough review of the information available about any particular hazard and its risks, and then making a decision on whether that information merits regulatory action.

Risk management involves cost-benefit analysis, risk-benefit analysis and public preferences.

How the government handles risks associated with hazards is important. There is public outcry and outrage when action is ineffective, late or inappropriate. This can be largely affected by the media and public perception. Public concern can lead to public policy as Congress responds to constituents.