Lesson Objectives:
- Climate change science
- Historical climate change
- Greenhouse gases
- Evidence of climate change
- Rising greenhouse gases
- Effects of climate change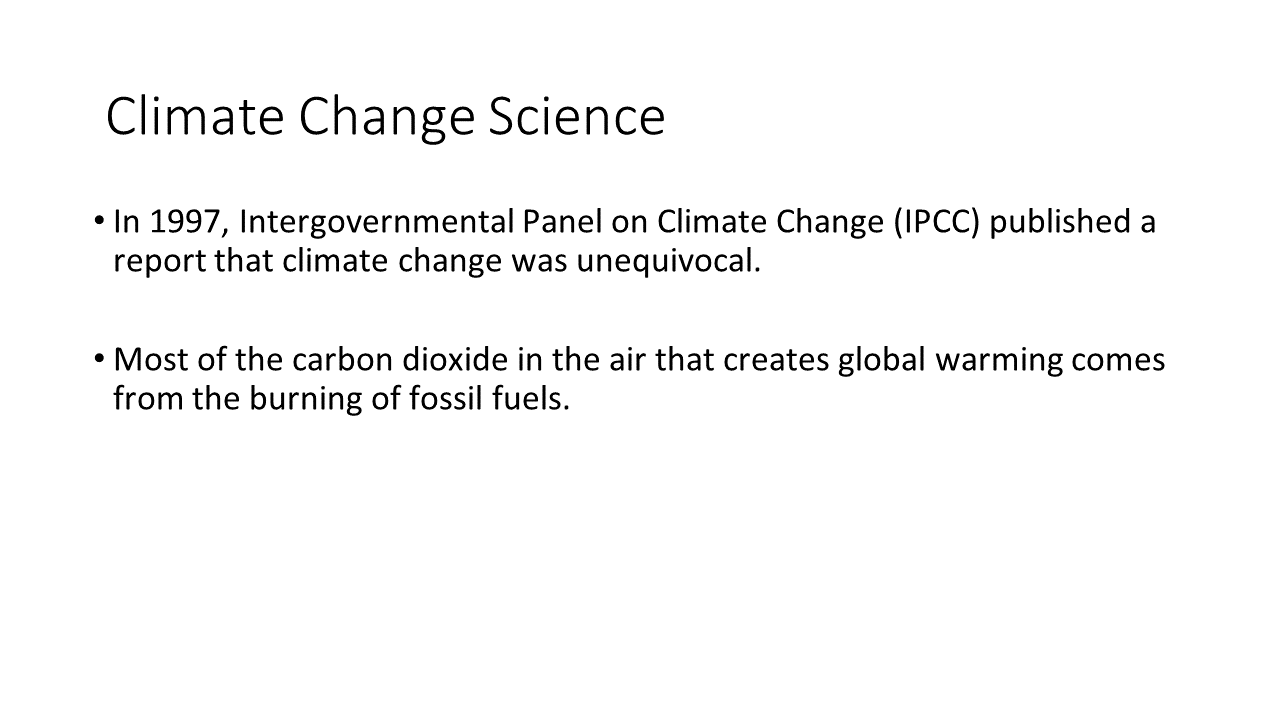 In 1997, the Intergovernmental Panel on Climate Change (IPCC) published a report called the Fourth Assessment Report that declared that climate change was unequivocal. The report was comprehensive and detailed. The atmosphere is warmer, the oceans are warmer and there is more precipitation and extreme weather events. Two main questions that the IPCC looked at include:

What is the impact on society and ecosystems?
How can we manage the system through adaptation and mitigation?

The IPCC reported that it was more than 90% likely that climate change was the result of human-made greenhouse gasses that trap infrared radiation creating carbon dioxide.

Most of the carbon dioxide in the air that creates global warming comes from the burning of fossil fuels.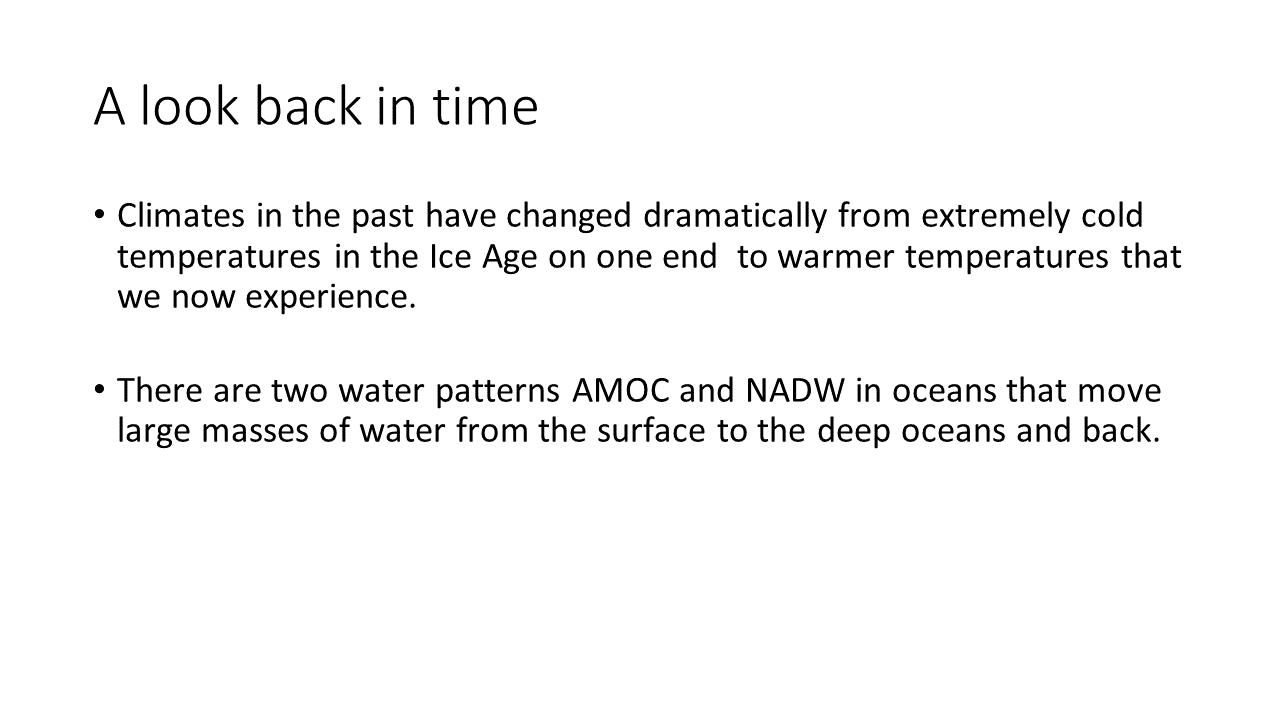 Climates in the past have changed dramatically from extremely cold temperatures in the Ice Age on one end to warmer temperatures that we now experience.

The Earth naturally alternates between very cold temperatures and warmer periods.

There are two water patterns in oceans, AMOC or Atlantic Meridional Overturning Circulation, and NADW, or North Atlantic Deep Water, that move large masses of water from the surface to the deep oceans and back. This intermixes warm shallow currents with cold deep ocean currents. In addition, there are oscillations that occur in the North and South that happen when there are big shifts in atmospheric pressure.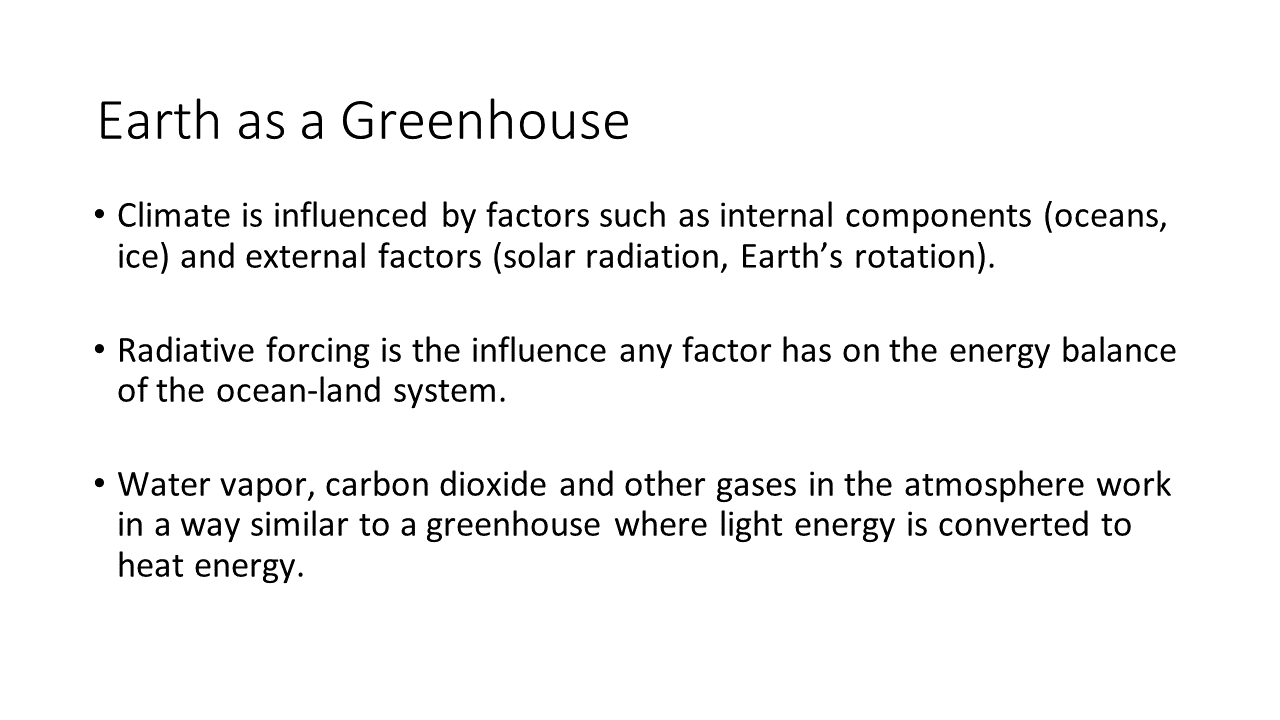 Climate is influenced by factors such as internal components (the oceans, ice) and external factors (solar radiation, the Earth's rotation).

Radiative forcing is the influence any factor has on the energy balance of the ocean-land system.

Water vapor, carbon dioxide and other gases in the atmosphere work in a way similar to a greenhouse where light energy is converted to heat energy. Hence, they are called greenhouse gases or GHGs. Infrared radiation passes through the atmosphere but most of it is absorbed and re-emitted by greenhouse gases, warming the Earth's surface.

Not all GHGs are radiated back out into space. Some are trapped like a heat blanket around the Earth, creating the greenhouse effect of warming the planet. Our climate is affected by GHGs. If these concentrations go up or down too much, they no longer act as positive forcing agents and we will experience significant changes in our climate and ecosystems.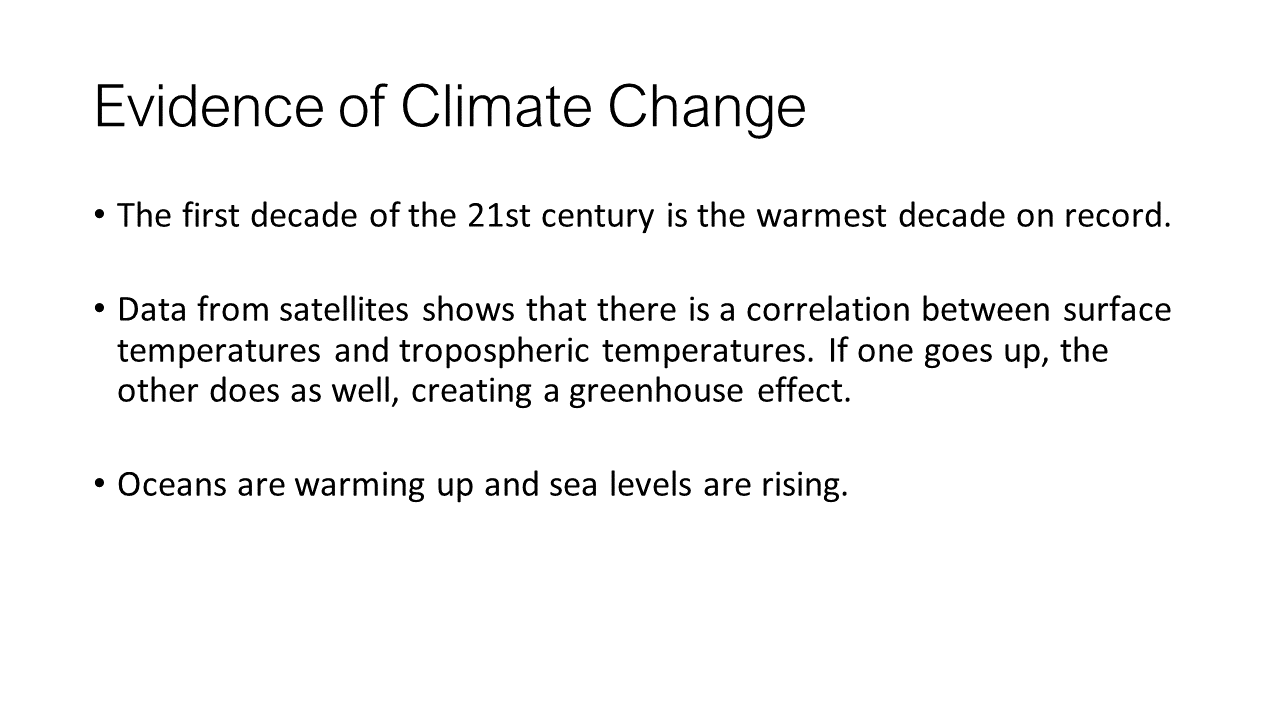 Evidence of climate change is most noticeable in increasing temperatures. The first decade of the 21st century is the warmest decade on record.

Data from satellites shows that there is a correlation between surface temperatures and tropospheric temperatures. If one goes up, the other does as well, creating a greenhouse effect.

Additional changes include faster springs and delayed fall seasons with broad increases in temperature throughout the Northern Hemisphere. Rising Arctic temperatures have led to sea ice shrinking and melting and loss of ice in northern latitudes as well as down by the south pole. Glaciers are also retreating, and both fish and animal life have suffered as a result.

Oceans are warming up and sea levels are rising. As oceans soak up carbon dioxide, they are also becoming more acidic. This leads to the decline of coral reef and the animals that feed on reefs.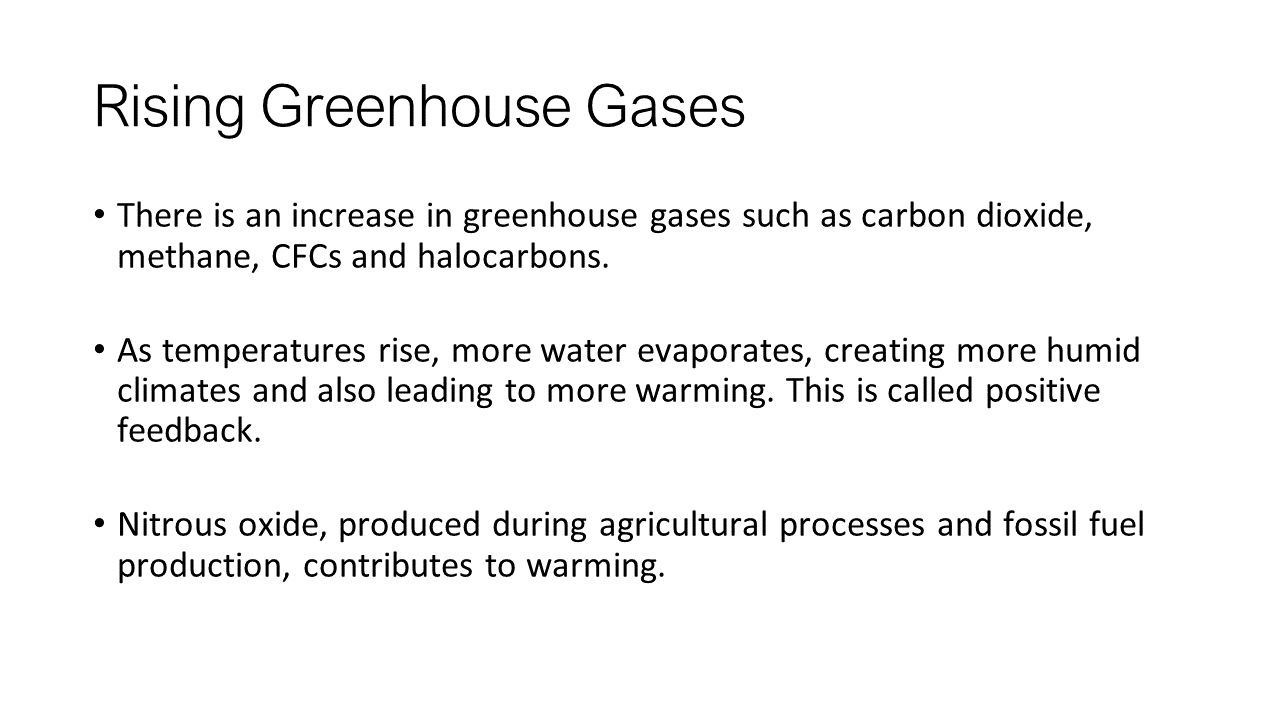 There is an increase in greenhouse gases such as carbon dioxide, methane, CFCs and halocarbons in the Earth's atmosphere. This is a disturbing trend as these gases create global warming and also deplete the ozone layer.

As temperatures rise, more water evaporates, creating more humid climates and also leading to more warming. This is called positive feedback.

Nitrous oxide, produced during agricultural processes and fossil fuel production, contributes to warming. Nitrous oxide is problematic because this gas lasts for a long time (114 years on average) and directly contributes to the destruction of the ozone layer.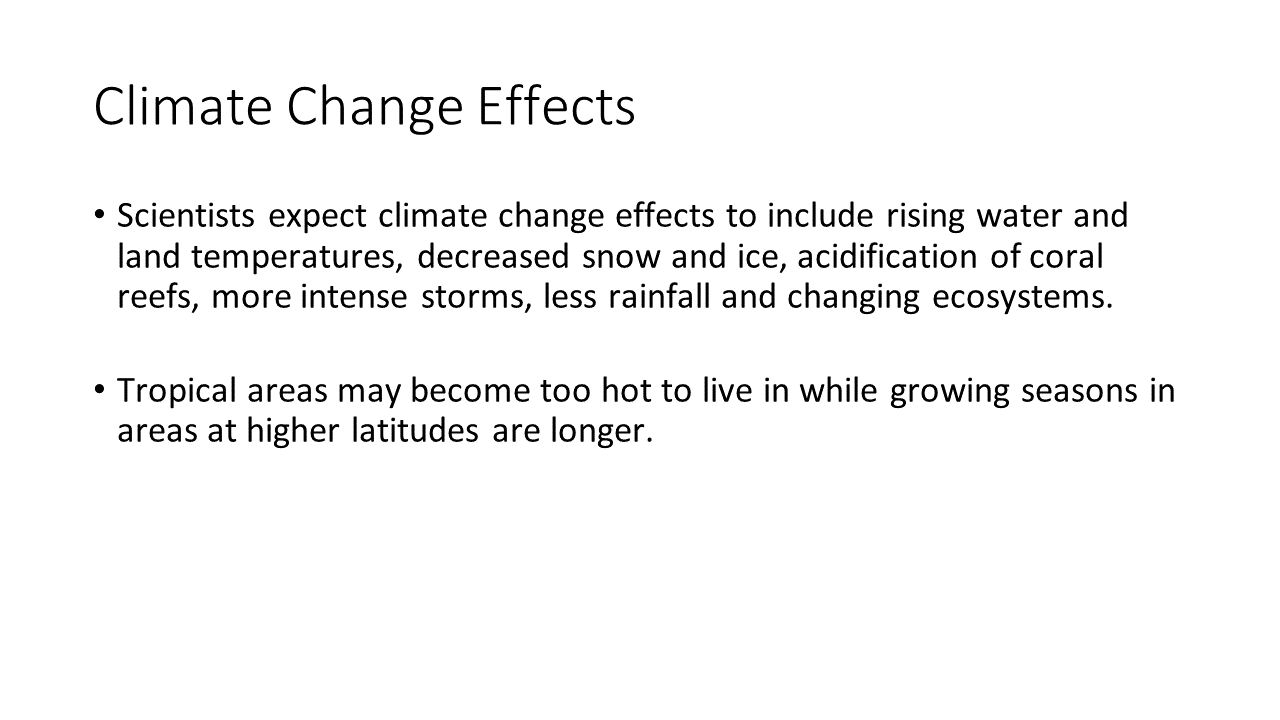 Scientists expect climate change effects to include rising water and land temperatures, decreased snow and ice, acidification of coral reefs, more intense storms, less rainfall and changing ecosystems.

Tropical areas may become too hot to live in while growing seasons in areas at higher latitudes are longer. People may migrate to northern regions as the temperatures become more moderate.

Some scientific predictions have already occurred, such as heat waves, intense storms, heavy precipitation, rising sea levels and destructive hurricanes.