Lesson Objectives:
- Ozone layer
- Chlorofluorocarbons
- Eliminating CFCs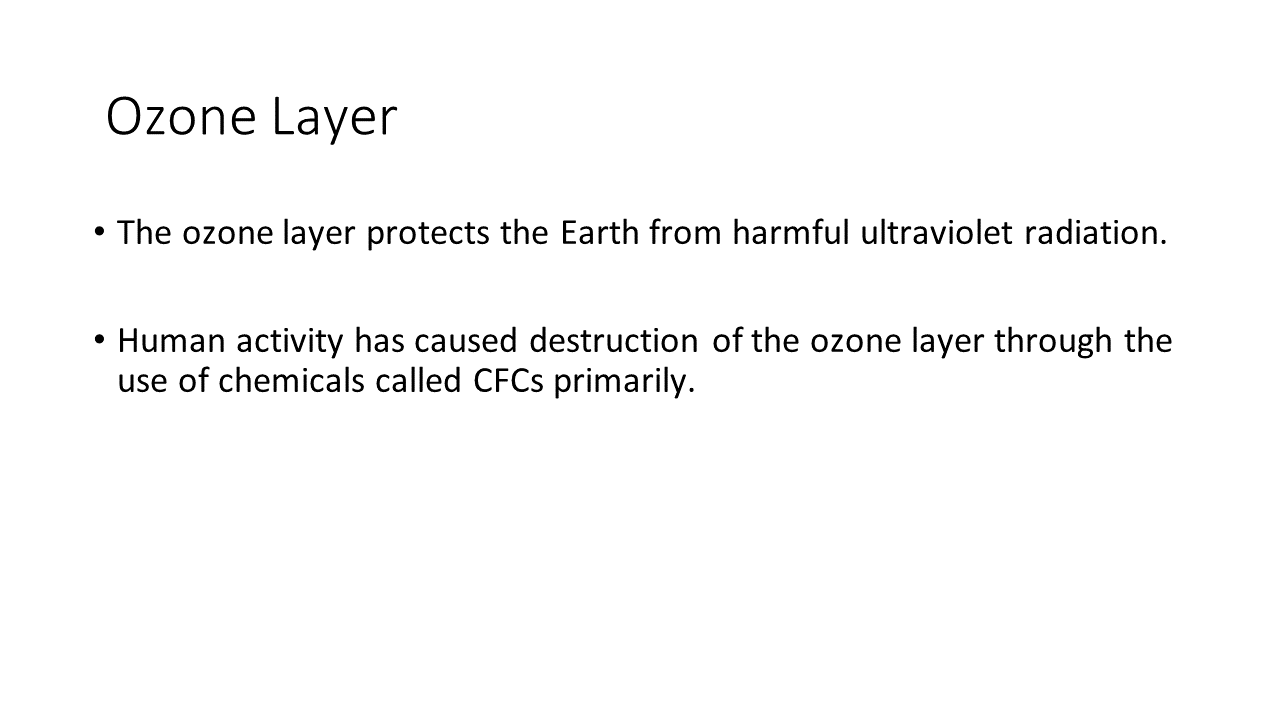 The ozone layer in the stratosphere protects the Earth from harmful ultraviolet radiation. The ozone acts as a protective shield, stopping 99% of all UV radiation. Without this protection, UV light would pass through the air unstopped. Ultraviolet rays can severely damage tissues of all living things. If the ozone layer were completely depleted and UV rays passed through unimpeded, life as we know it would cease to exist.

Human activity has caused destruction of the ozone layer primarily through the use of chemicals called CFCs.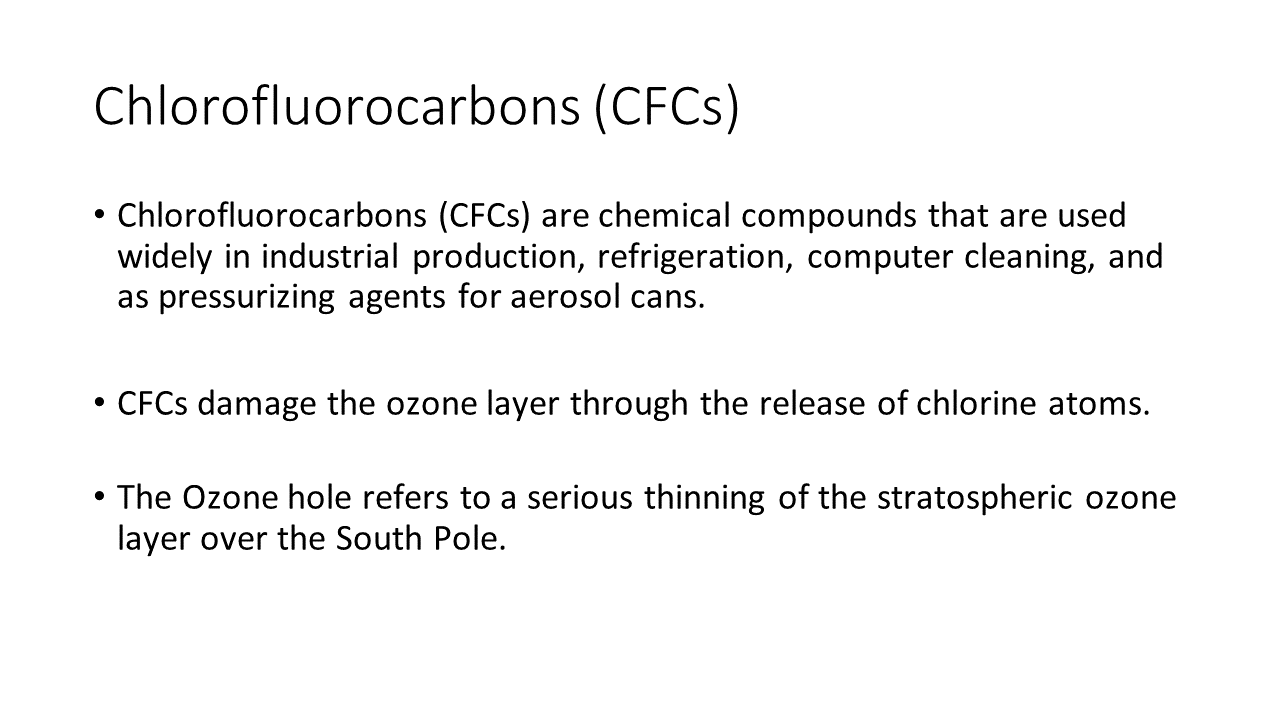 Chlorofluorocarbons (CFCs) are chemical compounds that are used widely in industrial production, refrigeration, computer cleaning, and as pressurizing agents for aerosol cans.

CFCs damage the ozone layer through the release of chlorine atoms. The chlorine acts as a catalyst, promoting a chemical reaction without being used up in the reaction. Damage to the ozone layer increases the amount of UV light that passes through, resulting in skin cancer.

The Ozone hole refers to a serious thinning of the stratospheric ozone layer over the South Pole. This is an area the size of the United States where ozone layers were 50% less than normal. If this had happened anywhere else on the planet with human civilization present, this break in the ozone layer would have been catastrophic.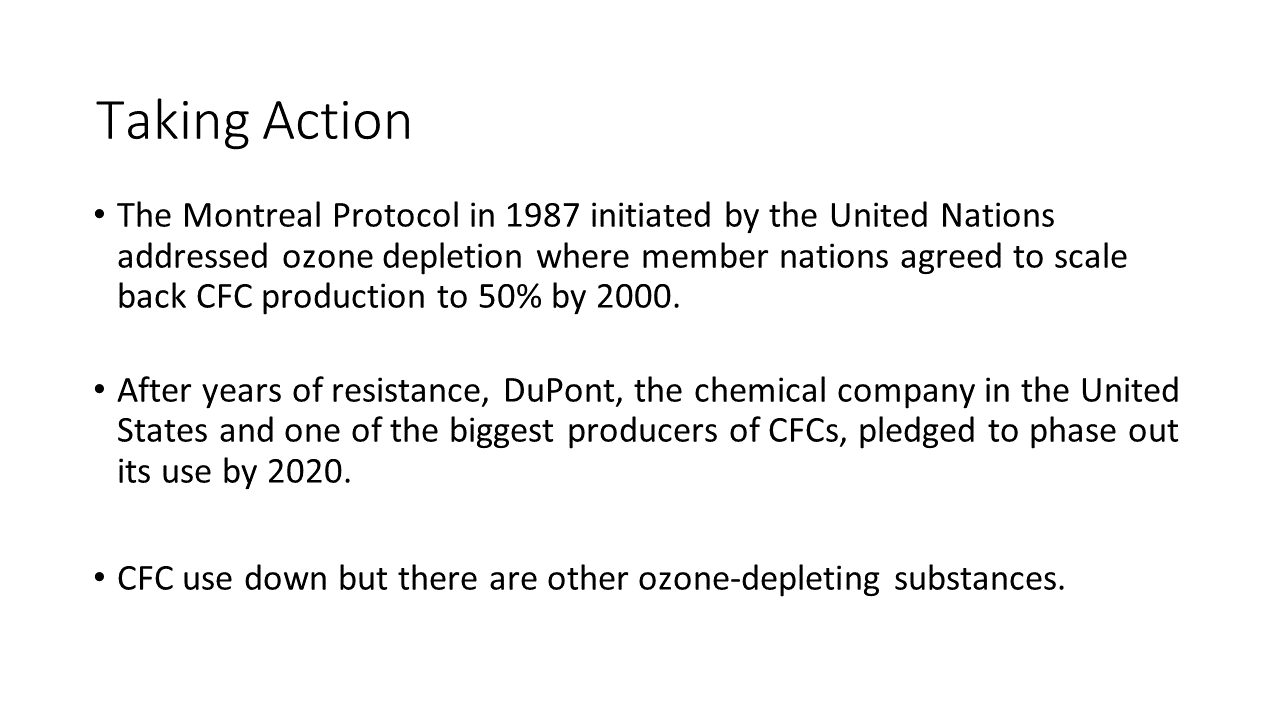 The Montreal Protocol in 1987 initiated by the United Nations addressed ozone depletion where member nations agreed to scale back CFC production to 50% by 2000.

After years of resistance, DuPont, a major chemical company in the United States and one of the biggest producers of CFCs, pledged to phase out its use by 2020.

CFC use is down after the Montreal Protocol but there are other ozone-depleting substances such as methyl bromide and nitrous oxide.