Lesson Objectives:
- Define politics
- Define government
- Two purposes of government
- Define authority
- Define legitimacy
- A lack of authority and legitimacy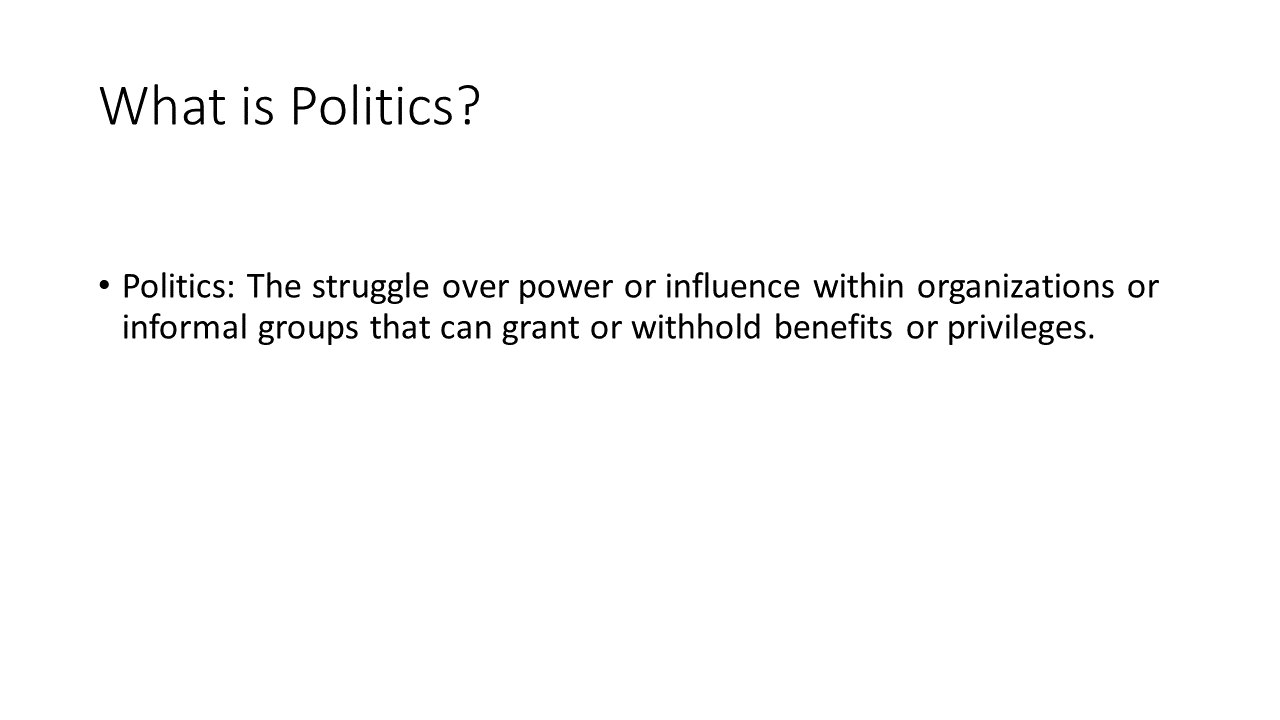 The official definition of politics is: The struggle over power or influence within organizations or informal groups that can grant or withhold benefits or privileges. In other words, if you boil it down to the simplest possible definition, politics is deciding who gets what, when, and how. When decisions must be made in practically any social group or organization, whether it be a church, school, family, and so on, the decision is made politically.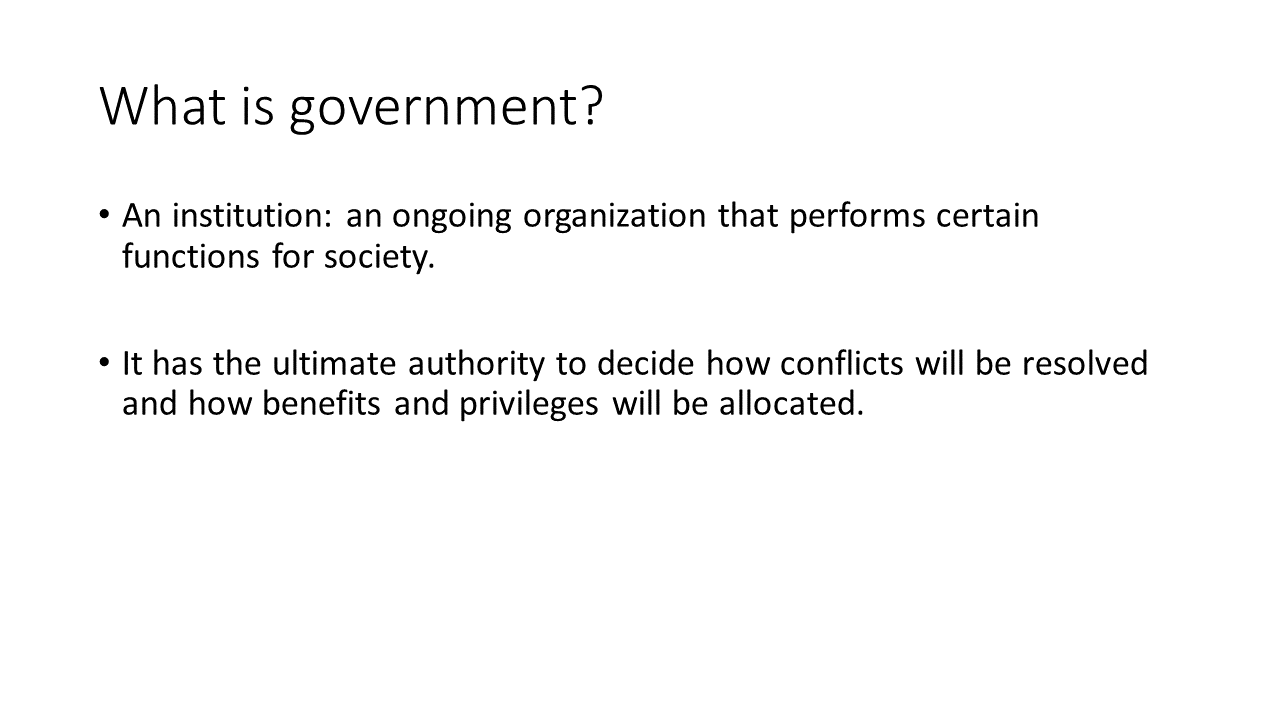 The most important organization in which politics is involved is government.

What is government? It is an institution: an ongoing organization that performs certain functions for society.

With many people to govern, the governing body convenes to make decisions about their resources and what to do to fulfill everyone's needs. When people disagree on what exactly they need, the government deliberates to figure out what it thinks is best for the people.

Over other political organizations in society, what distinguishes a government is that it has the ultimate authority to decide how conflicts will be resolved and how benefits and privileges will be allocated.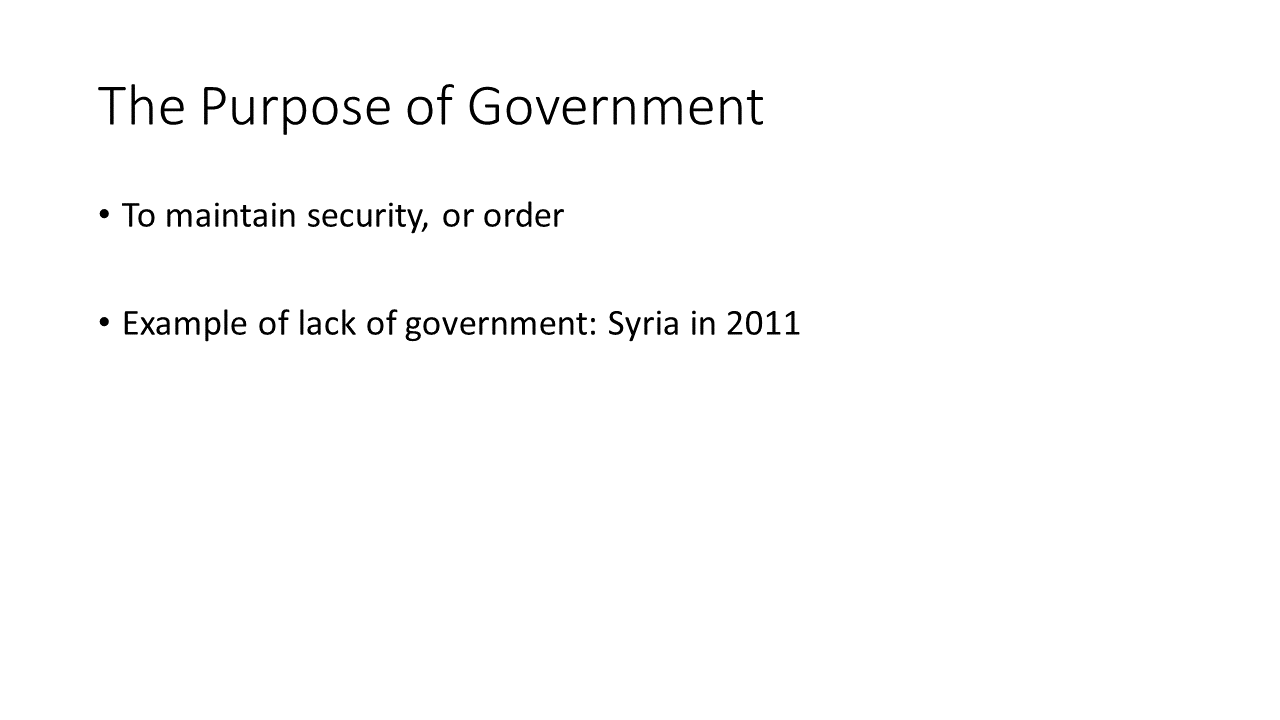 The purpose of government is to maintain security, or a sense of order.

Syria is a good example of what happens when a government does not exist. Bashar al-Assad has been president since 2000. But, a peaceful protest years ago led to an armed rebellion and the government lost control. It has led to the bloodshed of over 200,000 people and is the reason refugees are pouring out of that region.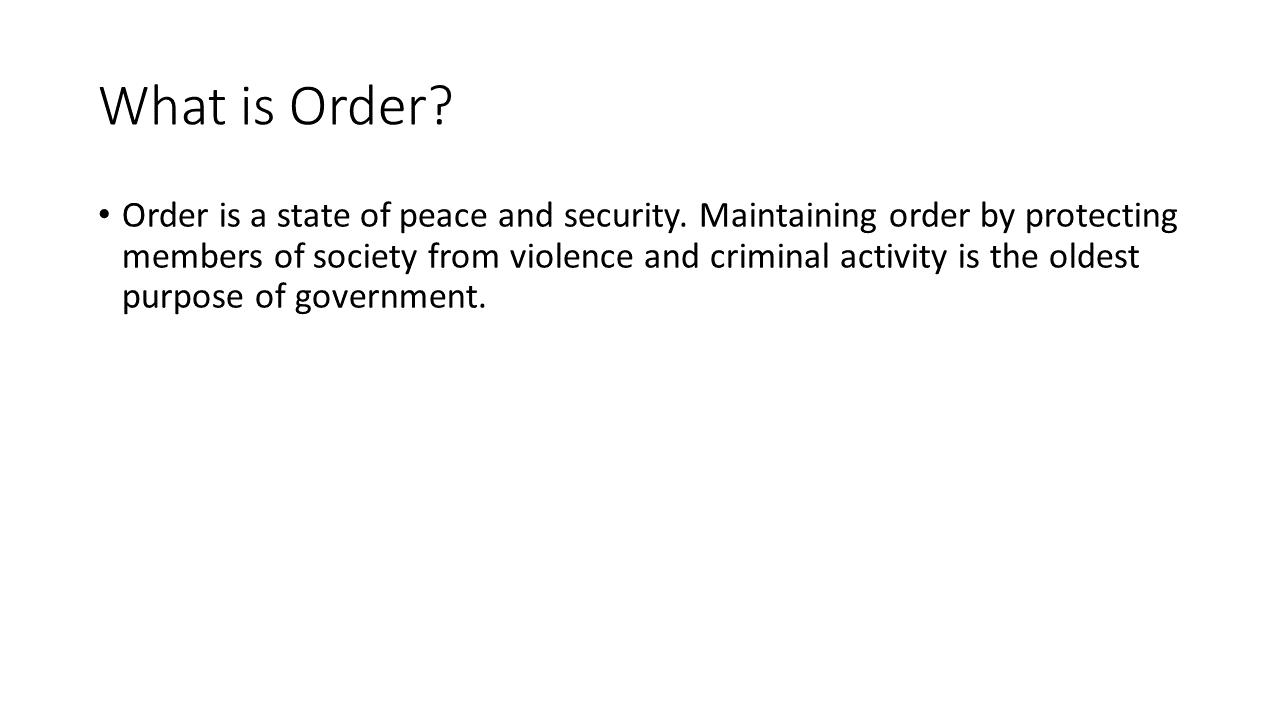 What is order then? Order is a state of peace and security. Maintaining order by protecting members of society from violence and criminal activity is the oldest purpose of government.

Syria is a good example of what you have when you lose order. Order comes first in a society. Without order, the government cannot reasonably be capable of performing any other function.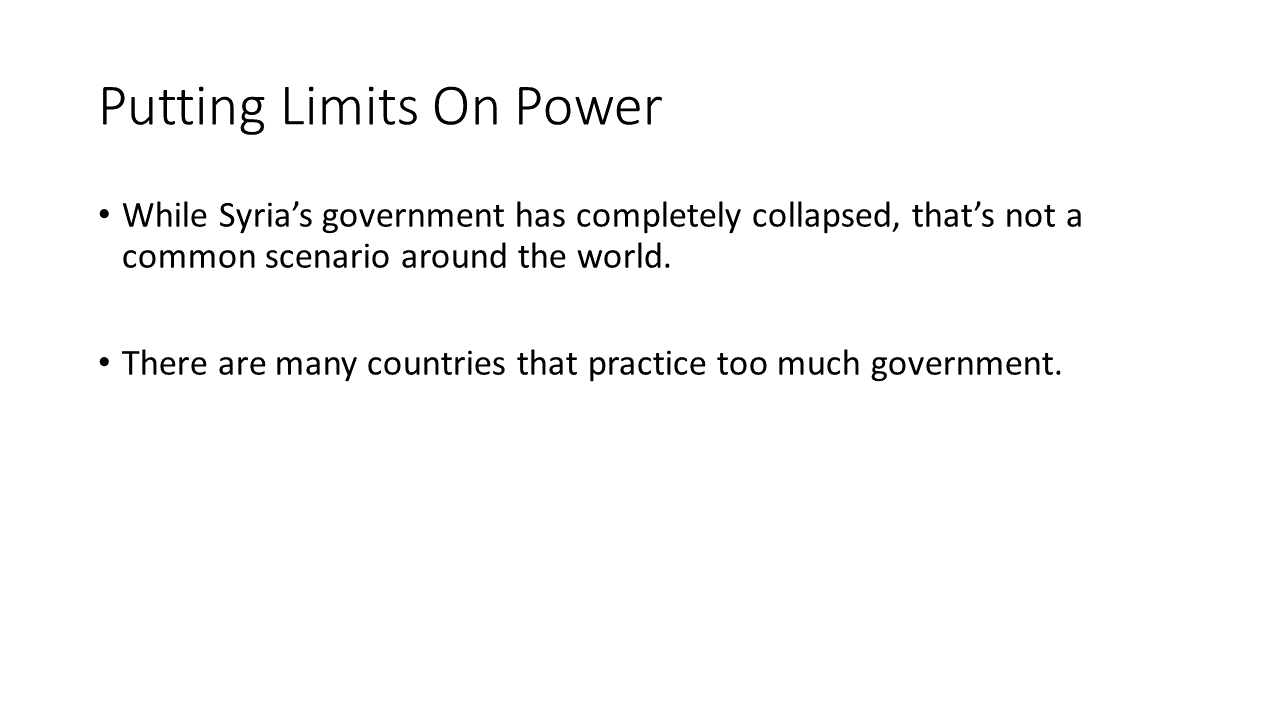 When a country has too much government, it does not allow for a change in leadership. Freedom of speech is limited. Any opposition to the person or organization in power can be imprisoned, tortured, and even exterminated.

That is why there must be limits on power. While Syria was an example of a government that has completely collapsed, that is not a common scenario around the world.

Much more common are countries that practice too much government.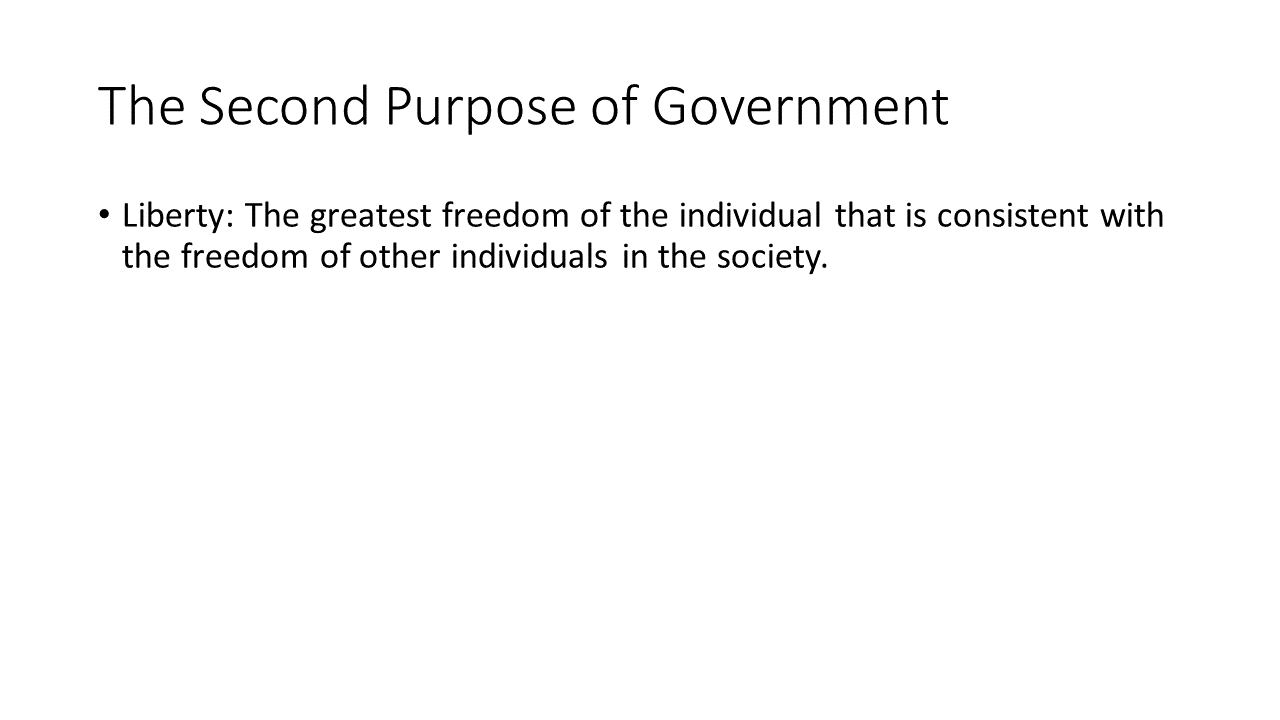 Having security and order is not enough. The people also need protection from their very own government; government cannot be allowed to abuse its own power. That is why the next purpose of government is to guarantee liberty.

Rebellions will rise if the people do not have a certain amount of liberty. So, what exactly is liberty? Liberty is the greatest freedom of the individual that is consistent with the freedom of other individuals in the society.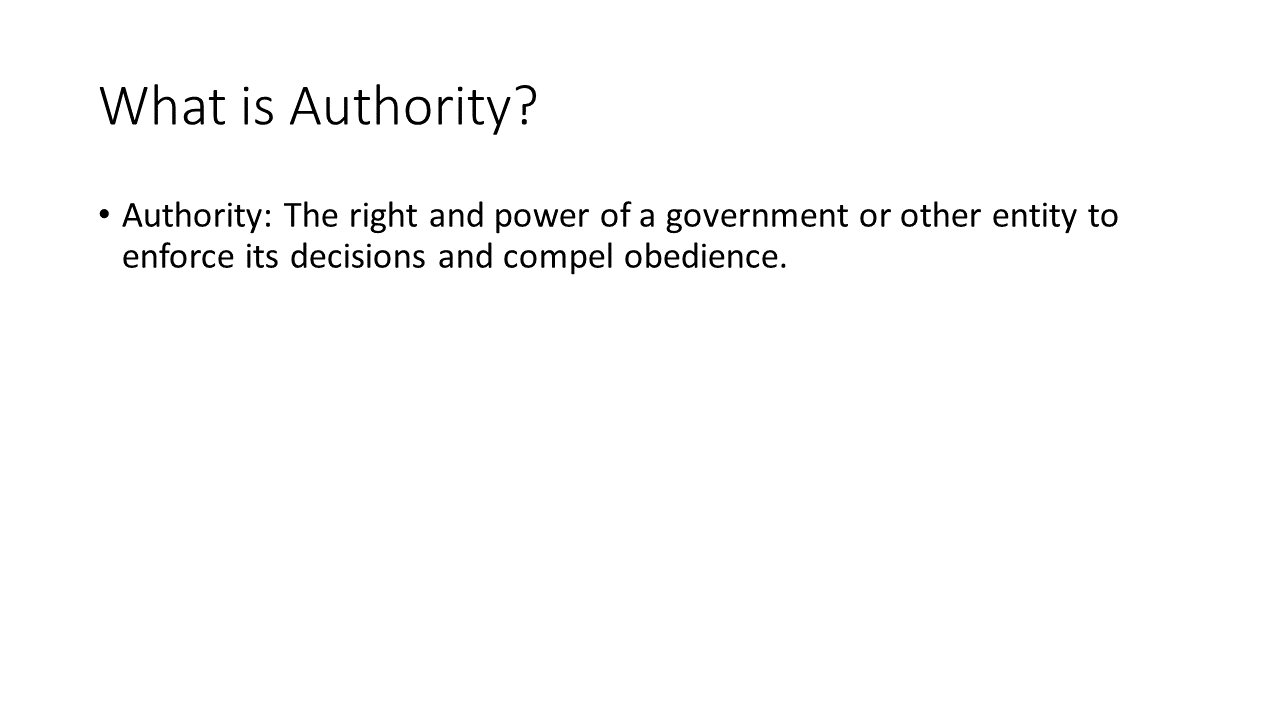 In order for a government to reasonably exist, it must have authority. Authority is the right and power of a government or other entity to enforce its decisions and compel obedience.

The armed services and the police force are resources the government uses to enforce authority. The legal system is how laws are maintained. But, most people follow laws by their own set of code. People do not normally steal or assault others due to their own sense of civil duty. When is the last time you felt compelled to hurt someone? When is the last time you actually did it? There is a reason for that. Even though there are laws in place, you have your own code that governs your actions.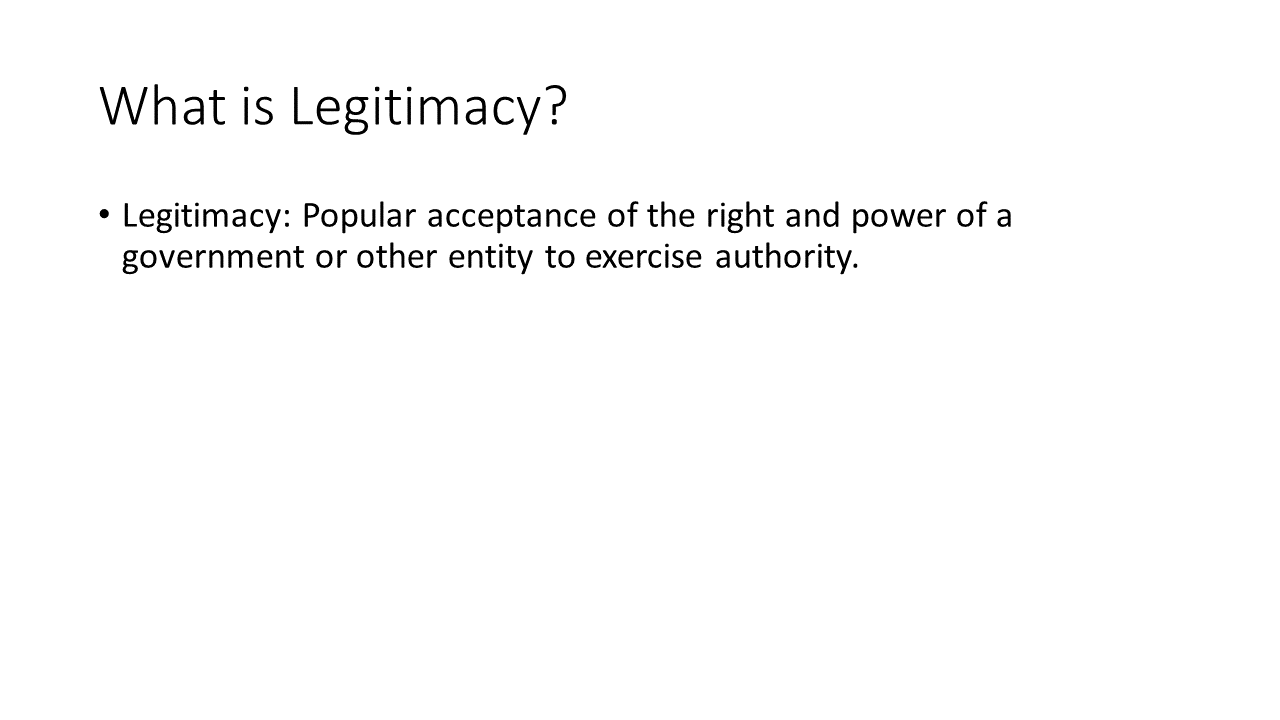 But, a government cannot just have authority. It has to be recognized as having legitimacy, or the popular acceptance of the right and power of a government to exercise authority.

A government has legitimacy when the governing body and the laws are widely accepted by the people. When people vote on their leaders and the laws that will govern them, that establishes its legitimacy.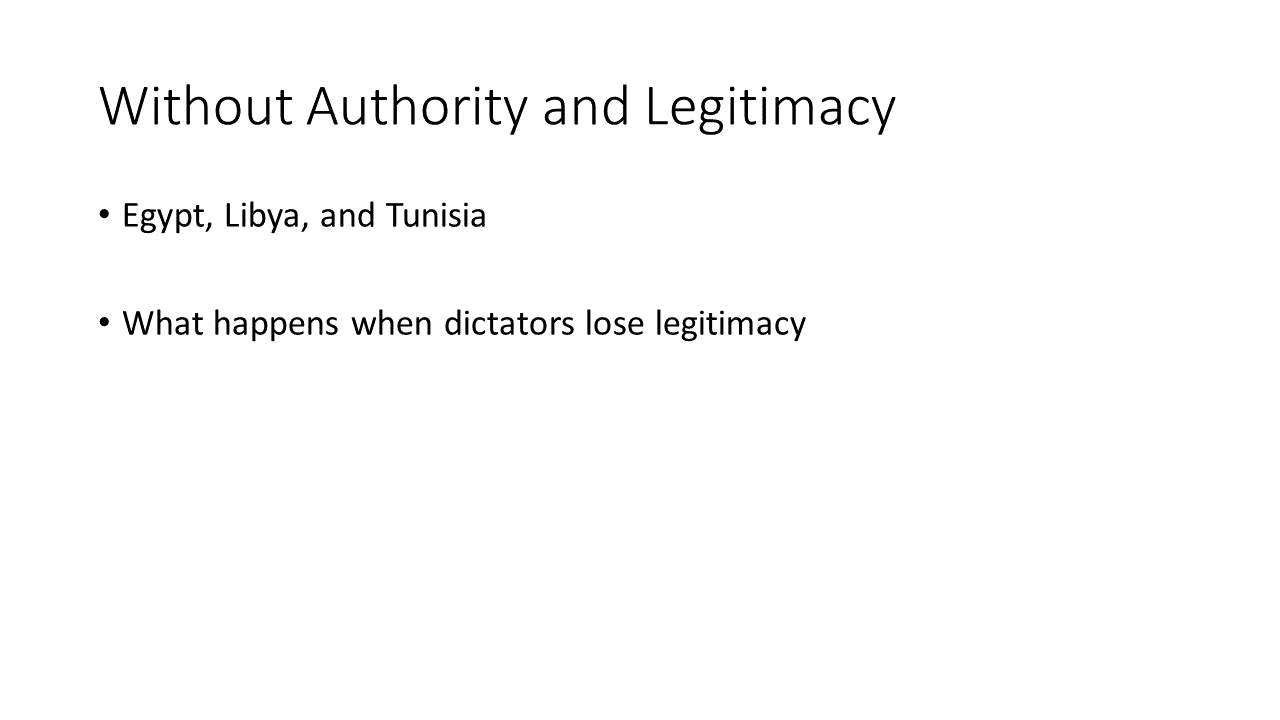 A government cannot successfully exist without authority and legitimacy. Egypt, Libya, and Tunisia are great examples of what happens when dictators lose legitimacy.

Dictators enjoyed power in those three countries for decades, but they became oppressive and rebellions led to the loss of legitimacy. In the end, when the dictators attempted to employ violence against oppositions, even their militaries refused to harm innocent civilians protesting the leadership. Libya's dictator, Muammar Qaddafi was overthrown and treated to a merciless death at the hands of his own people.