Lesson Objectives:
- Totalitarian and authoritarian governments
- Greek political terms
- Defining democracy
- Direct democracy and its disadvantages
- Republics, democratic republics, and representative democracy
- Principles of democratic government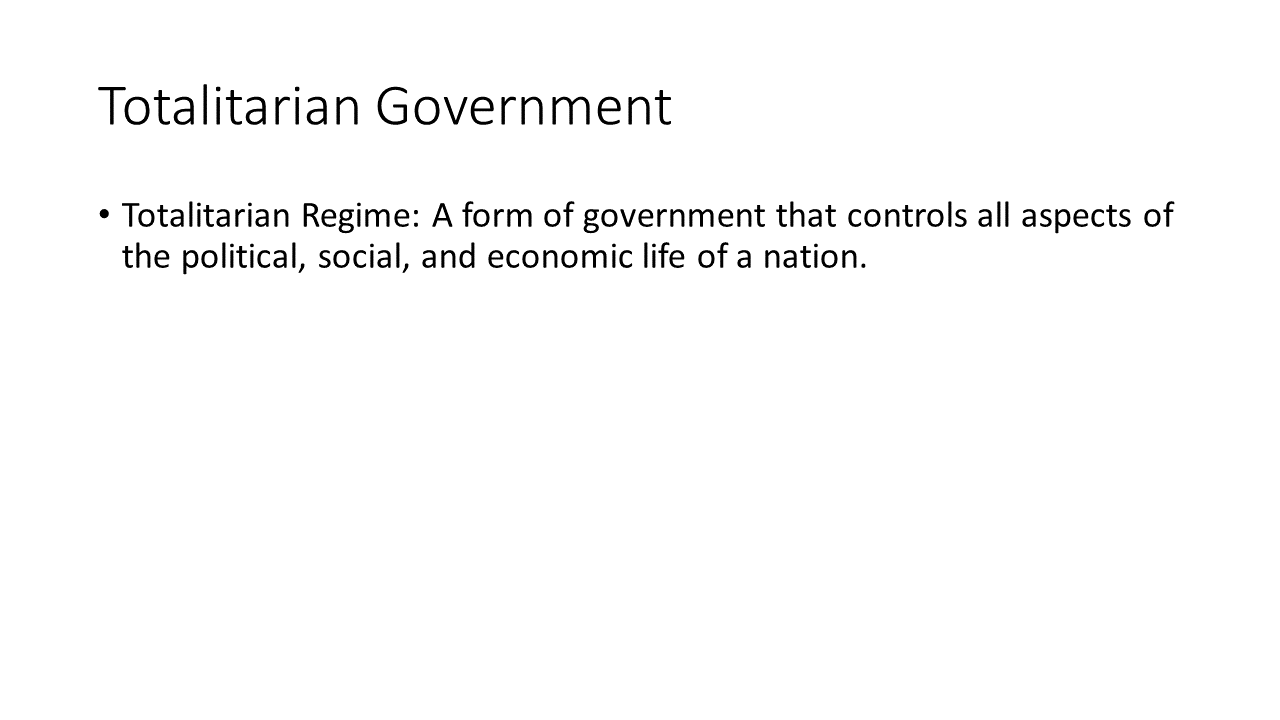 When studying governments, it is good to go over the various forms of government from one extreme to the other.

One form of government is a Totalitarian Regime. That is a form of government that controls all aspects of the political, social, and economic life of a nation.

In a Totalitarian Regime, the people do not have any say in how they are going to be governed. Government makes all the decisions and enforces them strictly.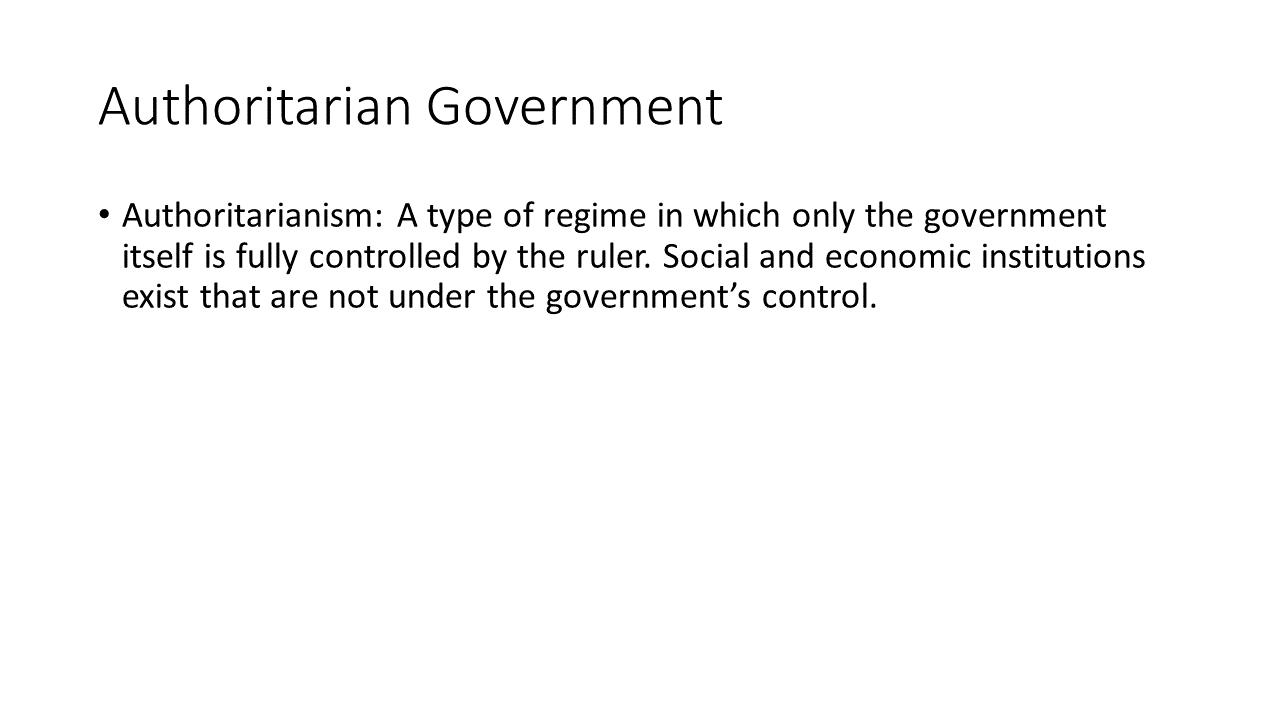 There is also a form of government known as Authoritarianism. Authoritarianism is a type of regime in which only the government itself is fully controlled by the ruler. Social and economic institutions exist that are not under the government's control.

That means the government does not control things such as the churches or the businesses. At least on the surface, these institutions appear to govern themselves while the government is controlled by a dictator or monarch.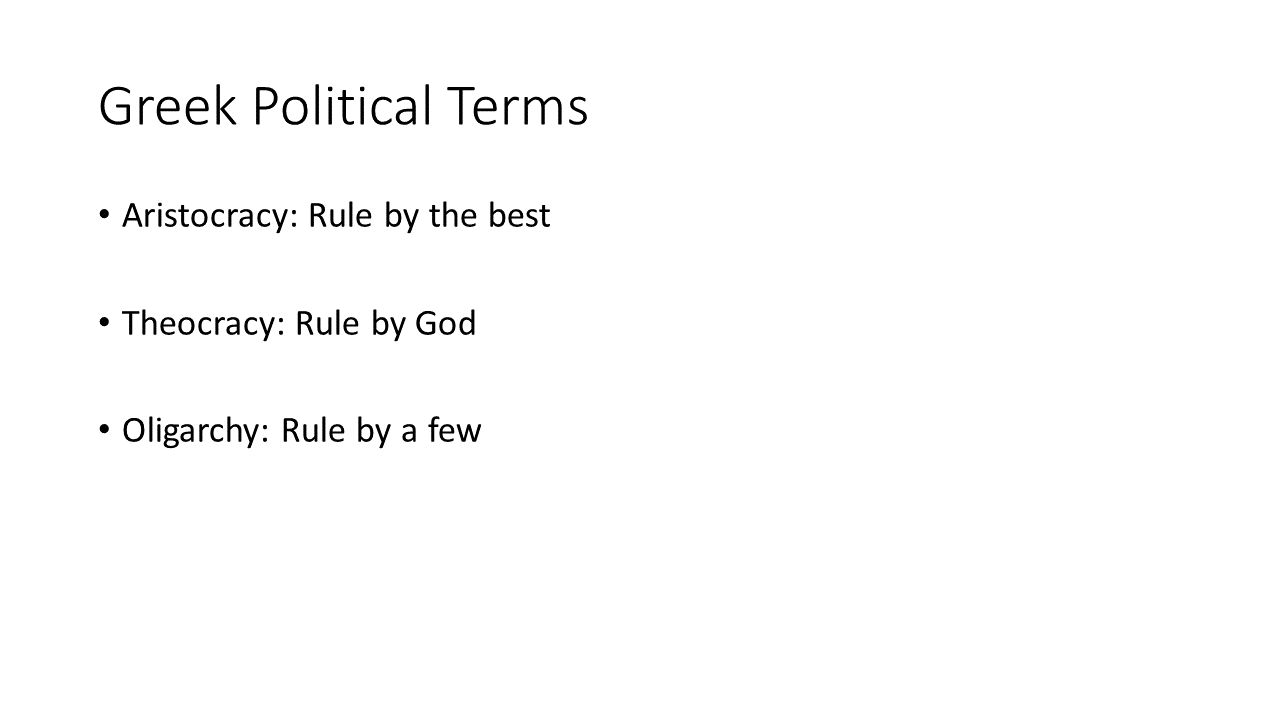 Many of our political terms come from the ancient Greeks who studied political systems and deliberated at length on which form was the most beneficial. Aristocracy means "rule by the best." In an Aristocracy, the wealthy would be in power. Theocracy means "rule by God." In a Theocracy, it would be religious leaders in power. Oligarchy means "rule by a few." An Oligarchy might be governed by a royal family or a dictator.




Another form of government is democracy. Democracy is a system of government in which political authority is vested in the people.

In a sense, democracy is a form of government in which the people actually shift from being *under* the control of a government to being *in* control. On the face of it, they are not controlled by a king or a dictator. They govern themselves.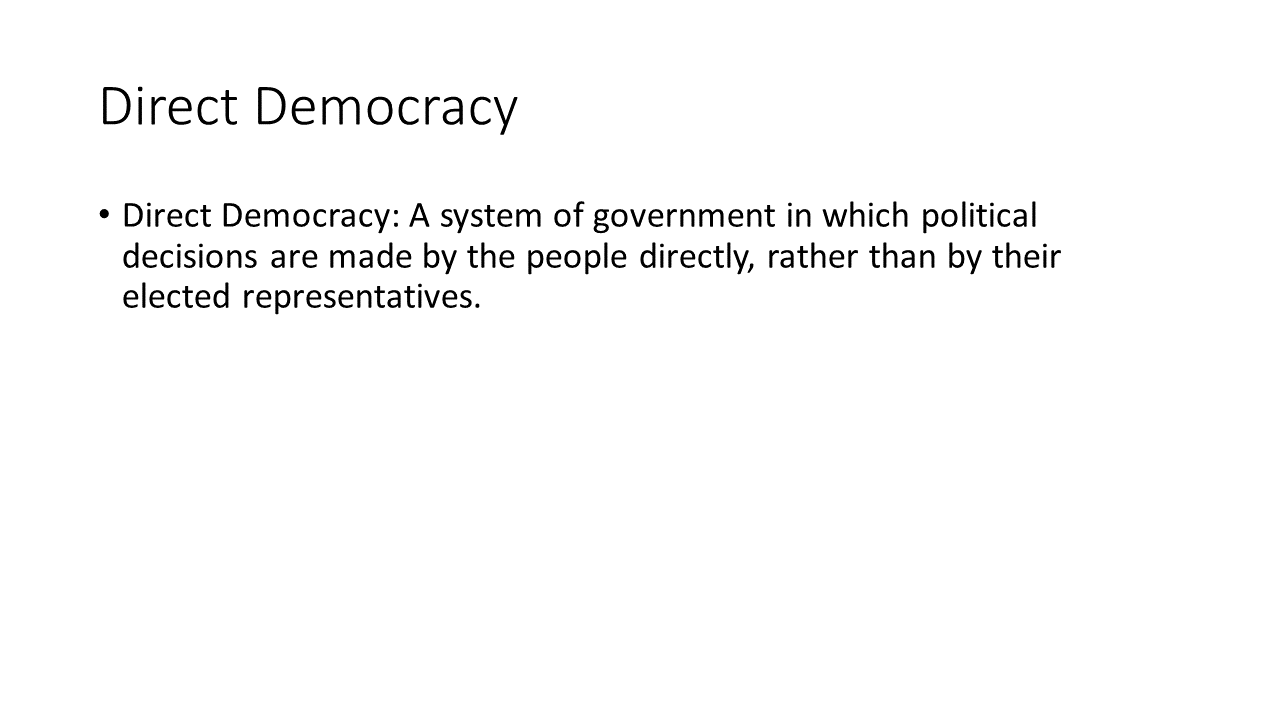 But, there are even different forms of democracy. For instance, there is direct democracy. That is a system of government in which political decisions are made by the people directly, rather than by their elected representatives.

In the Athenian system of ancient Greece, all laws were debated and voted on by the people. That is considered to be the purest form of Direct Democracy. There was a ruling council, but this ruling council would put all matters in the hands of the legislature, which consisted of all the citizens of Athens. Women, slaves, and residents from other regions or countries were not considered citizens.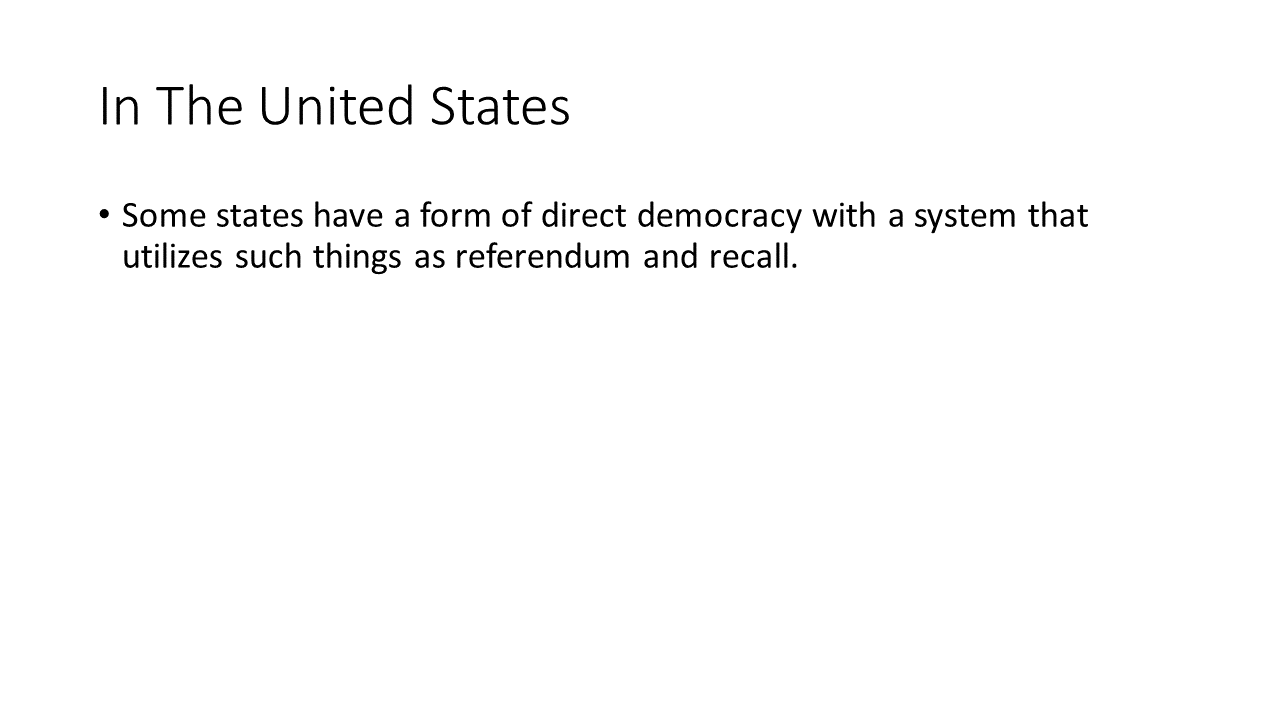 Do we have direct democracy in the United States? There are some states that have a form of direct democracy with a system that utilizes things such as the referendum and the recall.

A referendum, or an initiative, is a way of putting matters that concern them into the hands of the people. Then, they must vote for or against it. A recall is a process by which the people can remove an elected representative from office without having to wait until the end of their term.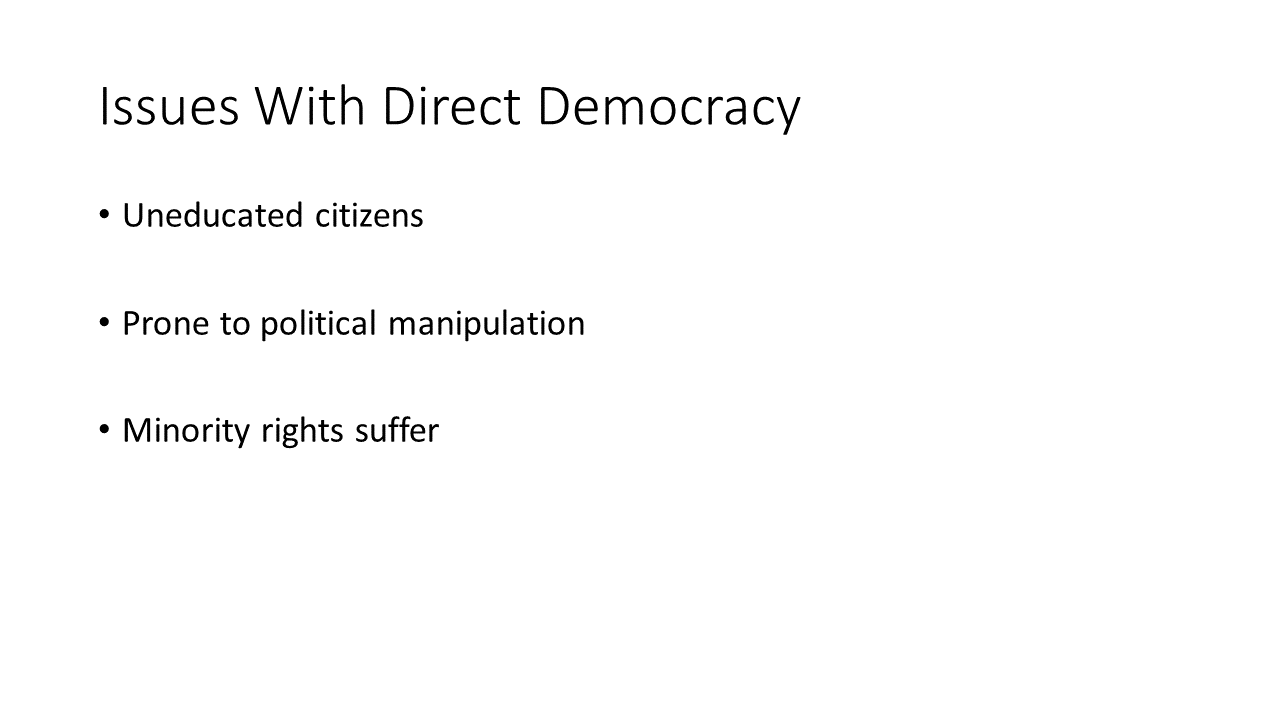 The fact is that there are inherent dangers in having a direct democracy. What keeps a direct democracy from working are uneducated citizens and political manipulation. Also, how do you protect the rights of the minority?

In order for a direct democracy to work, the citizens have to be well-educated on the issues. They have to be free from political leadership that will attempt to manipulate their decision-making process. It is also feared that the rights of minorities will be suppressed by the ruling majority.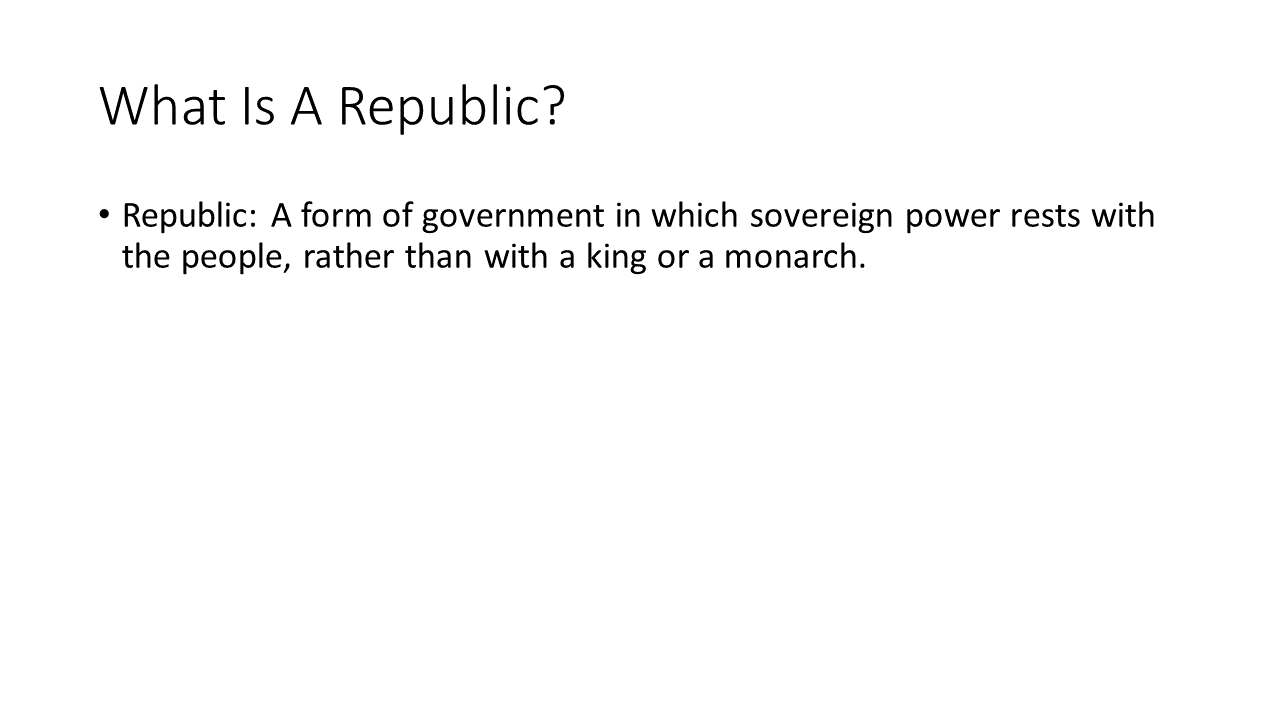 Another form of government is a Republic. In a Republic, sovereign power rests with the people, rather than with a king or a monarch.

The framers of the U.S. Constitution desired a government that would be ruled by good citizens of the people who would take turns in office and make laws based on commonly-held beliefs and virtues. Small communities would have their own governments based on this larger model.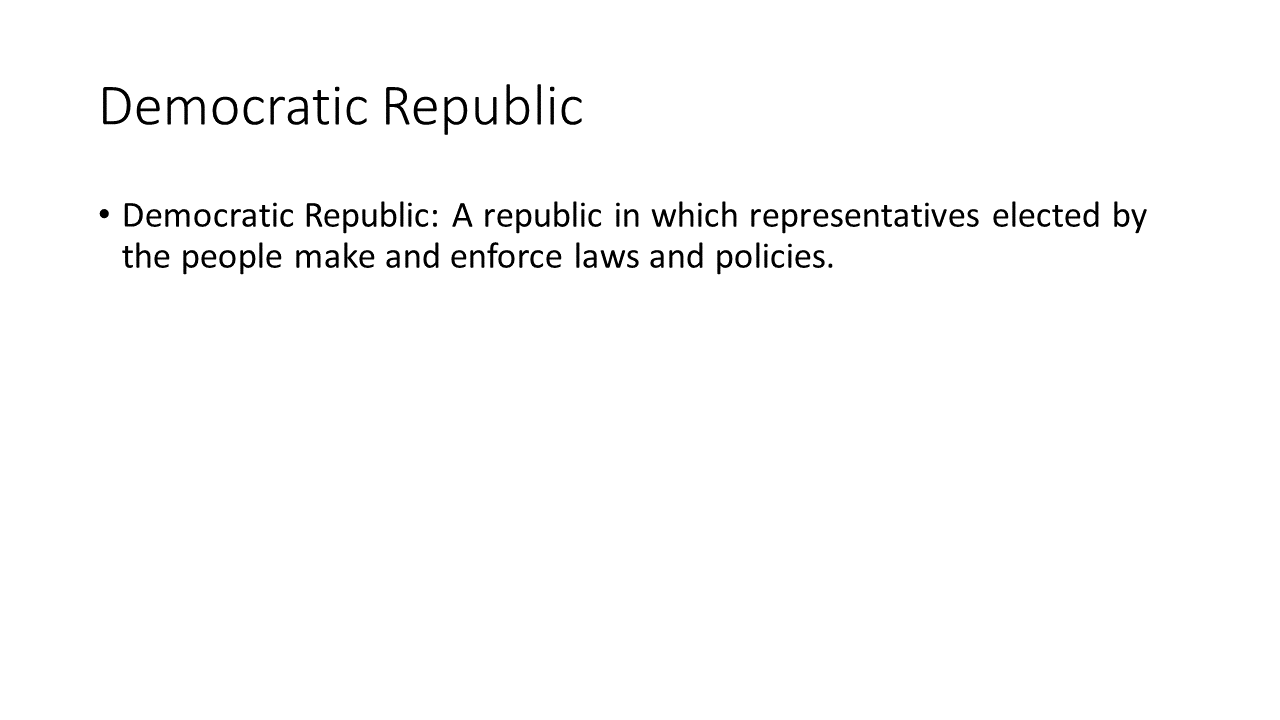 What happens then when you put a Democracy together with a Republic? You get a Democratic Republic or a republic in which representatives elected by the people make and enforce laws and policies.

So a Democratic Republic, then, is a government where the people hold the sovereign power, but they elect officials to carry out the duties of making the laws that govern them.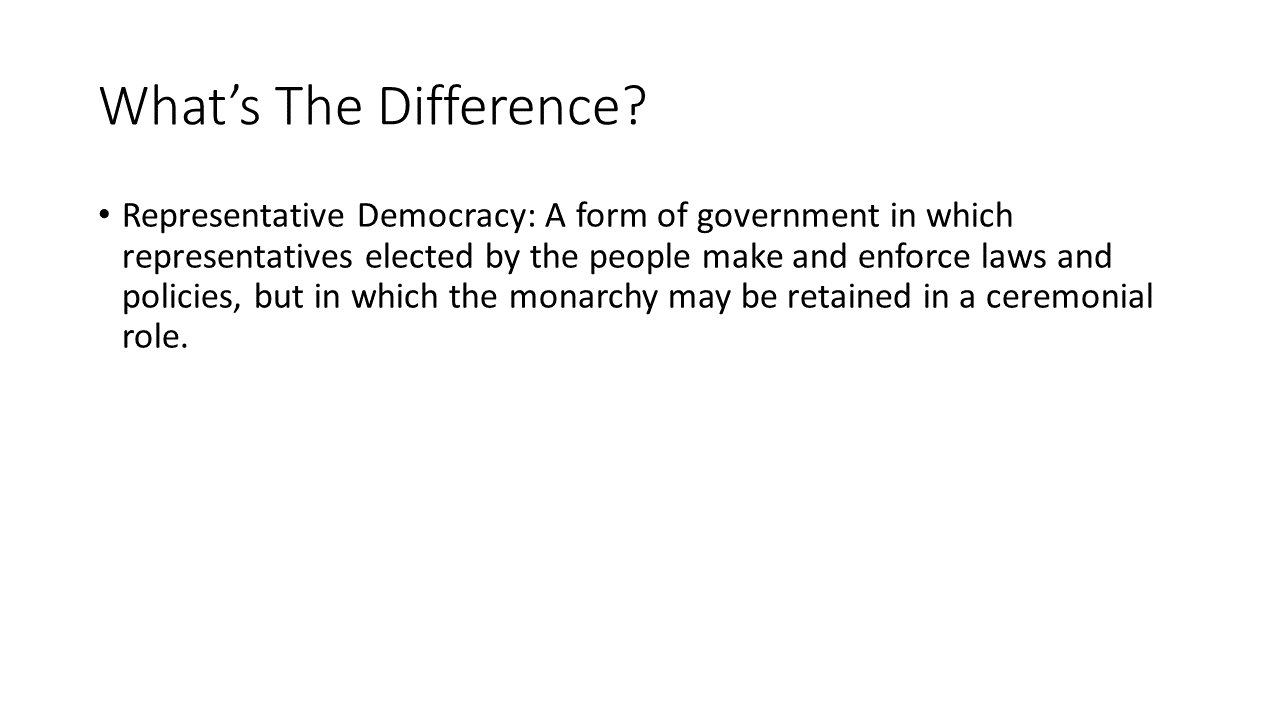 There is also Representative Democracy. It is not very different from a Democratic Republic. In places such as the United Kingdom and other countries that have a royal family, the people were not too thrilled about removing the monarch from their system of government. So, they opted for a Representative Democracy, which is a form of government in which representatives elected by the people make and enforce laws and policies, but the monarchy is retained in a ceremonial role.

In the United Kingdom, there is a system in place where the people elect officials who govern them, but they also have a royal family. The Queen is a respected figure in the U.K., but she is mainly viewed as a symbolic leader rather than having any real power.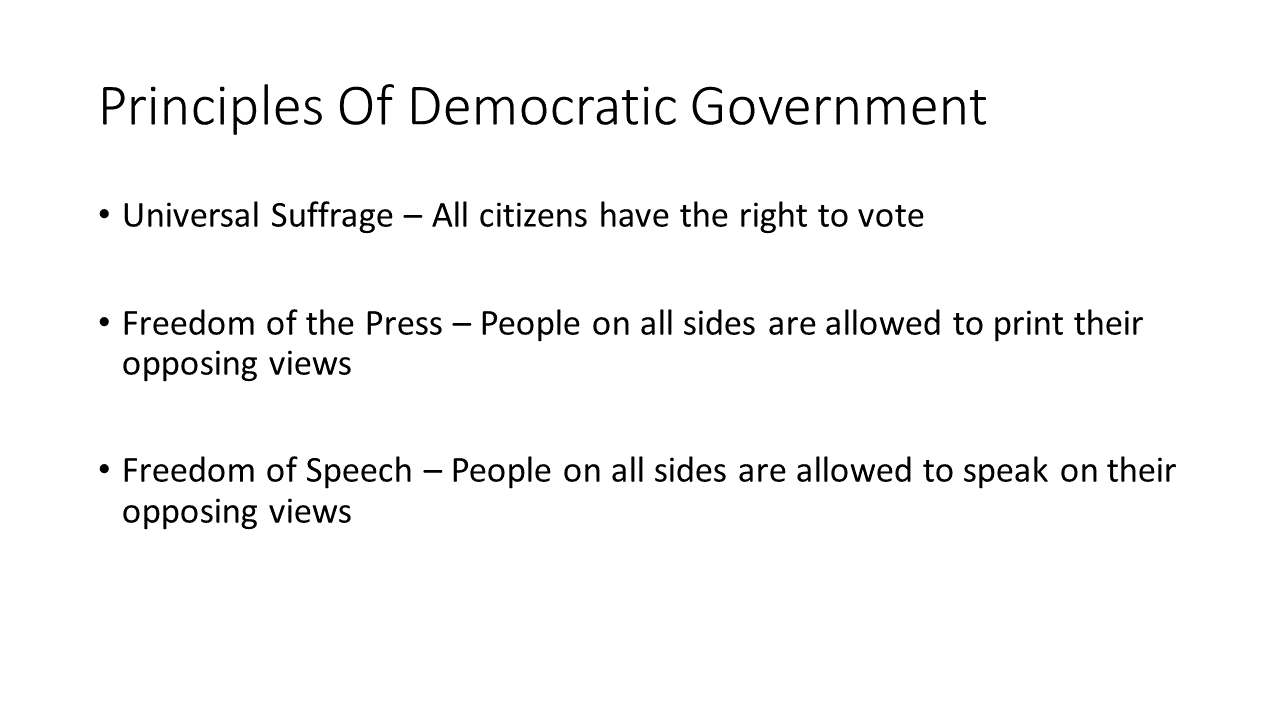 There are plenty of principles typical to a Democratic government. One of these is Universal Suffrage, which is the right of all citizens to vote. Freedom of the Press is the right of all people to print their opposing views. Freedom of Speech is the right of all people to speak on their opposing views.

At one time, only white males who owned property were allowed to vote. The battle for the right to vote was long and ultimately guaranteed African American males the right to vote in 1870. But, they still often faced legal barriers to voting until the Voting Rights Act was signed in 1965.

Furthermore, women also had to fight for the right to vote, which they won when the 19th Amendment was ratified in 1920.

If it had not have been for the Freedom of the Press or Free Speech, neither of these things could have happened. That is how a Democratic Government is supposed to work -- majority rules, but not at the expense of minority rights.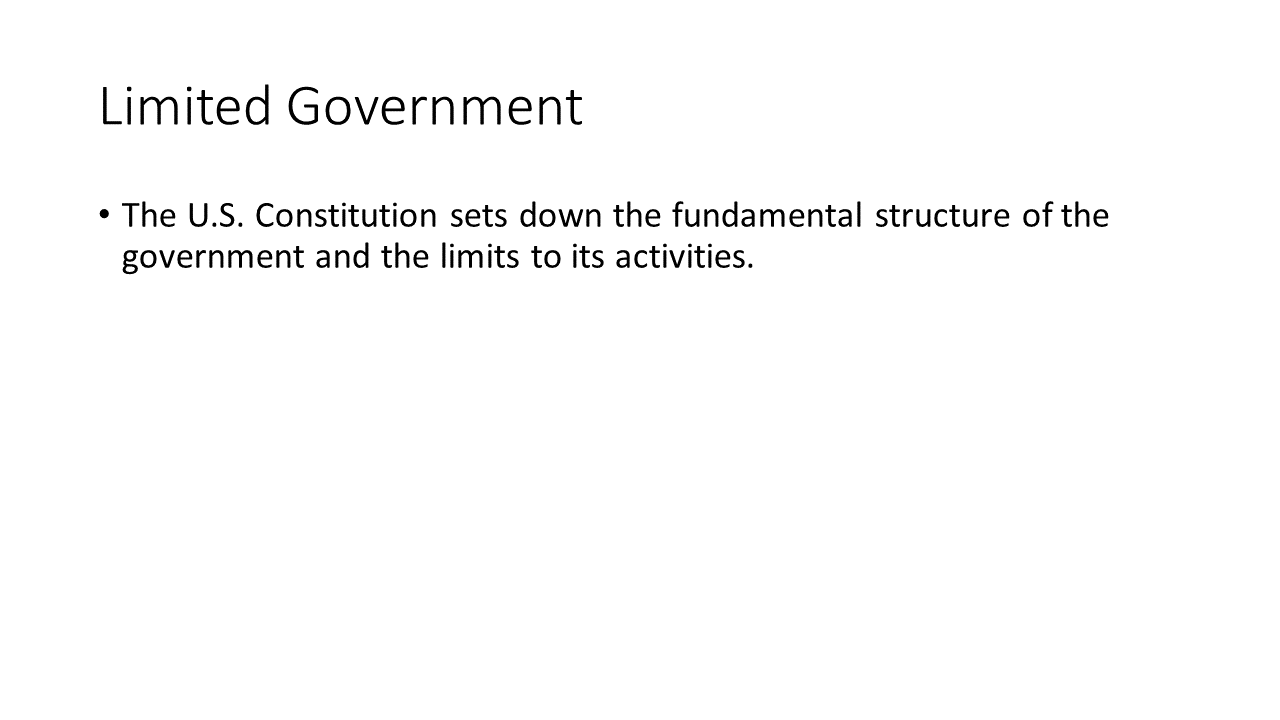 The government is not allowed to make any law that it wants. This is to protect the people from leadership that might get off track and start heading back towards a dictatorship.

That is why the U.S. has a limited government. The U.S. Constitution sets down the fundamental structure of the government and the limits to its activities.