Lesson Objectives:
- Rights of the accused
- The Miranda Rights
- Exclusionary Rule
- The Patriot Act
- NSA surveillance
- Consequences of the Snowden leaks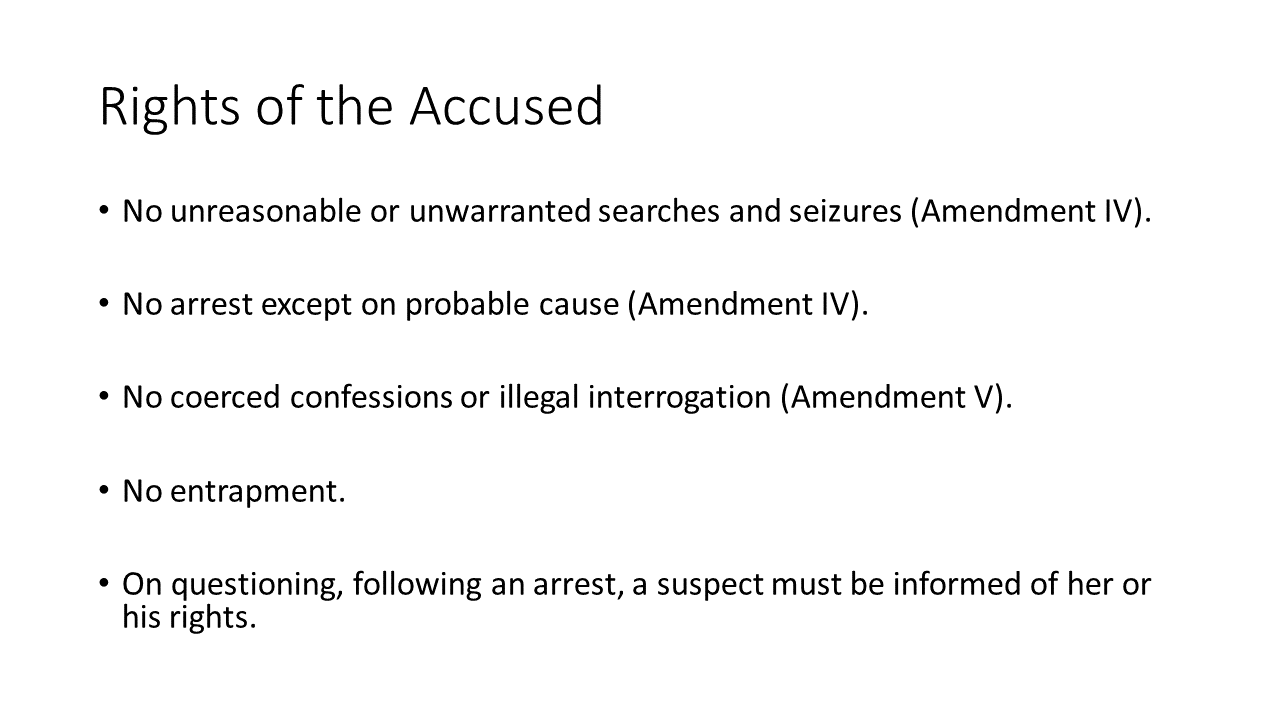 The rights of the accused are clearly outlined and are as follows:

No unreasonable or unwarranted searches and seizures.
No arrest except with probable cause.
No coerced confessions or illegal interrogation.
No entrapment.
And on questioning, following an arrest, a suspect must be informed of her or his rights.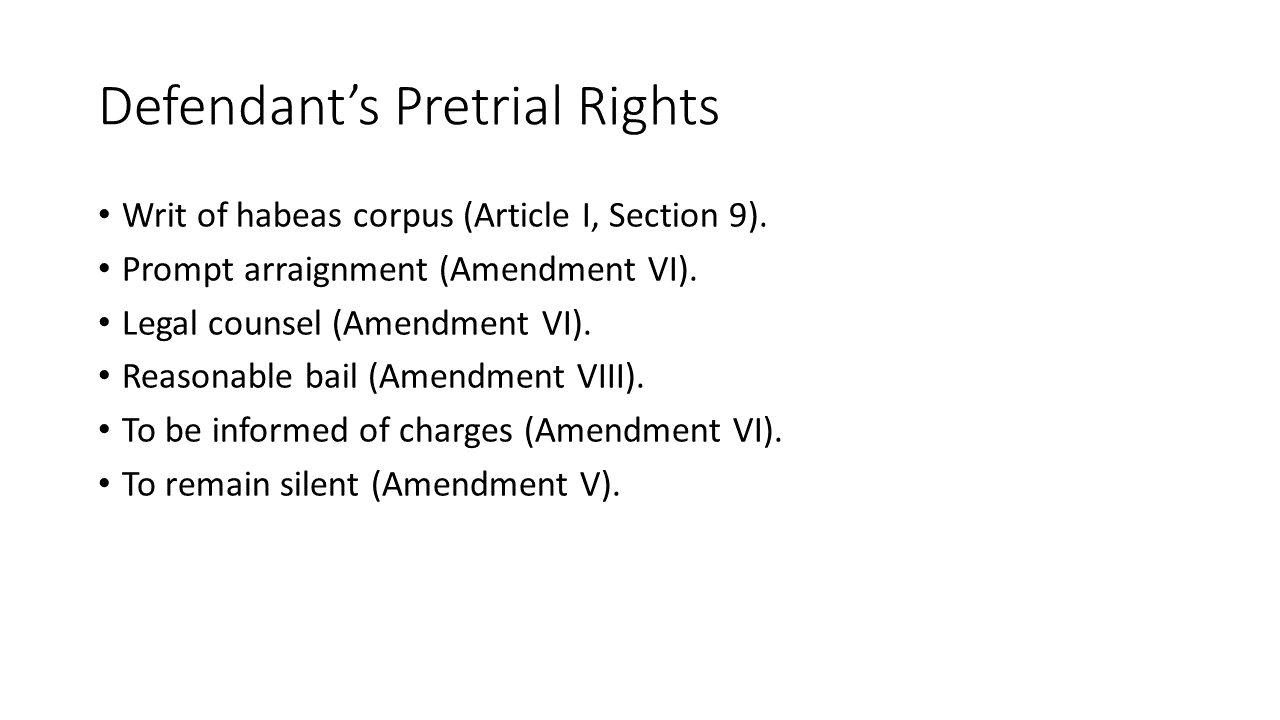 The defendant's rights do not end after being informed of their rights while being arrested. There are pretrial rights, including:

Writ of habeas corpus.
Prompt arraignment.
Legal counsel.
Reasonable bail.
To be informed of charges.
To remain silent.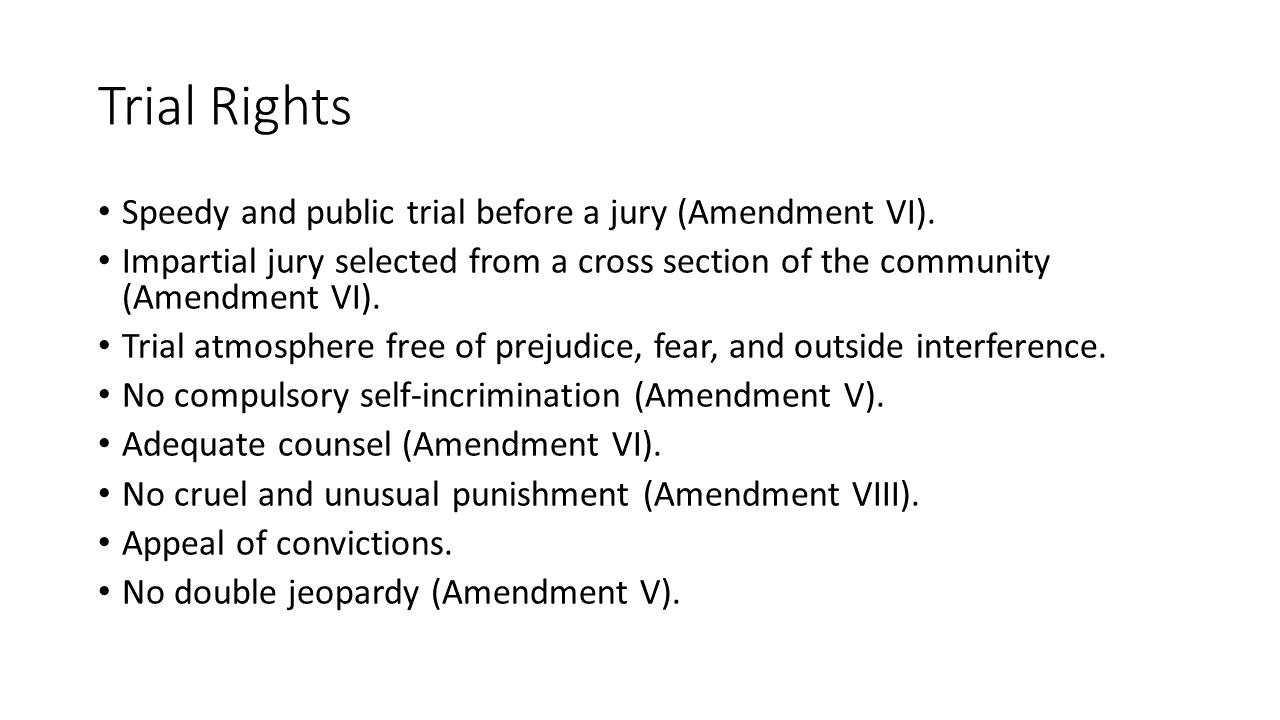 There are even rights during the trial and after the proceedings are over. These rights include:

Speedy and public trial before a jury.
Impartial jury selected from a cross-section of the community.
Trial atmosphere free of prejudice, fear, and outside interference.
No compulsory self-incrimination.
Adequate counsel.
No cruel and unusual punishment.
Appeal of convictions.
No double jeopardy.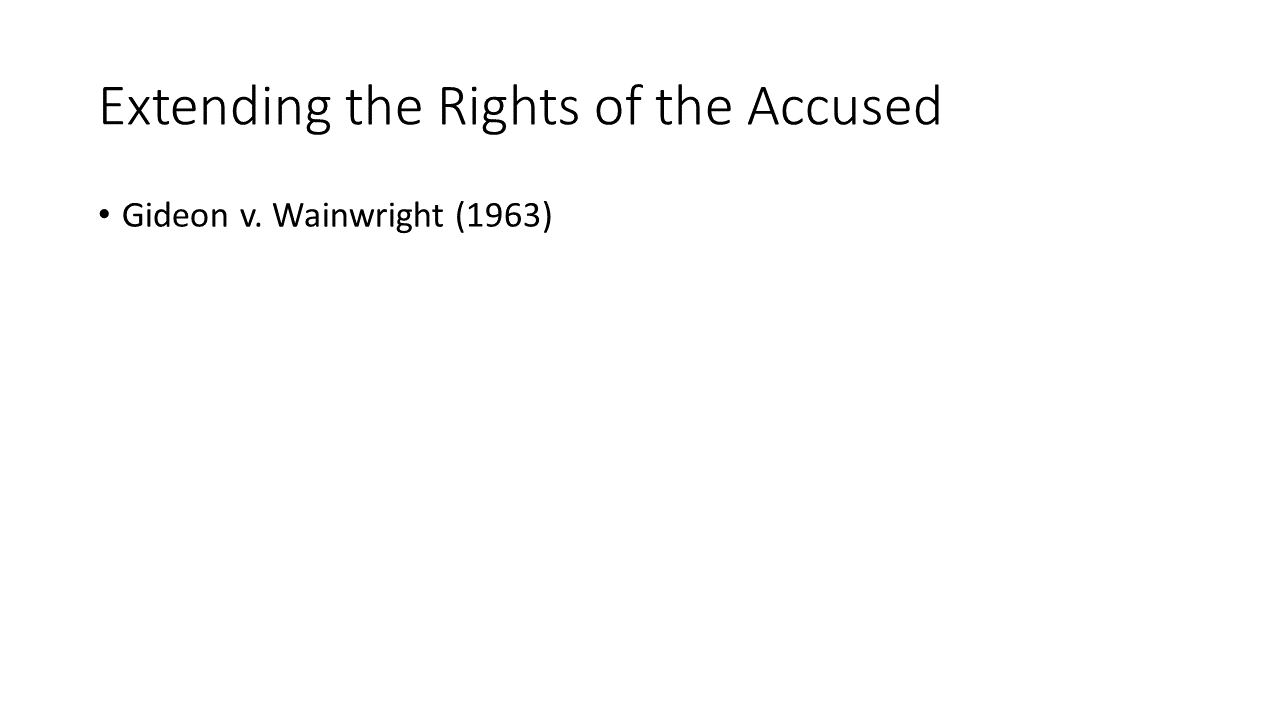 In 1963, in Gideon v. Wainwright, it was decided that a person charged with a felony who lacks the resources to pay for an attorney has the right to free legal counsel.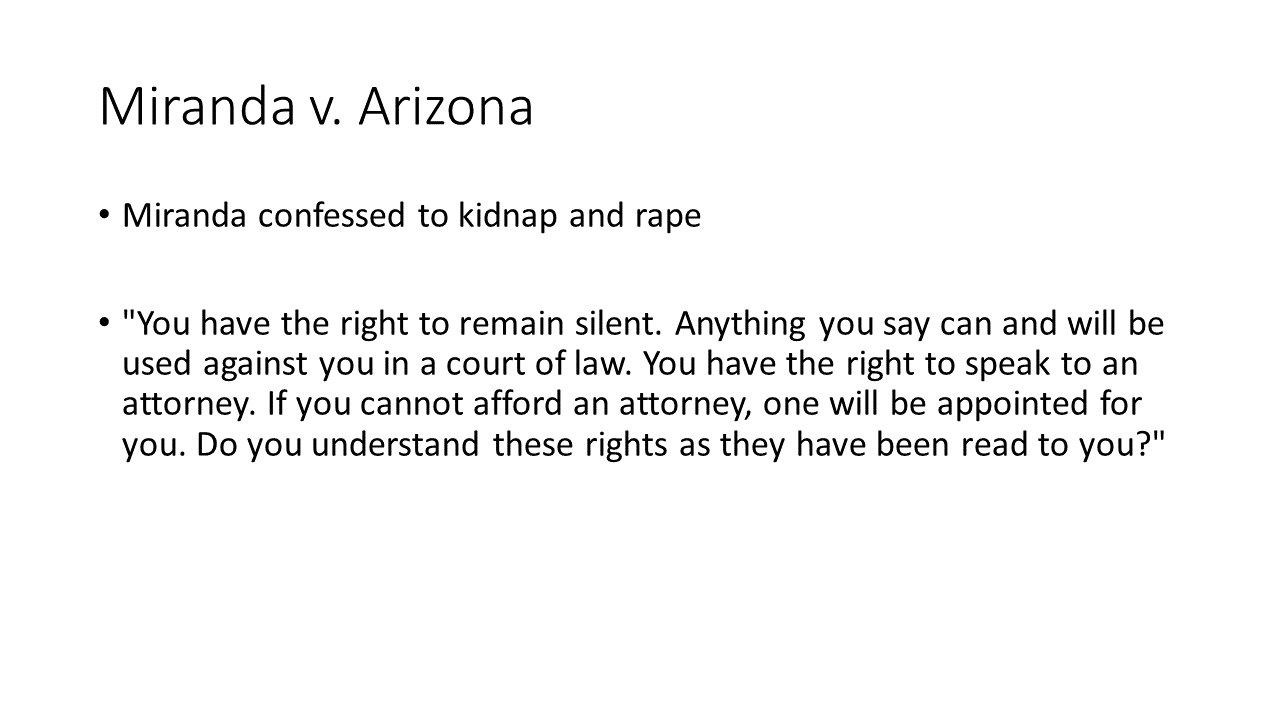 In the famous case of Miranda v. Arizona, Ernesto Miranda confessed to kidnap and rape. Obviously, he was convicted.

His lawyer appealed on the grounds that the police did not make him aware of his rights. From this landmark case in which the court decided in Miranda's favor, came the infamous words we hear today every time someone is placed under arrest:

"You have the right to remain silent. Anything you say can and will be used against you in a court of law. You have the right to speak to an attorney. If you cannot afford an attorney, one will be appointed for you. Do you understand these rights as they have been read to you?"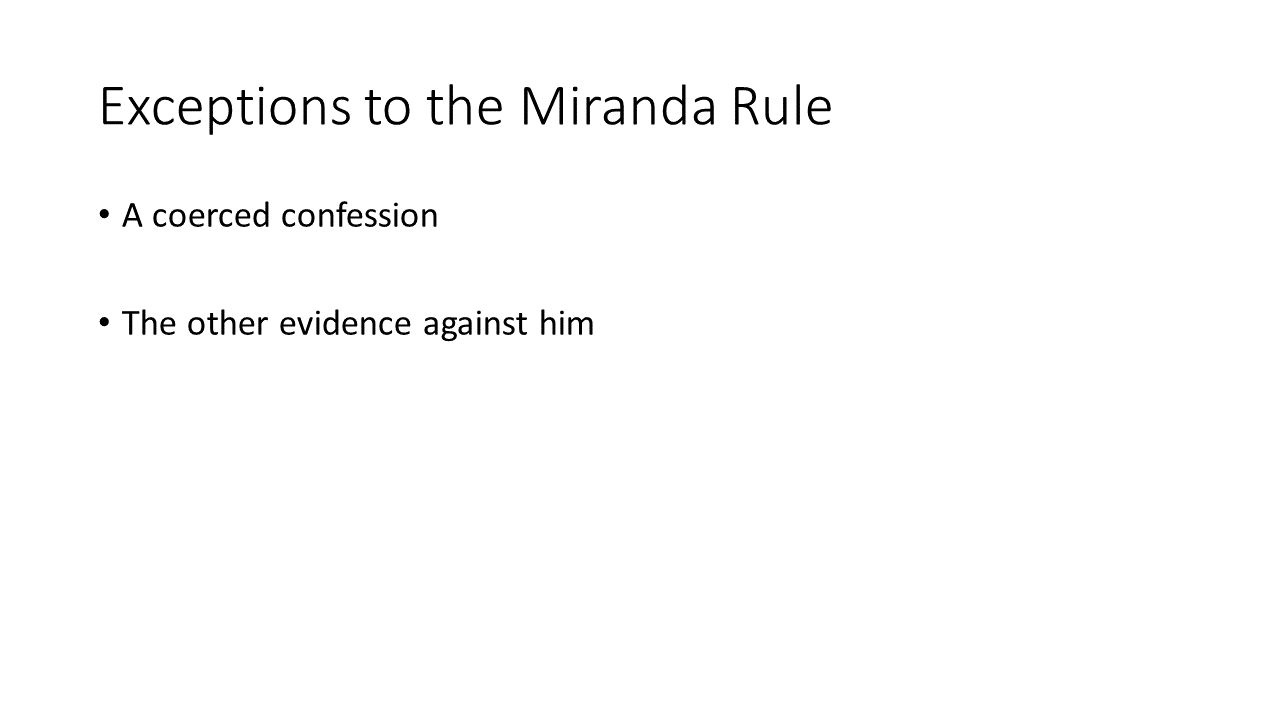 With the overturning of the case of a confessed kidnapper and rapist, it was clear that there were going to need to be some exceptions to the rule.

In 1991, a decision was made that a case would not necessarily be reversed if the confession was coerced. If the other evidence against him was strong enough to have convicted the man without the confession, then the fact that it was coerced could be ignored.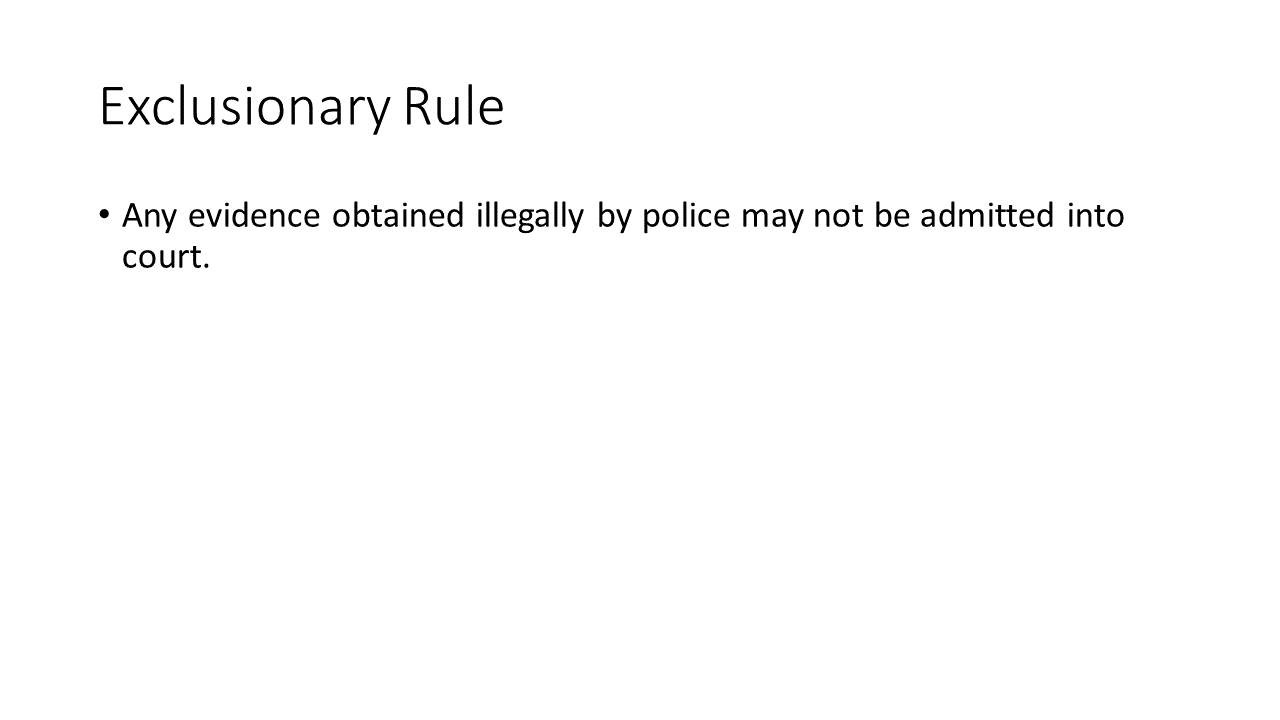 In the course of police investigations, sometimes there are errors.

That is why the Exclusionary Rule exists. If evidence is seized illegally, it cannot be entered into the case, no matter how damaging it is. That is how the courts keep the police honest.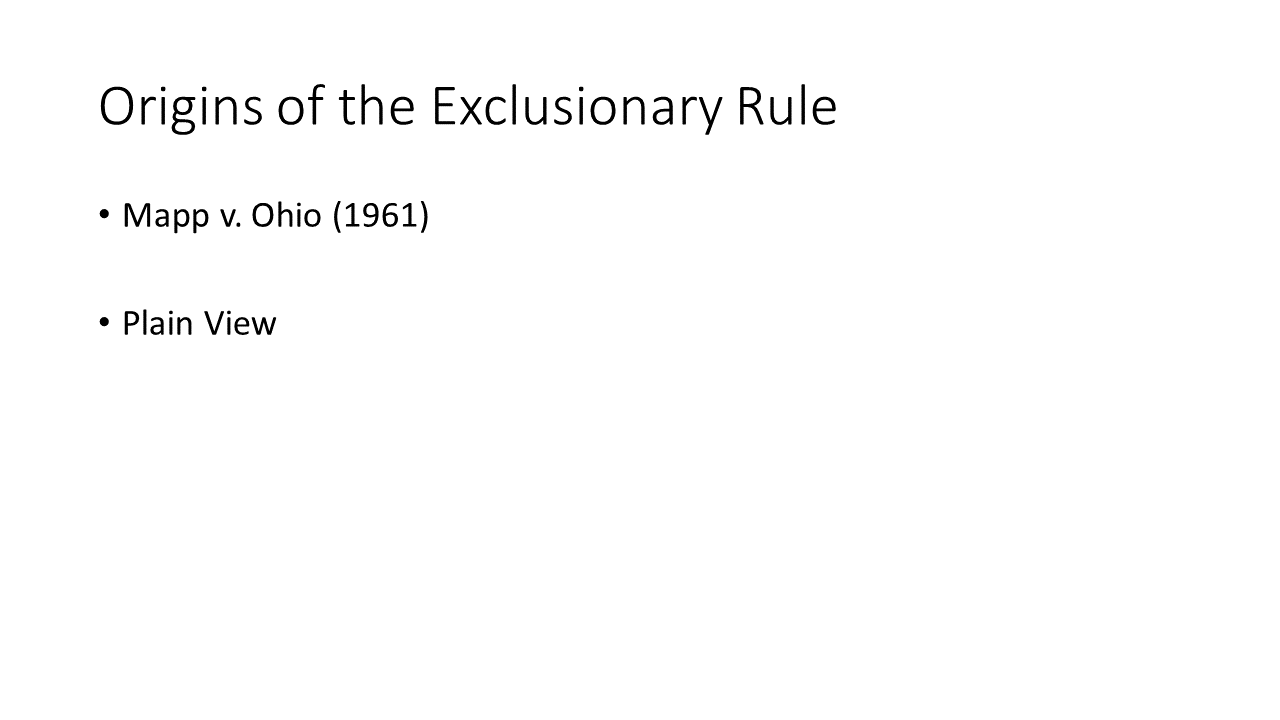 In Mapp v. Ohio (1961), police entered the apartment of Dollree Mapp without a warrant and without her permission. They found obscene materials and she was convicted.

In 1961, her conviction was overturned because the obscene material was seized illegally. If there is no search warrant, evidence can only be seized if it is in "plain view."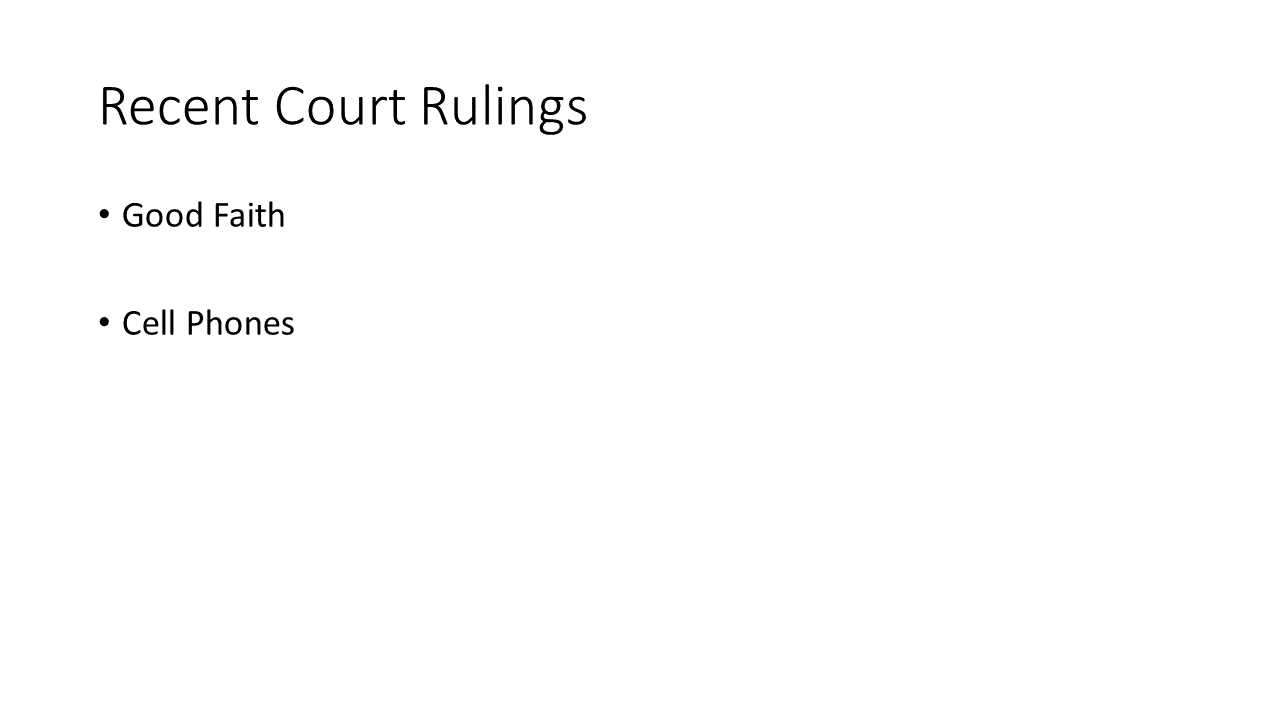 The Supreme Court has made exceptions to the Exclusionary Rule. There is an exception known as "good faith." If an officer makes an arrest with a warrant that had a clerical error, that would be covered by the good faith exception.

Today, the police have to obtain a search warrant to seize the digital content of a cell phone. The Exclusionary Rule is being updated to keep up with the latest technology.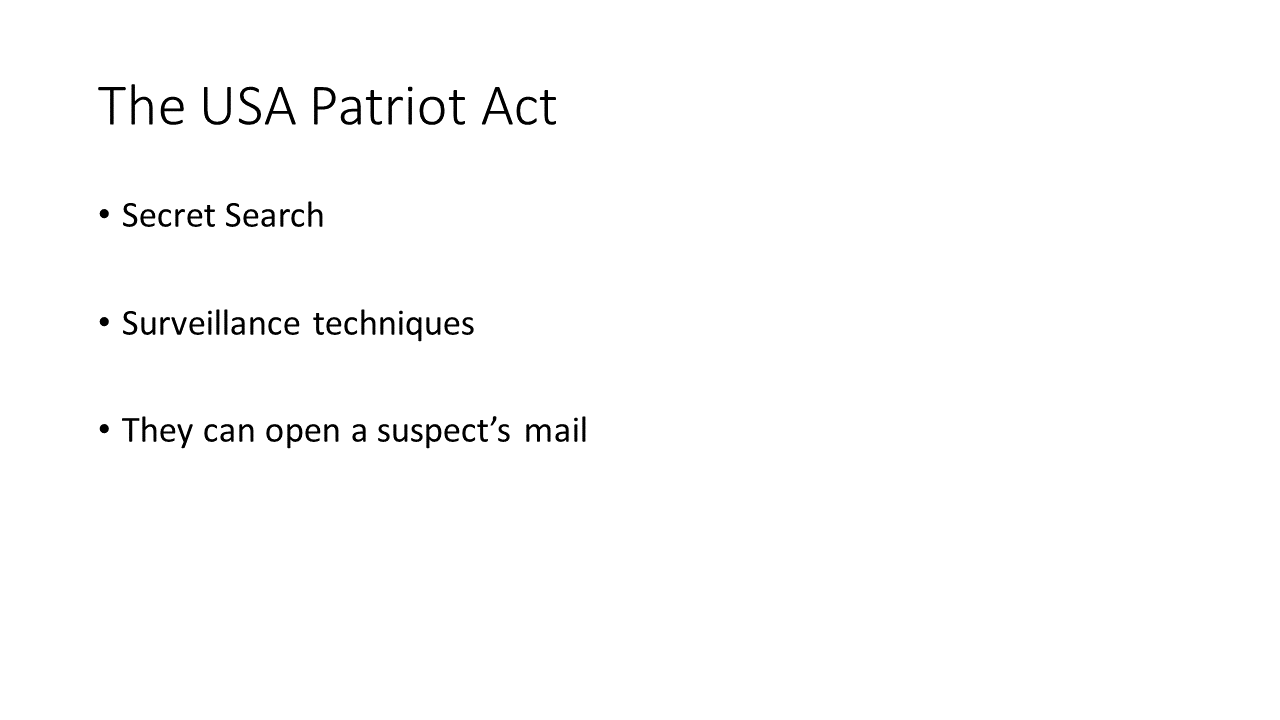 After 9/11, the government took great liberties with its power. The USA Patriot Act is legislation that was passed to grant the government powers that they never had before.

Government agents can secretly enter a suspect's home and search it. They can put surveillance on their use of the internet, their phone usage, and look through their financial records. They now even have the ability to open a suspect's mail.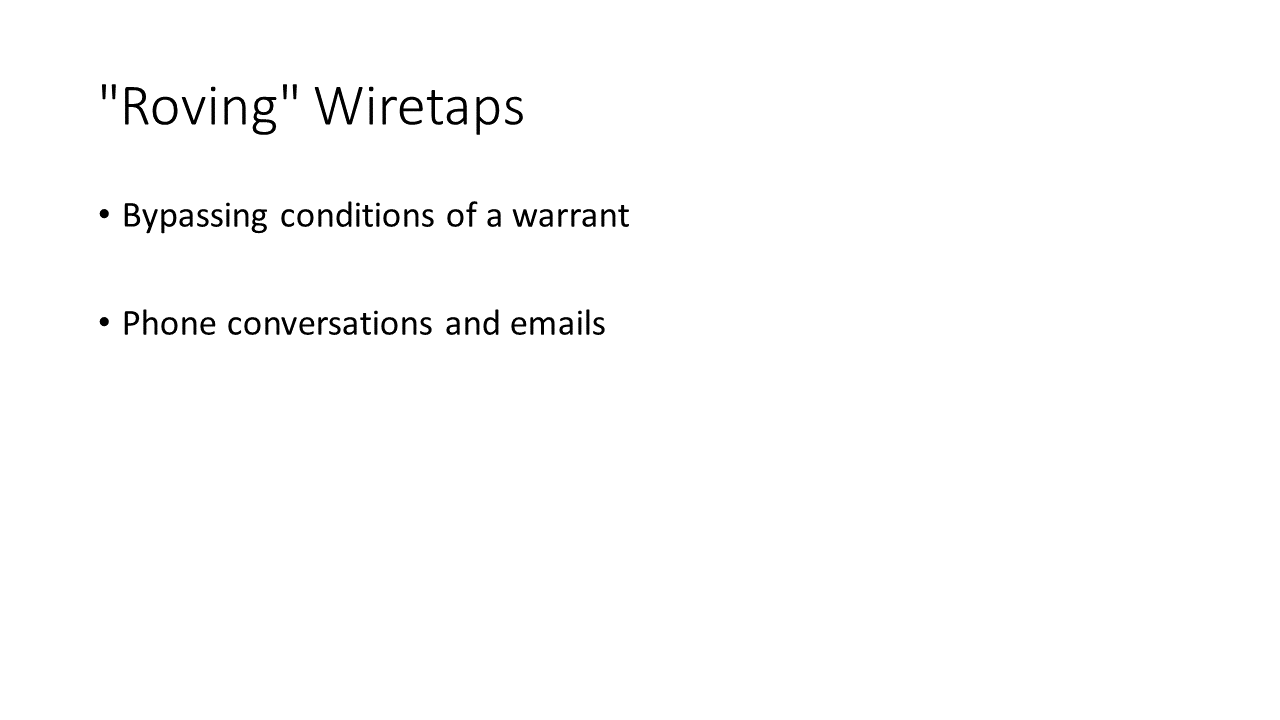 The 4th Amendment states that when a warrant is served, it has to state the exact location. The government can now bypass that with "Roving" wiretaps.

They can surveil a suspect electronically, which means anywhere the suspect is using a device. The government can comb through phone conversations and emails of anyone.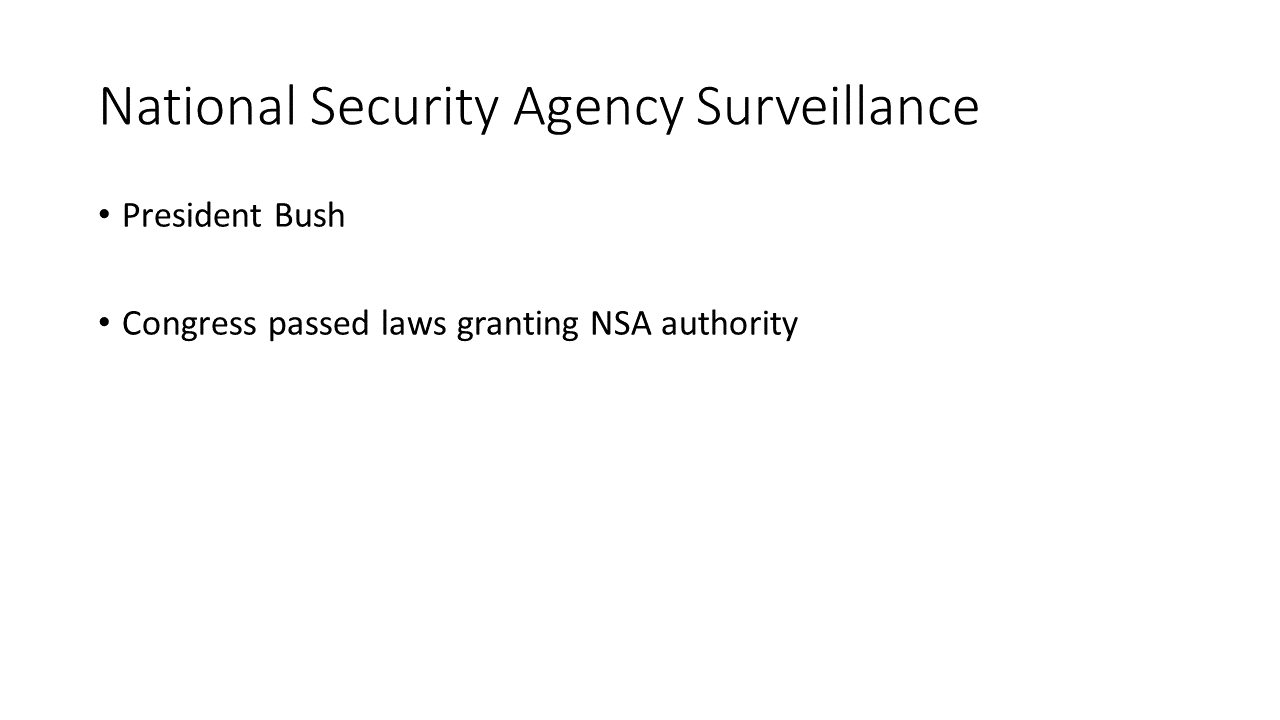 President Bush gave the NSA the right to monitor phone conversations and all other communications when it involved certain persons and foreign parties, when one of those was thought to have links to terrorists.

There was an outcry when the truth of this came out, but the government pressed forward and passed laws granting the NSA official authority matching what President Bush had authorized.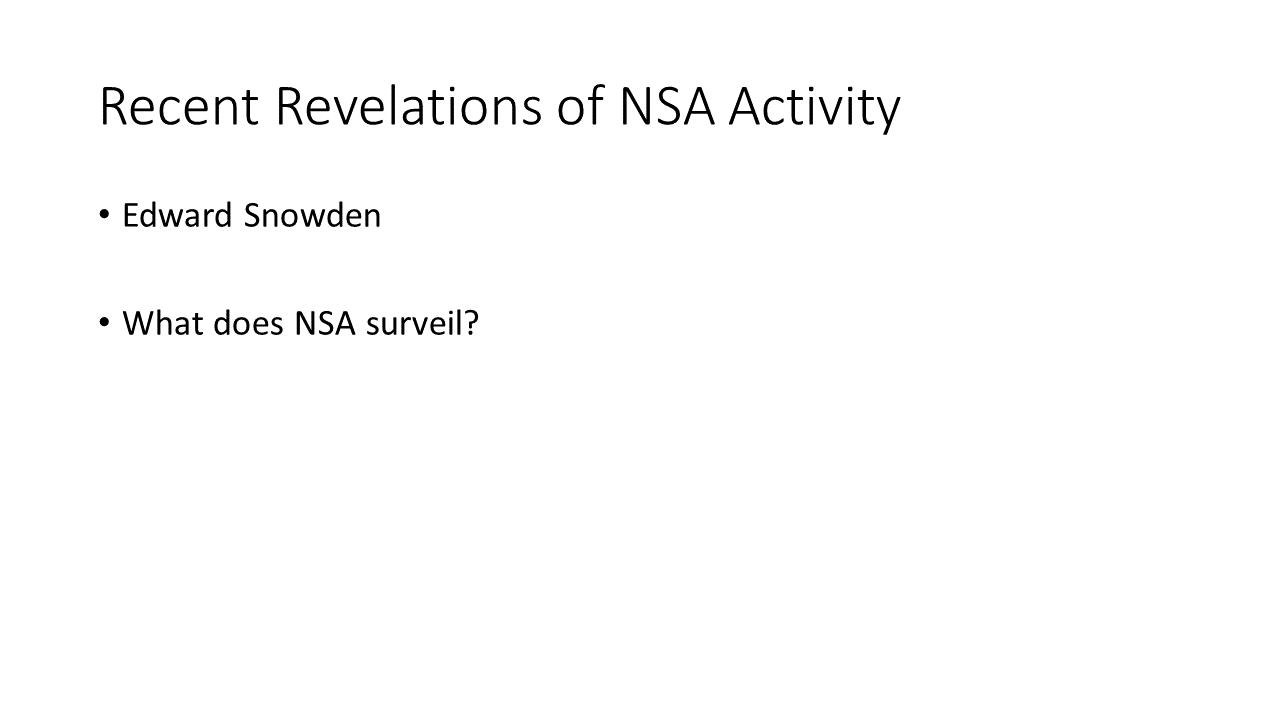 Edward Snowden made headlines when he provided leaks in June 2013 revealing that the NSA was invading our privacy even more than we had previously thought.

It is hard to believe, but the NSA records data on every phone call made within the United States. That data includes both phone numbers of the caller and the person called, as well as the time the call was made.



The NSA is not finished collected data yet. They are also gathering information about companies through their websites. They spy on European countries and they bug offices of organizations entering into trade talks with the U.S.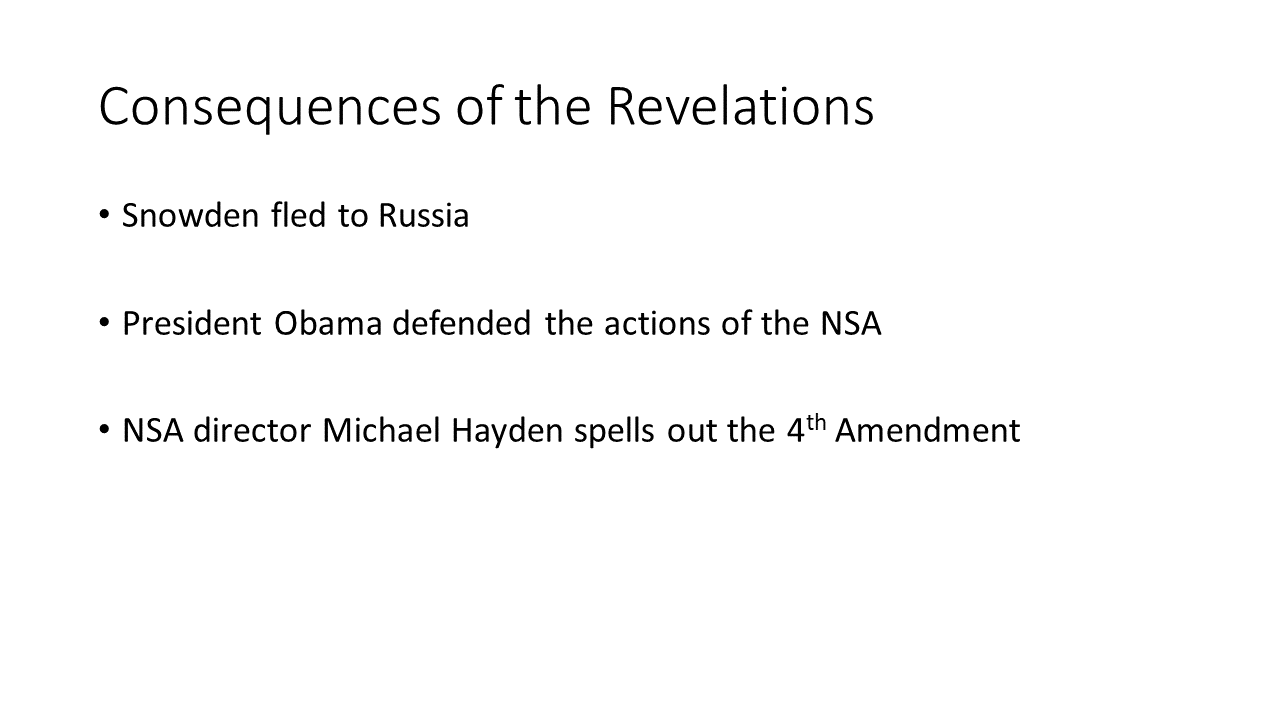 When the NSA's practices were exposed, Snowden had to flee to Russia. President Obama defended the surveillance tactics stating that they were approved by secret courts.

When arguing in his own defense, NSA director Michael Hayden alarmed foreign countries when he declared that 4th Amendment protections against unreasonable search did not apply to them. It was only for citizens of the United States.

That could have a huge impact on American tech firms and foreign businesses that find it hard to trust us. They could pull their business and take it elsewhere if they think that a company's data collection practices exist to help the NSA spy on people.