Lesson Objectives:
- Judicial standards of review
- Affirmative action
- Reverse discrimination
- Recent decisions on affirmative action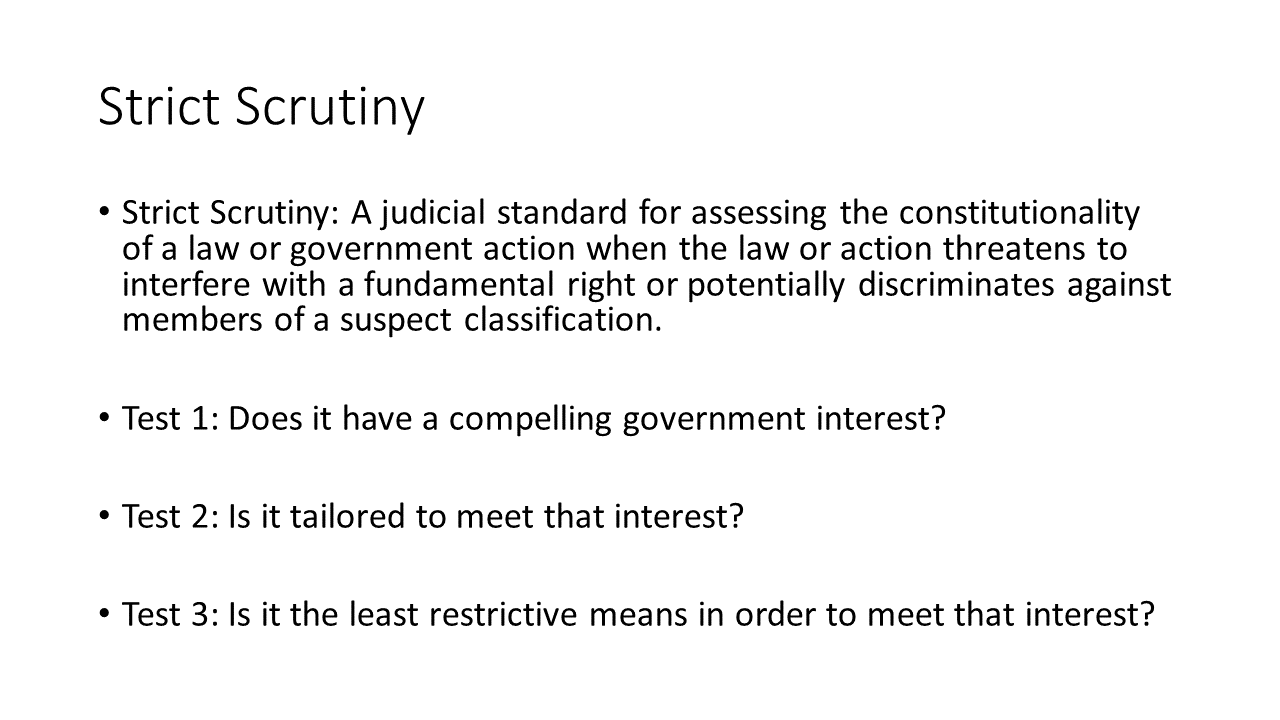 When laws are put in place or executive actions are taken, the Federal court has three different ways of reviewing them. Normally, the law has to be put into action first and then the judicial review process begins.

The first form of review is Strict Scrutiny, a judicial standard for assessing the constitutionality of a law or government action when it threatens to interfere with a fundamental right or potentially discriminates against members of a suspect classification.

There are three tests for Strict Scrutiny: Does it have a compelling government interest? Is it tailored to meet that interest? Is it the least restrictive means in order to meet that interest?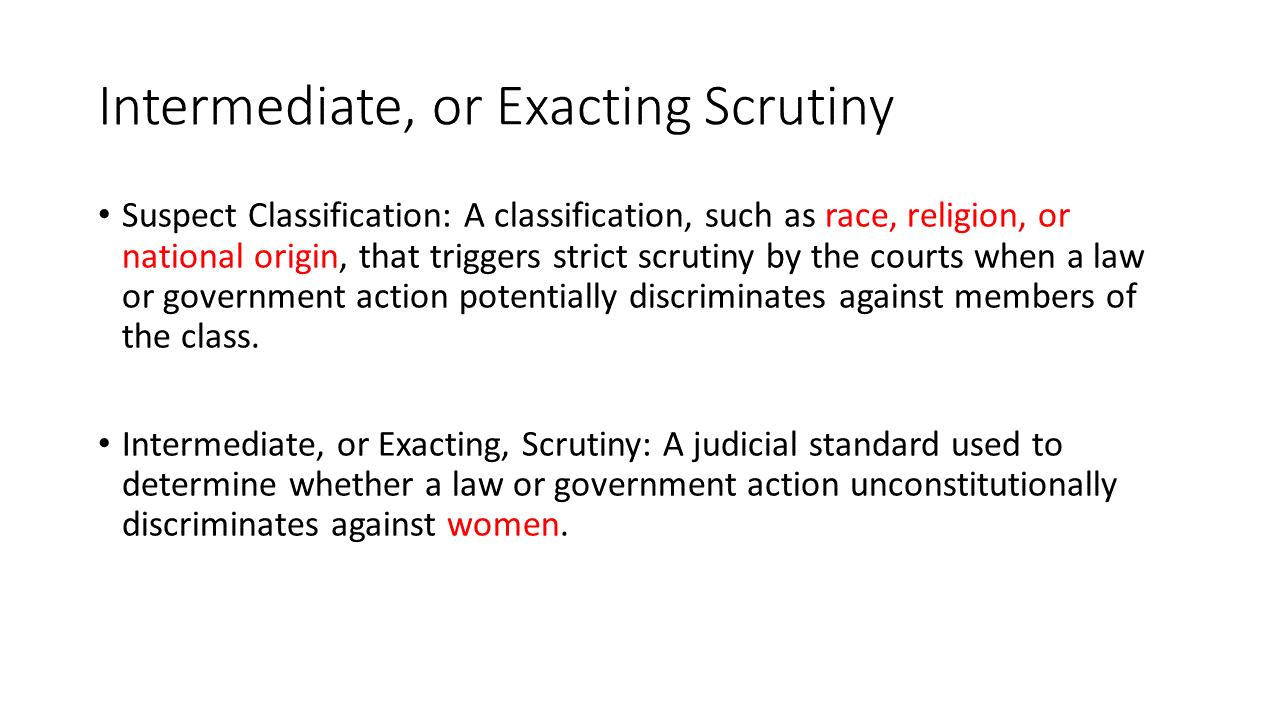 In discrimination cases, a standard had to be established. Suspect Classification is a classification such as race, religion, or national origin, that triggers the toughest level of judicial review. When a law or government action potentially discriminates against members of a Suspect Classification, that triggers *strict* scrutiny.

However, there is a less rigorous form of review known as Intermediate, or Exacting, Scrutiny. That is a judicial standard used to determine whether a law or government action unconstitutionally discriminates against women.

Cases concerning the women's movement of the 1960s resulted in its own test stating that a government law or action "must further an important government interest by means that are substantially related to that interest." Intermediate scrutiny was later adjusted to require an "exceedingly persuasive justification."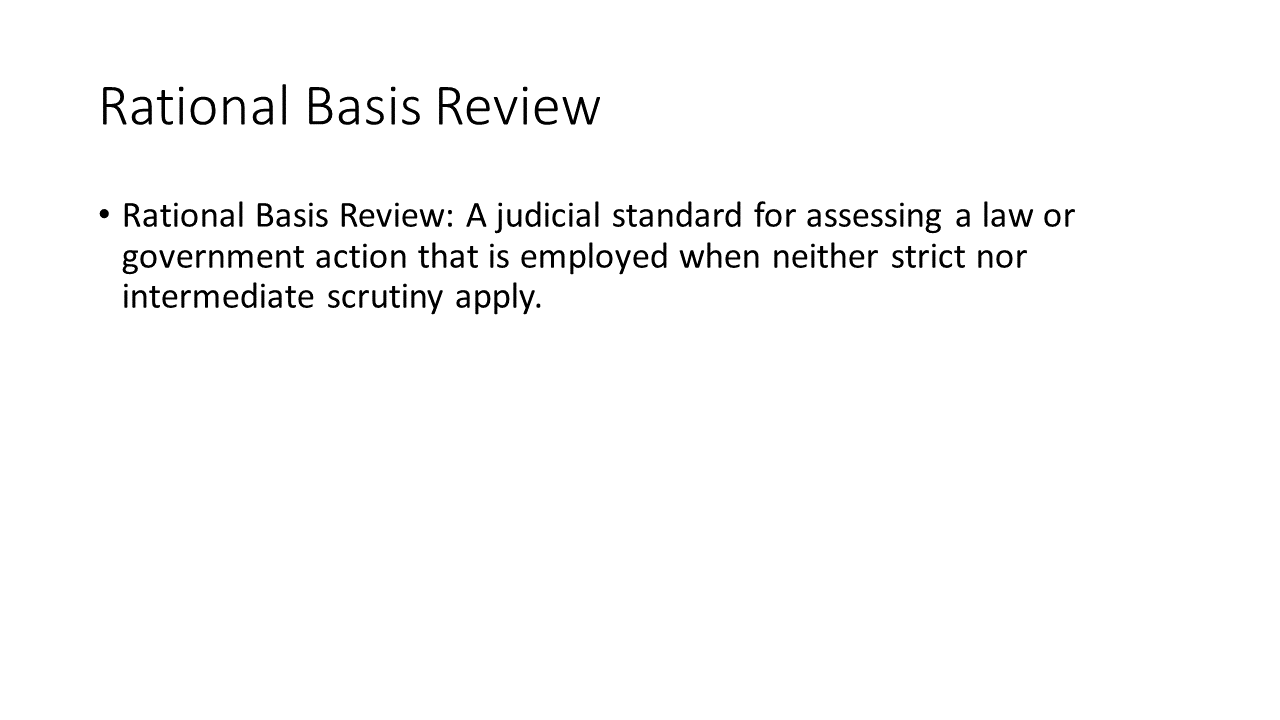 The reasoning for Rational Basis Review comes from the quote of Justice Thurgood Marshall, "The Constitution does not prohibit legislatures from enacting stupid laws."

Rational Basis Review is a judicial standard used for assessing a law or government action when neither strict nor intermediate scrutiny apply.

In other words, a law has to be at least "rationally related" to a "legitimate government interest." Gays and lesbians have benefited from the use of Rational Basis when laws denying them certain rights have been overturned.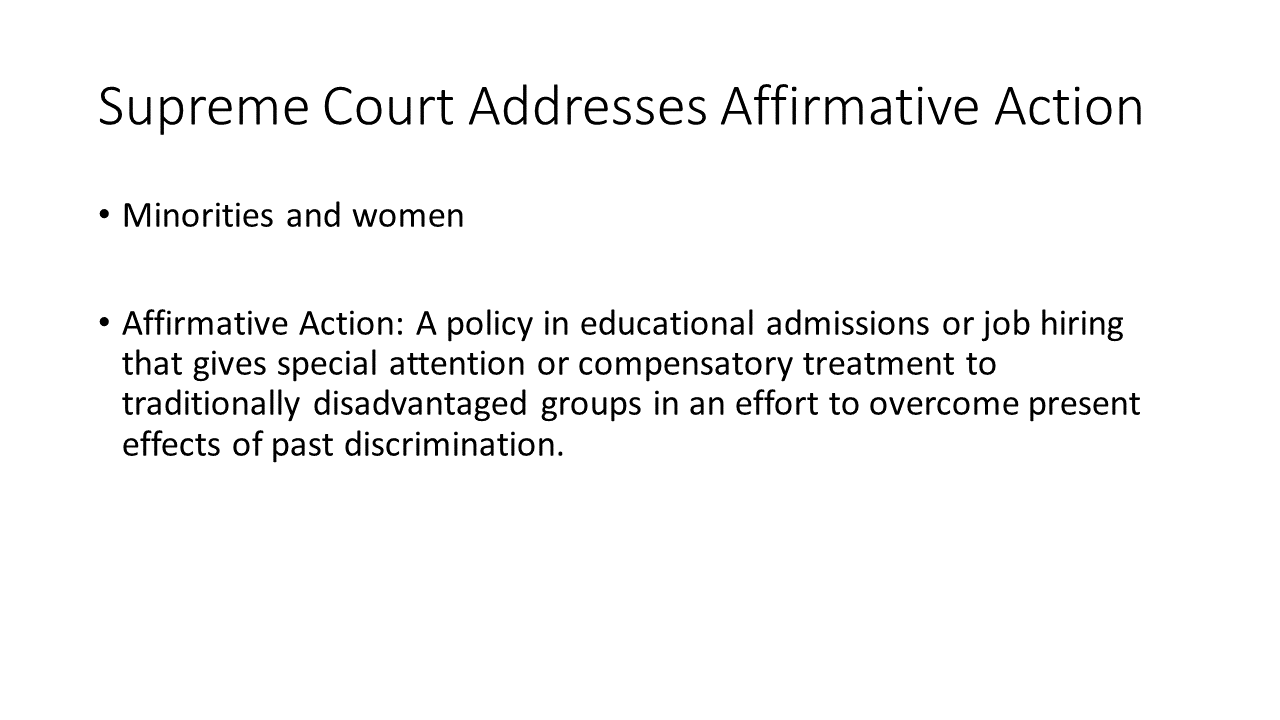 Amendments and civil rights acts had effectively ended discrimination in the Constitution, but in practice, there was a larger problem. Because of discrimination, minorities and women were behind in education and skills that would allow them to effectively qualify for jobs.

For these reasons, Affirmative Action was put into place. Affirmative Action is a policy in educational admissions or job hiring that gives special attention or treatment to traditionally disadvantaged groups in an effort to overcome present effects of past discrimination.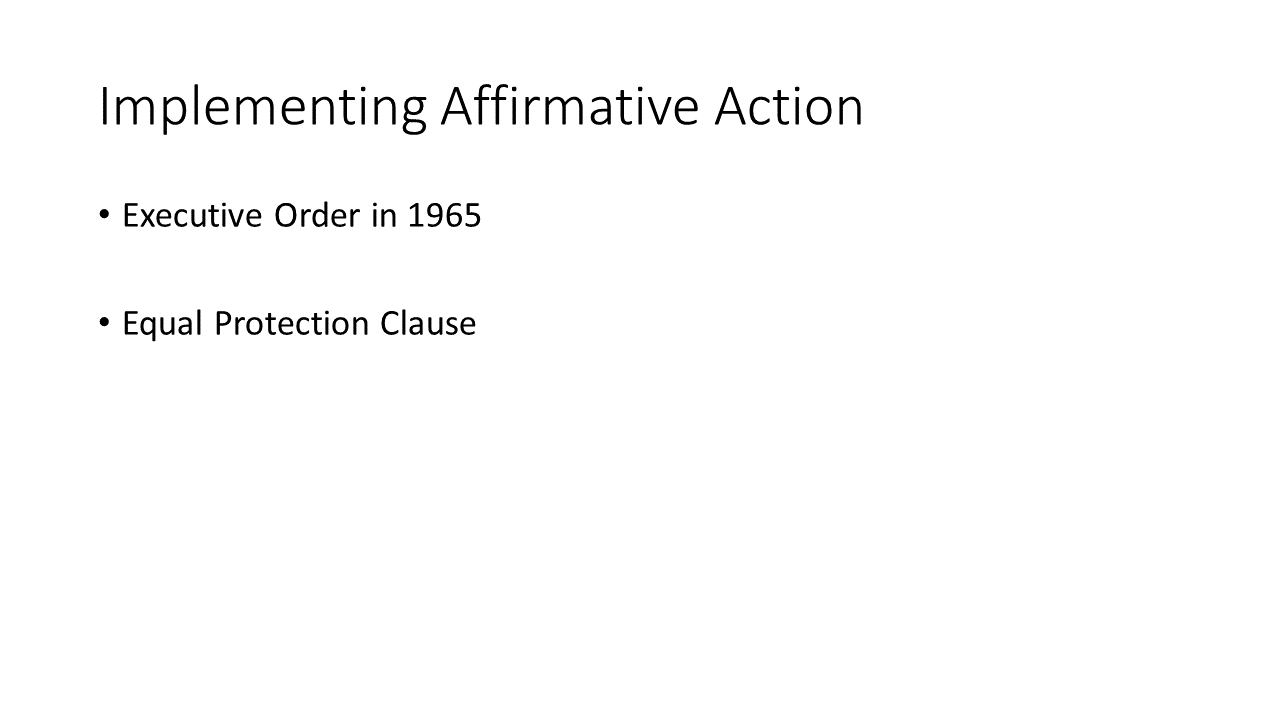 President Johnson implemented an executive order in 1965 that has had a far-reaching effect. First, affirmative action was mandated for government agencies. Then, companies doing business with the government were obligated to put affirmative action policies into place.

The reach kept growing to include companies that were court-ordered and labor unions that discriminated against minorities and women. But then, the concern arose that affirmative action was actually a violation of the equal protection clause of the 14th Amendment because it resulted in discrimination against the majority.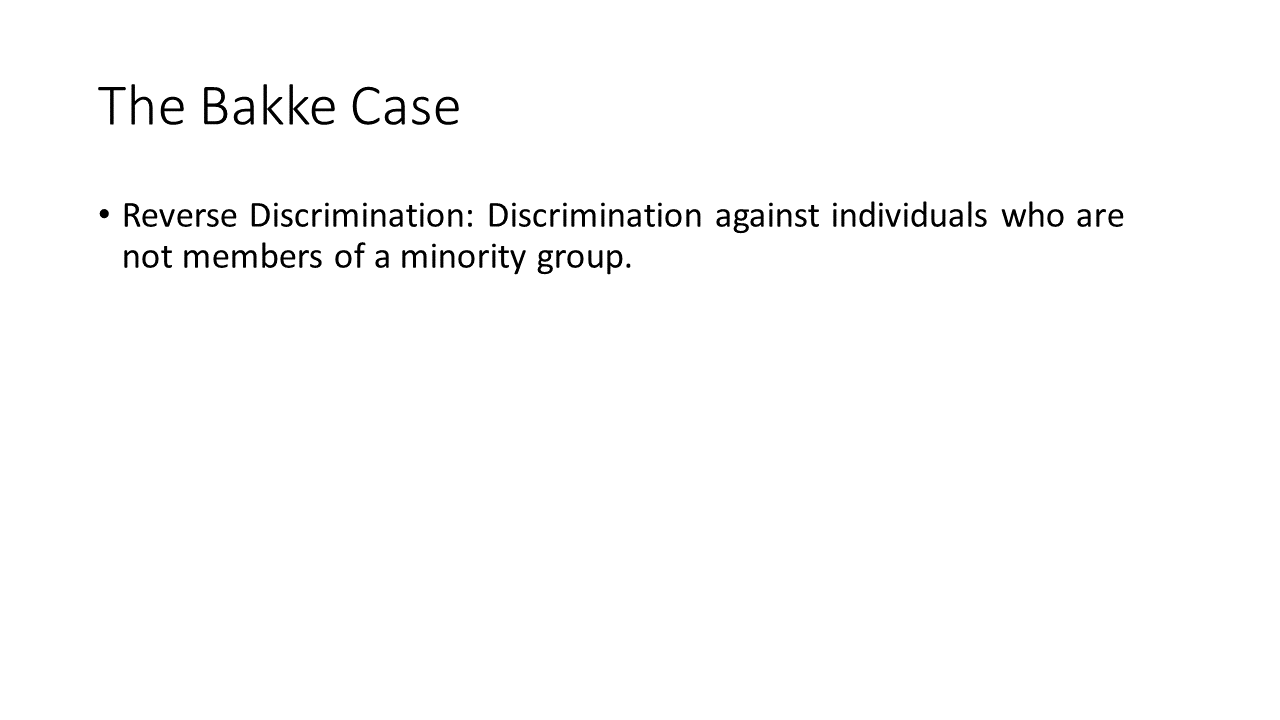 When Allan Bakke was not admitted into a medical program at the University of California, he investigated and discovered that he was more qualified than the minority applicants who were admitted.

That is when the term Reverse Discrimination gained popularity. Reverse discrimination is discrimination against individuals who are NOT members of a minority group.

In the case of Regents of the University of California vs. Bakke (1978), Justice Lewis Powell pointed out that race can be a factor in deciding who to admit into a program or to hire for a job, but it cannot be the only factor.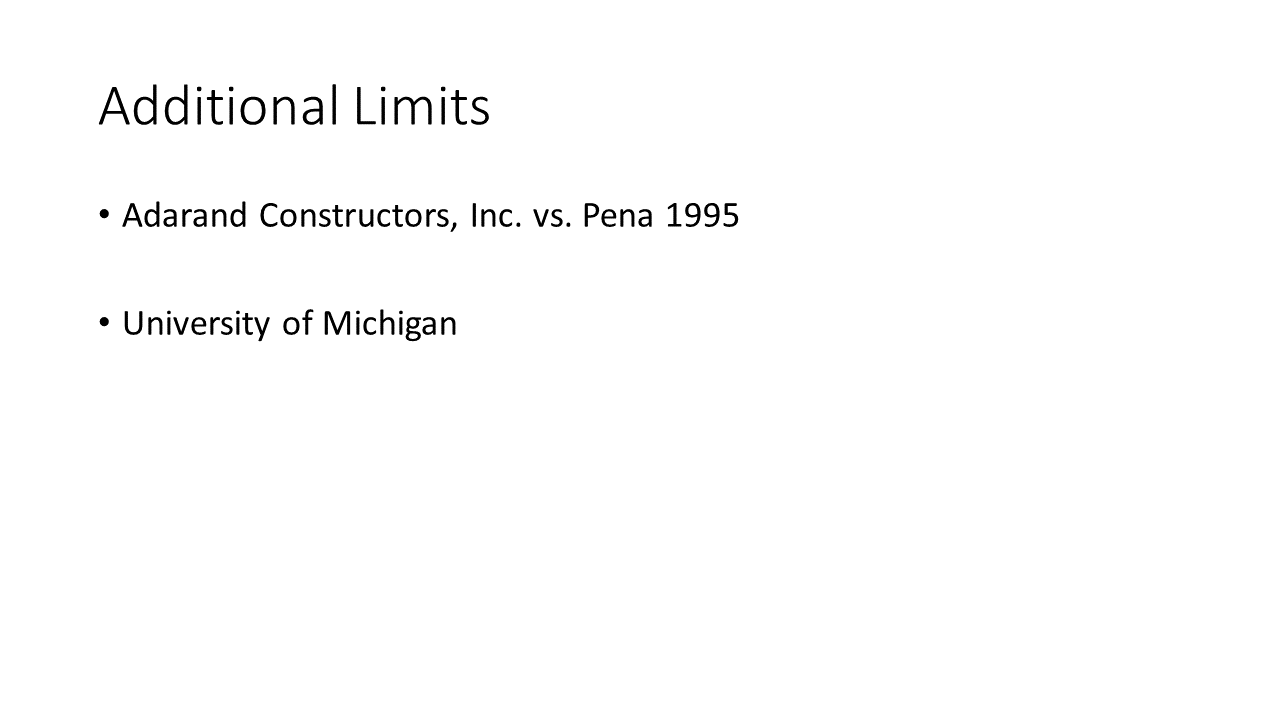 Affirmative Action was good while it lasted, but this is where Strict Scrutiny was about to rear its head. Adarand Constructors, Inc vs. Pena in 1995 put Affirmative Action to the test. In that case, it was decided that Affirmative Action could NOT be used to fill quotas with people who are not even qualified for those positions.

At the University of Michigan, two different cases went to court in 2003. The first was an admissions policy that the court struck down because the school was using a point system and awarding a large amount of points to applicants for being in the minority. The second case was upheld because the school was only using race as a consideration when admitting students into its law program.

Some speculate that the end of Affirmative Action is coming as the Supreme Court strikes down certain programs and upholds others. Has Affirmative Action served its purpose?