Lesson Objectives:
- Suffrage and early women's political movements
- The modern women's movement
- Equal Rights Amendment (ERA)
- Women in the military
- Women in politics
- Gender discrimination in the workplace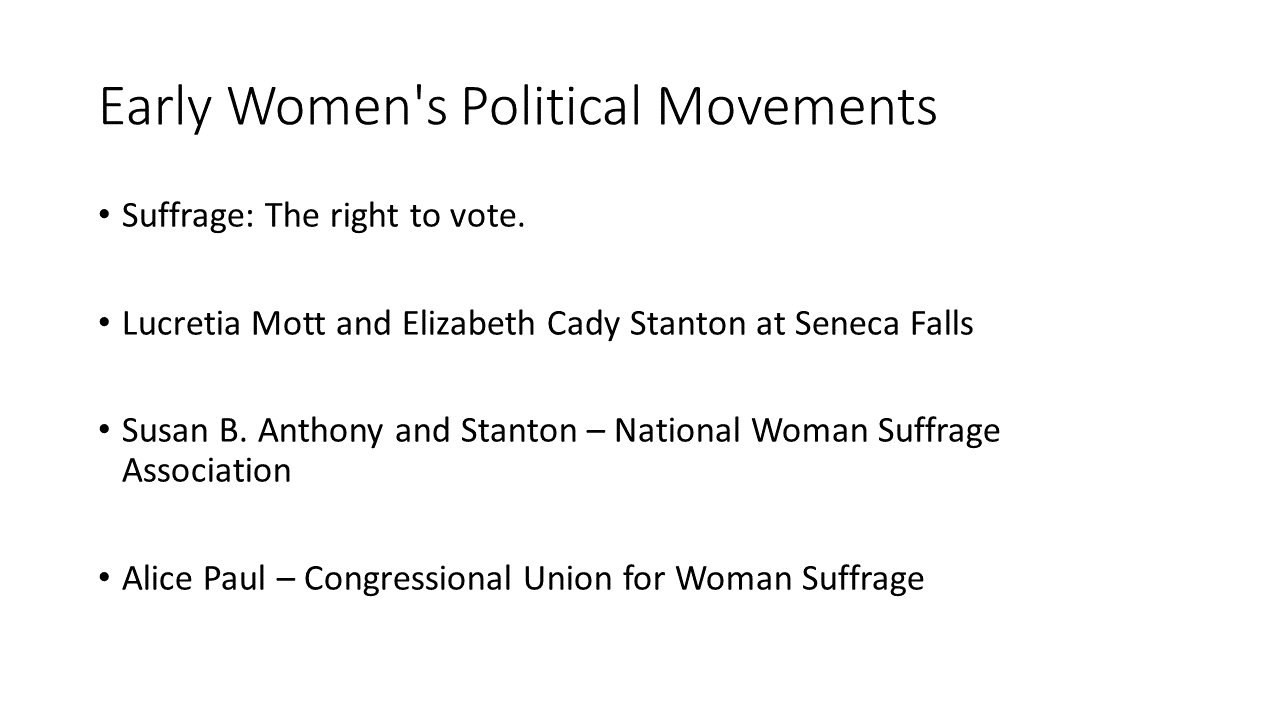 Women have come a long way towards equality in America and it all began with Women's Suffrage.

Suffrage means the right to vote. As we have already covered, women have not always been allowed to vote.

In Seneca Falls, New York in 1848, Lucretia Mott and Elizabeth Cady Stanton started the Women's Right Movement when they organized a convention to address women's equality, but the Civil War put things on hold.

After the Civil War, Susan B. Anthony and Stanton picked up the cause when they founded the National Woman Suffrage Association. In 1880, they joined with the American Woman Suffrage Association founded by Lucy Stone. They did not accomplish much.

In the early 1900s, Alice Paul founded the Congressional Union for Woman Suffrage which garnered national attention. Civil disobedience and marches were followed by arrests and jailings before finally, in 1920, the 19th Amendment was ratified granting women the right to vote.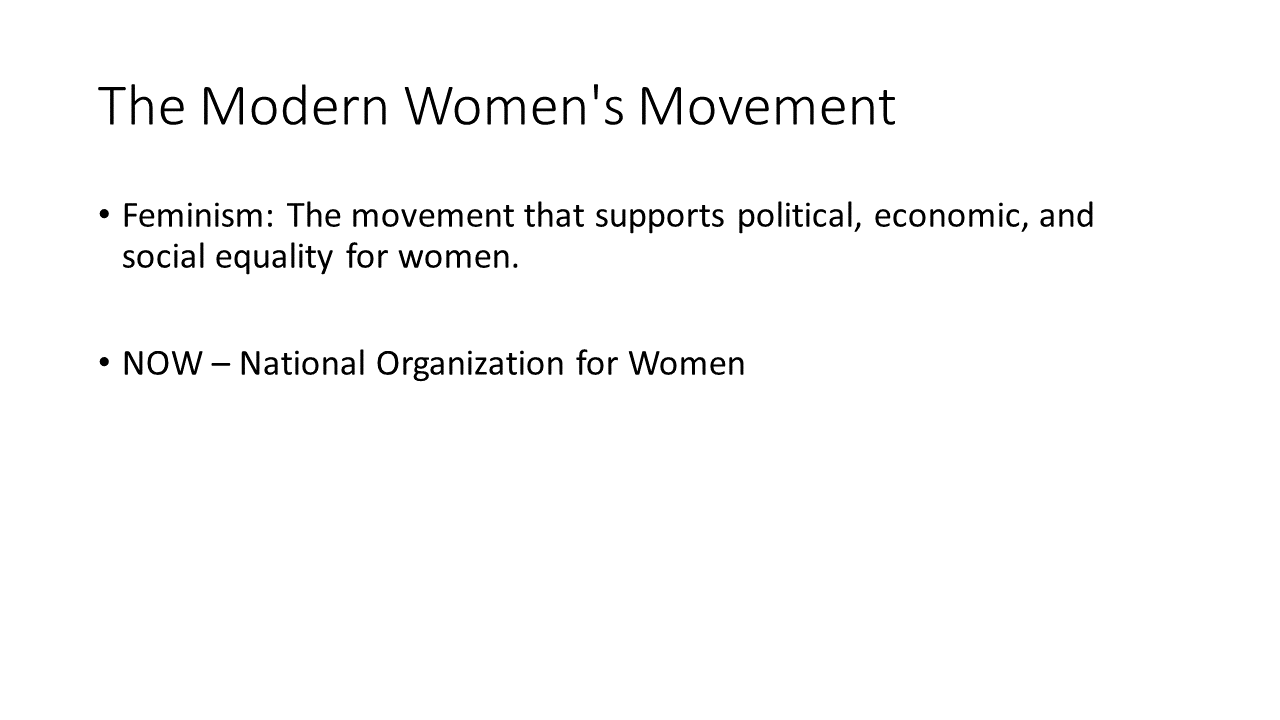 The term Feminism dates back to about 1910 even though it had little support back then.

Feminism is the movement that supports political, economic, and social equality for women.

Once women were granted the right to vote in 1920, the movement became mostly silent until the 1960s. That is when women entered the workforce and publications were published that began to call attention to women's inequality.

NOW, the National Organization for Women, was formed in 1966 and more women began to enter into politics. Women's liberation groups started popping up and the modern feminist movement was underway.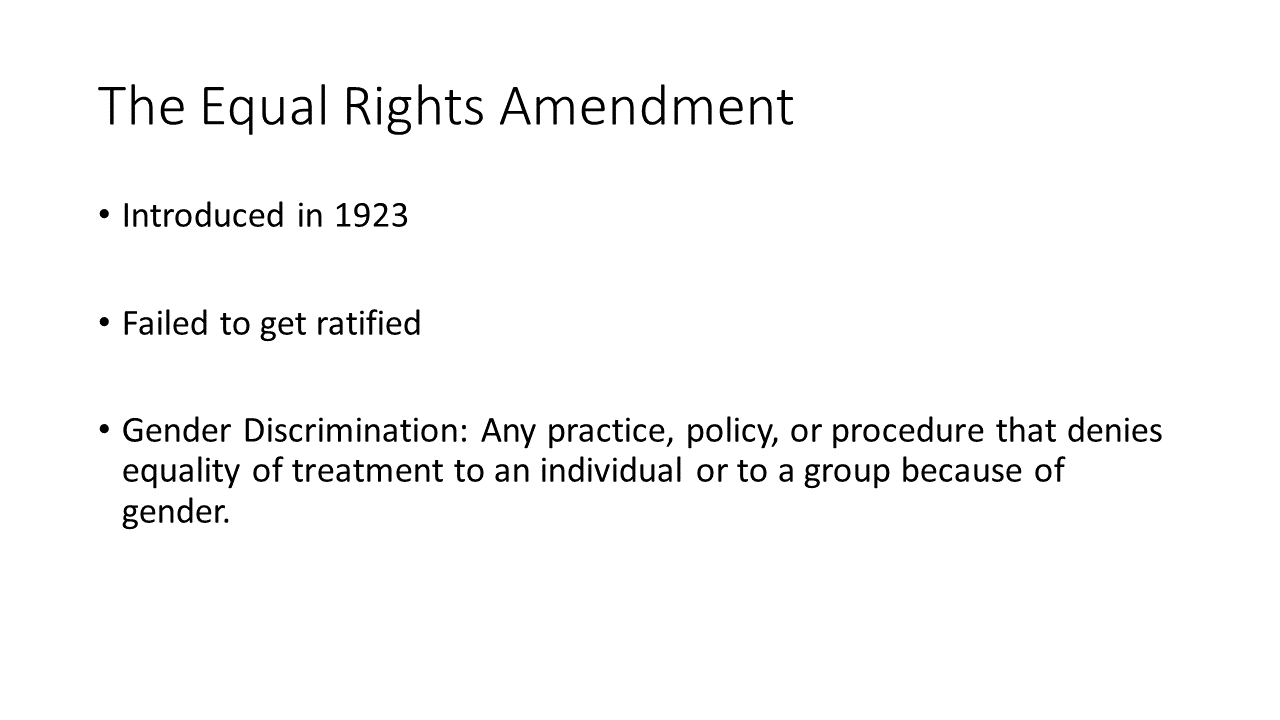 Introduced to Congress in 1923, the Equal Rights Amendment was an Amendment that was written to guarantee equal rights specifically to women. But, it did not even get considered by Congress until 1972. Even now, it has yet to be ratified by three-fourths of the States.

As a result, women's rights organizations took a different route. Rather than an aggressive amendment, they campaigned for national and state laws. They also found ways to integrate their fight for equality into the amendments that already exist like the Equal Protection Clause of the 14th Amendment.

Gender Discrimination violates the Equal Protection Clause because it forbids any practice, policy, or procedure that denies equality of treatment to an individual or to a group because of gender.

Intermediate Scrutiny has been used to invalidate discriminatory practices against women, such as when police and firefighting units placed arbitrary height and weight requirements to deny women the ability to serve in those capacities. Also, life insurance companies are not allowed to quote different rates on the basis of sex.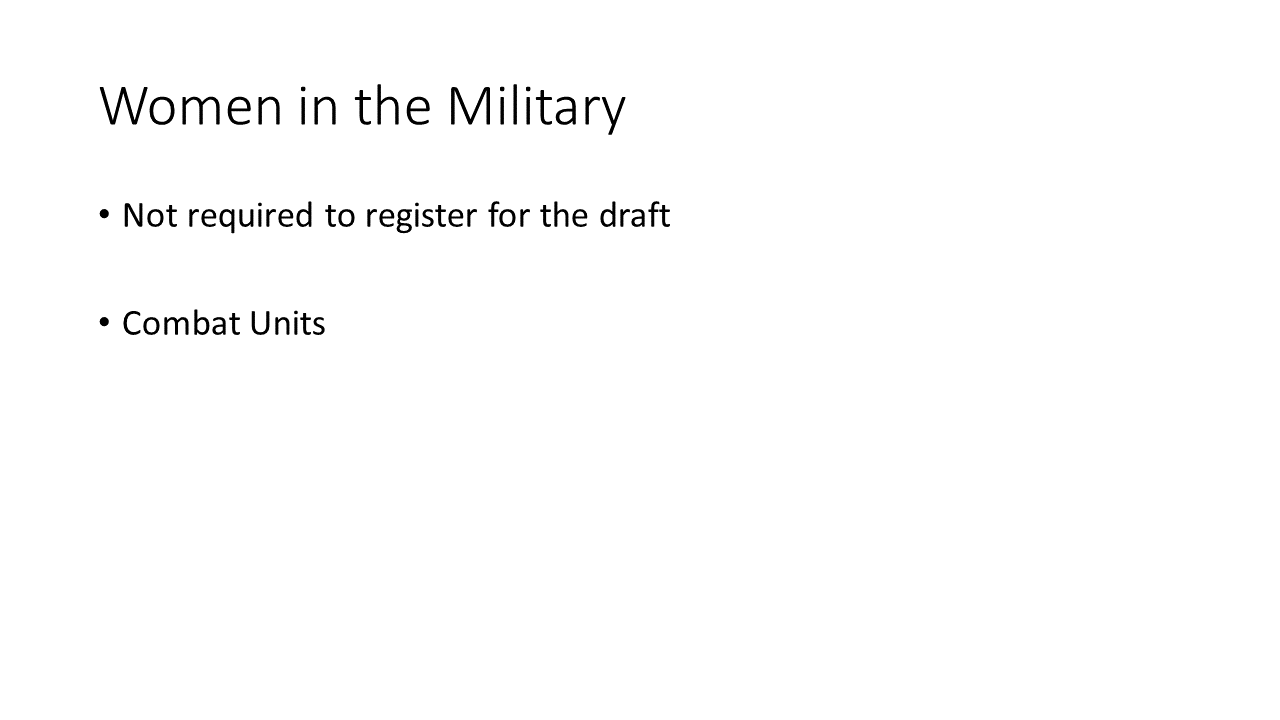 Women serving in the military is a controversial topic. There are people who think that the Equal Rights Amendment failed because no one wanted to see women get drafted or be forced to serve. To this day, that has not changed. Women can serve, but they have yet to be forced to do so because they do not have to register for the draft like the men do.

When women started serving, their jobs were not in combat units. However, this is changing and part of that was lifted with the repeal of the Combat Exclusion Policy in 2013.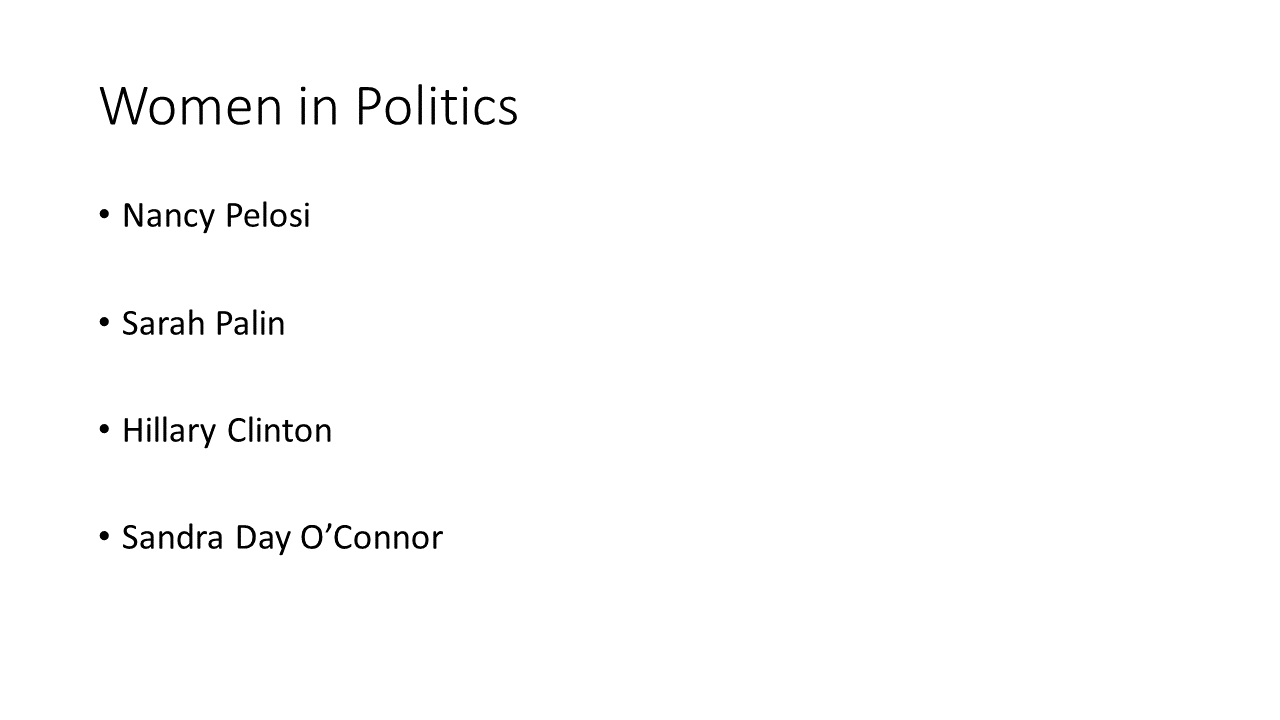 Even though politics still has a "men's club" atmosphere, it has been significantly penetrated by women at all levels.

A big first was when Nancy Pelosi was elected to a leadership role in Congress. Sarah Palin was in a presidential campaign as the vice president on the ticket, and Hillary Clinton recently ran for the office of president.

Sandra Day O'Connor was the first woman appointed to the Supreme Court in 1981. Since then, three more women have been appointed.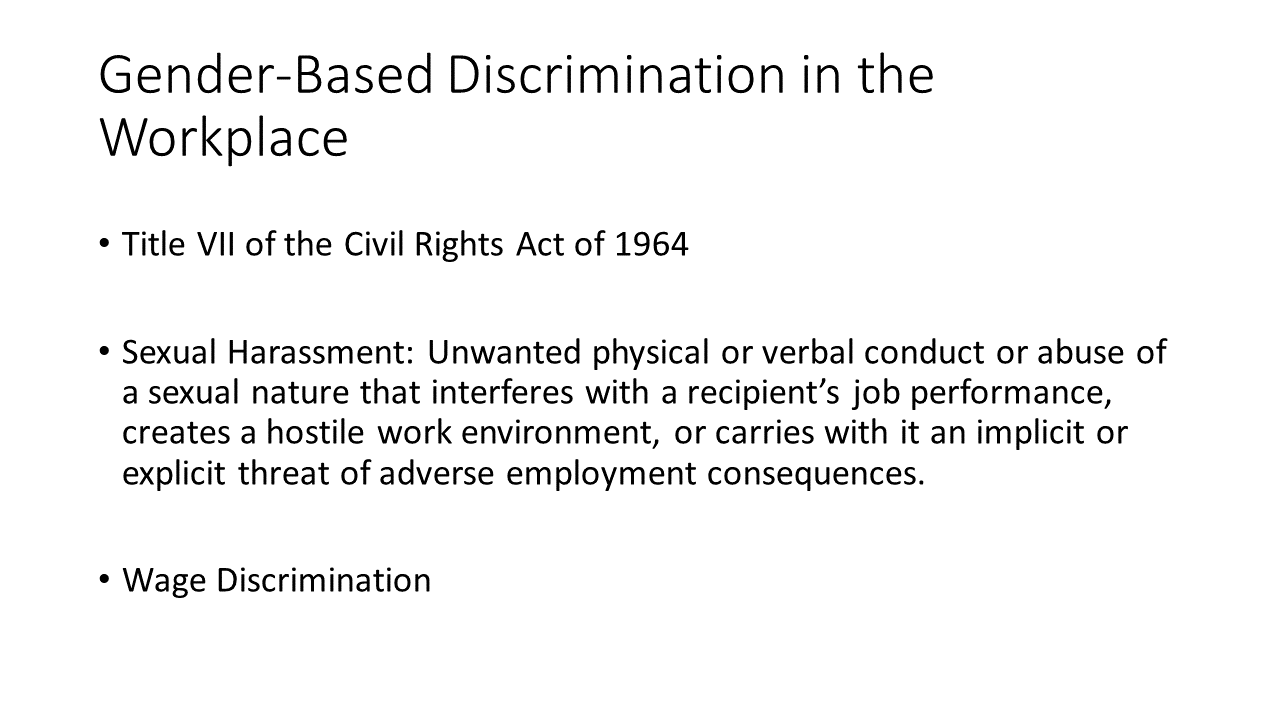 Since women entered the workforce, they have always faced discrimination. Title VII of the Civil Rights Act of 1964 was passed to prohibit discrimination based on gender. It now also includes discrimination towards women who are pregnant.

Title VII has been interpreted to cover sexual harassment. Sexual harassment is any unwanted physical or verbal conduct or abuse of a sexual nature that interferes with a recipient's job performance, creates a hostile work environment, or carries with it an implicit or explicit threat of adverse employment consequences.

Wage Discrimination was supposed to be outlawed by the Equal Pay Act, but with that comes twists that allow companies to continue paying women less. One example concerns the types of jobs women traditionally hold versus those of men. For example, a secretary often gets paid less than the construction worker out on the job site.

Unfortunately, even when comparing a man and a woman holding the same position with the same seniority, the wage difference is often still there.