Lesson Objectives:
- The LGBT movement
- Laws targeting gay men and lesbians
- Same-sex marriage
- The Defense of Marriage Act (DOMA)
- Civil unions and the legalization of same-sex marriage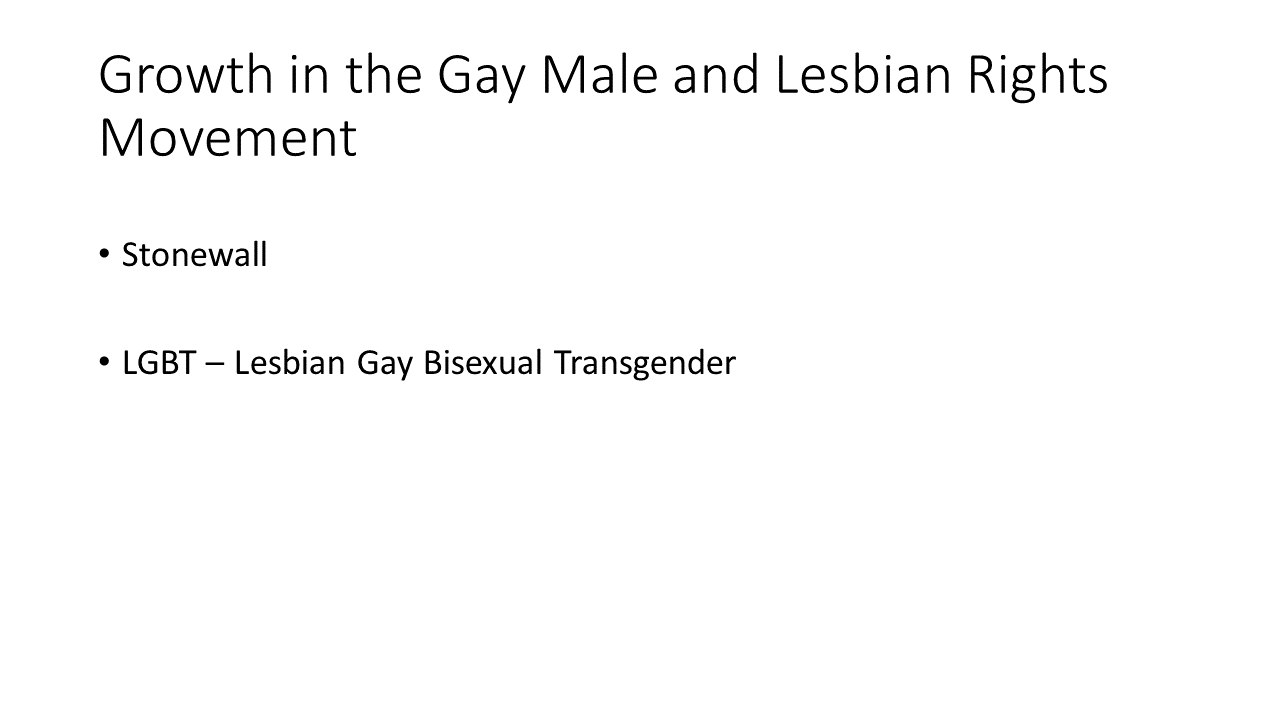 Stonewall is the name of the incident that marked the beginning of the Gay and Lesbian Rights Movement. When a police raid took place in 1969 at the Stonewall Inn, a New York City bar that was a favorite hangout for gays and lesbians, the patrons fought back throwing beer cans and bottles over what they thought was police harassment.

Since then, many organizations have been formed to pressure legislators and create social awareness about the LGBT community and their rights to equal treatment. LGBT stands for Lesbian Gay Bisexual Transgender.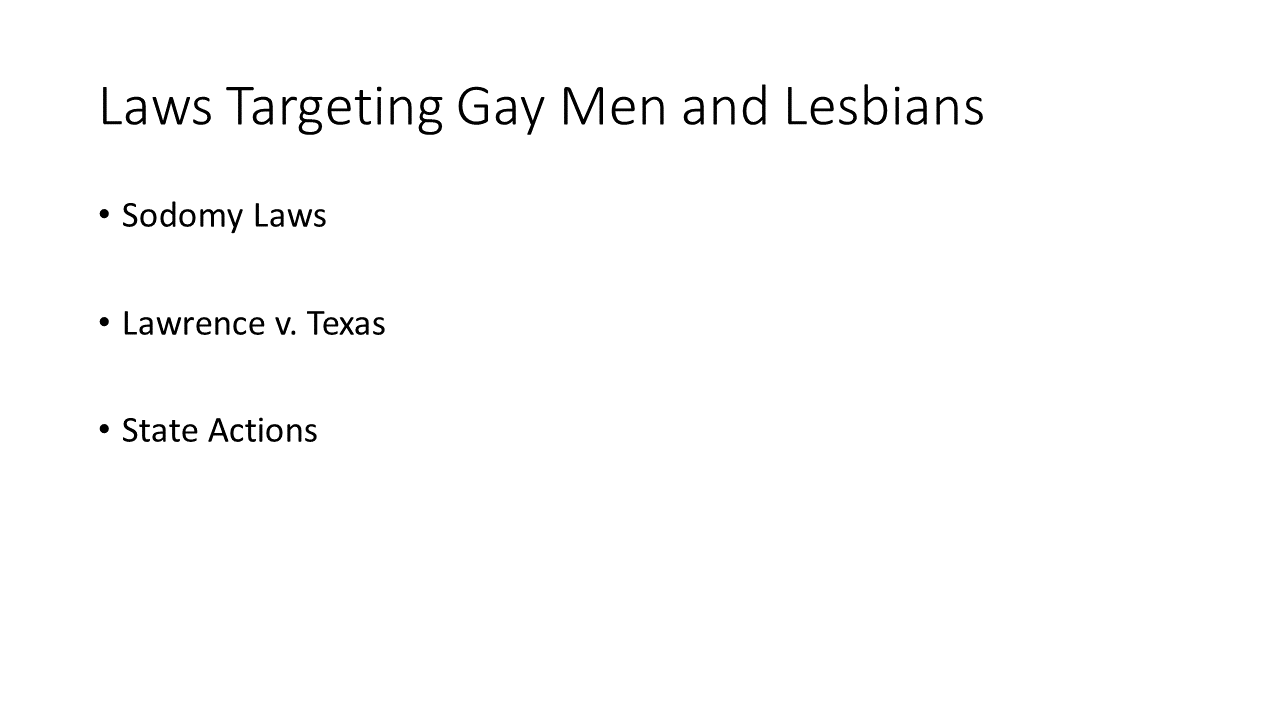 The Bowers v. Hardwick case in 1986 upheld a Georgia law that made homosexual sex illegal. In fact, there were many laws across the nation that made sodomy illegal.

It was not until 2003 that those laws began to change. Lawrence vs. Texas reversed Bowers v. Hardwick because it was decided that laws against sodomy was in violation of the due process clause, arguing, "The liberty protected by the Constitution allows homosexual persons the right to choose to enter upon relationships in the confines of their homes and their own private lives and still retain their dignity as free persons."

Over the years, laws have been enacted to protect the LGBT community from discrimination in the workplace and in their private homes. When Colorado passed their own amendment invalidating laws protecting homosexual status, the Supreme Court struck it down because it denied ONLY homosexuals protection under that law.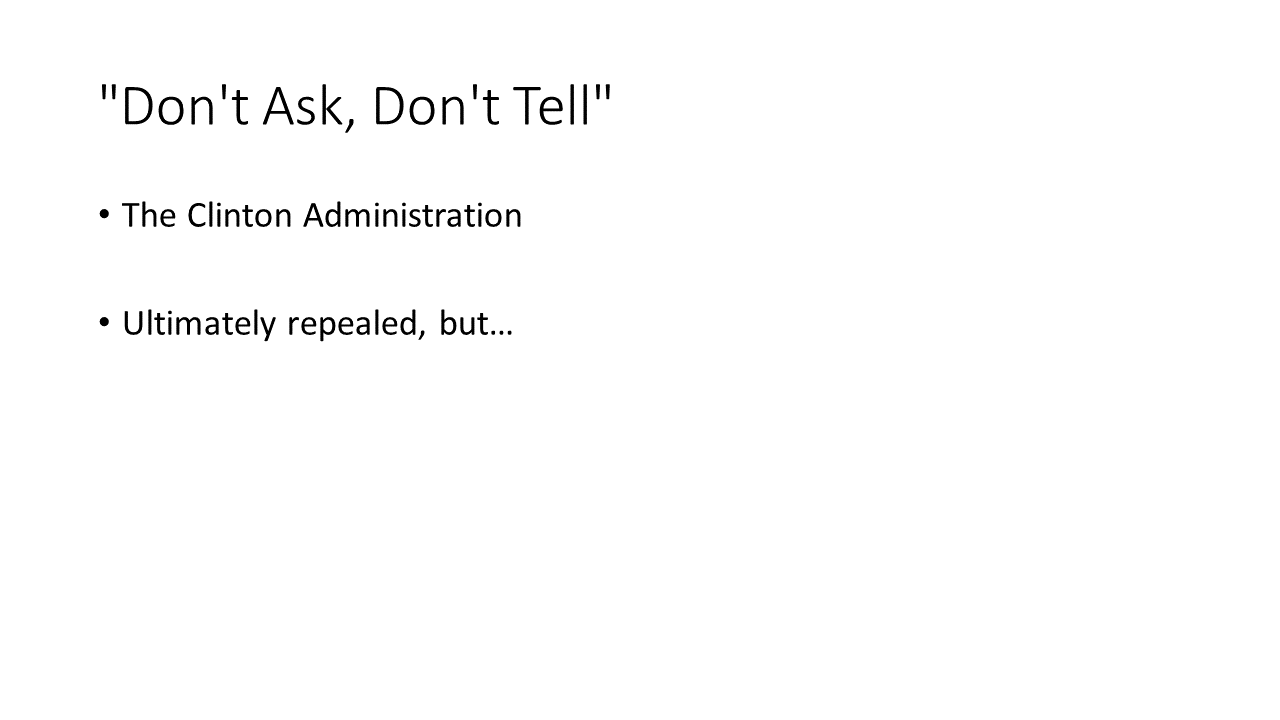 Historically, homosexuality was not acceptable for military service. Under the Bill Clinton administration, a policy was put in place that allowed homosexuals to serve. It was described as "don't ask, don't tell."

It worked in a way that allowed homosexuals in the military if they did not declare their sexual orientation, and no one was allowed to ask them about it. Eventually, the "don't ask, don't tell" policy was repealed, ultimately allowing gay men and women to serve openly.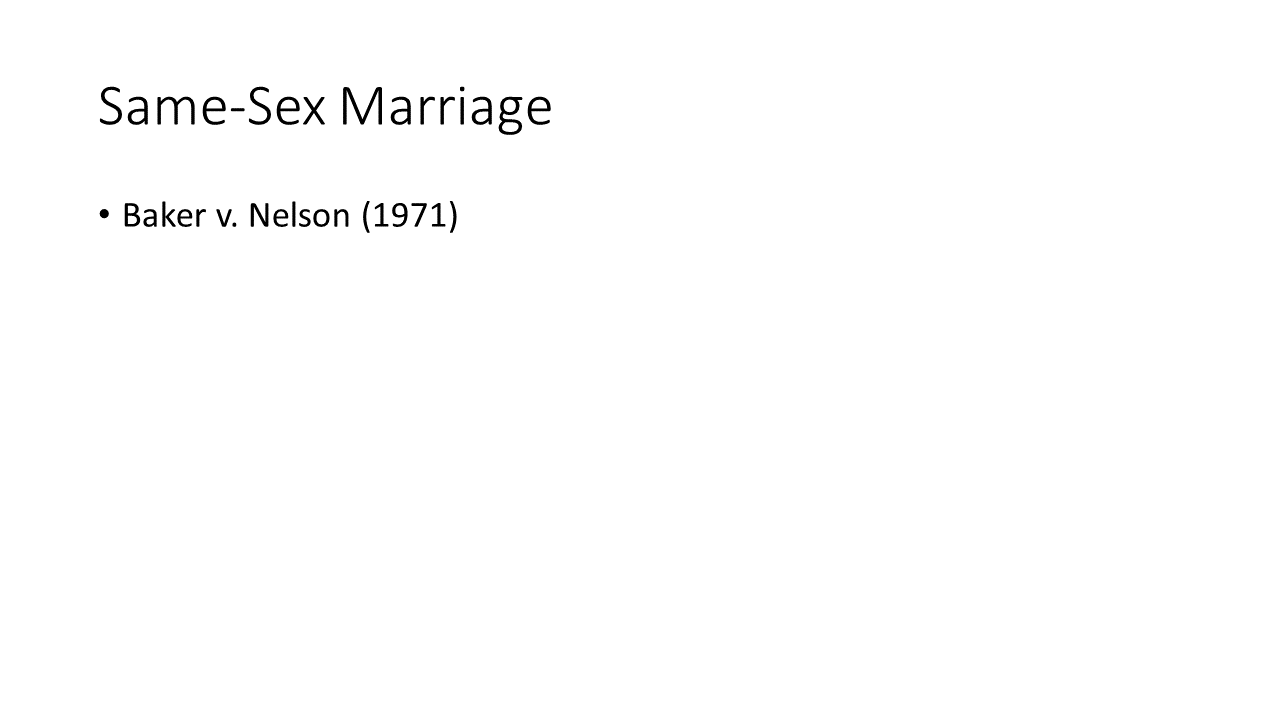 The issue of same-sex marriage did not really hit the headlines until the 1970s. In Baker v. Nelson in 1971, the Supreme Court decided that state bans on same-sex marriage were not in violation of the Constitution.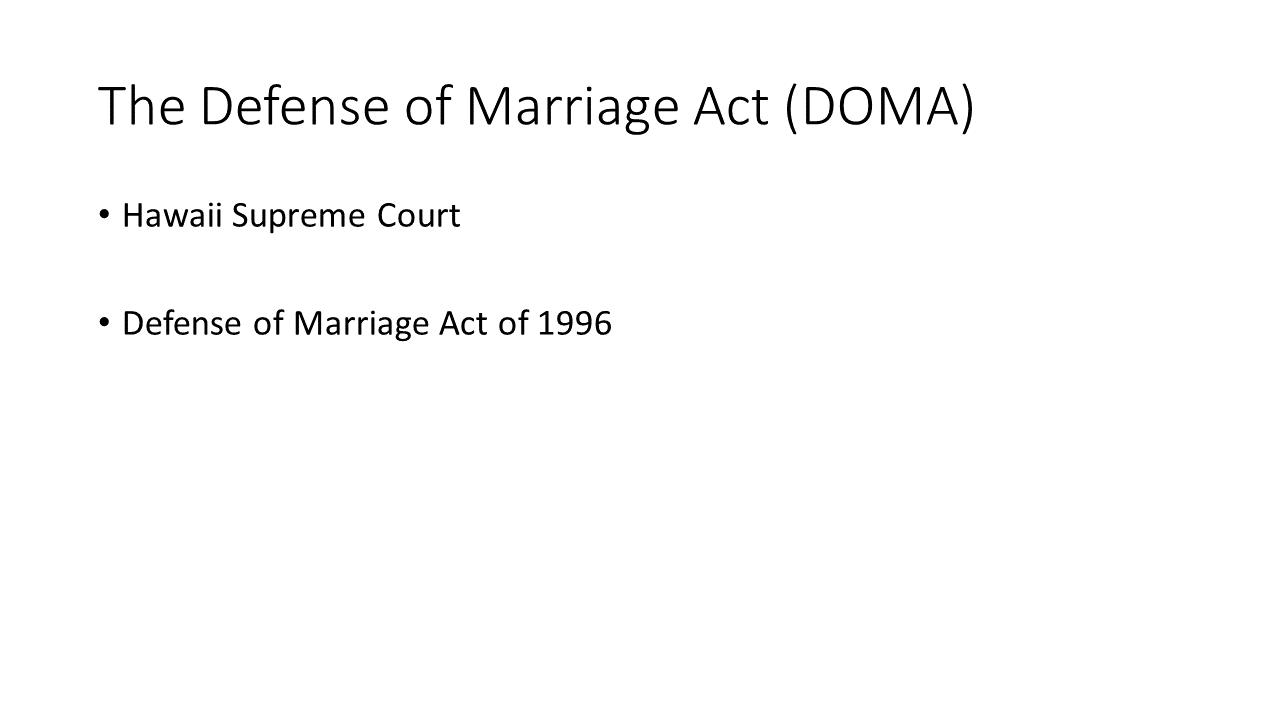 In 1993, the Hawaii Supreme Court ruled that the ban on same-sex marriage violated its own state's equal protection clause.

In response, Congress passed the Defense of Marriage Act in 1996 which defined marriage for federal purposes as the union of one man and one woman. DOMA allowed individual states to refuse to recognize same-sex marriages that were performed in states where it was legal.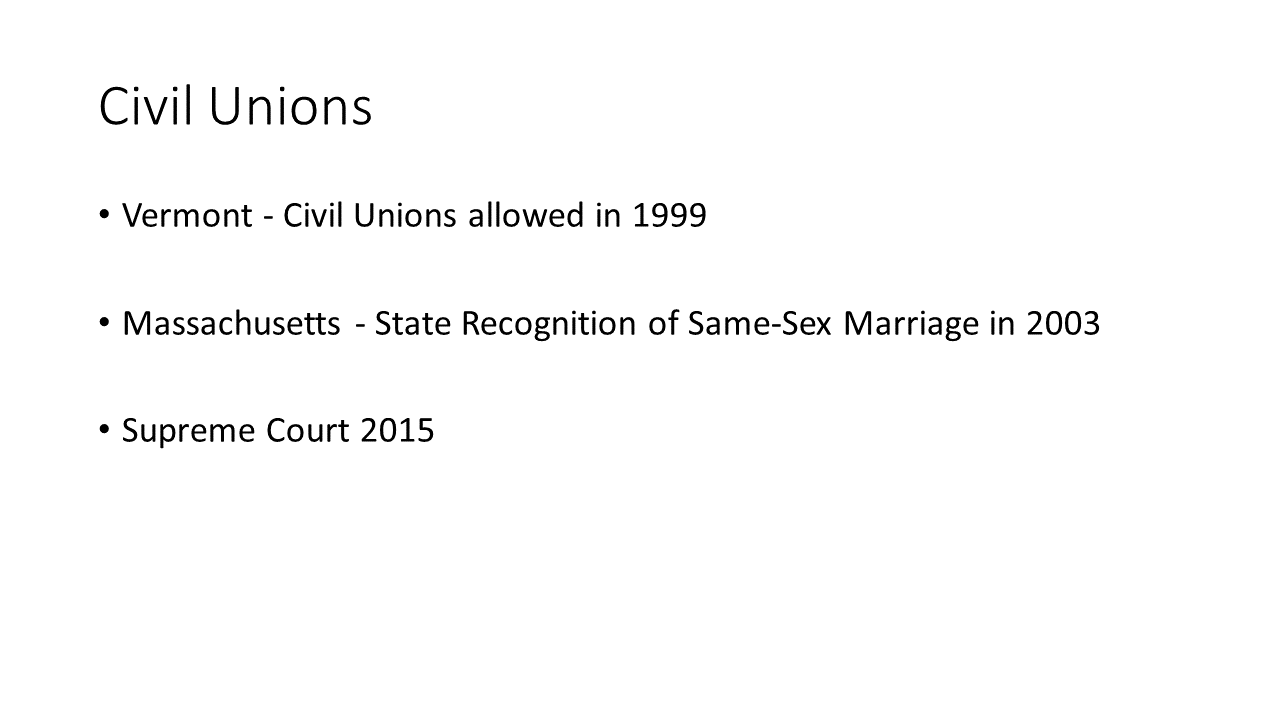 When Vermont passed a law in 1999 allowing Civil Unions, it led the way for states to circumvent bans on same-sex marriage. Civil union partners were able to receive the same state benefits afforded other married couples. But, they still were not able to receive federal benefits as a married couple.

Massachusetts then took the next step, making it legal in 2003 for same-sex couples to marry. Eventually, other states started to follow suit and same-sex marriages began to be recognized across the nation.

This battle went on for years and states one by one lifted their bans.

In 2013, the Supreme Court found that the Defense of Marriage Act violated the Constitution. This decision led more states to overturn their own bans on same-sex marriage. That is, until 2015 when the United State Supreme Court unilaterally lifted the ban for ALL states.