Lesson Objectives:
- The roles of the media
- The financial crisis of the press
- New patterns of media consumption
- The continuing influence of television
- Big business
- Net neutrality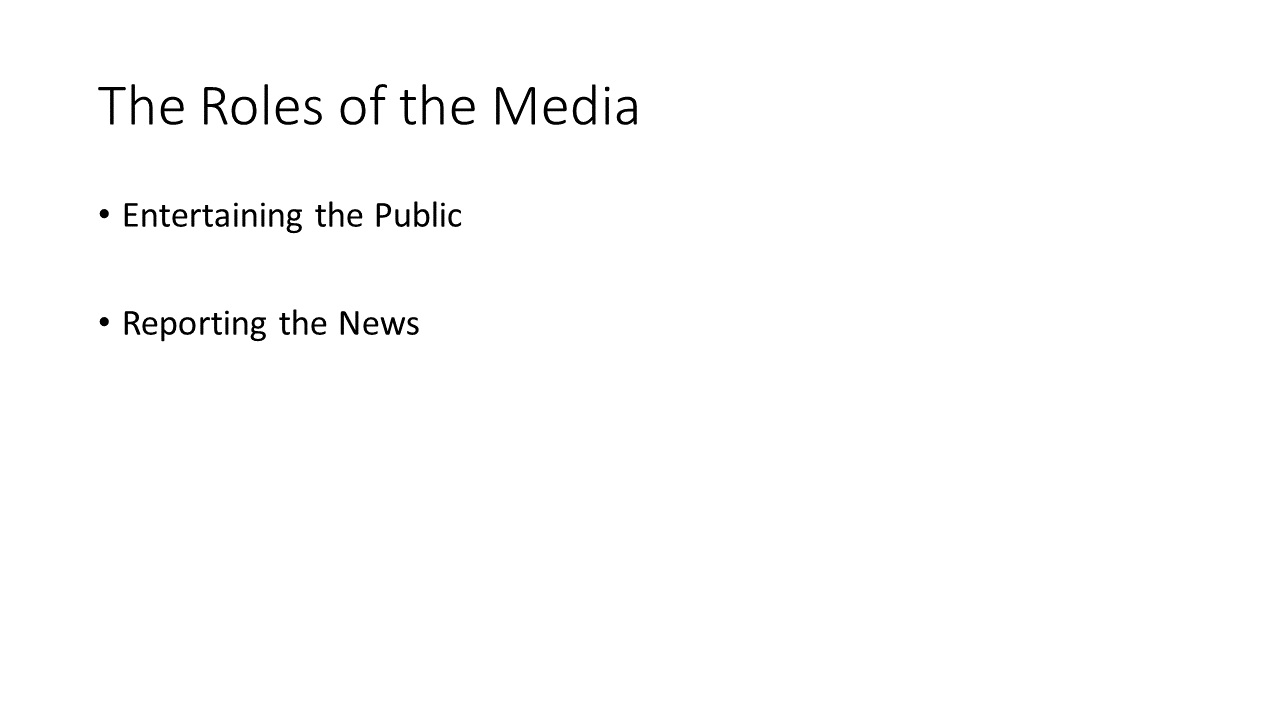 Print media was historically how the people were informed. The invention of the television brought about a new form of media. Now, the internet is playing a huge part in informing the public. Looking at all three forms of media, there are six roles that media could be defined as playing in our daily lives.

When talking about the roles of media, it seems fitting to mention entertainment first. The battle over viewers indicate how important providing quality entertainment is to the networks. It is a growing reality that a good bit of entertainment is provided with political content. So much so that young viewers report that humorous programs such as The Daily Show are where they get much of their information about political issues.

Another glaringly obvious function of the media is to inform the public about current events. Nowadays, images and videos are circulated with the facts about events almost as soon as they happen.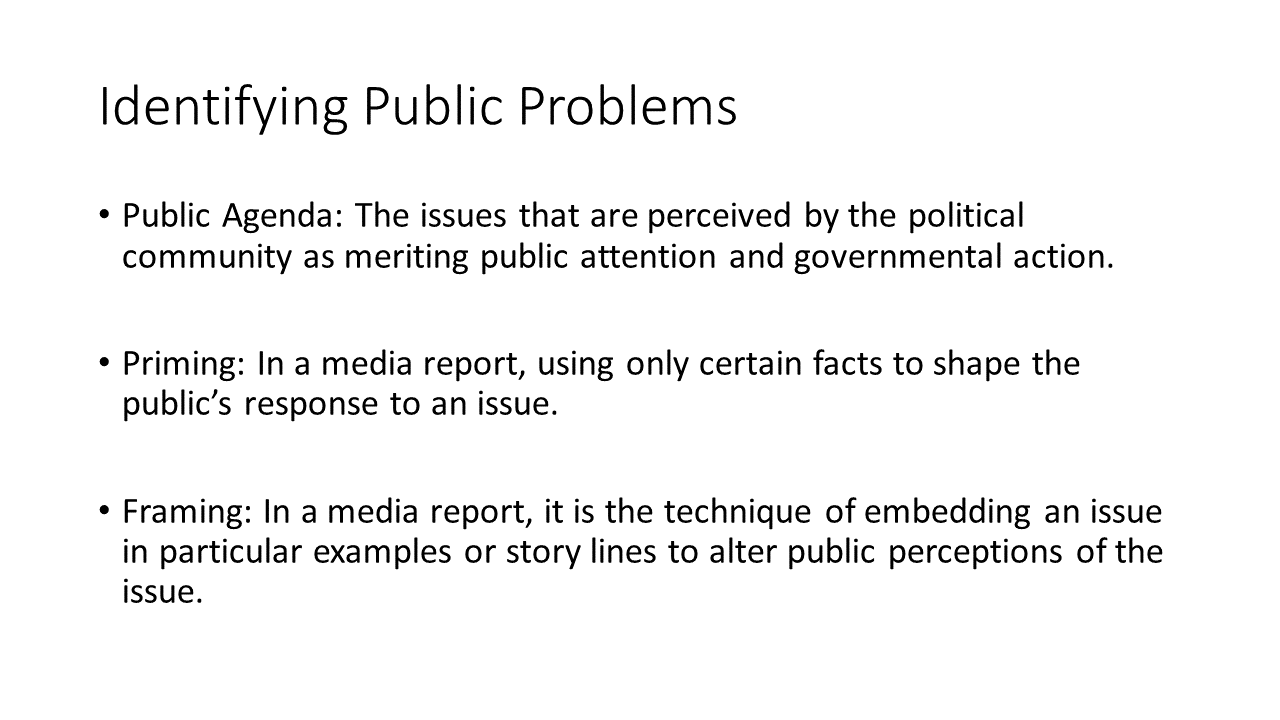 One great function the media has is bringing public problems to the people's attention. In this way, the media creates a public agenda.

The Public Agenda refers to the issues that are perceived by the political community as meriting public attention and government action.

It is important to keep in mind, however, that the media can take certain freedoms when identifying problems. One freedom is Priming, a practice in media reporting where journalists cherry-pick their facts to shape the public's response to an issue.

Another practice is Framing, which when it occurs in a media report, is the technique of embedding an issue in particular examples or story lines to alter public perceptions of the issue.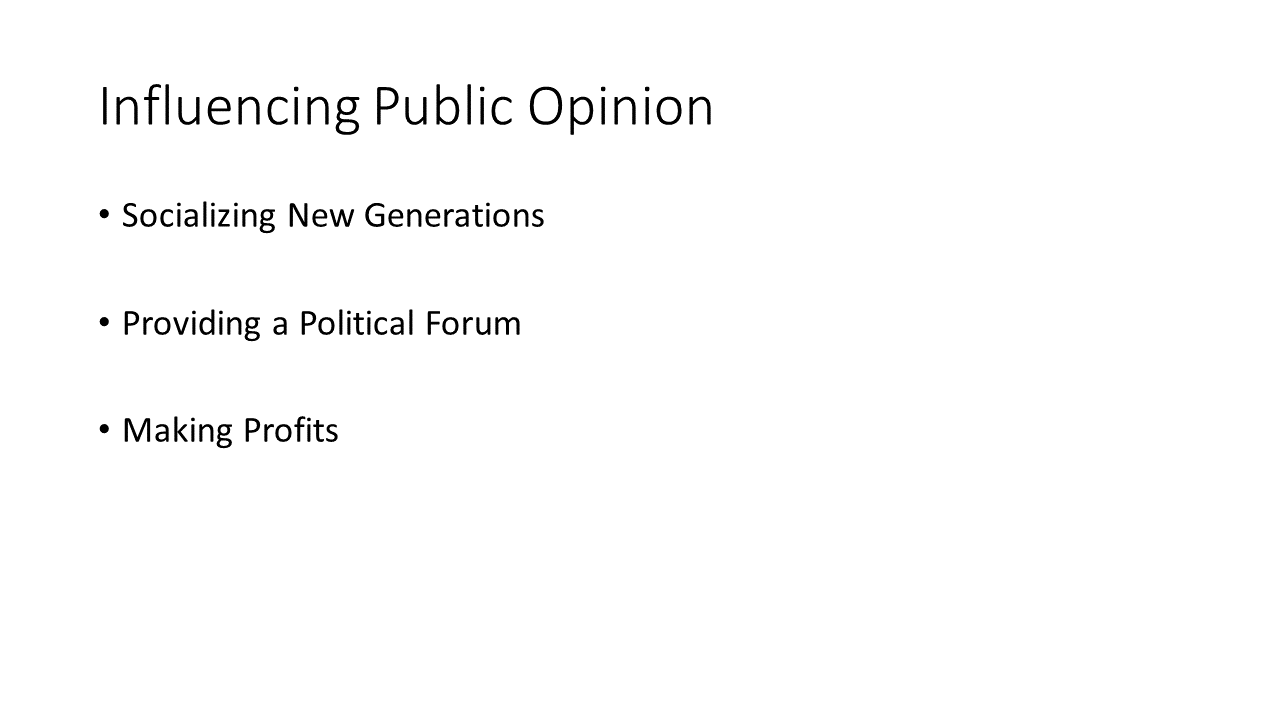 Another function the media serves is when it influences beliefs and opinions of the audience. Embedded in entertainment, some shows utilize the attention to shape young minds. The internet is just as influential in its own way.

Candidates and elected officials can use the news to inform the audience about their stance on political issues and to combat negative press. When used correctly, media can be very influential in helping voters decide on their candidate of choice.

Of course, no one does any of this out of the kindness of their heart. There are profits to be had in the media. Advertising dollars speak loud and clear. This can cause problems as advertisers can influence reporting when they push for a certain slant on a news article that they like or dislike.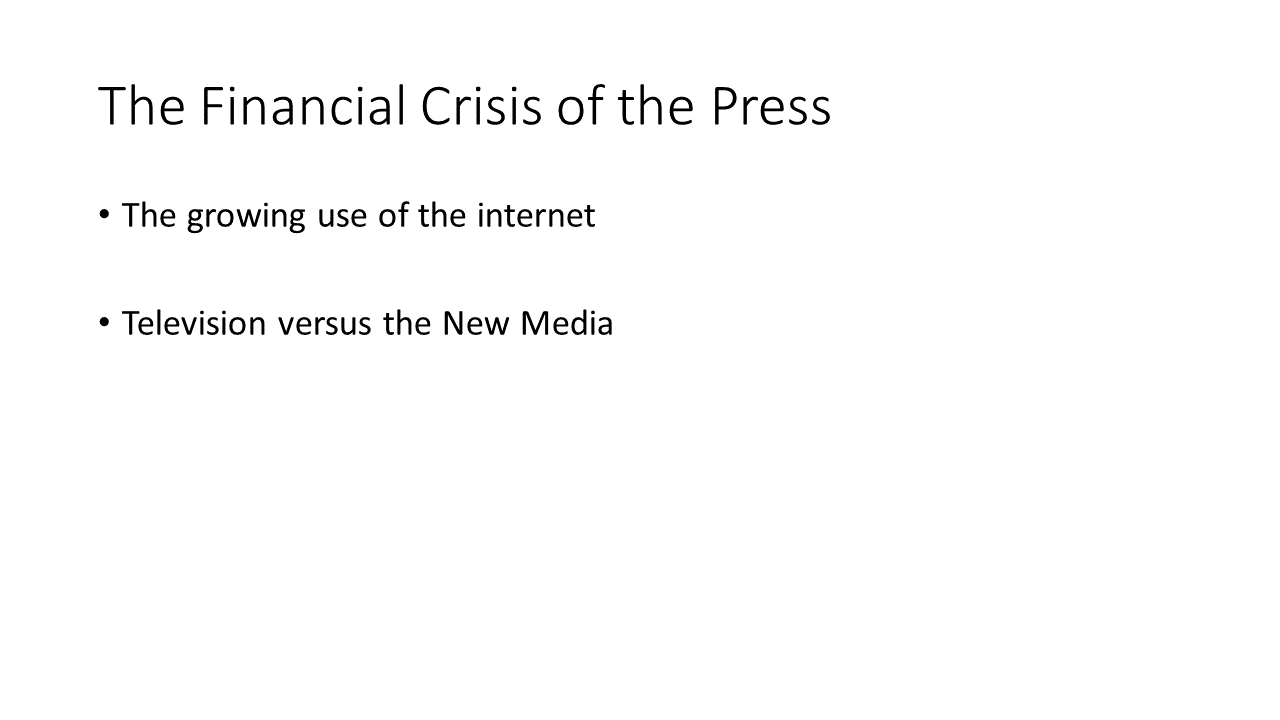 It is no secret that print newspapers have fallen on hard times because of the ever-increasing use of the internet. Some newspapers have gone out of business while even the largest ones face financial difficulty. Going online with their own websites is one way to combat the issue, but it is ironic that they do not really get much revenue from advertising even though they are providing fresh content as "content providers." Most of the profit goes to "aggregators" like Google who actually provide search results and direct users to the content.

Just like television took on print media and won, the internet appears to be doing the same to television. For now, though, television is hanging on because it continues to offer value to many viewers.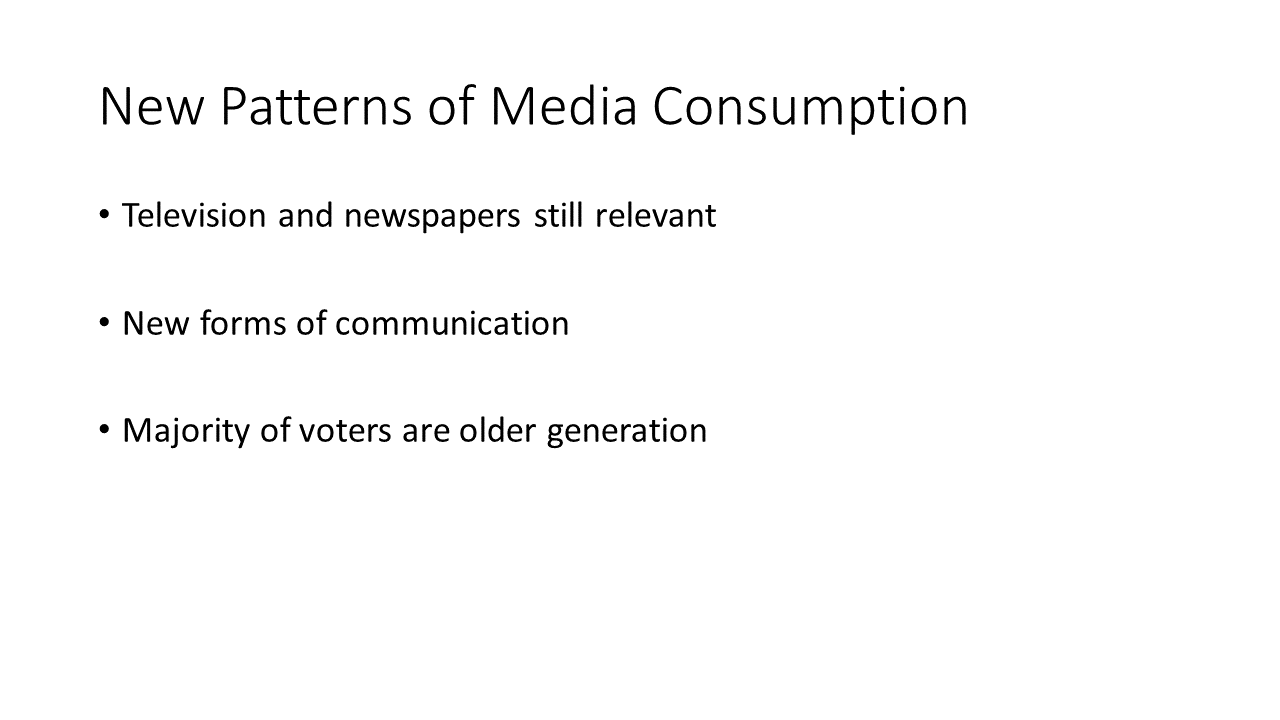 In spite of the rapidly growing dominance of the internet as a form of media, older generations are not as quick to adopt new trends and have been slow to switch away from traditional media. They still rely on television to provide them with entertainment and information they need concerning current events. Interestingly, 31% of this same older generation also still reads the newspaper.

Of course, there were some "early adopters" among the older generation, but they are a far cry from the overwhelming majority of young people that are fully integrated into new forms of media. Even email is somewhat outdated to the young generation, having been replaced by Facebook, texting, and other forms of communication.

That does not mean that television and newspapers are completely obsolete. The age group still relying on this media makes up a large portion of the people who actually get out and vote.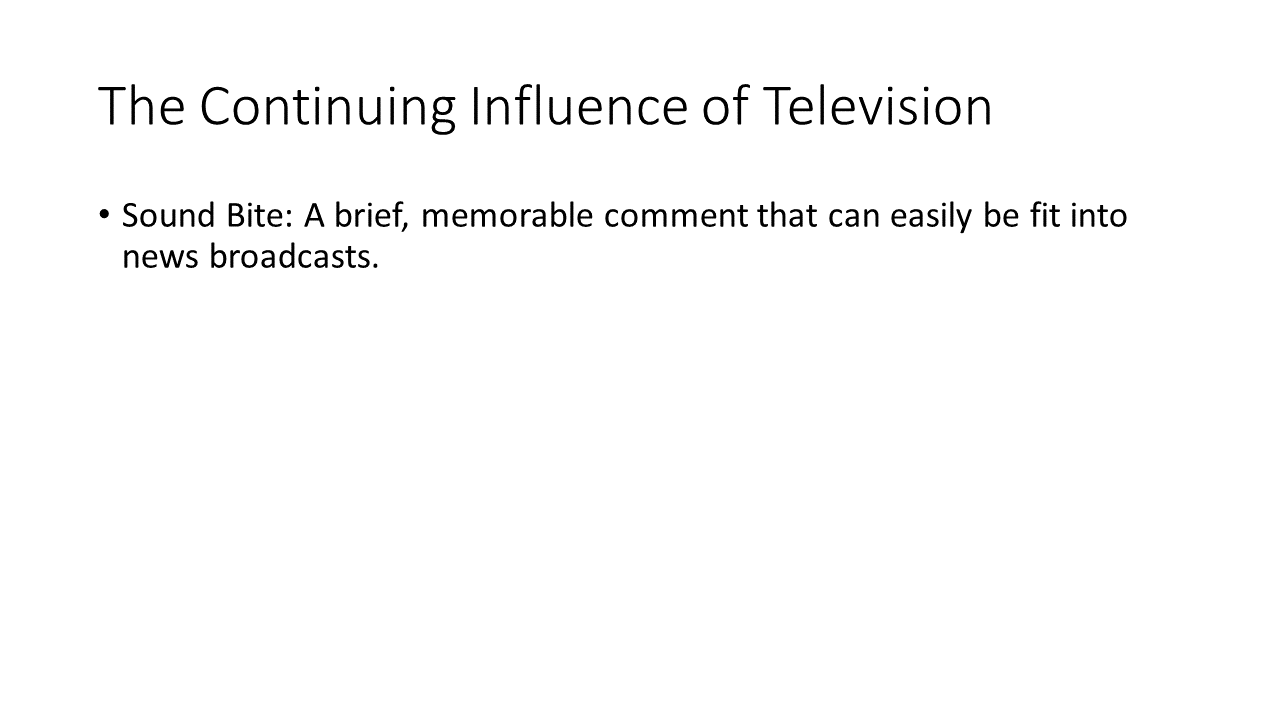 Even though life is not always simple, the news only seems engaging when it is packaged into a neat little narrative known as a sound bite.

A Sound Bite is a brief, memorable comment that can be easily fit into news broadcasts.

In order to maintain interest, news programs put every story into this format and commentators suggest that it is highly influential on political events.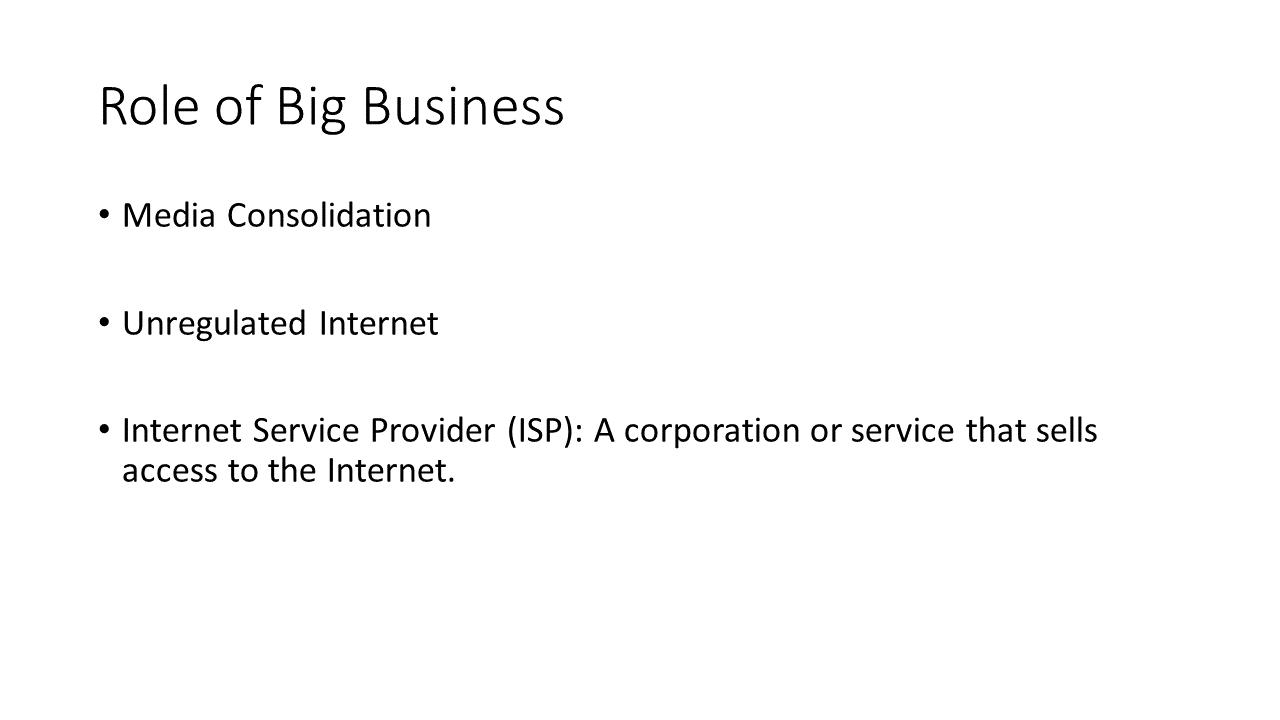 Today, corporate conglomerates own the media outlets. That means that the same entity that creates the television programming and the movies is also providing the same content as your cable, satellite, or internet provider. This raises the concern that the entity providing the service and the media might use it to influence their own political agenda.

Even though the internet is an invention the government developed in the form of ARPANET, early internet pioneers were somehow capable of preventing the government from turning it into a regulated commodity. Any individual can have access to the internet through an ISP.

ISP stands for Internet Service Provider, and is a corporation or service that sells access to the Internet.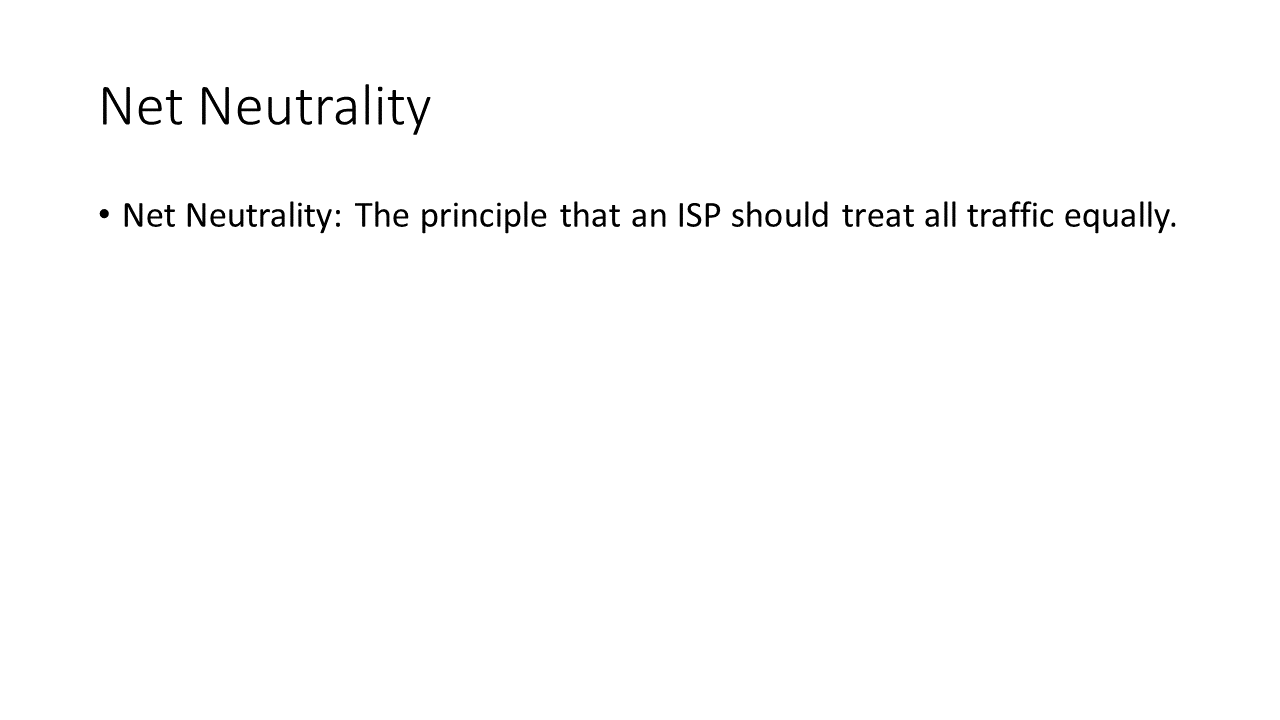 A controversial issue that has hit the headlines once again is net neutrality. Net Neutrality is the principle that an ISP should treat all traffic equally.

At one time, the FCC was informed by a court ruling that in order for it to issue regulations and enforce net neutrality, it would have to declare the internet a public utility. It did that in 2015 to stop ISPs from blocking content or creating special fast lanes, which in turn would have given lesser consumers slower traffic.

However, they returned to the issue and reversed their decision in 2017. Net neutrality is no longer in place.