Lesson Objectives:
- The main types of interest groups
- Economic interest groups
- Labor interest groups
- Professional interest groups
- Environmental interest groups
- Public interest groups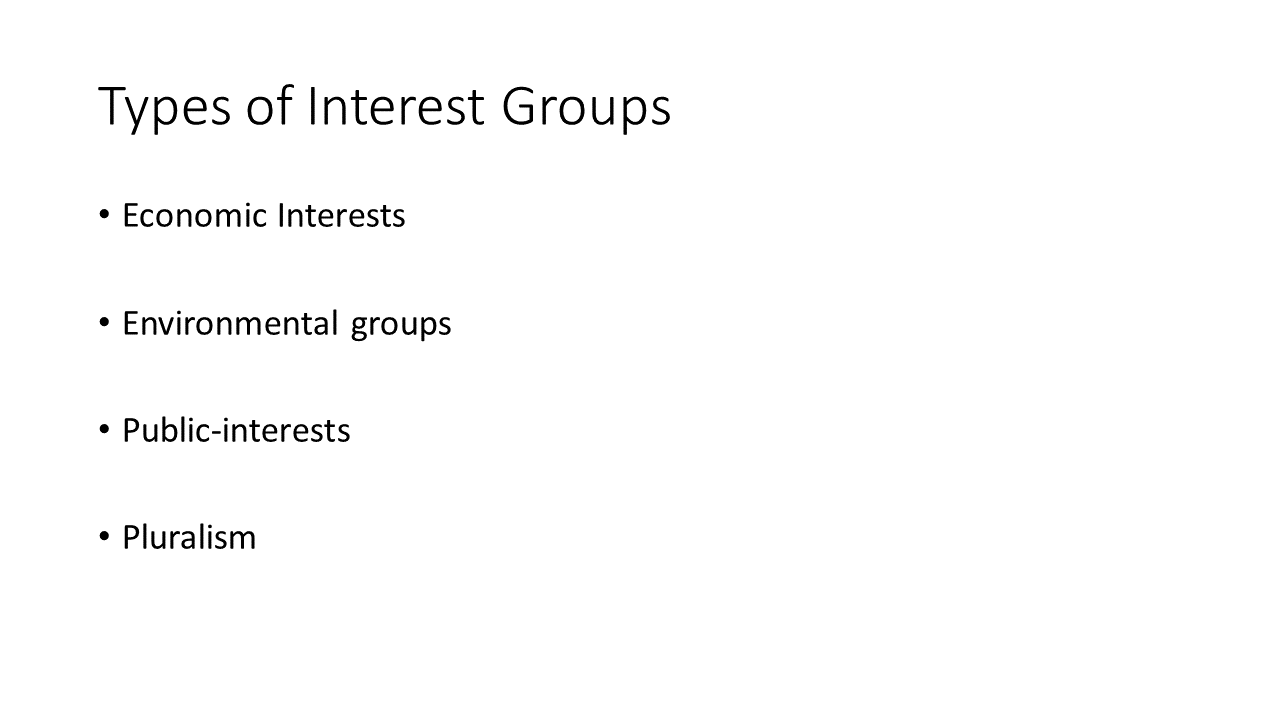 To influence government, thousands of interest groups have come into existence. They normally represent the main areas of the economy even though environmental groups and public-interest organizations also play a big part in influencing government.

This system makes American politics "pluralism" by definition -- the struggle that exists among competing interest groups to push for benefits.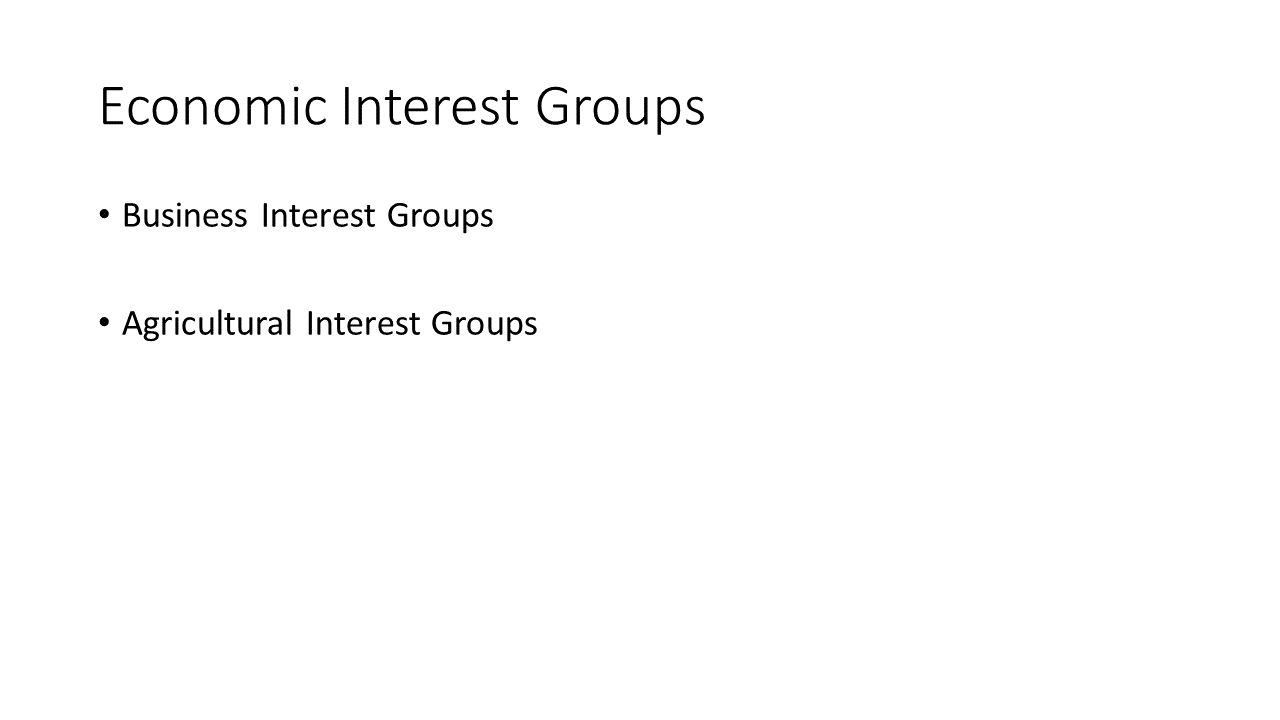 The largest portion of interest groups exist to pursue economic interests.

It would be foolish for businesses to not have business groups to fight for their interests. Some business groups are called "Umbrella Groups" because they cover collective business interests of an industry like the National Association of Manufacturers. The U.S. Chamber of Commerce is the most powerful business group that exists and it is very successful in influencing government.

The American Farm Bureau is an example of a very effective agricultural interest group. Farmers do not make up even 1% of the American population, but the Farm Bureau represents 5.5 million families, most of which are not farmers.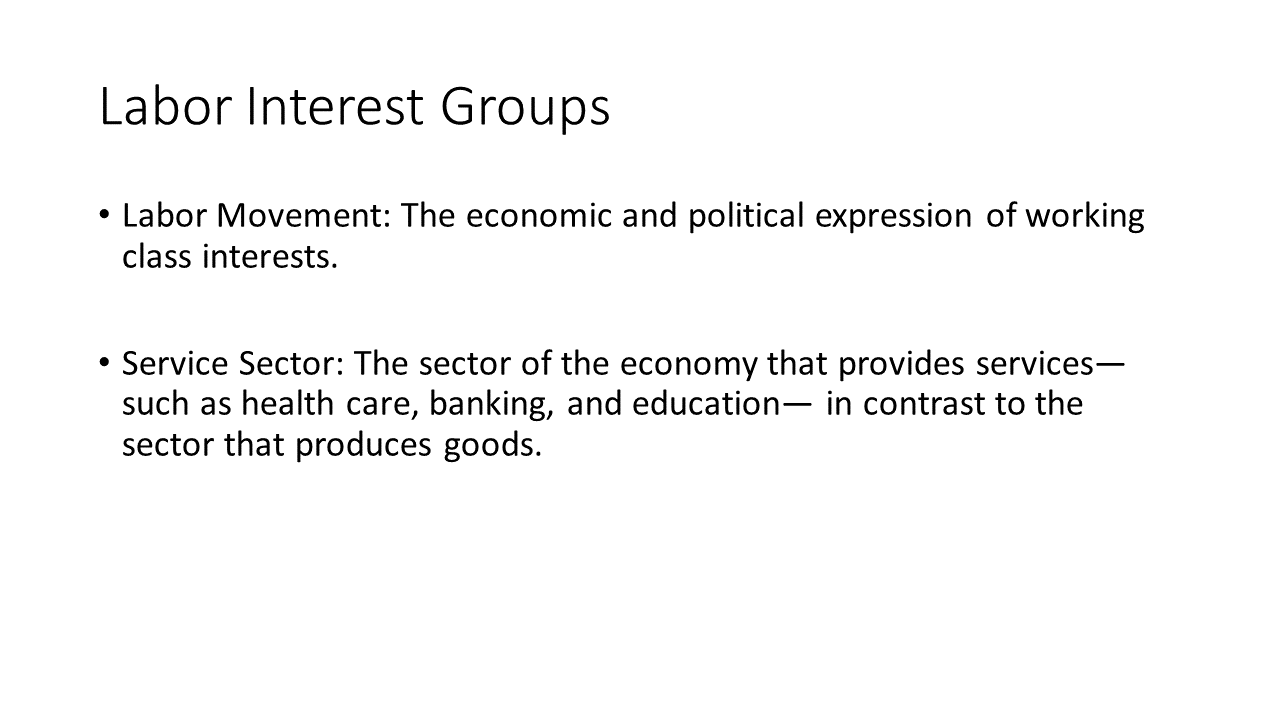 The American Federation of Labor (AFL) dates back to 1886 and in 1955 joined with the Congress of Industrial Organizations (CIO) to form the AFL-CIO. This was a major part of the labor movement.

The Labor Movement is the economic and political expression of working class interests.

Labor unions are on the decline because of automation and the growth of the service sector. These unions are forced to look for membership in other areas such as migrant farmworkers, public employees, and the service sector itself.

The Service Sector is the portion of the economy that *provides* services— such as health care, banking, and education— in contrast to the sector that *produces* goods.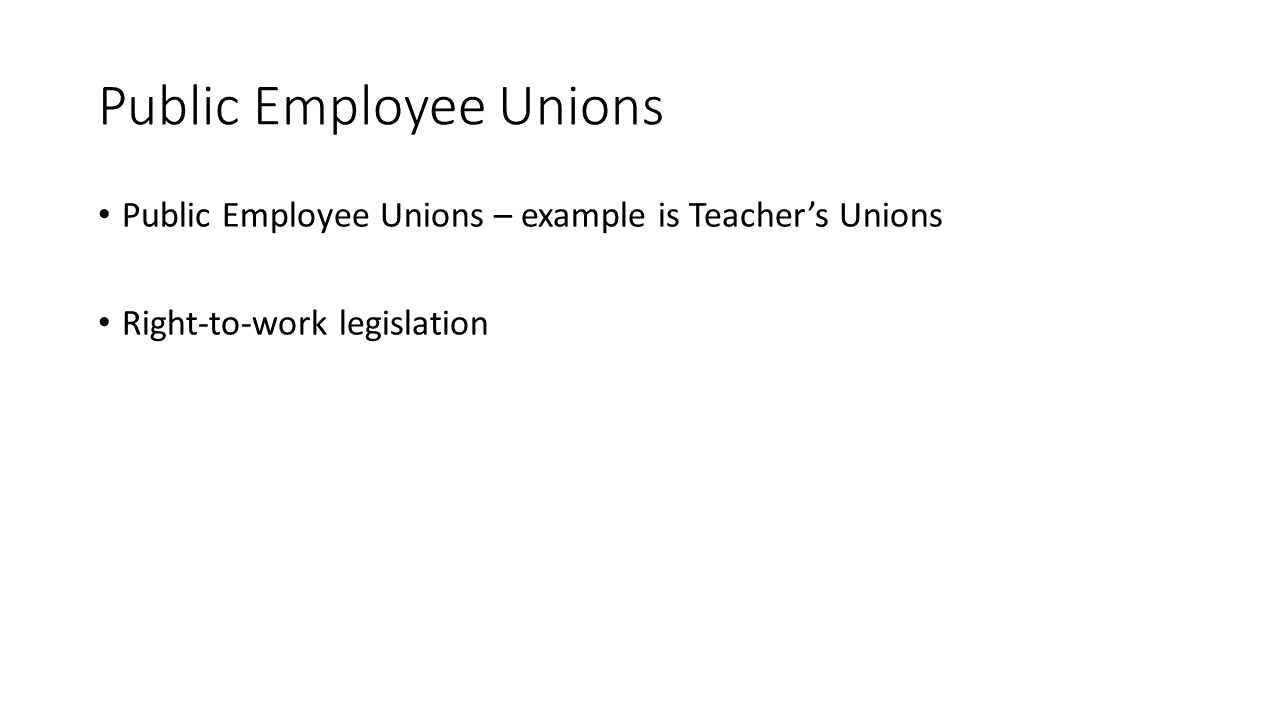 Teachers' unions are an example of public employee unions. Otherwise known as public-sector unions, they have grown to be a powerful force. But some states, especially in the South with Republican leadership, have prohibited the bargaining abilities of public employee unions. Even in midwestern states, Republican governors in 2011 attempted to limit the ability of public employee unions to bargain for employee benefits.

In states where there is an unfavorable attitude towards labor unions, local laws challenge the ability to form unions. One way states have effectively made it difficult to form unions is with "right-to-work" legislation banning contracts that force employees to pay union fees.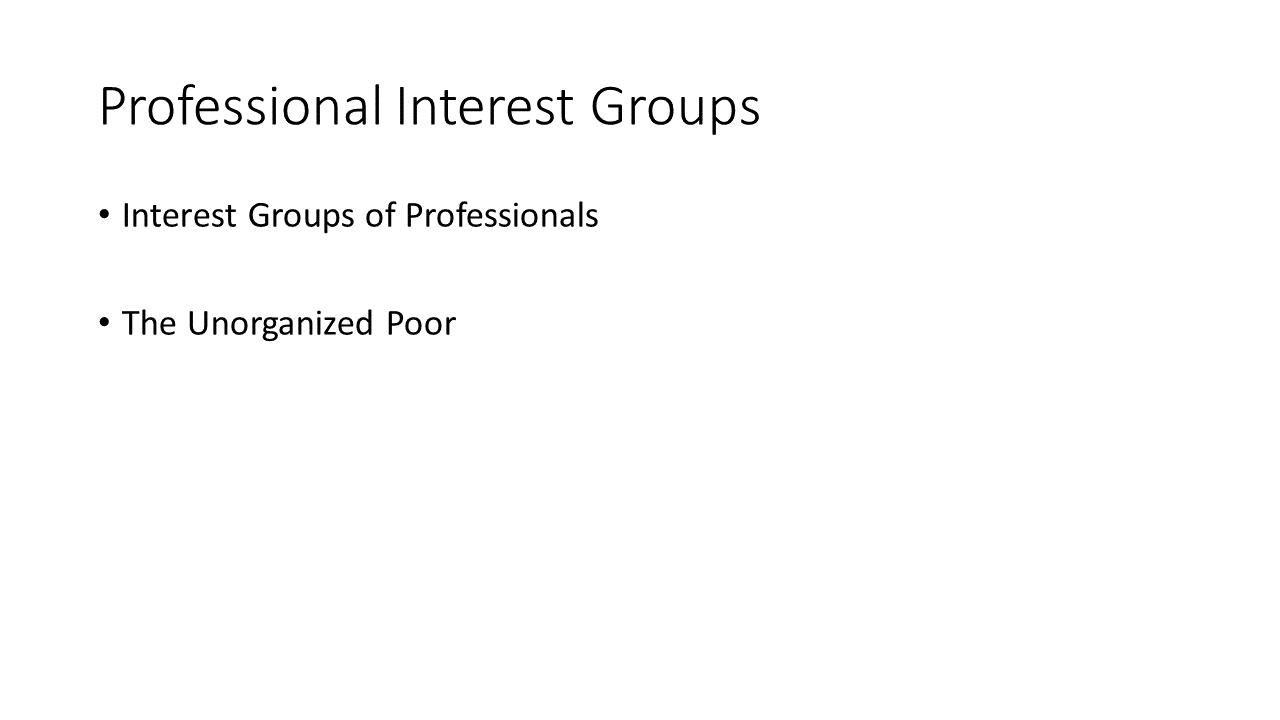 The American Bar Association, the Associated General Contractors of America, and the Institute of Electrical and Electronics Engineers are examples of professional interest groups. Interest groups of professionals like lawyers and physicians can effectively restrict membership and are therefore more influential.

While it is true that the poor cannot represent themselves, interest groups have been formed to represent them. This has led to benefits for those below the poverty level. Without these interest groups, many of those programs would not be in place.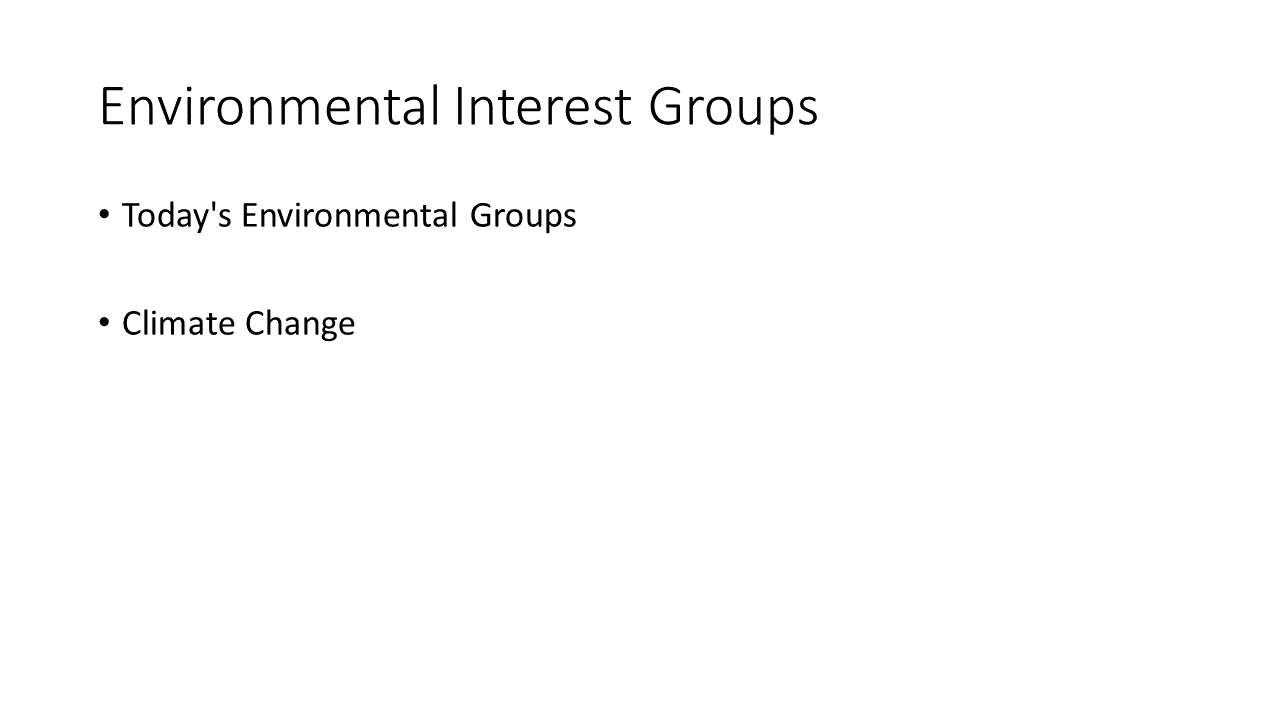 Environmental interest groups date back to the 1900s when the National Audubon Society was formed to protect the Snowy Egret when killing them for hat decorations was in high demand. It was not until the 1970s, though, that environmental interest groups actually started to gain some influence.

Environmental groups have a wide range of interests from specific causes to those that have a broader purpose. The National Wildlife Federation, for example, has a membership in the millions while the Environmental Defense Fund only has about 500,000 members.

Gaining greater attention over the years, interest groups addressing issues of climate change have grown. However, they have been met with opposition from interest groups who represent the interests of industries like the coal-mining companies and certain factories that produce harmful "greenhouse" gases.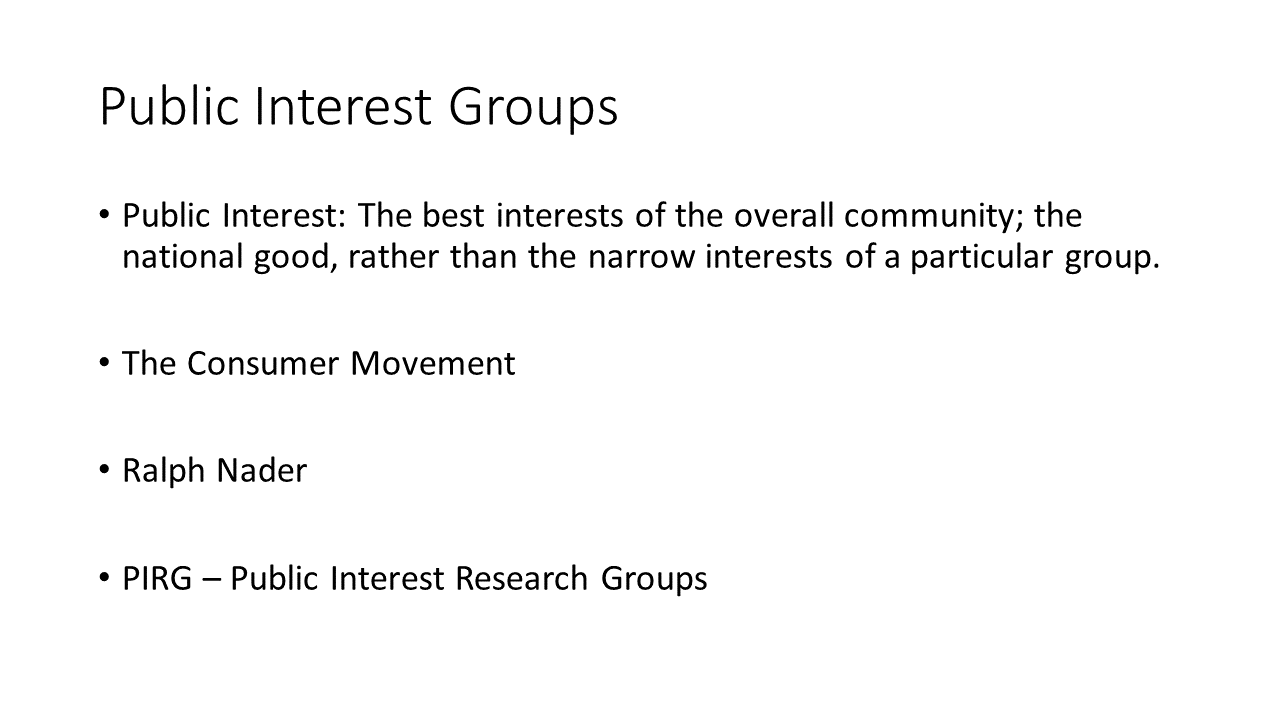 It is hard to define what exactly is the public interest, but that does not stop lobbyists from forming organizations they claim are in the "public interest."

The Public Interest is known as the best interests of the overall community -- the national good, rather than the narrow interests of a particular group.

Consumerism is an organized movement that began in 1936 when the Consumers Union was formed. It publishes the Consumer Reports to this day to help consumers learn more about the concerns of the products they are buying.

Ralph Nader gained notoriety in the 1960s when he began exposing unsafe automobiles and Consumerism took off. He became a key figure in the new Consumer Movement as well as a major sponsor of organizations such as the Public Interest Research Groups, a platform that provides college students a way to get involved. As a result of PIRG organizations, conservative interest groups often find themselves in court pitted against liberal interest groups.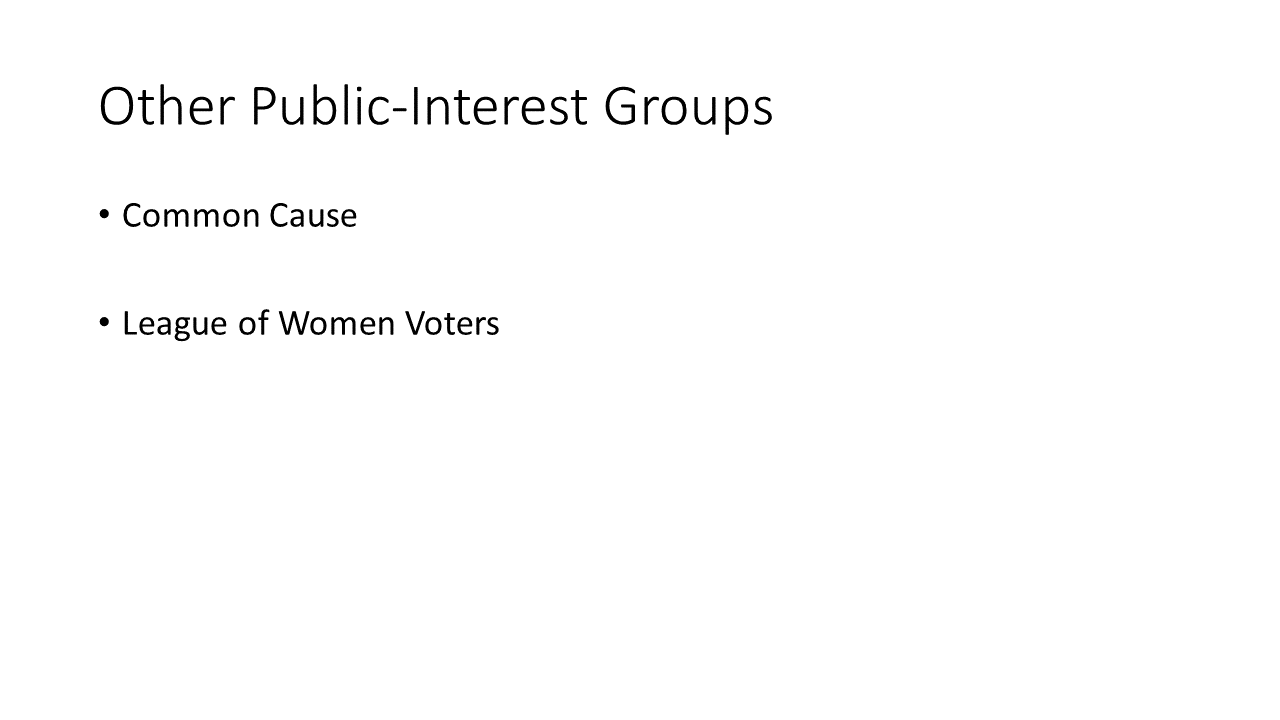 Common Cause and the League of Women Voters are examples of other public-interest groups that were founded years ago and remain active today.




Single-interest groups are so narrowly focused that they have clear and straightforward goals. They can be very effective since all of their efforts are with only that one goal in mind. The National Right to Life Committee and NARAL Pro-Choice America are examples of single-interest groups that are on opposite sides on the issue of abortion.

Because of the fact that we are a global nation doing business throughout the world, it is necessary for foreign governments to have foreign interest groups. They have the ability to influence government even though they do not have the right to vote.

Ideological viewpoints are the motivation behind the organization of some interest groups. Liberals who were explicitly anti-Communist founded Americans for Democratic Action in 1947. Grover Norquist organized Americans for Tax Reform to persuade Republican leaders to sign a pledge where they promised never to vote to raise taxes.

Americans who share a common identity like those of a certain race or sex form identity interest groups. The NAACP and NOW are examples of identity interest groups.