Lesson Objectives:
- Lobbying techniques
- Direct techniques of lobbying
- Indirect techniques of lobbying
- Regulating lobbyists
- The impact of lobbying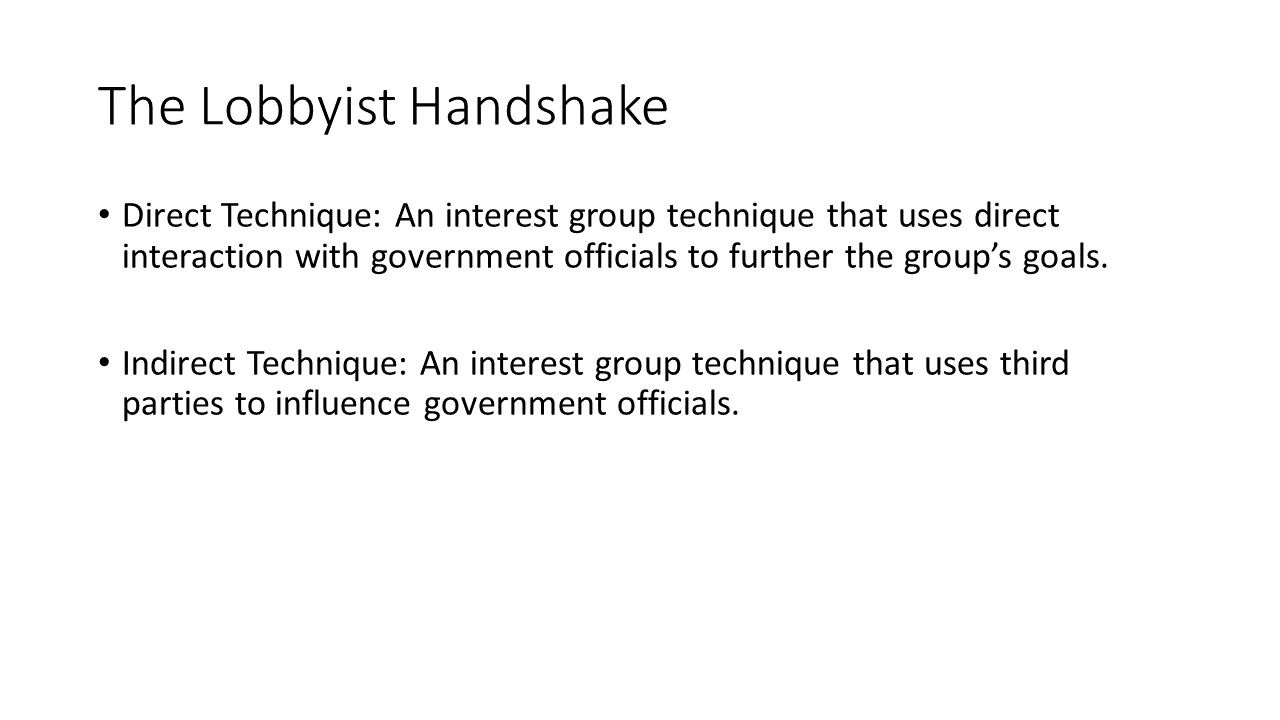 Interest groups provide forms of assistance to government officials, and in return, those officials take the interest group's views into special consideration.

To promote their interests, interest groups use two main techniques:

The Direct Technique is where an interest group uses direct interaction with government officials to further the group's goals.

The Indirect Technique is where they use third parties to influence government officials.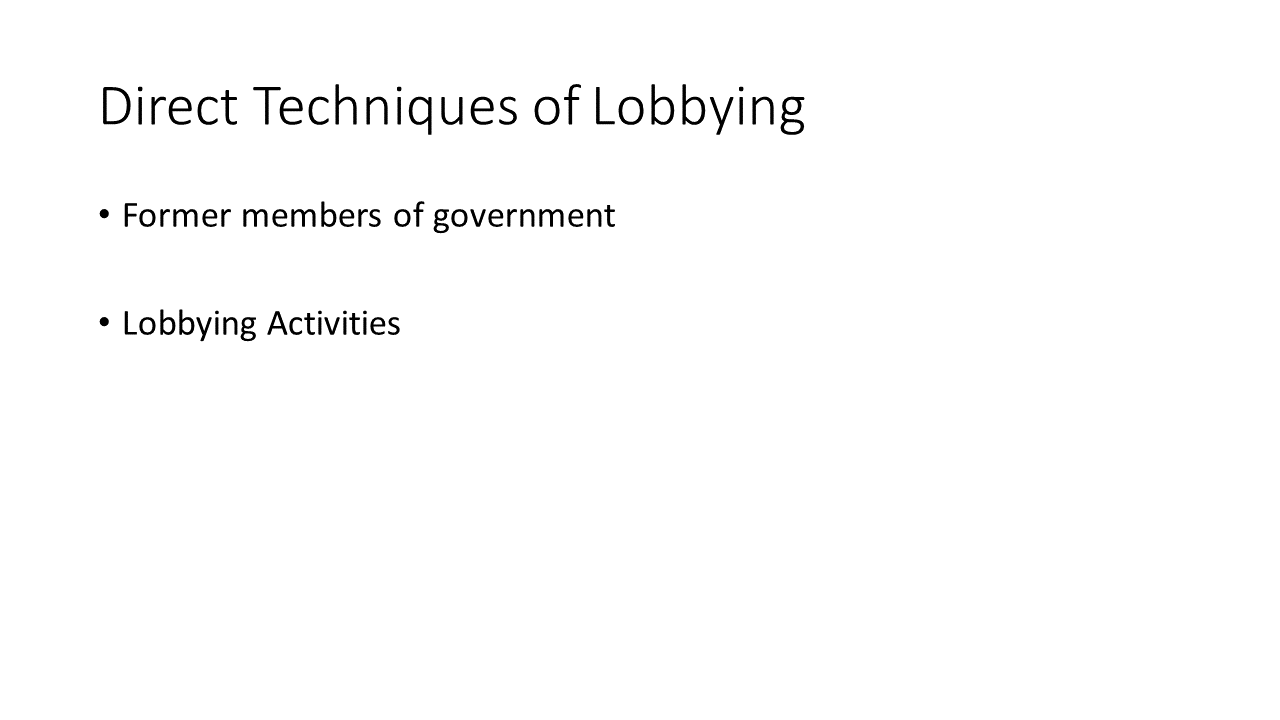 Historically, citizens hung out in the lobby to petition legislators. That is where the term Lobbying came from. When lobbying began, lobbyists would openly bribe officials to pass certain legislation, giving the profession a bad name. But today, lobbyists are more professional in their interactions with lawmakers.

In fact, many lobbyists are former members of government with significant contacts. To lobby effectively, they engage in a variety of activities:

For example, they set up private meetings with public officials to furnish them with important information and keep them in the know. They testify in Congressional hearings and to agencies of the executive branch. They help draft legislation. They invite officials to parties and conferences at vacation spots. They provide legislators with better information than party leaders have. They even take part in suggesting nominations.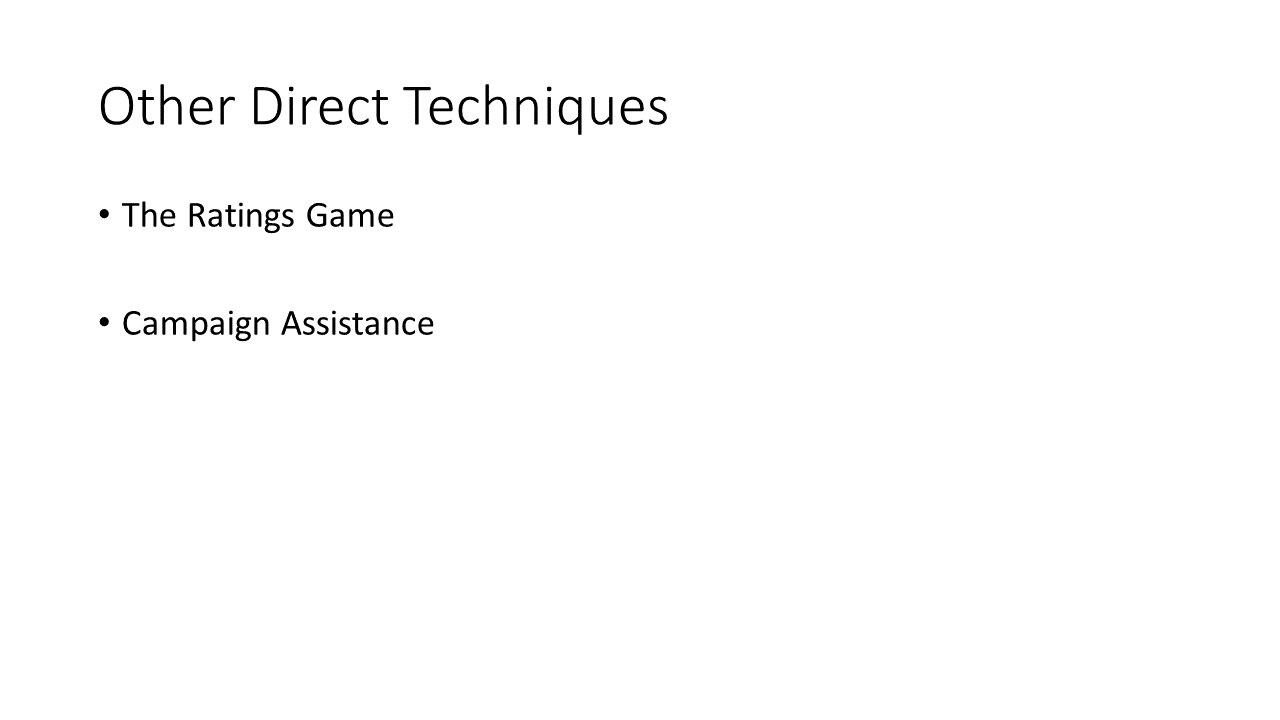 Interest groups track the performance of legislators using a rating system. Legislators get points for voting their way on issues and these points are used by the interest group to rank each legislator based on how likely it is to vote for them.

Interest groups have ways of supporting a candidate and it does not necessarily mean providing funds. Large interest groups can actually provide the hands to do work like hanging posters and making phone calls.

But more significantly, when an interest group endorses a candidate, they publish that and inform all of their members. That is why it is important for candidates to work to gain their support.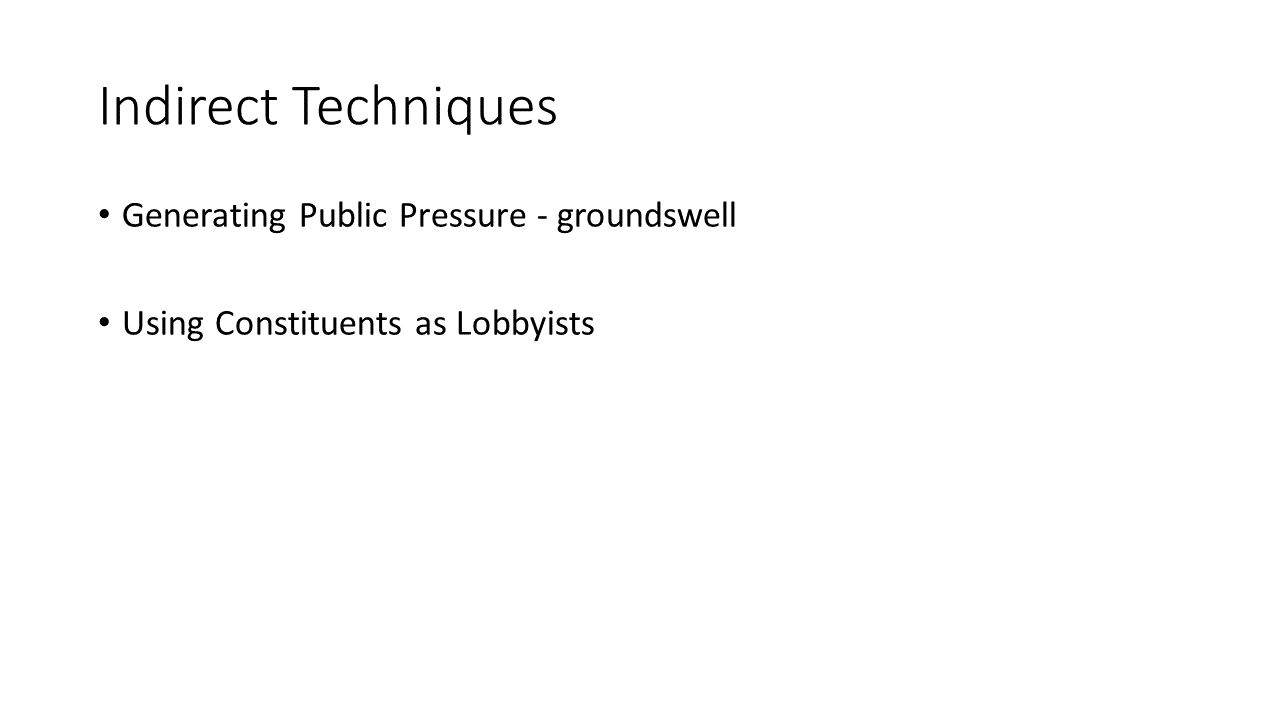 When interest groups work through third parties, it serves to hide their own activities and make it seem more spontaneous. Plus, government officials are more strongly swayed by their constituents rather than a lobbyist from an interest group.

Interest groups can get their point across when they create what is known as a "groundswell." A rush of advertisements, mass emailing, and demonstrations can generate public pressure. This technique is a great way to show legislators that the interest group represents public opinion.

The "shotgun" approach is an attempt to get many constituents to contact their legislator. They might even draft the message for the constituents so that they do not have to write it themselves. When all the messages are the same, legislators are not really influenced unless the number is too high to ignore.

The "rifle" method is when an interest group contacts only the most influential constituents. Also known as the "Utah plant manager theory," this approach would be exemplified by an interest group seeking out the manager of a Utah plant to contact the legislator. Since the plant manager is responsible for many jobs, he could be seen as influential and the legislator will listen more closely to his concerns.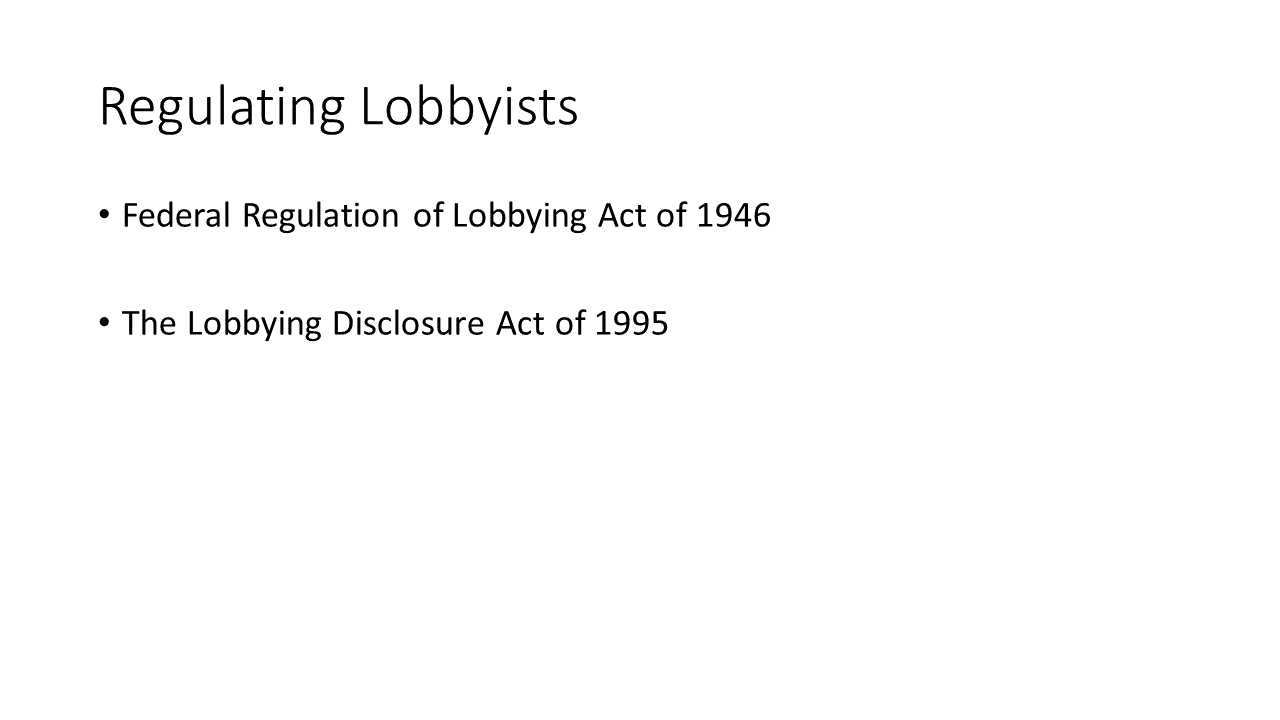 The Federal Regulation of Lobbying Act of 1946 was an attempt made by Congress to regulate lobbying. However, it was not very effective, and Congress tried again 50 years later.

The Lobbying Disclosure Act of 1995 had certain provisions:

It defined a lobbyist as someone who spends 20% of their time actually lobbying. Lobbyists have to register with the Secretary of the Senate and the Clerk of the House of Representatives. They have to file a report on lobbying activities.

Also, the House banned the act of lobbyists giving lawmakers gifts. The Senate set limits to receiving gifts. Even further, "earmarks" known traditionally as "pork" have to be made public.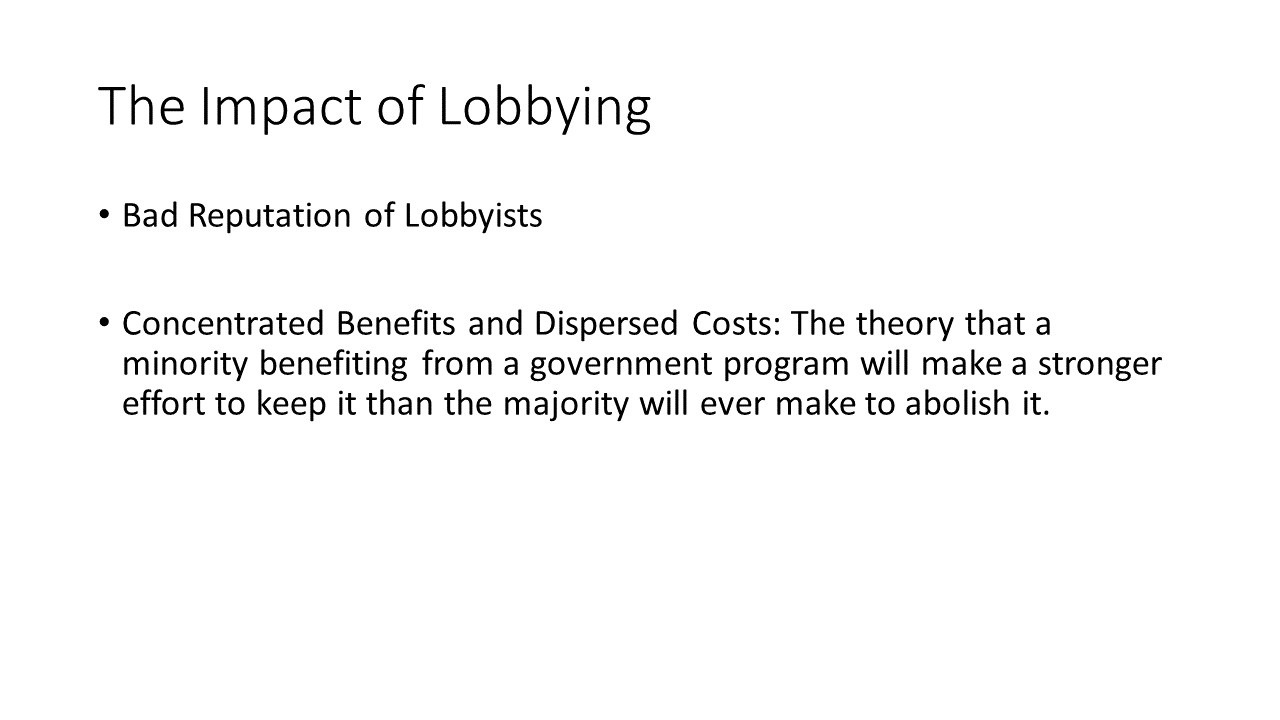 Despite the good that it can sometimes accomplish, Lobbying still has a negative reputation. When lobbyists work to achieve benefits for a special interest, at what cost does it come for everyone else?

Concentrated Benefits and Dispersed Costs is the theory that a minority benefiting from a government program will make a stronger effort to keep it than the majority will ever make to abolish it.