Lesson Objectives:
- Foundations of the Two-Party System
- Presidential voting
- Laws favoring two parties
- The role and impact of minor parties
- The rise of independents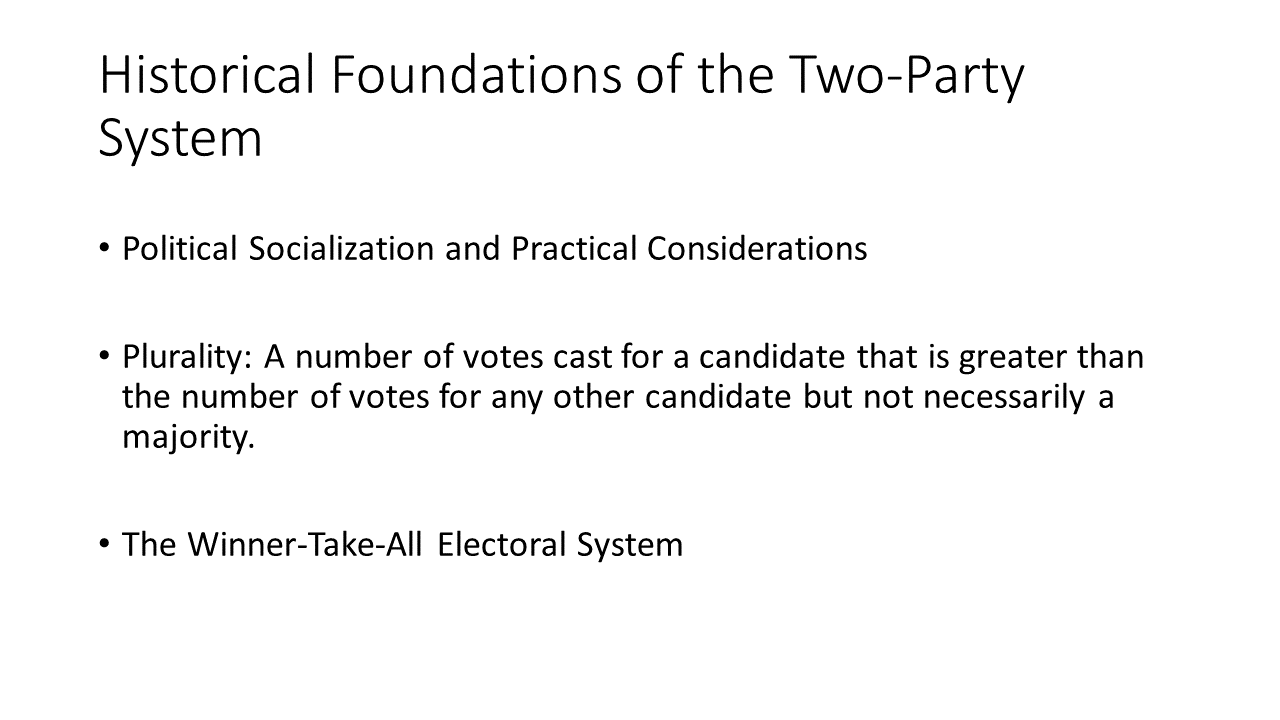 From early in our history, the country has been divided on significant issues. Ratifying the Constitution was one of those issues. Slavery was another. When the country is divided on major issues, two parties serve to mobilize opposing views.

Children learn about being Republican or Democrat at a young age. They grow up identifying with one of the two parties. If they want to seek political office, normally they consider one of the two parties as the only realistic chance of getting elected.

Our voting process is based on Plurality. To win, a candidate needs a number of votes that is greater than the number of votes for any other candidate, but not necessarily a majority.

The candidate who wins gets everything while the candidate who comes in second walks away with nothing. This makes our plurality-based election system a winter-take-all system.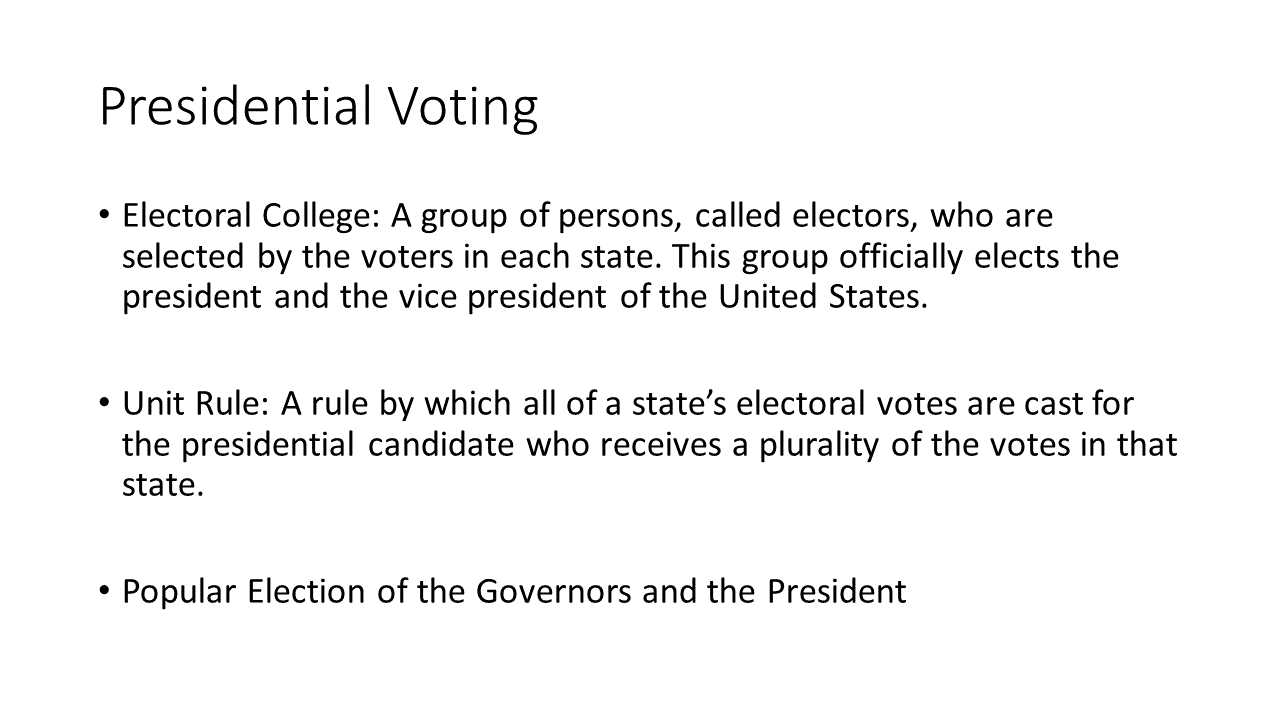 The Electoral College is a group of persons, called electors, selected by the voters in each state. This group officially elects the president and the vice president of the United States.

When the states vote, the Unit Rule is utilized. That rule establishes that all of a state's electoral votes are cast for the presidential candidate who receives a plurality of the votes in that state.

Minor parties are clearly disadvantaged in this system. Voters do not typically vote for minor candidates because they know they will not win any electoral votes.

In parts of Europe, countries have a system where two or more parties can form a coalition to choose their prime minister. In the United States, there is no opportunity for a coalition. It is either one party or the other. The winner-take-all principle works against the participation of a third party.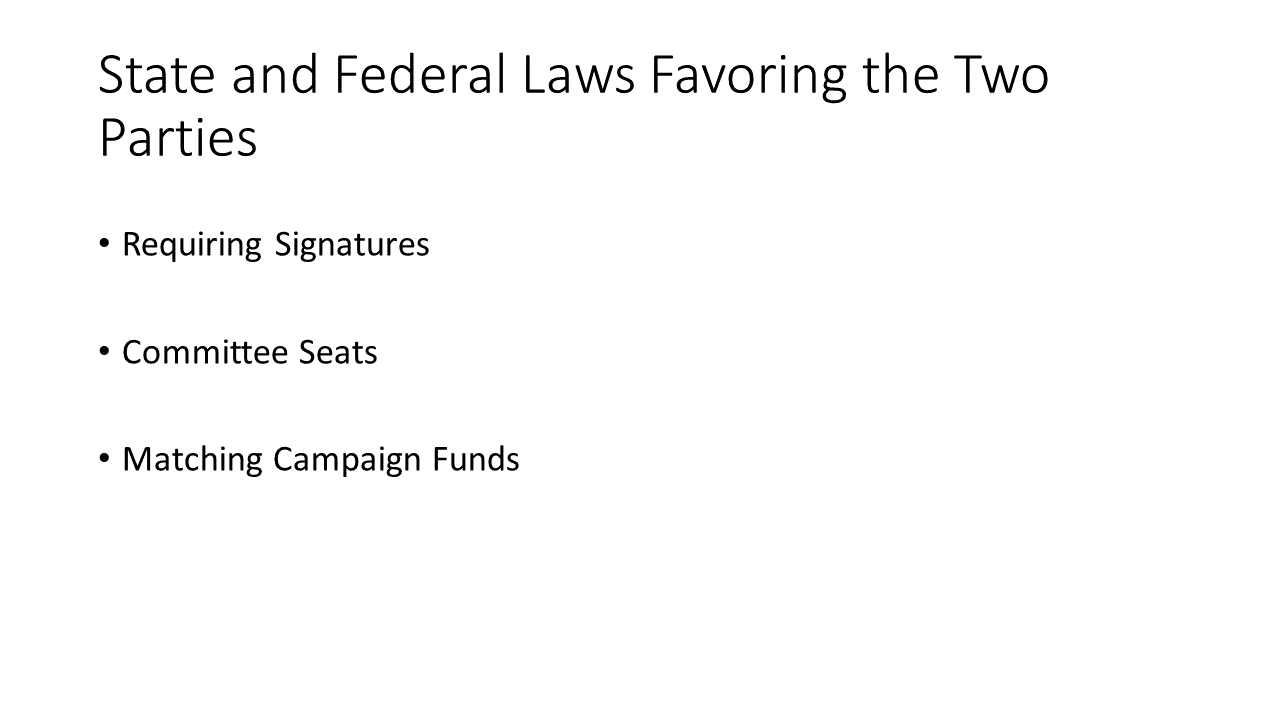 Some of the states use a system for deciding how many signatures a party needs to enter a candidate into a race for political office. In a system that punishes minor parties, they are required to obtain more signatures than the two major parties because the number is based on the total votes they received in the last election.

On the national level, minor parties face other challenges. Committee assignments are only given to one of the two parties. In order to sit in a seat, a minor-party candidate has to choose a major party. Also, the Federal Election Committee (FEC) only provides matching funds to the two major parties.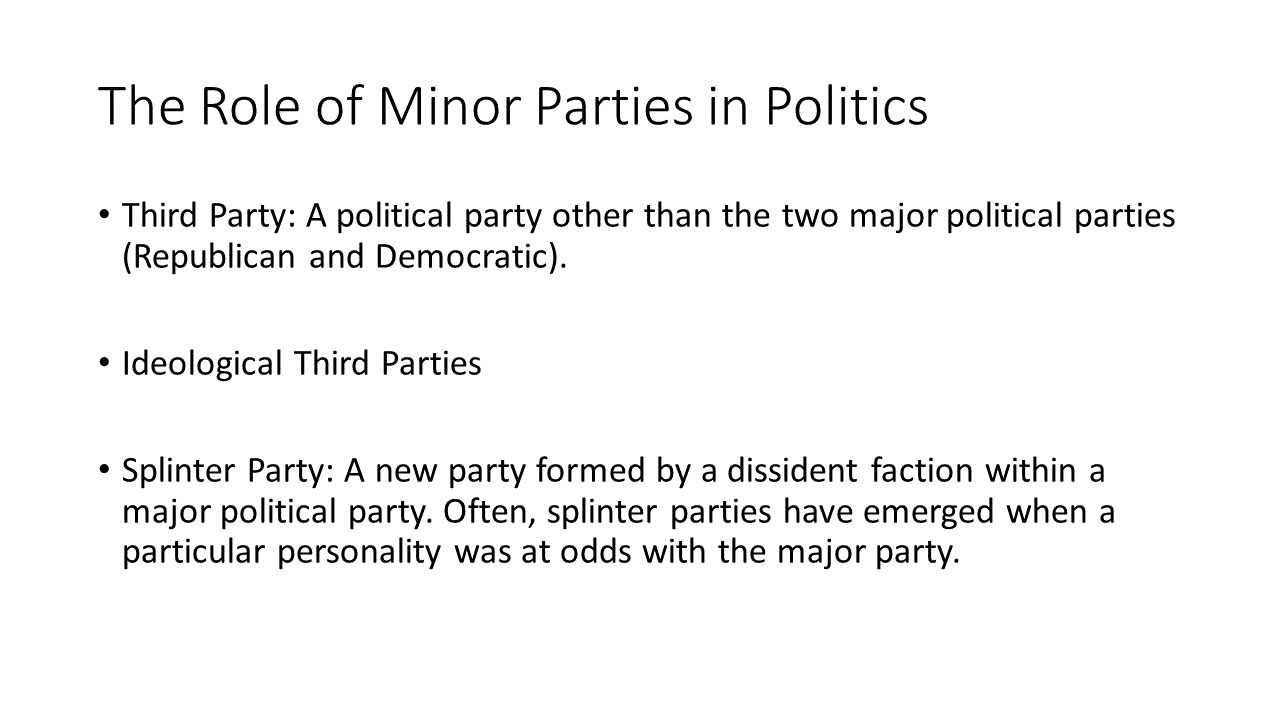 With all of the challenges that third parties face, why do they still exist?

When a group differs politically from the major parties, creating a new party serves a couple of purposes. First of all, it allows supporters of the new party to bond due to their ideological similarity.

It also has a psychological effect. Supporters of the third-party are not dissuaded from continuing in the political process if they do not get many votes because they are not thinking in terms of winning, but rather fighting for change that may some day happen. The Libertarian Party and the Green Party are examples of third parties that exist today.

A Splinter Party is a new party formed by a dissident faction within a major political party. Often, splinter parties have emerged when a particular personality was at odds with the major party.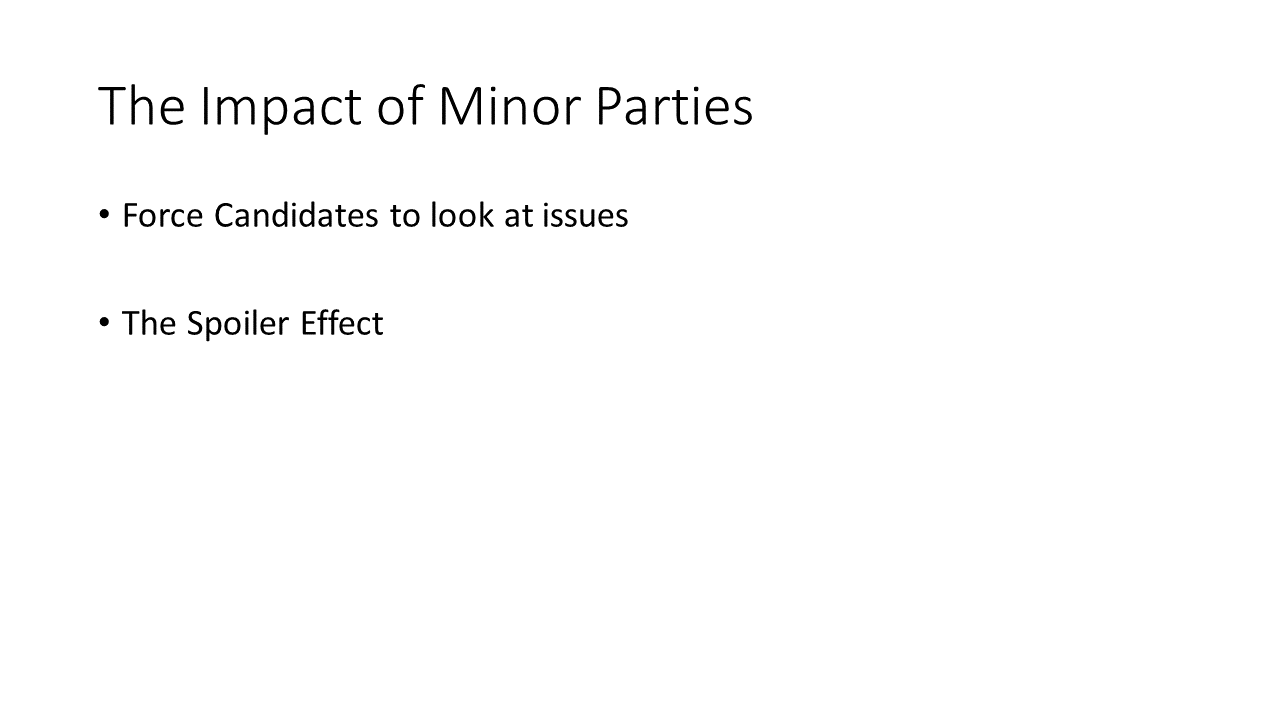 Even though minor parties have practically no way of winning, they can still have an impact in two significant ways. For one, they can force major party candidates to look at certain issues. For example, the success of the Reform Party in the 1990s resulted in both the Democratic and Republican Parties taking up the Reform Party's core issues – balancing the budget and reforming the federal government.

Another way minor parties can make a difference is they can pull votes from one candidate, helping the other. This is called the "spoiler effect" and can greatly influence an election. An example of this is the 2000 election, where Green Party presidential candidate Ralph Nader may have taken votes from Democrat Al Gore.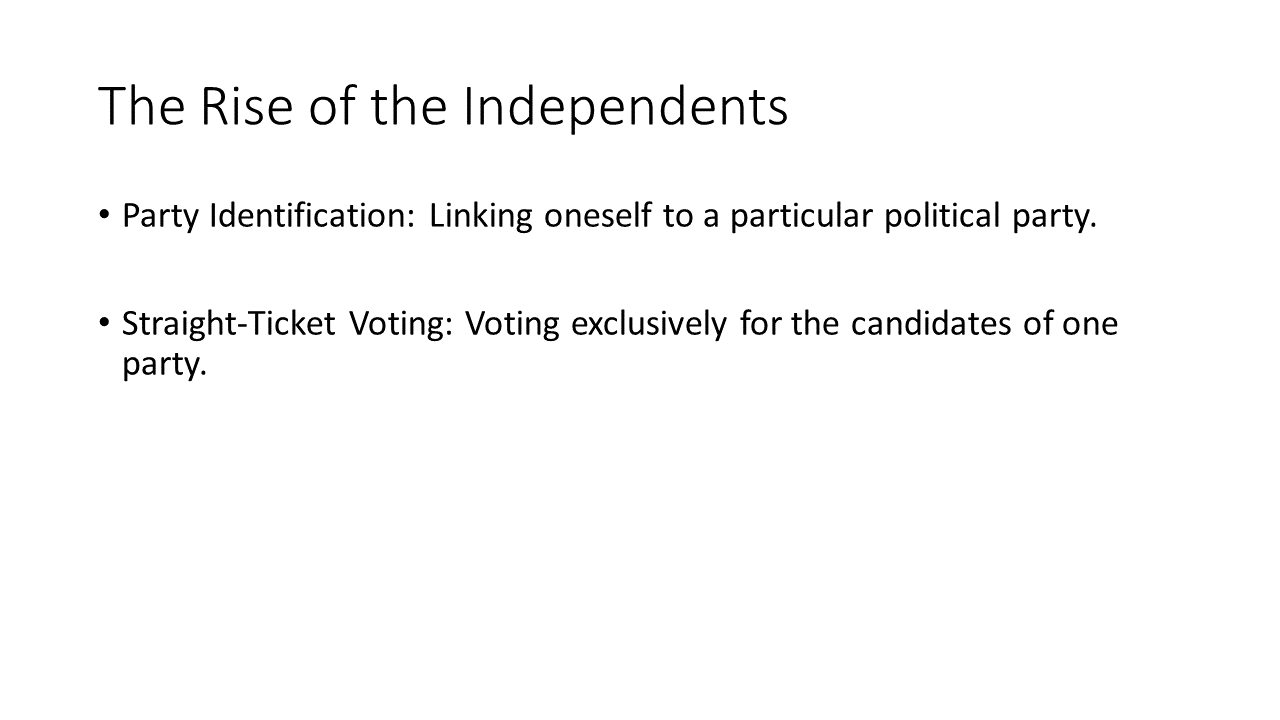 As the two opposing parties seem to get further apart politically, more voters are starting to identify as independent.

Party Identification is linking oneself to a particular political party.

Straight-Ticket Voting is voting exclusively for the candidates of one party. Straight Ticket voting was universal at one time, but split ticket voting started gaining popularity when voters began to seek balance in the government.

According to polls, only about 10% of voters are actual independents, even though the number who identify themselves as independents is much higher. The fact is that even though they may identify as independents, most of them tend to lean towards Democrat or Republican.