Lesson Objectives:
- Judicial requirements
- Standing to sue
- Parties of lawsuits
- Procedural rules
- The three-tiered model
- Other courts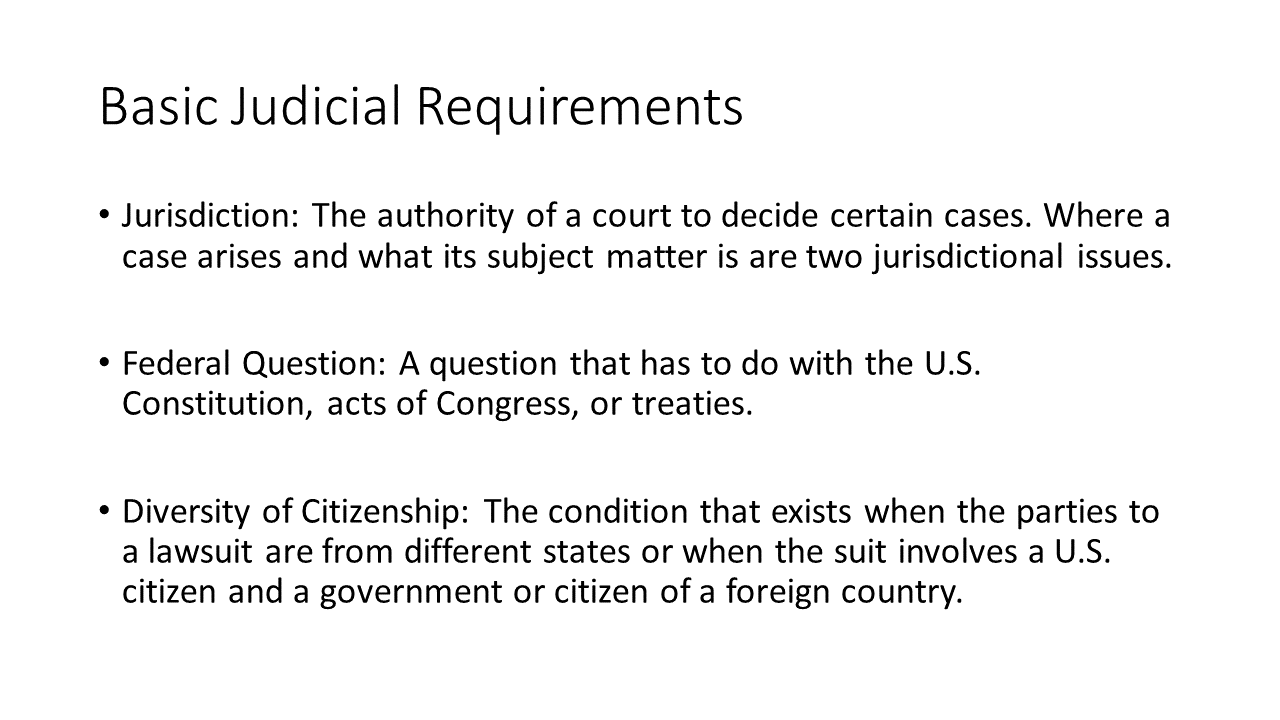 For a case to be brought before a court, a few basic requirements have to be met. The first is jurisdiction; the court must have the authority to decide a case. Not all courts have the authority to decide all cases. Where a case arises and what its subject matter is are two jurisdictional issues.

For example, when we are talking about federal courts, one jurisdictional issue is whether or not the case involves a Federal Question. This means a question that has to do with the U.S. Constitution, acts of Congress, or treaties. A federal question provides a basis for federal jurisdiction.

Another basis for federal jurisdiction is Diversity of Citizenship. That is the condition that exists when the parties to a lawsuit are from different states or when the suit involves a U.S. citizen and a government or citizen of a foreign country.

If a case does not involve a federal question or diversity of citizenship, a federal court would not have jurisdiction; the case would have to be brought before a state court.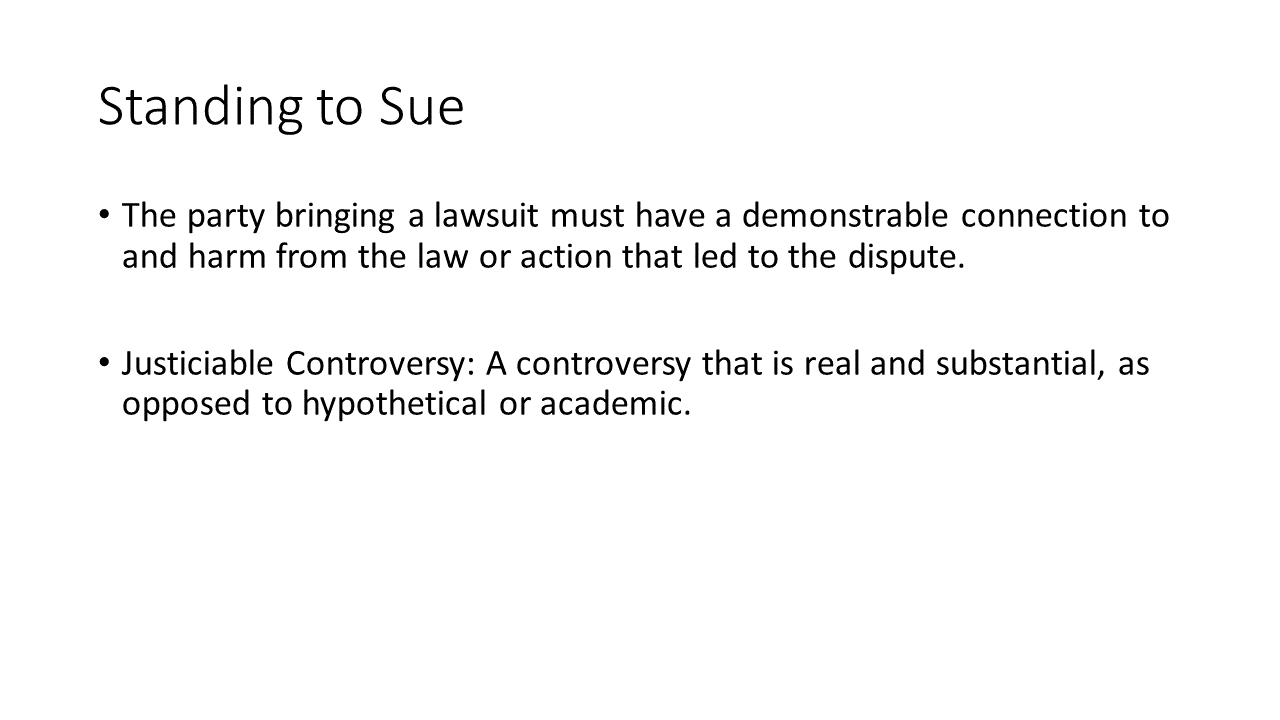 In addition to jurisdiction, another judicial requirement is called Standing to Sue.

Standing to sue refers to the requirement that the party bringing a lawsuit have a sufficient connection to and harm from the law or action being challenged.

It also includes the concept of Justiciable (pronounced just-tish-a-bul) Controversy. That means that it is a controversy that is real and substantial, as opposed to hypothetical or academic.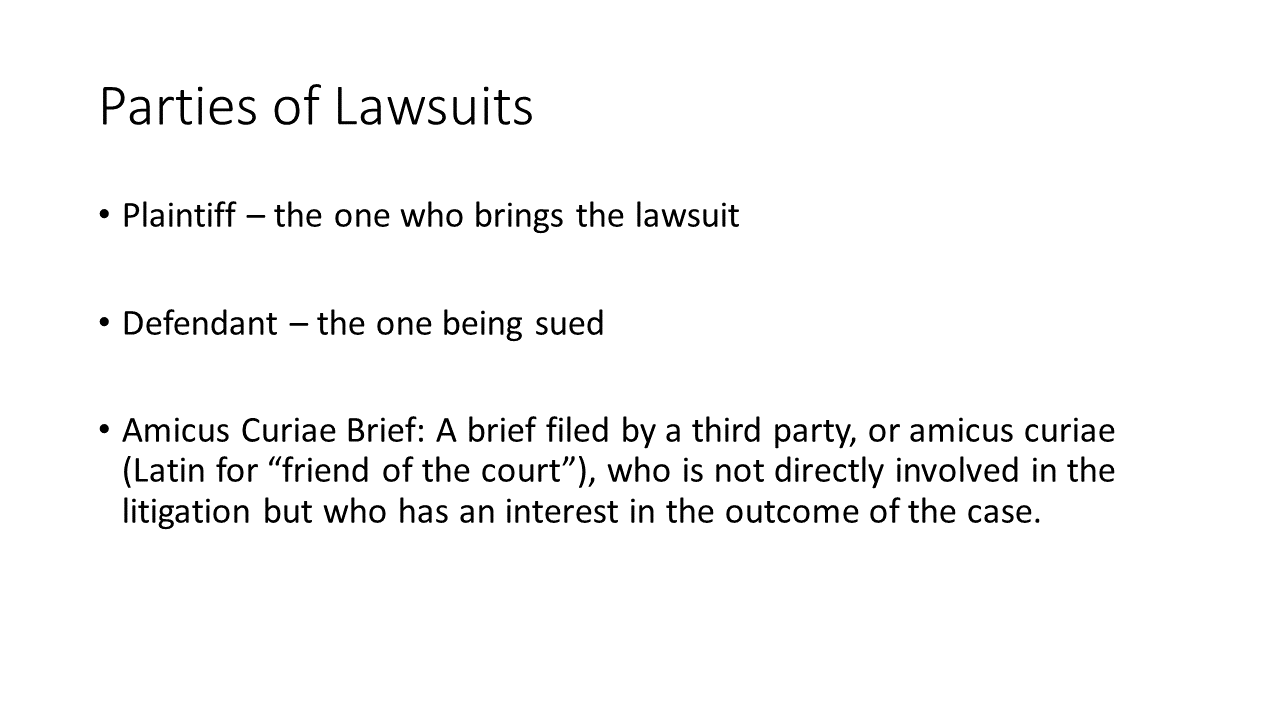 The parties in most lawsuits are the plaintiff and defendant. The plaintiff brings the suit and the defendant is the one it is brought against. Litigate is the official term for carrying on a lawsuit; it means to engage in a legal proceeding or seek relief in a court of law.

Sometimes, litigation is conducted by an interest group. Other times, when an interest group is not directly involved in a lawsuit but is interested in the outcome, they will file an Amicus Curiae (pronounced ah-mee-kous kur-ee-eye) Brief, which is a brief filed by a third party. Amicus curiae is Latin for "friend of the court."" This happens in most civil liberties cases and more than a third of cases involving business matters.

When there is more than one person in a class affected by the outcome of a case, an interest group or other plaintiffs may bring what is called a Class-Action Suit. That is a lawsuit filed by an individual seeking damages for "all persons similarly situated." An example would be a lawsuit against a company whose product harmed many of its customers.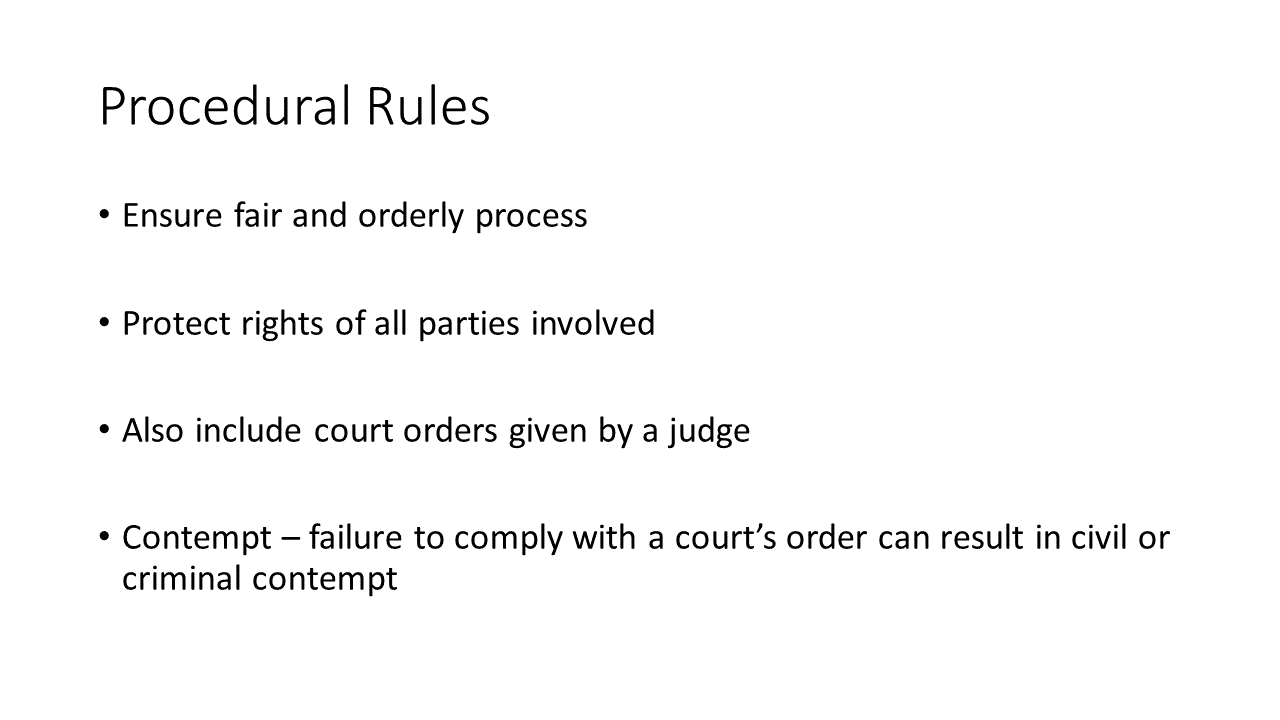 In the interest of efficiency, there are procedural rules in place that guide the litigation process. Certain procedural rules establish the order that things take place in court while others protect the rights of the involved parties.

There are procedural rules that apply to a specific case such as court orders that a judge might give. If parties do not comply, they can be found in contempt. Parties can be taken into custody, fined, or both.

For civil contempt, all a party has to do to avoid punishment is comply with the order. For criminal contempt, which includes obstructing the administration of justice or disrespecting the rules of the court, the party cannot avoid punishment.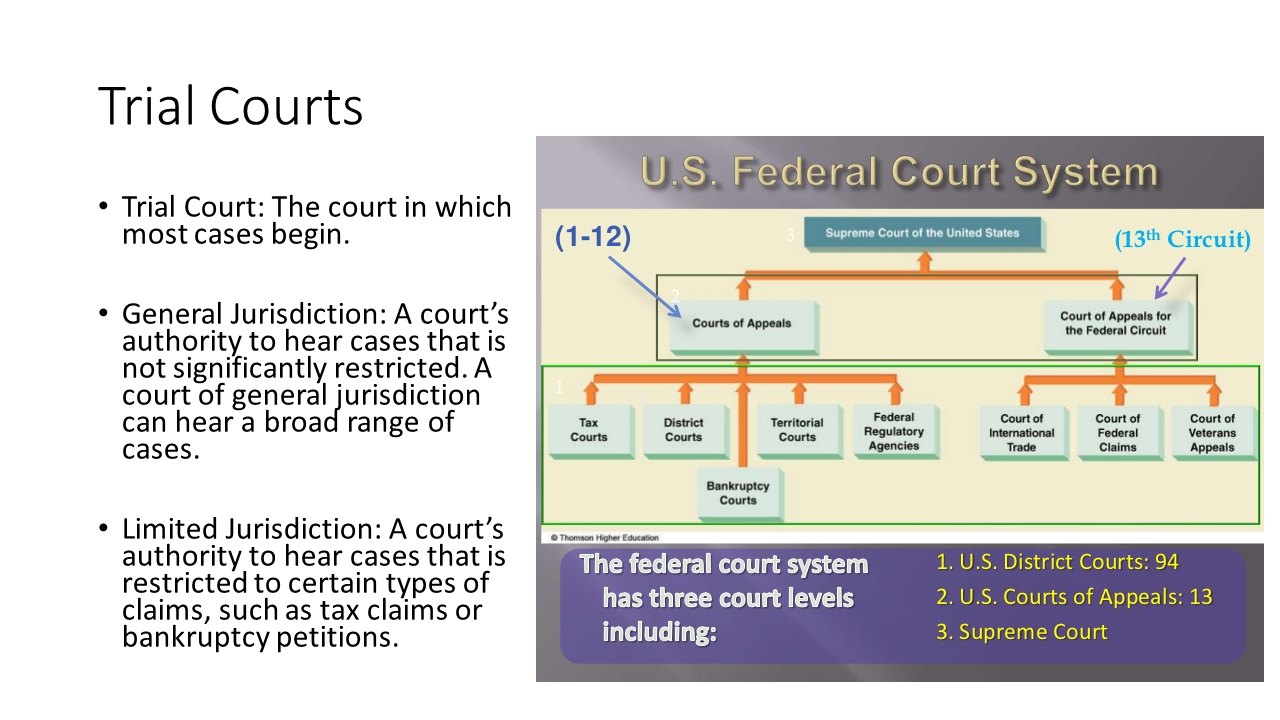 The court system is made up of a three-tiered model. Most cases begin in Trial Court or the first tier. The U.S. District Courts are set up for that purpose.

There are different types of trial courts. The U.S. District Courts are courts of General Jurisdiction, which means they have jurisdiction that is not significantly restricted. A court of general jurisdiction can hear a broad range of cases.

The rest of the courts on the bottom tier, such as tax courts, bankruptcy courts, and territorial courts are courts of Limited Jurisdiction. That means their authority is limited to dealing with certain types of claims, such as tax claims or bankruptcy petitions.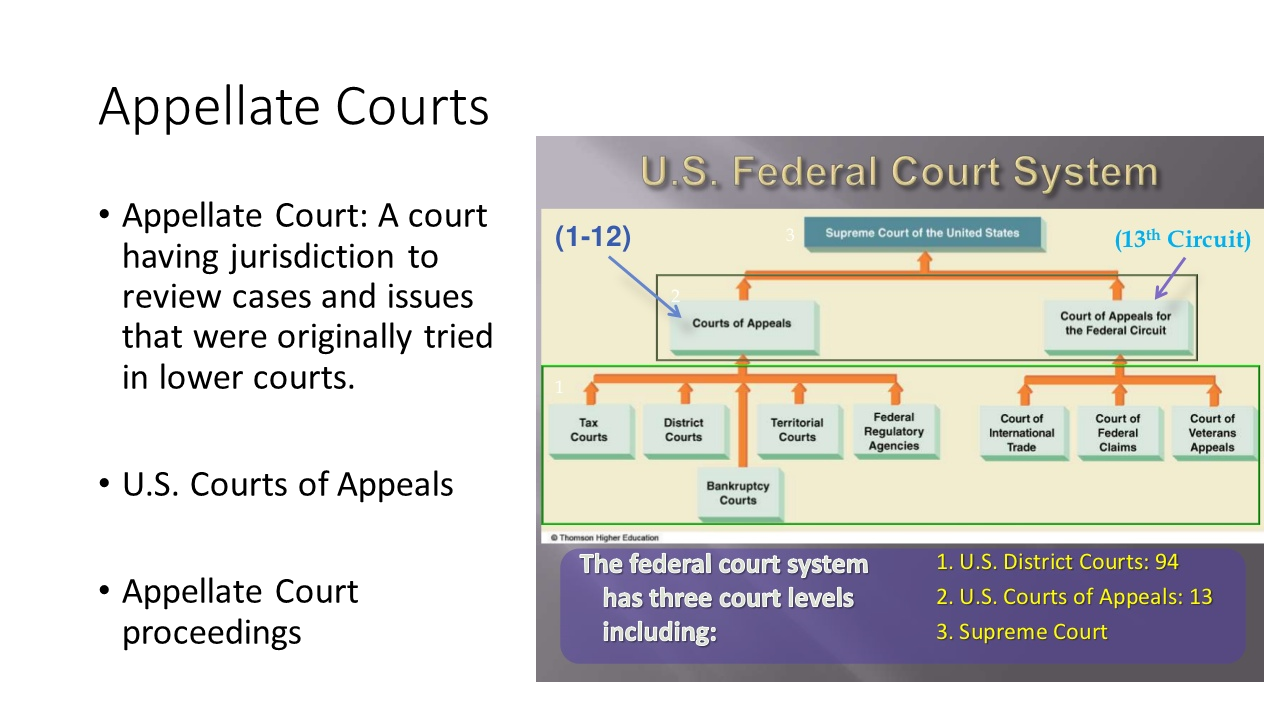 If a party is not satisfied with the outcome of a court decision, they can take it to an Appellate Court.

An Appellate Court is a court having jurisdiction to review cases and issues that were originally tried in lower courts.

Thirteen U.S. Courts of Appeals exist throughout the country. Twelve are set up to cover a certain geographical region and they hear appeals from all the courts within their jurisdiction. The 13th U.S. Court of Appeals is called the Federal Circuit and has its own appellate function, hearing certain government cases and suits against the government itself.

Appeals are not trials that are redone before a judge to see if they'll go a certain way. Instead, a panel of judges reviews the transcripts and all other records of the case to decide whether or not there was an error.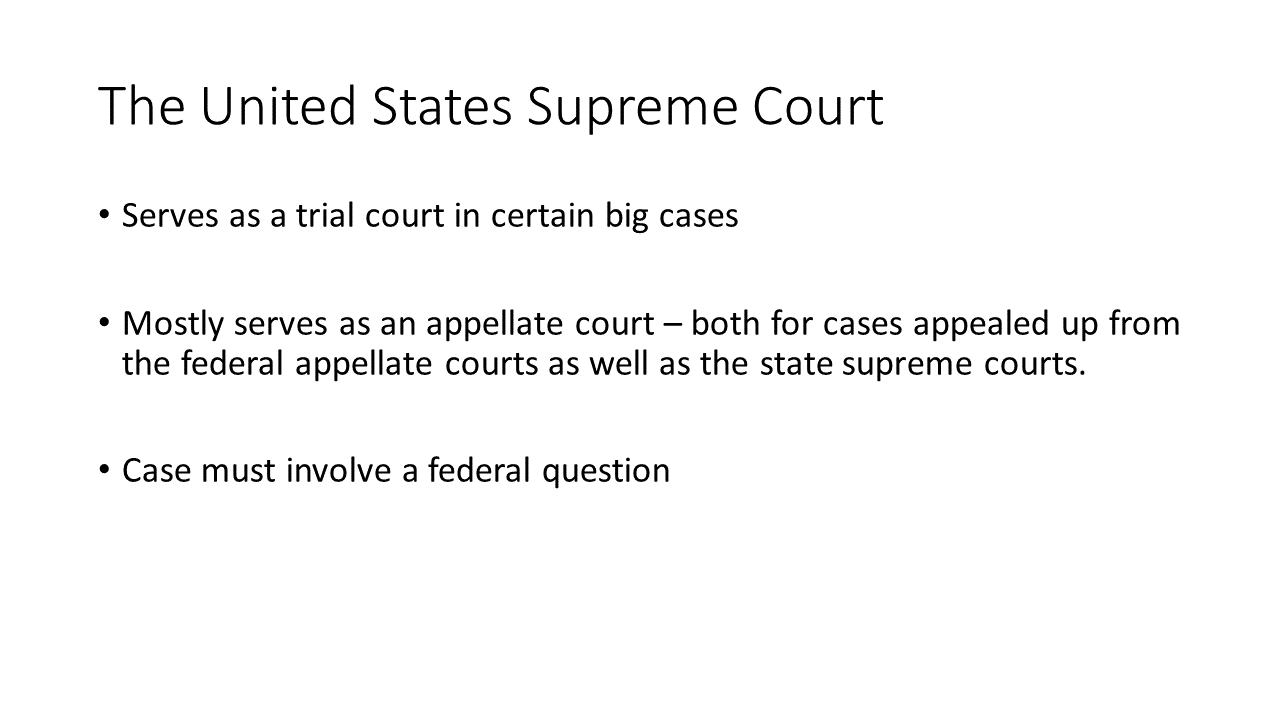 The top tier of this three-tiered model is the U.S. Supreme Court. The Supreme Court can act as a trial court in huge cases that involve a state or a foreign diplomat, but it mainly acts as an appellate court. It hears cases from federal appellate courts as well as the highest state courts. It only reviews state supreme court cases if there is a federal question.




Federal administrative agencies can have administrative law judges who make decisions concerning the rules of their agencies. It is more efficient than tying up a court. If a party has a dispute over a rule established by an agency, it will first deal with an administrative law judge. Only when all internal agency appeals processes have been tried can a party go outside of the agency and take the case to a federal court.

The war on terrorism has brought about the existence of an interesting trial court with limited jurisdiction. The FISA Court, established by the Foreign Intelligence Surveillance Act of 1978, is a specialized court that meets in secret.

It has the power to issue warrants to place surveillance on certain individuals suspected of being spies. The records are not made public. The hearings are not public and the judges are secretly appointed by the chief justice of the Supreme Court with no other authority in the review process.

Another interesting court with special powers was created as a response to the 1995 Oklahoma bombing. Even though the perpetrators were citizens of the United States, the Anti-Terrorism and Effective Death Penalty Act of 1996 resulted in the creation of an alien "removal court" that hears cases involving suspected "alien terrorists."

Unlike the FISA courts, however, these are public hearings. Since it is considered a hearing for deportation rather than an actual criminal trial, the defendant has limited rights. For example, the prosecution does not have to follow certain procedural rules. Also, the defendant cannot see the evidence that the prosecution used to secure the hearing.