Lesson Objectives:
- Affordable Care Act
- Agenda building
- Policy formulation
- Policy adoption
- Policy implementation
- Policy evaluation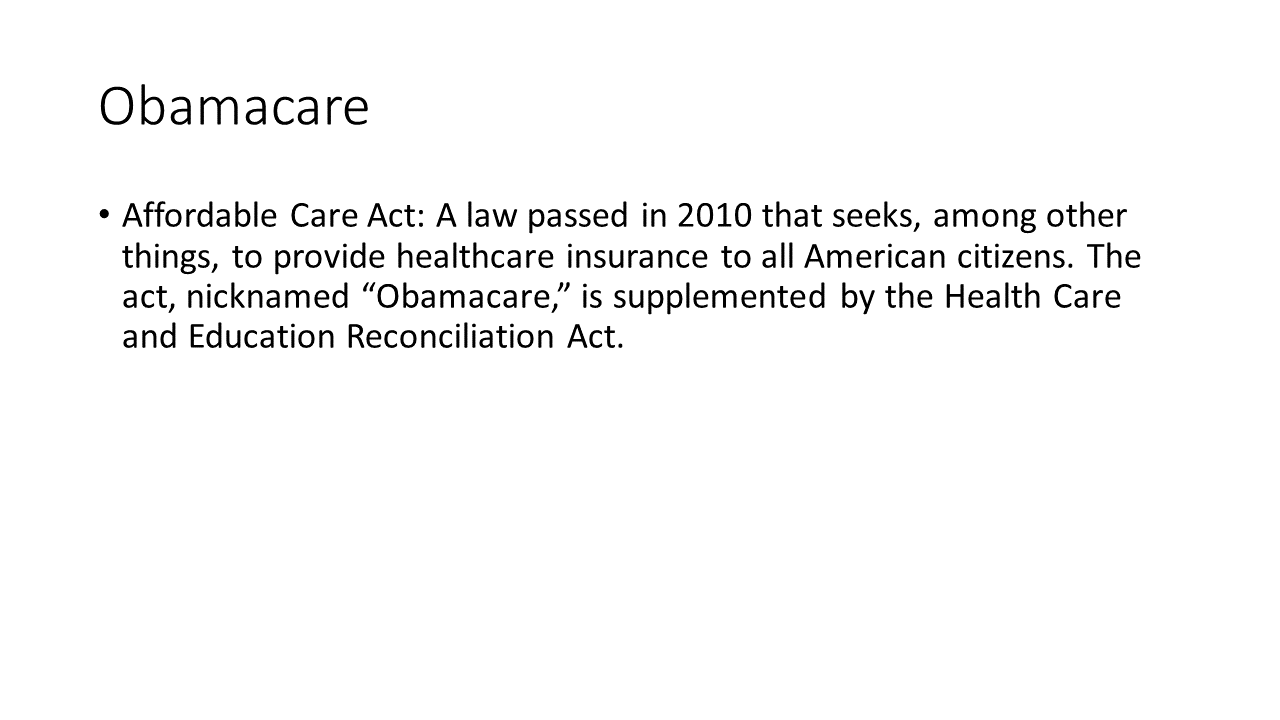 The Affordable Care Act is a law passed in 2010 that seeks, among other things, to provide healthcare insurance to all American citizens. The act, nicknamed "Obamacare," is supplemented by the Health Care and Education Reconciliation Act.

These two acts together make up one of the most important legislative packages in recent history, implementing a massive overhaul of the nation's healthcare funding system.

We will use this legislation to look at how public policy is made.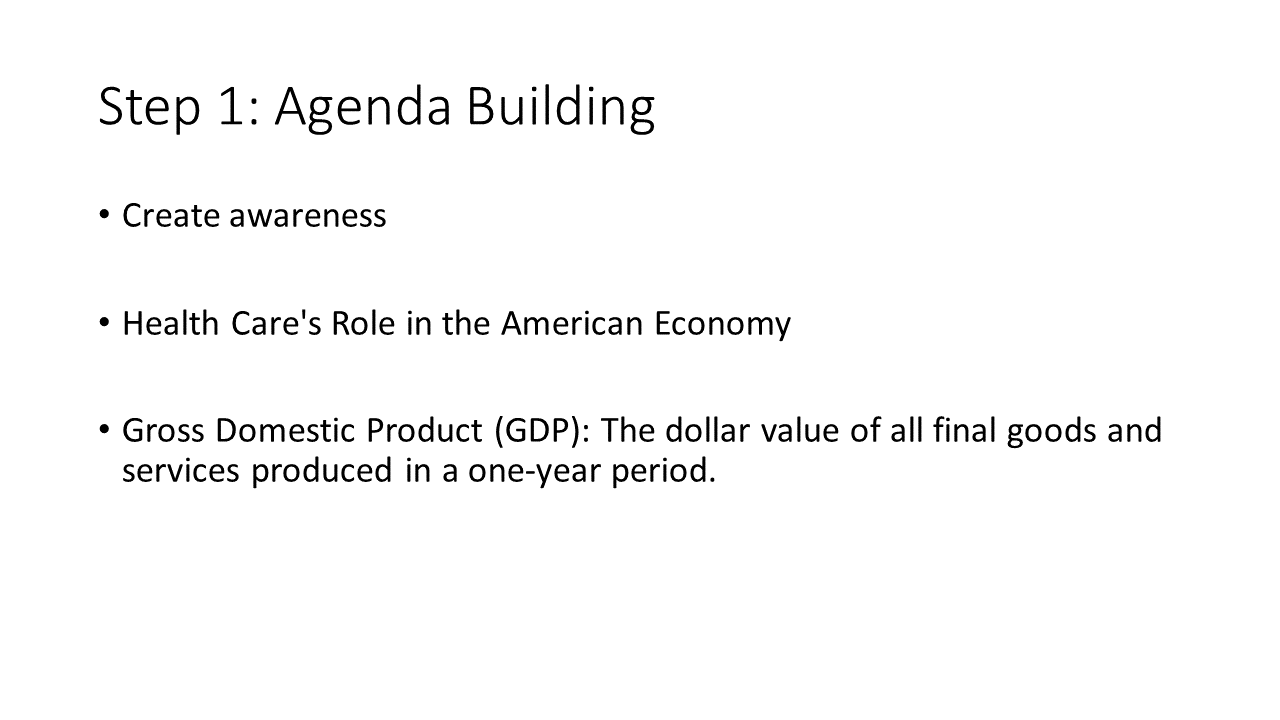 The first step to any new policymaking process is that Congress has to identify that a need exists. It can be brought to their attention any number of ways such as through a social media campaign or a crisis which creates awareness. Let's look at how health care was put on the agenda.

In 1965, we spent about 6% of our total national income on health care. Today, 18% of our total U.S. economy is spent on health care. We spend more on health care than almost everywhere else in the world. Looking at the percentage of the GDP, or Gross Domestic Product, spent on healthcare, America's spending is twice that of Britain and Japan.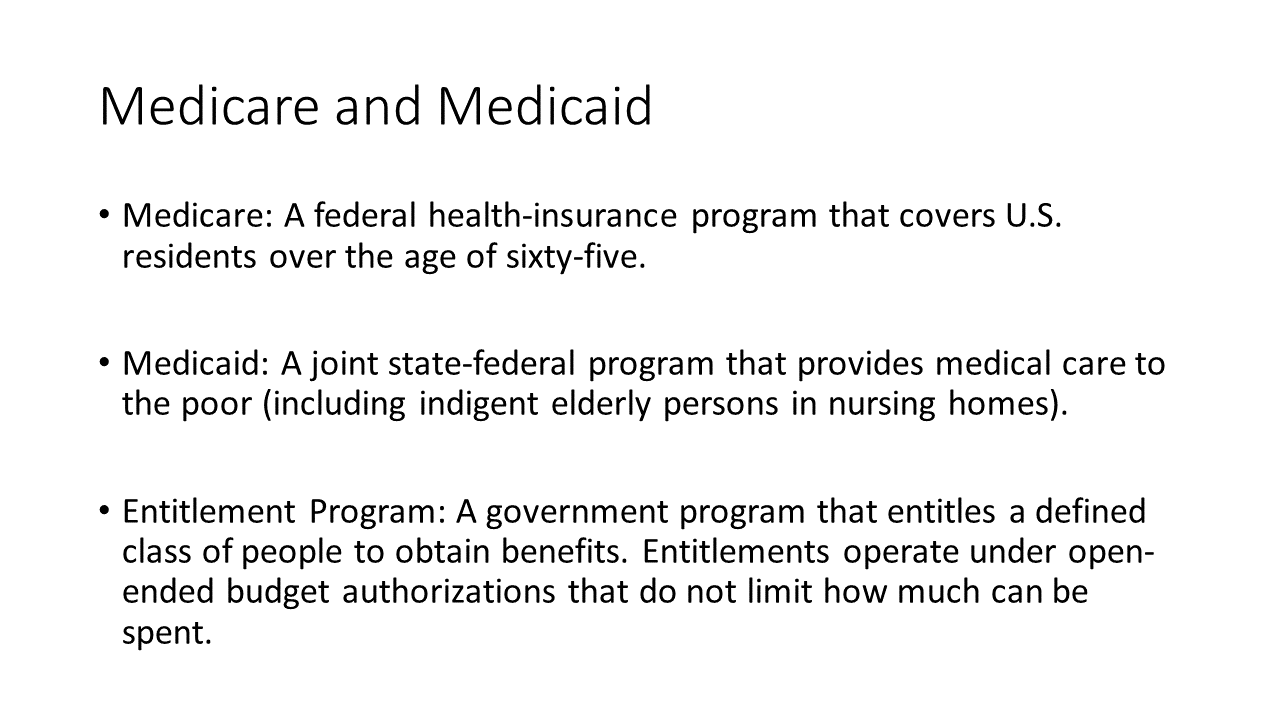 As of 2010, 30% of health-care spending came from insurance companies and another 20% was paid for by people who could afford it as well as charities set up to help the poor. That left 50% of the health care cost to the government through programs like Medicare and Medicaid.

Medicare is a federal health-insurance program that covers U.S. residents over the age of sixty-five. The costs are met, in part, by a tax on wages and salaries.

Medicaid is a joint state-federal program that provides medical care to the poor (including indigent elderly persons in nursing homes). The program is funded out of general government revenues.

Both Medicare and Medicaid are Entitlement Programs, or government programs that entitle a defined class of people to obtain benefits. Entitlements operate under open-ended budget authorizations that do not limit how much can be spent.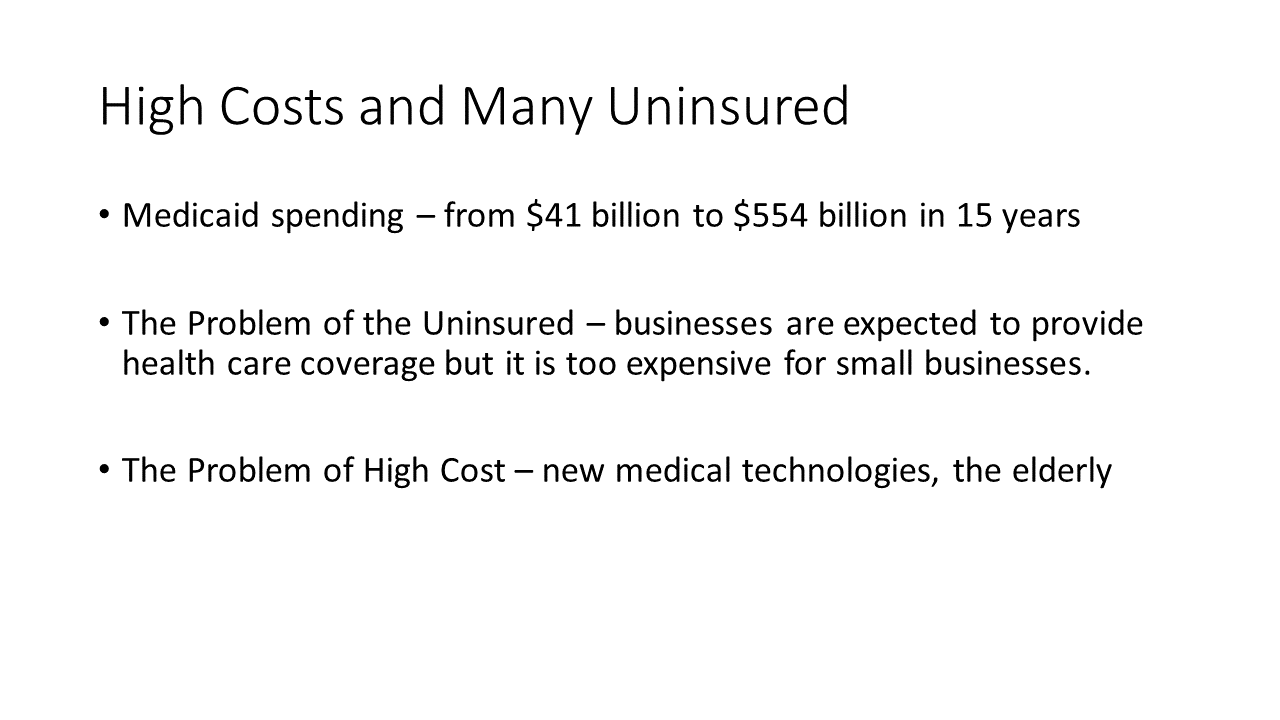 In 1990, Medicaid spending came to $41 billion. By 2015, Medicaid spending had grown quite a bit to $554 billion.

42 million Americans were uninsured just before Obamacare was implemented. They were mostly young since Medicare was covering the elderly. For many of them, their entry-level jobs did not offer health insurance benefits. Also, small businesses just could not afford to offer health insurance benefits at about $6000 for single coverage and almost $17000 for a family.

Not only was insurance high, but the medical costs were a major part of the problem. New medical technologies and services were a big reason for the growth in health-care spending. The elderly run up higher health-care bills than the rest of the population, meaning Medicare is the biggest problem when addressing health-care spending.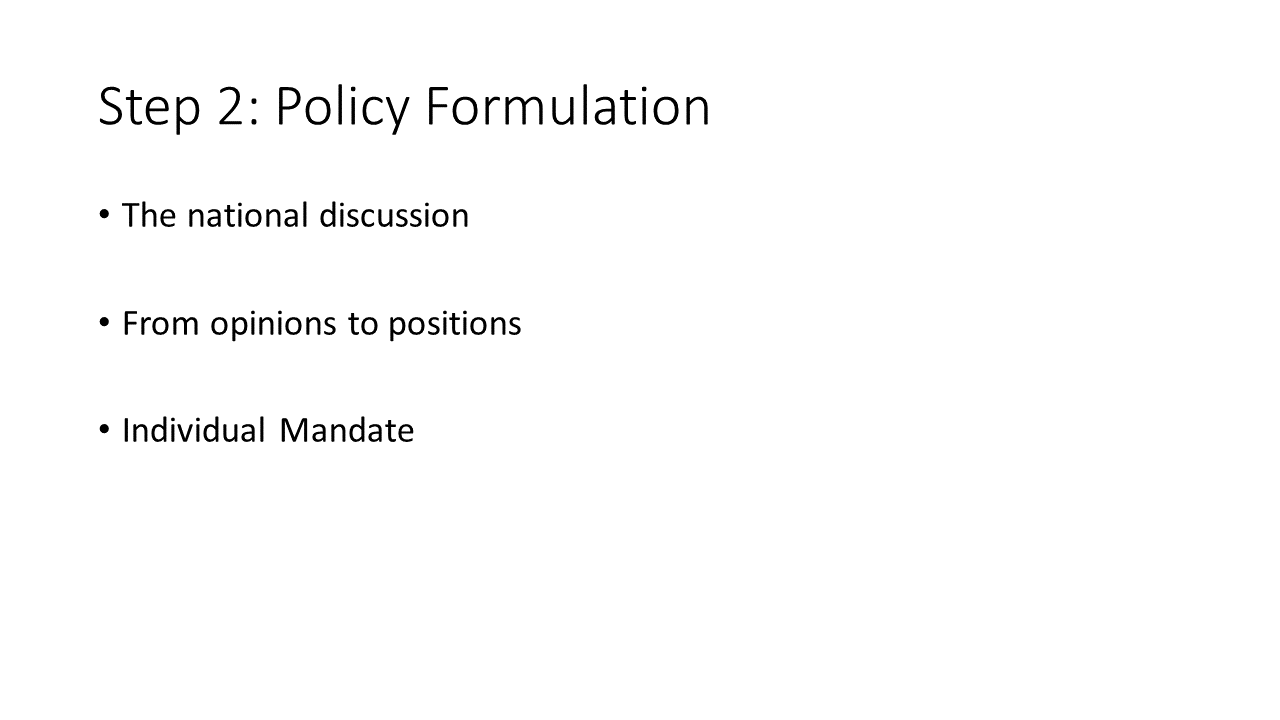 Once the need has been identified, discussions begin and ideas about a policy are put into place.

Discussions include everything. Lawmakers have private conversations. The public discusses the issue and they form their ideas. Articles are published, news stories are aired, and officials begin to take positions.

For health-care, with the Democrats in complete control of Congress and the White House after the 2008 elections, they began to form proposals with the idea of mandating that everyone have a source for health insurance. That source could be an employer, Medicaid, Medicare, or a new plan sponsored by federal or state government.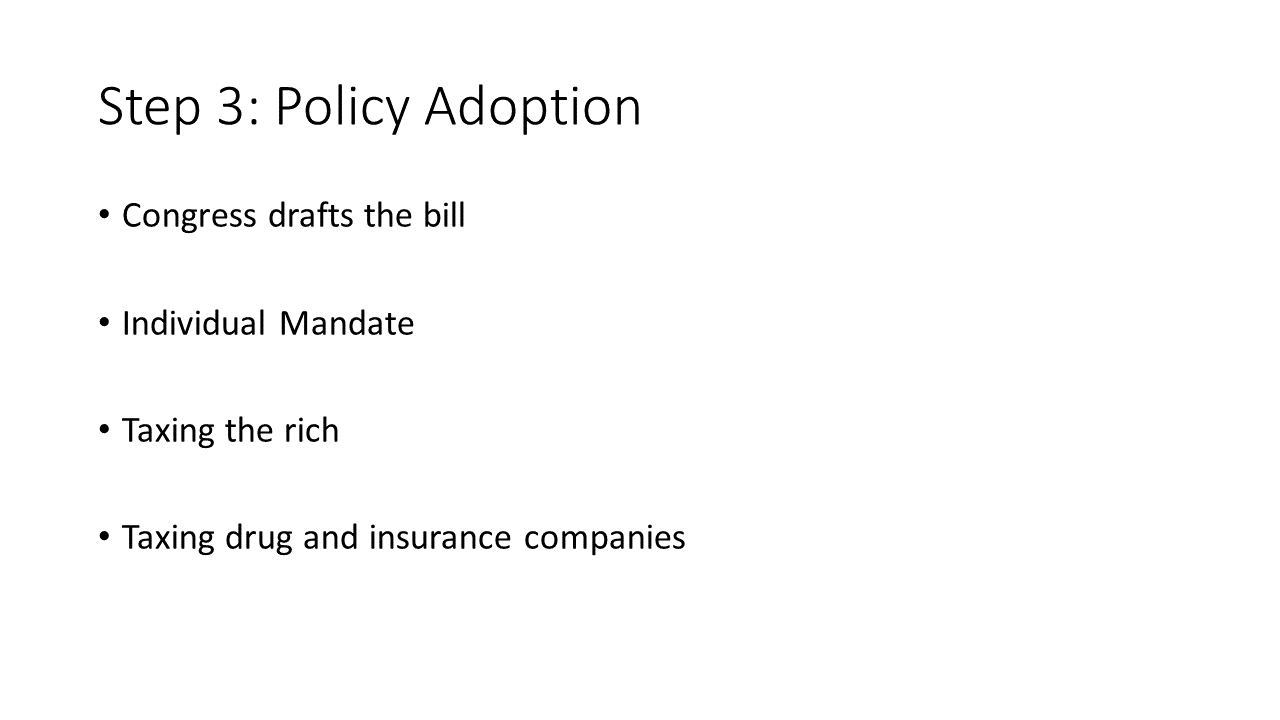 The third step was to choose a specific proposal. Unlike previous presidents, President Obama chose to delegate the planning to Congress. That way they could debate and that would solve most of the problem with finding agreement between the Executive and Legislative branches.

At least, that was the idea. What happened was a lot of political maneuvering that became very unpopular in the public eye. The Individual Mandate requiring everyone to have health insurance was one such item that lost popularity. Without that key element, the numbers just would not add up.

There was more compromise to come. To fund the legislation, the Democrats in the House called for taxing the rich while the Senate thought taxing the drug and insurance companies would work. An agreement was finally met and health-care reform was past. Although the idea of universal health-care was popular when they began, by the time the legislation was passed, it was unpopular, especially among conservatives.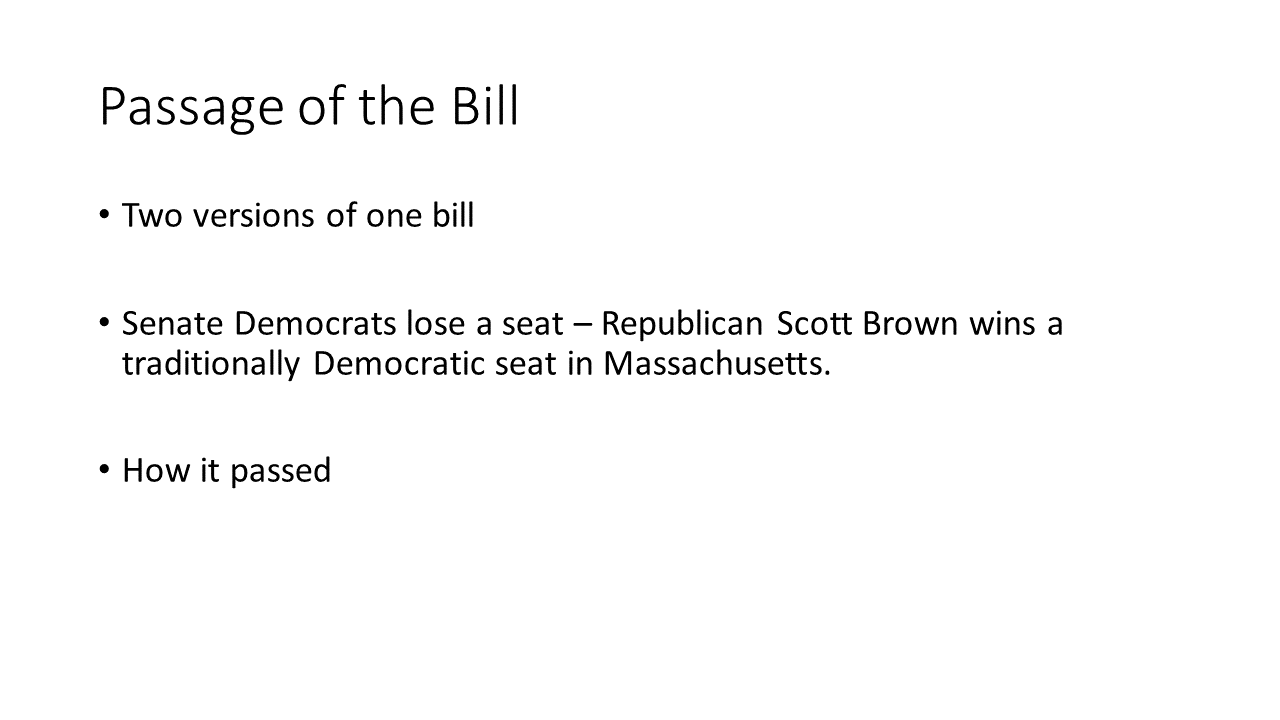 There was a bumpy road to getting the healthcare bill passed. In 2009, the Senate passed their version of the bill, but the House and the Senate were working with two different versions of the healthcare bill. Normally, the process would have been to reconcile the two versions of the bill in a conference committee, but in 2010, a seat opened up in the Senate and was filled by a Republican in a special election, which meant the Democrats lost their 60th vote. Now, if the two chambers drafted a compromise bill, the Senate would have to vote on it again, and without the 60th vote, it was doomed to fail.

The only solution the Democrats had before the whole reform idea would collapse was to get the bill that had already been passed through the Senate to pass through the House without any changes. With a bit of maneuvering, they were able to rally and get the votes they needed without getting a single Republican vote.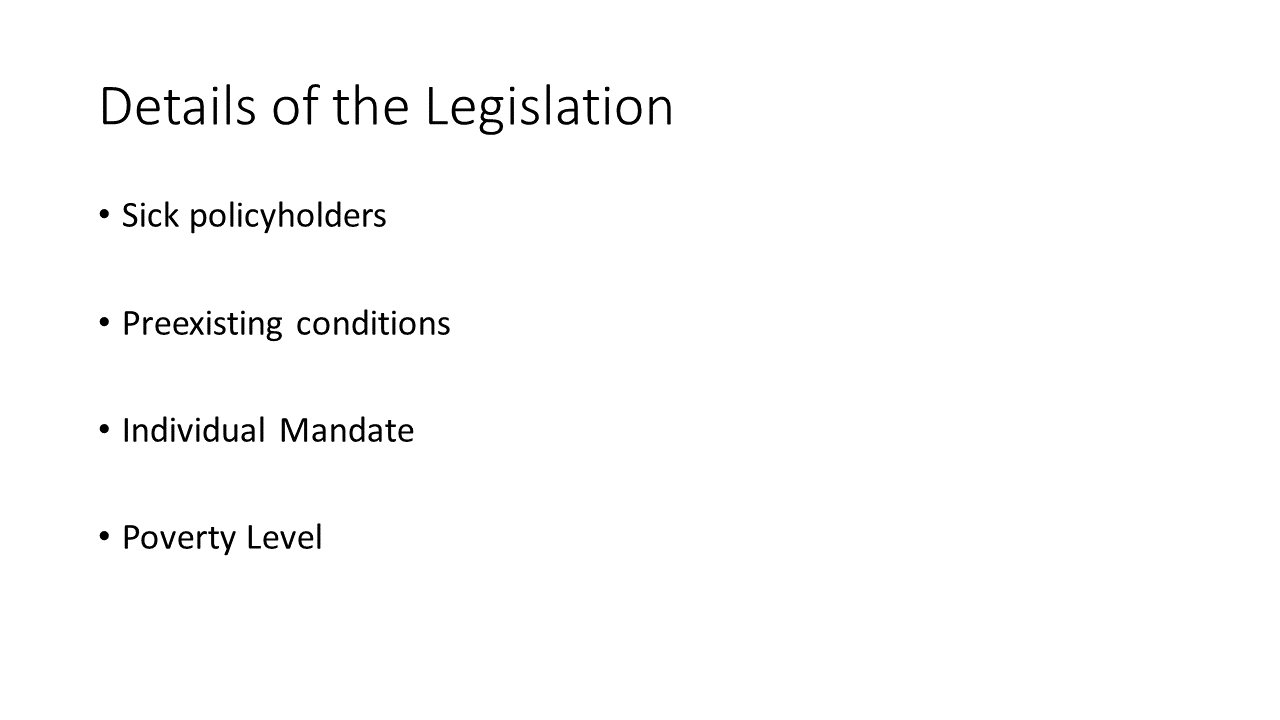 Obamacare was a monstrous, 906 page law with many details. Here are a few:

It was now illegal for an insurance company to drop a policyholder when they become sick.

People with preexisting conditions were now covered.

An individual mandate was placed on most people by use of a tax penalty.

For health care terms, the poverty level was raised significantly. A person qualified for subsidies if their income was up to four times the poverty level, and qualified for Medicaid if their income was up to 33% above the poverty level.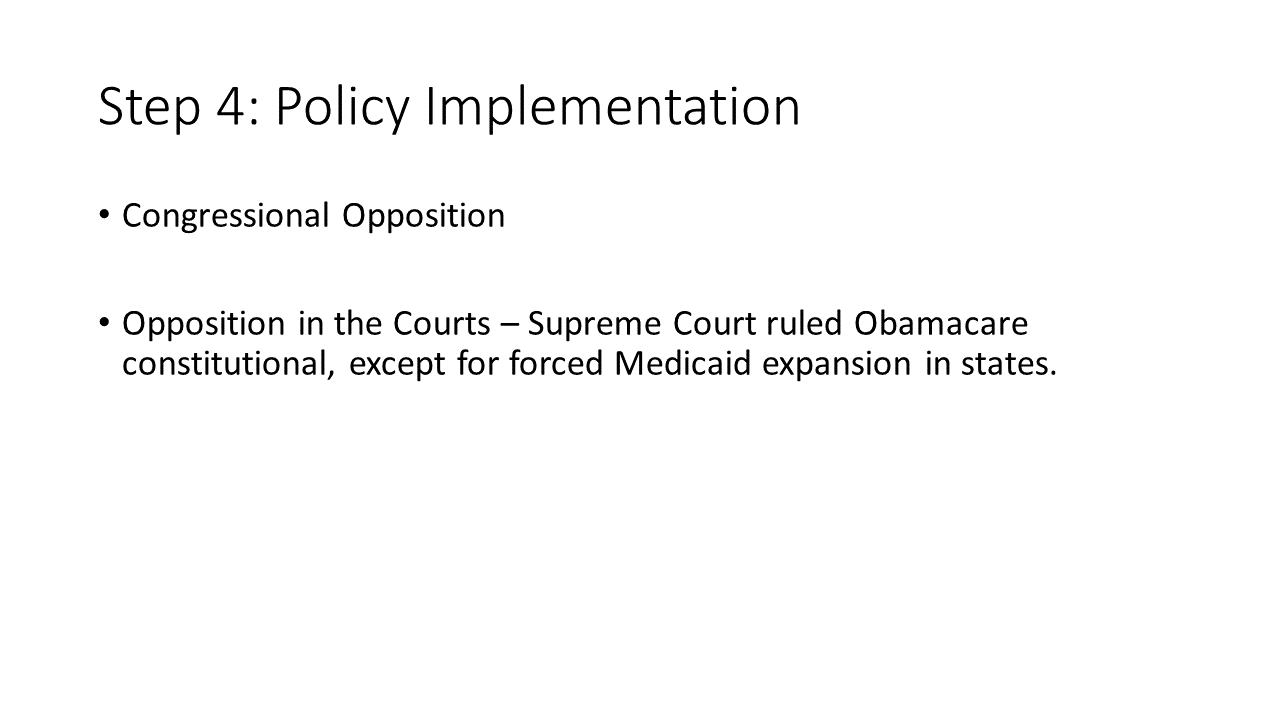 As we have already discussed, once Congress passes a law, it has to be implemented. That is up to the bureaucrats, the courts, and the people.

Obamacare was passed in the form of an entitlement program. Unless explicitly changed or abolished, funding continues year-to-year. Trying to defund any portion of it would result in the rest of it continuing to survive.

With such heavy opposition, Obamacare was tried in the courts. The Supreme Court ruled that it was constitutional except for one part where the federal government tried to force states to expand their Medicaid programs. A more recent challenge was when the Supreme Court clarified that premium tax credits were for qualifying individuals in all states, regardless of whether it had its own insurance exchange established or not.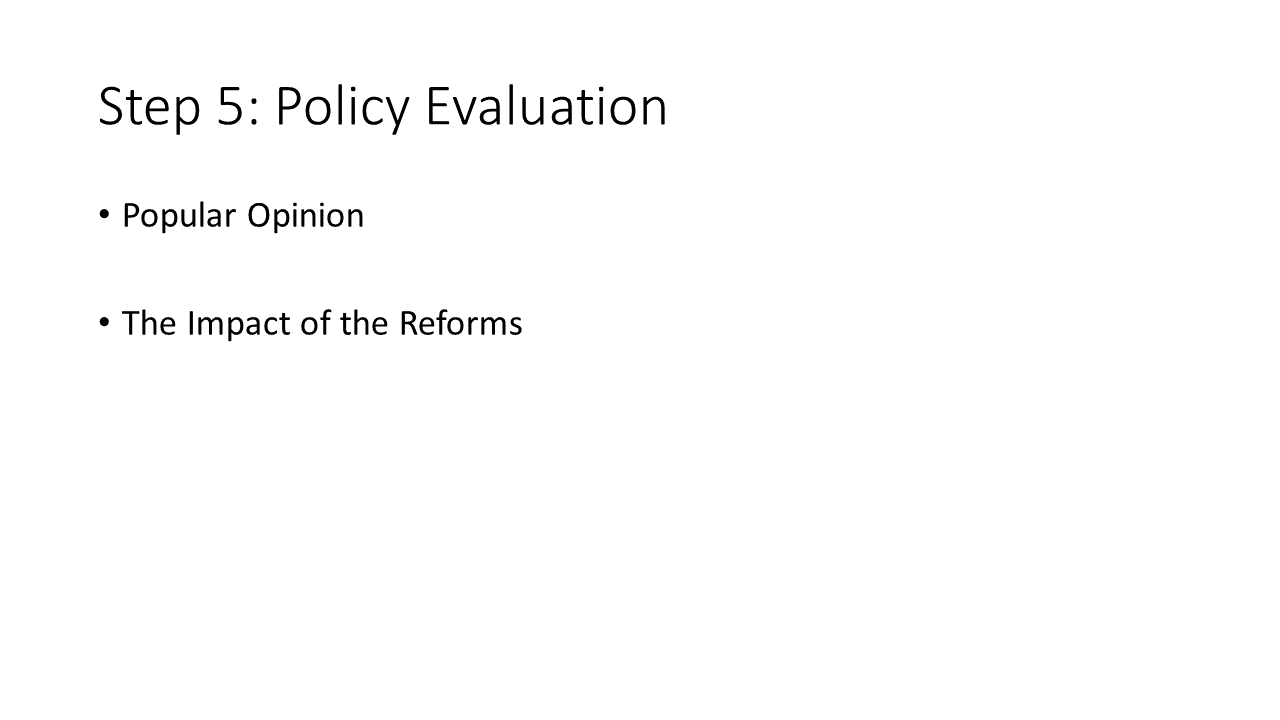 Once a policy is in place, it is far from over. The policy will get evaluated and new policymaking procedures could be implemented as result of its success or failure.

The Affordable Care Act is still not very popular. Many Democrats favor it while most Republicans oppose it. In addition, Medicaid, Medicare, and employer-provided insurance are still the preferred programs. The individual marketplace is not attracting too many customers so they are not getting to see the Act as it was designed to work.

Looking at the program as a whole, more people are insured. The nation's total bill grew, but the rate of increase may have shrunk. One of the reasons is that the Act includes measures to pressure physicians and hospitals to reduce costs.