Lesson Objectives:
- Foreign policy
- National security policy and defense policy
- Idealism versus realism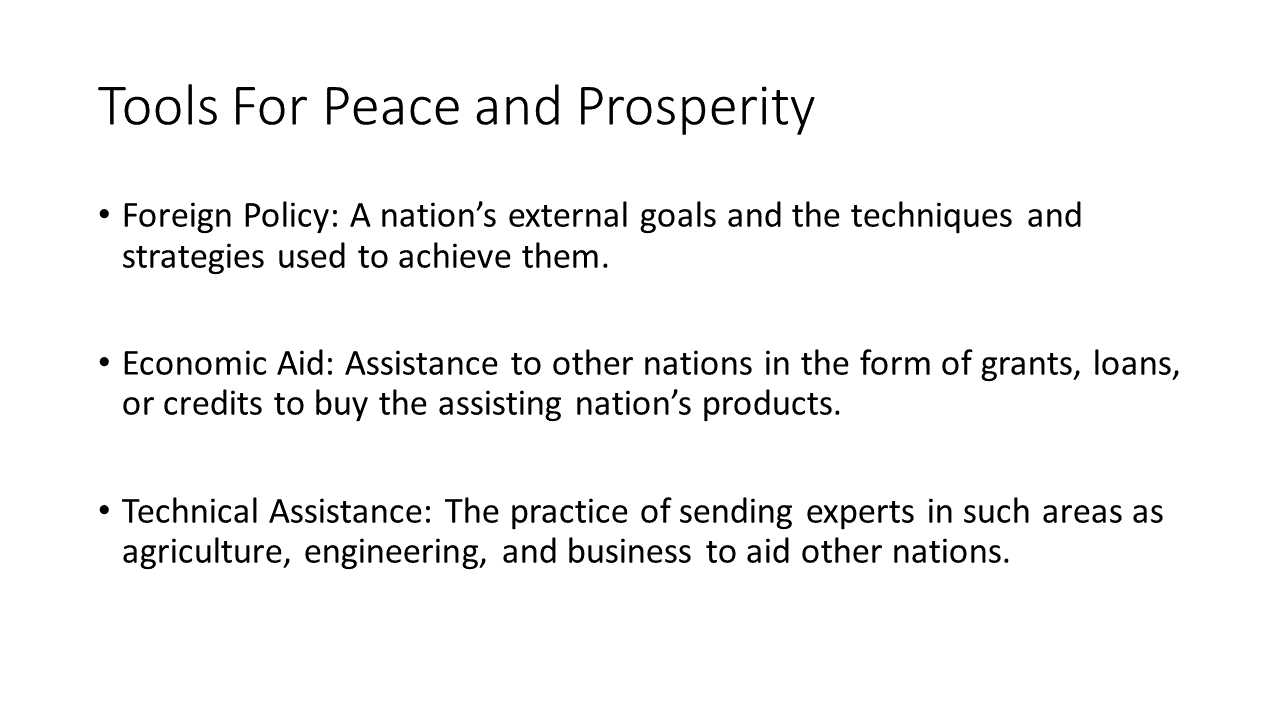 In order for our nation to get along in this world that constantly challenges our peace and prosperity, we need the right tools. One tool in particular is Foreign Policy, a nation's external goals and the techniques and strategies used to achieve them.

The Techniques and Strategies necessary to achieve foreign policy begin with Diplomacy. That is the process by which states carry on political relations with each other -- the process of settling conflicts among nations by peaceful means.

Another foreign policy tool is Economic Aid, which is assistance to other nations in the form of grants, loans, or credits to buy the assisting nation's products.

We can also use Technical Assistance, the practice of sending experts in areas like agriculture, engineering, and business in order to aid other nations.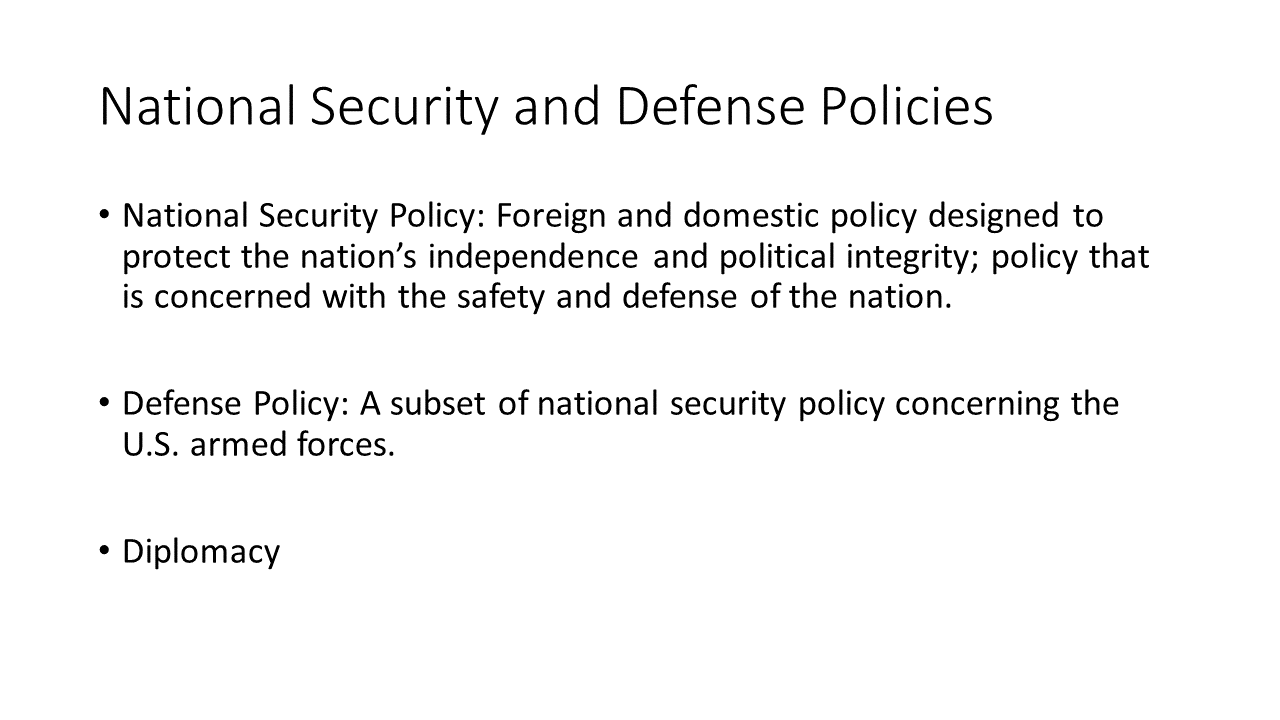 National Security Policy includes both our foreign and domestic policy designed to protect the nation's independence and political integrity; it is concerned with the safety and defense of the nation.

Defense Policy is a subset of national security policy and concerns the U.S. armed forces. Defense policies are proposed by the leaders of the armed forces and the Secretary of Defense.

Using peaceful methods to settle disputes between nations is what is specifically meant by diplomacy, but also includes the negotiating techniques employed when it comes to carrying out its foreign policy. Of course, negotiation is only possible if the parties are willing.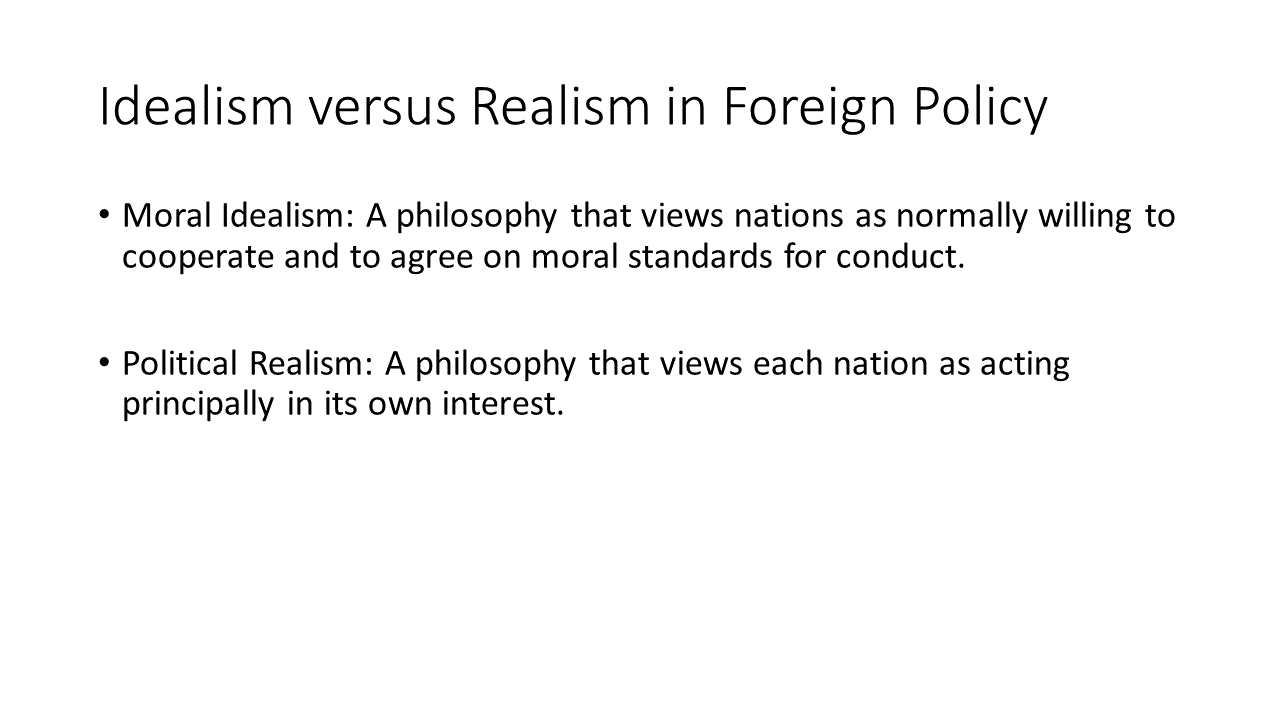 Since the United States became a world power, Americans came to believe that our political and moral values should guide our foreign policy.

That established our Moral Idealism, which is a philosophy that views nations as normally willing to cooperate and to agree on moral standards for conduct. Moral idealism has guided many of our foreign policy initiatives. Our foreign aid is one shining example.

But then, there is our Political Realism. That is a philosophy that views each nation as acting principally in its own interest. Realists view the world as one in conflict with each country having its own selfish agenda to get whatever it can get by any means necessary. Our strong military shows the world that we are prepared to protect our interests.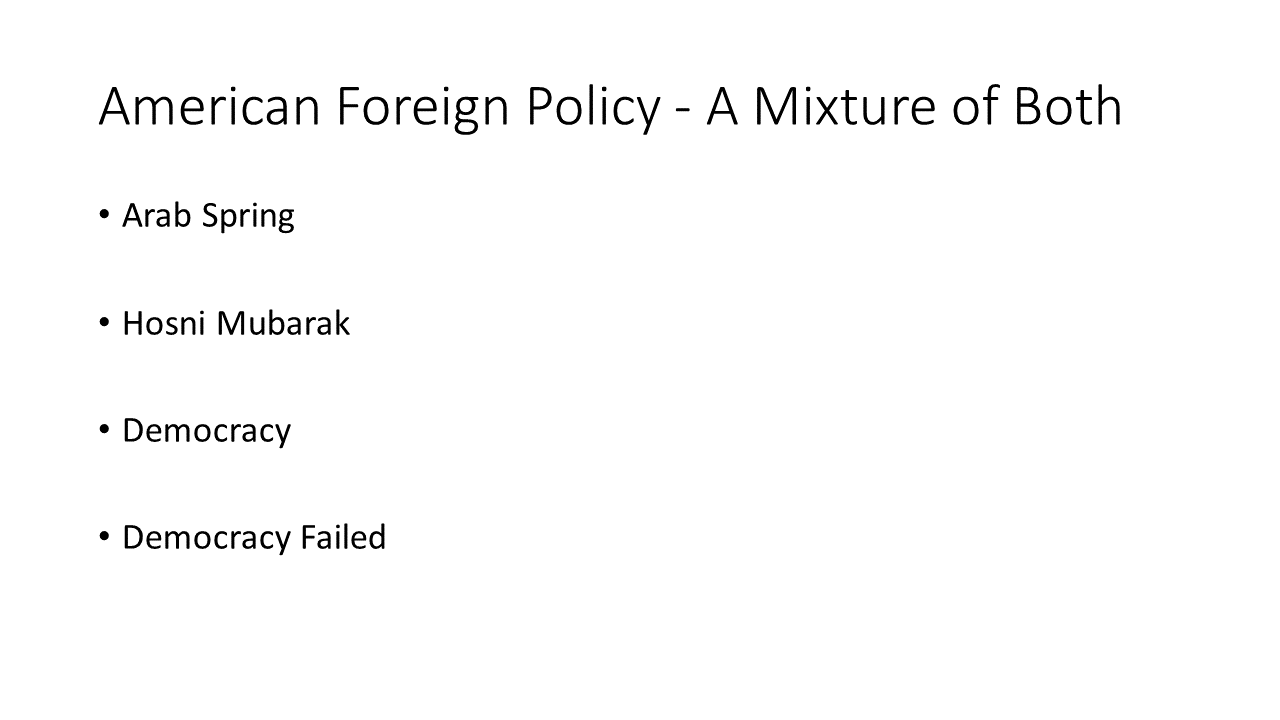 Our foreign policy has often been a mixture of both moral idealism and political realism. The Arab Spring was an example of what happens when the two principles conflict.

Based on political realism, the United States had cultivated long-standing relationships with dictators in various countries in the Middle East. When a series of protests started popping up throughout the Middle East, President Obama and former Secretary of State Hillary Clinton took the idealistic perspective and thought we could support democracy. In Egypt, this experiment came to an end when the military seized power, sweeping the dictator Hosni Mubarak from office and ending any notions of democracy. In Libya, the dictator Muammar Gaddafi was overthrown and killed, and the country was divided among multiple rebel factions with rampant violence and religious extremism on the rise. In Syria, the rebellion against the dictator Bashar al-Assad turned into a stalemate with the government inflicting horrifying casualties on the civilian population.

President Obama and Hillary Clinton had believed that idealism and realism were working together in the name of democracy. In the end, however, Obama had to admit that our relations with many of those countries was back to being based on political realism.