Lesson Objectives:
- Nuclear weapons and proliferation
- Negotiations with Iran
- Negotiations with North Korea
- China and Chinese nationalism
- Israel and the Palestinians




The U.S. became the first to possess a nuclear weapon in 1945, but it was not long before the Soviet Union, Britain, France, and China also gained nuclear weapons. In addition, other countries such as India, Pakistan, North Korea, and Israel are believed to have nuclear bombs or the capability to produce them.

There are approximately 22,000 nuclear warheads that we know of that are stocked worldwide. The U.S. and Russia dismantled many of their nuclear weapons after the Cold War ended but both countries still have sizable nuclear arsenals.

The Cold War was an ideological, political, and economic confrontation between the United States and the Soviet Union following World War II. It is generally considered to have ended in 1991, when the Soviet Union collapsed.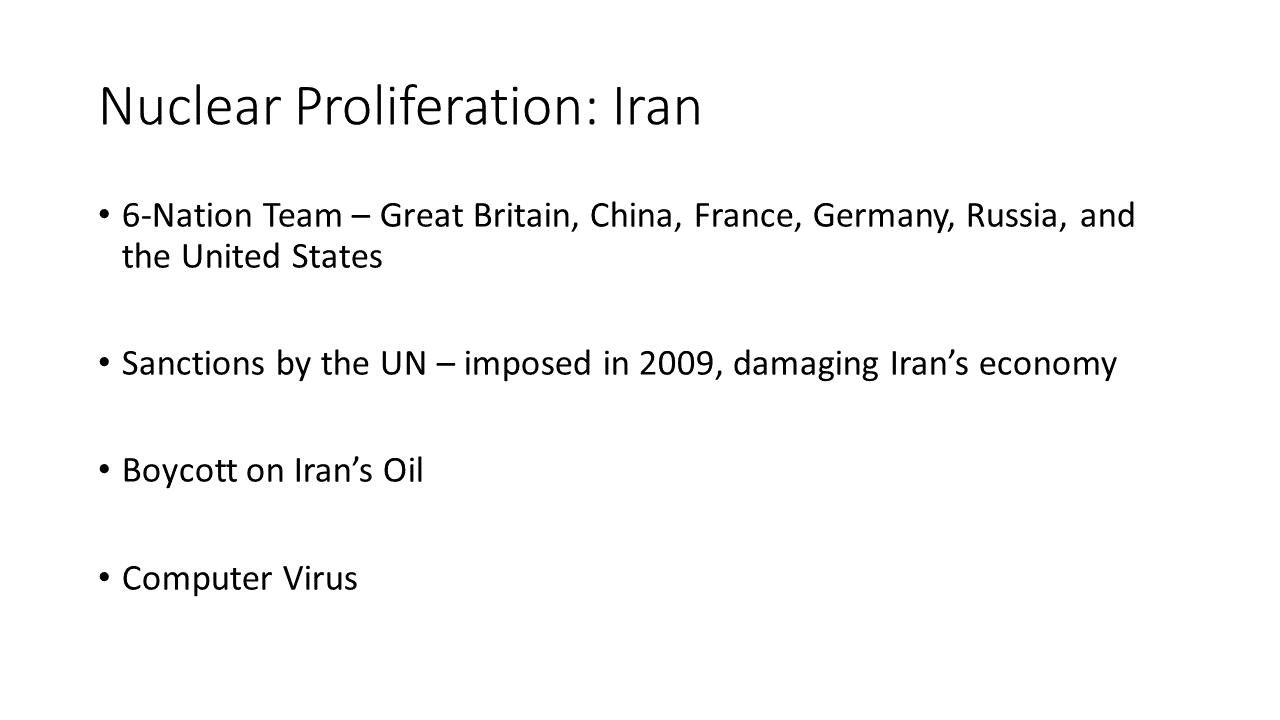 Britain, China, France, Germany, Russia, and the United States make up the group of nations that started talking to Iran about ending its nuclear program. The leaders of Iran claimed that their only interest was in developing nuclear power for peaceful purposes, but by 2009, the United Nations had voted for three rounds of sanctions against Iran.

The effects of the sanctions on Iran's economy were clearly visible by 2012. In addition to the sanctions imposed by the U.N., the United States was influential in talking other countries into boycotting Iranian oil, and in a totally different type of attack, the U.S. destroyed many of Iran's nuclear enrichment centrifuges using a sophisticated computer virus.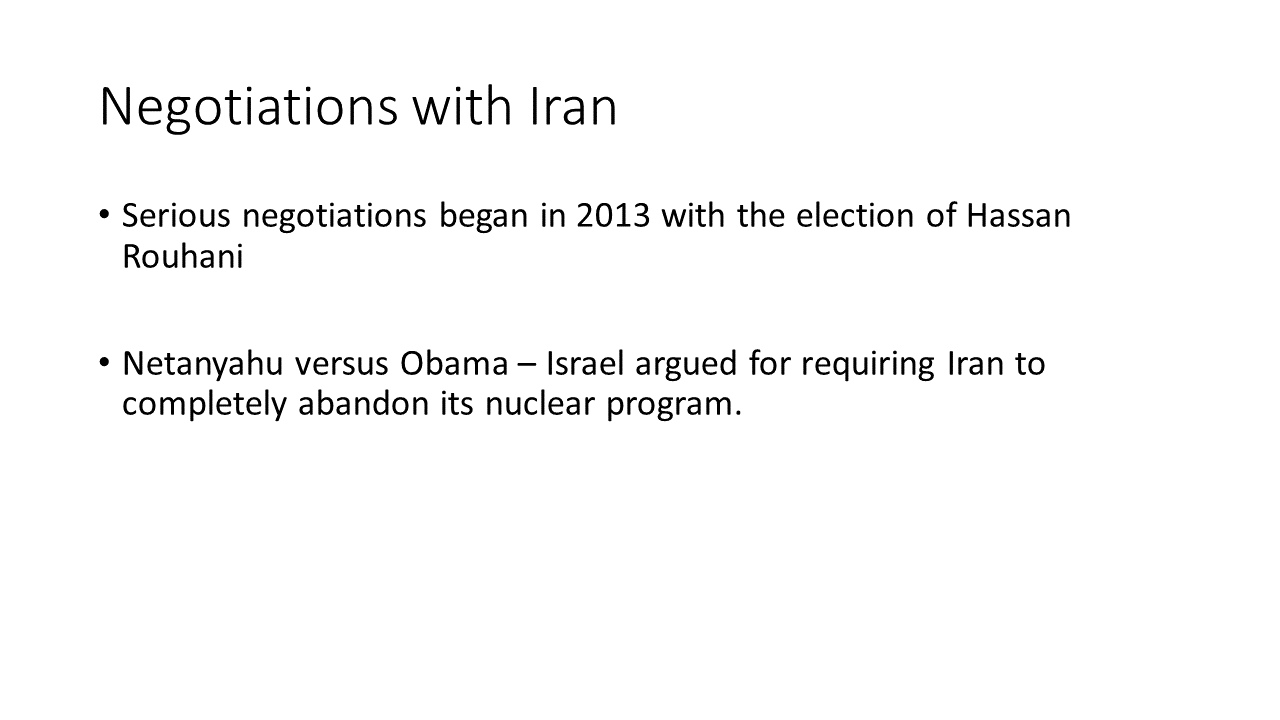 Talks with Iran produced no results, but a new Iranian president named Hassan Rouhani was elected in 2013 and he invited negotiations with the six-country team. They worked out an agreement that would limit Iran's nuclear program in return for lifting most of the sanctions.

However, there was opposition to the agreement on all sides including from hard-line elements in Iran. Republicans and some Democrats in Congress were opposed to the deal. They argued that the sanctions had clearly been effective in crippling the Iranian economy and that the deal was lifting those sanctions in return for little concrete concessions. Nothing would stop Iran from continuing to fund terrorist groups that had until recently been killing American soldiers, and the limitations on the Iranian nuclear program would at best, delay their development of nuclear weapons.

House Republicans invited Israeli prime minister Benjamin Netanyahu to address Congress in 2015. When asked about the deal, Netanyahu argued that Iran needed to abandon its nuclear program altogether as well as abandon support for the al-Assad regime and Shiite forces. But, it also wanted Iran to recognize Israel. It was observed that President Obama was not consulted before inviting Netanyahu and that was viewed as a possible attempt to turn U.S.-Israel relations into a partisan issue.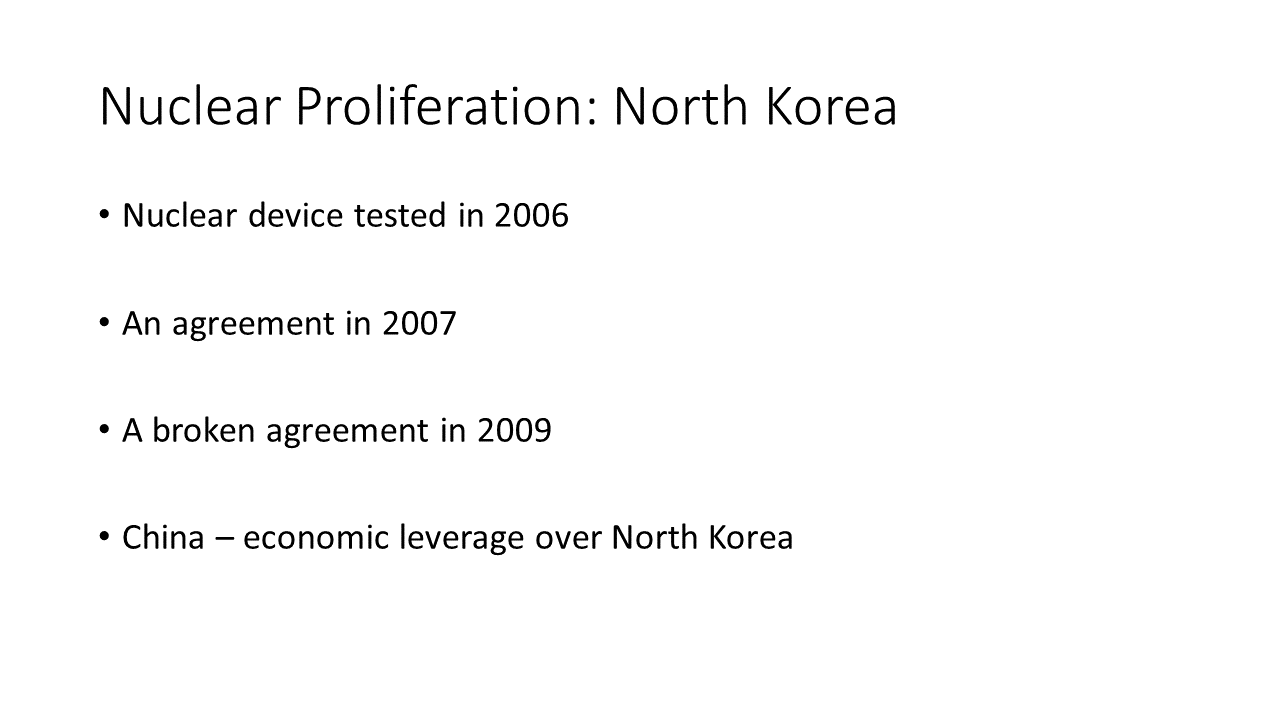 When North Korea tested a nuclear device in 2006, the UN had a problem. By 2007, an agreement was reached and North Korea was to begin disabling its nuclear facilities as well as grant UN inspectors access.

By 2009, North Korea had backed out of the deal and stopped negotiating. Pressure was put on China to get them back to the negotiating table because China has economic leverage.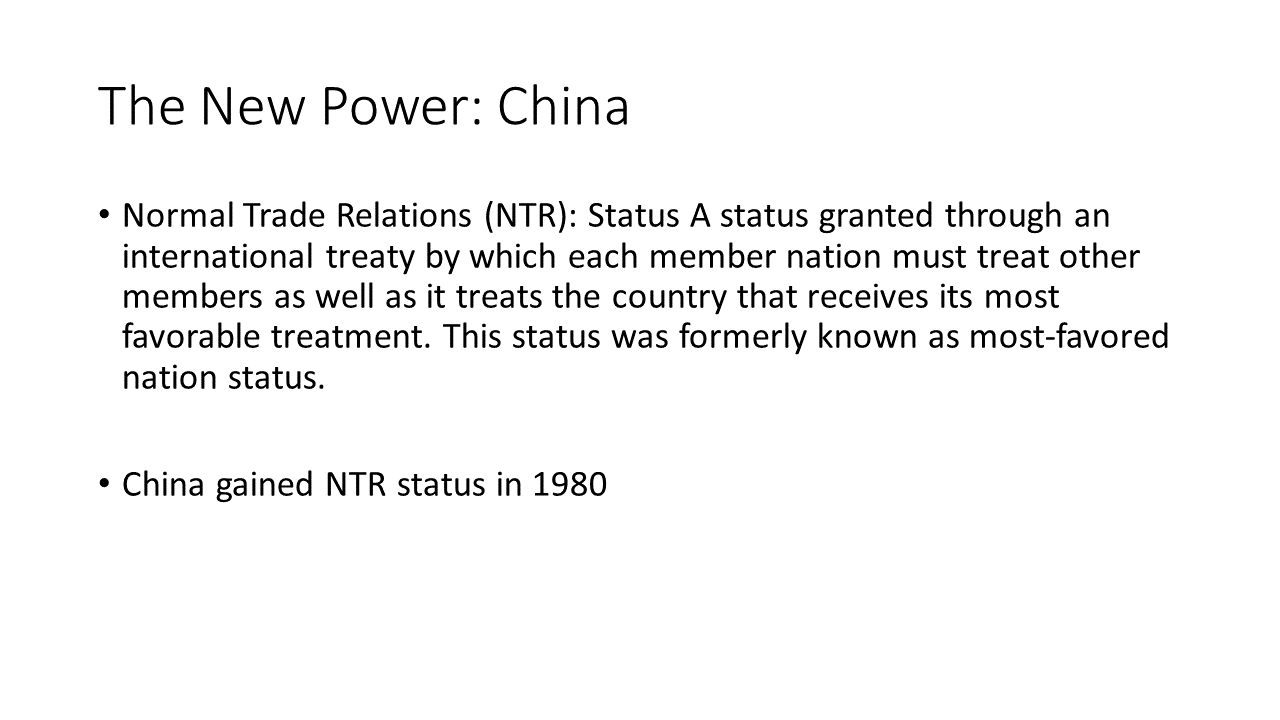 The American policy toward China is to build a diplomatic and economic relationship. The trade ties have become a very important factor and China was granted NTR Status in 1980.

NTR Status, or normal trade relations status, is a status granted through an international treaty which basically means that China is subject to the same tariffs and trade policies as most other U.S. trade partners.

There is some imbalance. China exports far more than it imports, and as a result, has been able to stock up on U.S. treasuries. This imbalance has created financial problems in both countries. Negotiations about the imbalance have been challenging, but China has been willing to take some steps to allow its currency to rise a bit relative to the dollar and has also moved to increase its domestic consumption.

The growth of China's economy in just the last three decades has been at a higher rate than any in history. Their steel production has surpassed America's and Japan's combined. They produce 40% of the world's cement. In 2007, they surpassed the U.S. in passenger automobile manufacturing. With all of its growth and stability, it is moving up quickly as a world superpower.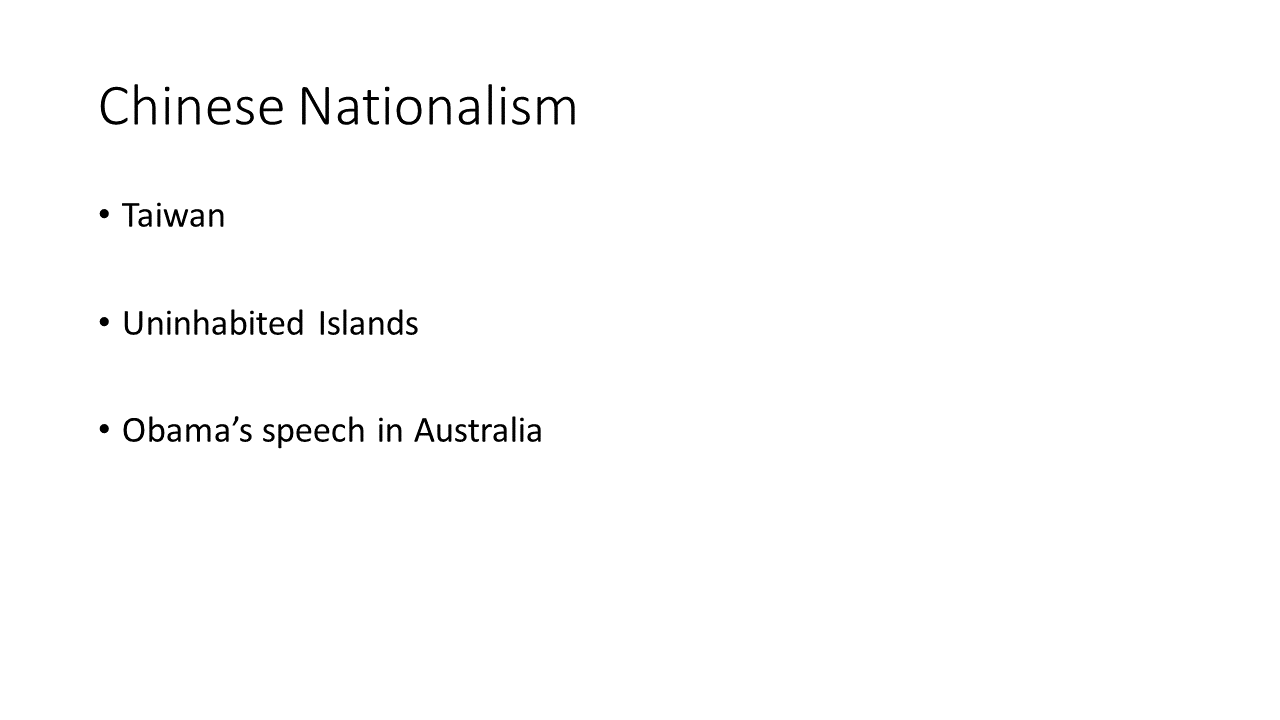 China considers Taiwan to be part of Chinese territory. So far, it has not shown any intentions of using force to reunify Taiwan with China.

Uninhabited islands in the East China and South China seas have caused disputes between China and Japan, the Philippines, Vietnam, and other Asian nations. To reassure nations in the area that were concerned about Chinese pressure, President Obama made a trip to Australia and promised to station a U.S. force at Darwin, on Australia's north coast.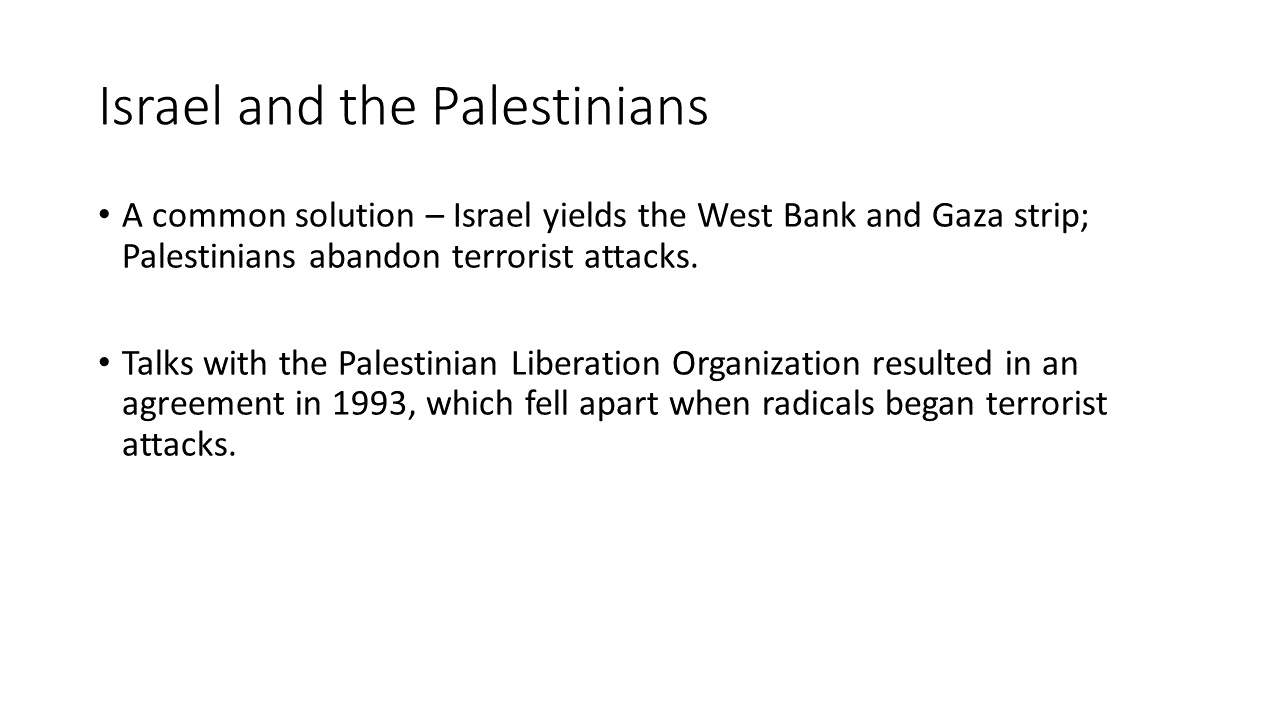 The conflict between Israel and the Palestinians began in 1948 when Israel was established. There has been a constant struggle since then even though a solution many people seem to agree with is to yield the West Bank and the Gaza Strip to the Palestinians while the Palestinians agree to abandon their terrorist attacks on the Israelis.

Neither have been able to live up to this agreement.

The Palestinian Liberation Organization (PLO) entered into talks with the Israelis in 1991. They reached an agreement in 1993 that a Palestinian self-government would be set up in the West Bank and the Gaza Strip.

Palestinian radicals rejected the agreement and started terrorist attacks in Israeli cities. So, the Israeli government brought tanks and troops to confront the terrorists.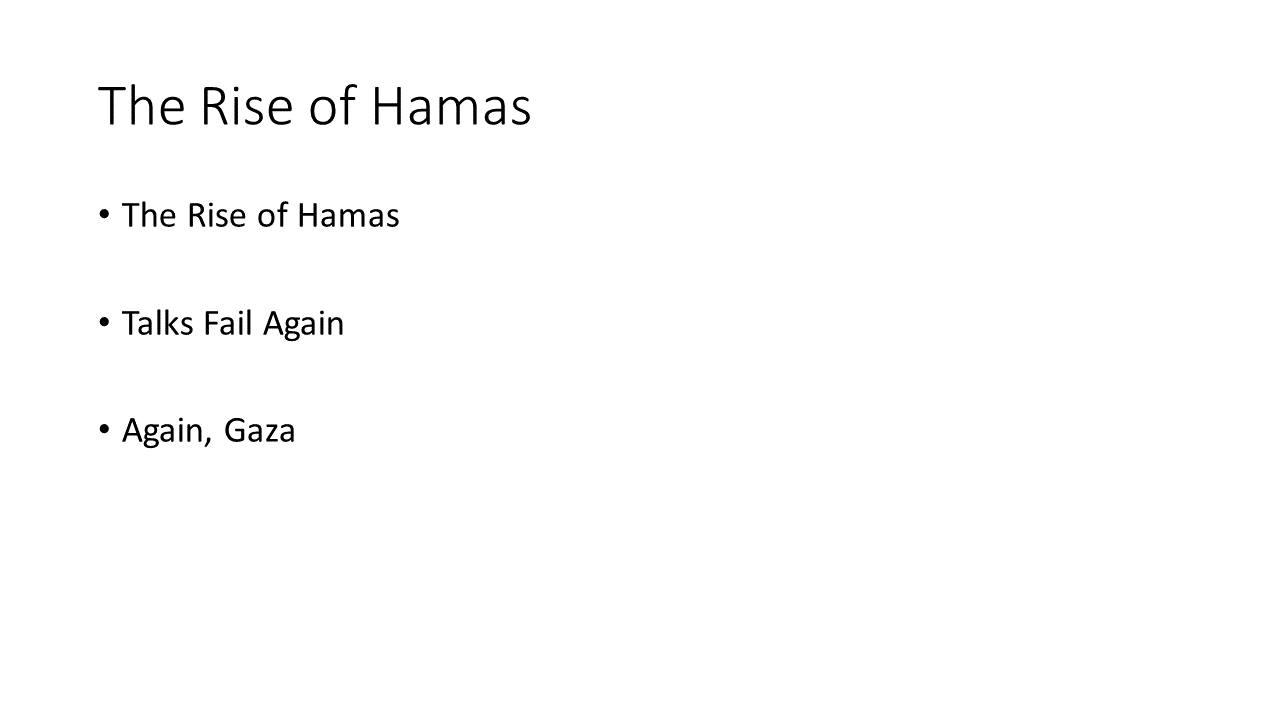 Hamas is a militant group that won the majority in the Palestinian legislature in 2006. Negotiations with Hamas did not even start before fighting broke out between Hamas and the PLO resulting in Hamas occupying Gaza.

Prime Minister Benjamin Netanyahu was elected in 2009 and accelerated the Israeli occupation of the West Bank. The Obama administration attempted to establish new talks, but by 2014 they had broken down again.

In the Gaza Strip, Hamas and Israeli forces were still fighting in June of 2014. Israel blamed Hamas for the murder of three Israeli youths and started arresting hundreds of Hamas members. Hamas fired rockets into Israel, Israel bombed Hamas, and a ceasefire was called for in August after almost two thousand fatalities and massive destruction. Most of the world condemned Israel for their response, but the U.S. had always historically taken the side of Israel.

The Obama administration continued to support Israel, but the relationship between Israel and the U.S. showed a bit of strain. That was basically because the Obama administration had given up on the whole peace process idea, and also due to Netanyahu's strong opposition to negotiations with Iran.