Lesson Objectives:
In this lesson, we will go back and take a closer look at the concept of noun gender and learn the main rules for determining gender. We will then learn some common nouns for items found in a classroom.

Vocabulary:
teléfono - telephone
lámpara - lamp
calculadora - calculator
basurero - trash can
mochila - backpack
cuaderno - notebook
bolígrafo - pen
escritorio - desk
carpeta - folder
pizarra - blackboard
sala de clase - classroom
tiza - piece of chalk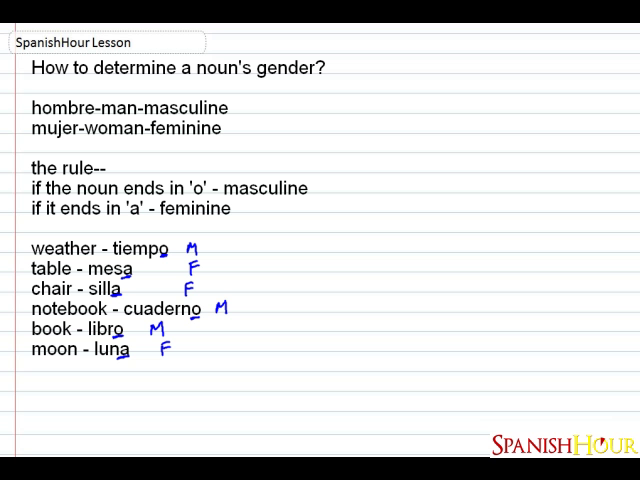 So now we know to match the article with the noun in both gender and number. But how do we determine a noun's gender.

Well with words like "hombre", meaning man, and "mujer" meaning woman, the gender makes sense. But most nouns are not as obvious. The most common rule for determining if a noun is masculine or feminine is that if the noun ends in 'o', it's masculine; if it ends in 'a', it's feminine.

Let's take a look at a list of words where this rule applies:
weather-tiempo
table-mesa
chair-silla
notebook-cuaderno
book-libro
moon-luna

So applying this rule:
tiempo ends in 'o', it's masculine
mesa, 'a', feminine
silla ends in 'a', feminine
cuaderno, masculine
libro, masculine
luna, feminine

Note that this rule applies to most nouns that end in 'a' or 'o'. There are many nouns that end in other letters. In the exercises for this lesson, you'll learn more rules for determining noun gender.