Lesson Objectives:
In this lesson, we will learn how the use of articles and gender can change when using nouns that refer to people. We will also learn a few common nouns related to identifying a person's profession or identity.


Vocabulary:
dentista - dentist
profesor - professor or teacher
artista - artist
alumno - student
paciente - patient
compañero de clase - classmate
amigo - friend
madre - mother
padre - father
doctor - doctor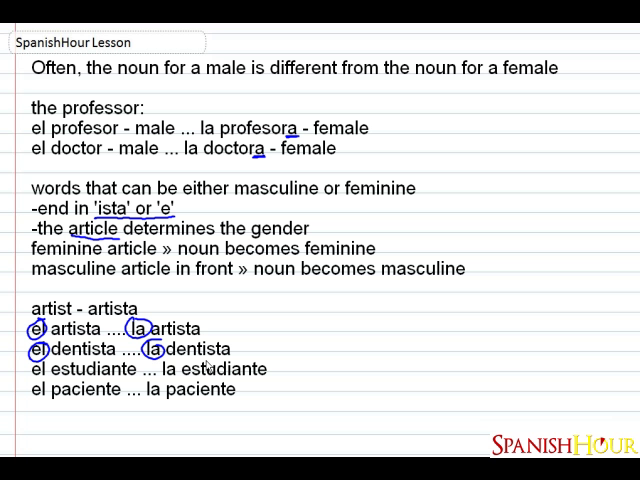 Let's talk about determining gender for words that refer to people. For a lot of titles for people, the noun for a male is different from the noun for a female. Take, "the professor" for example.

If you want to translate this to Spanish, "el profesor" would be a male professor, "la profesora" would be a female professor.
"el doctor", male doctor; "la doctora", a female doctor

As you can see, the title for a female usually ends in 'a'.

This isn't always the case, though. There are some words referring to people that can be either masculine OR feminine. These words end in 'ista' or 'e'. For these words, the gender is determined by the article.

So in other words, if you put a feminine article in front; then the noun becomes feminine and you're referring to a female. If you put a masculine article in front, the noun becomes masculine.

For example, artist is 'artista' in Spanish; it doesn't matter whether you're talking about a man or a woman--it's still 'artista' with an 'a'.

Now if you want to talk about a male artist; you say "el artista"; you want to talk about a female, it's "la artista."
"el dentista" would be a male dentist; "la dentista" is a female dentist
"el estudiante", a male student; "la estudiante", a female student
"el paciente", "la paciente"; you're talking about male or female pacients.

To review, if a noun ends in 'ista' or 'e', it's the article that determines the gender.