Lesson Objectives:
In this lesson, we will learn about adjective-noun agreement, and when and how adjectives should be modified in order to match the noun they are describing in gender and in number. We will also learn some common descriptive adjectives.

Vocabulary:
alto - tall
bajo - short (talking about height)
pelirrojo - red-headed
moreno - dark-haired
rubio - blonde
joven - young
viejo - old
gordo - fat
delgado - thin
feo - ugly
nuevo - new
grande - big
pequeño - small
rápido - fast
lento - slow
largo - long
corto - slow (talking about length)
difícil - difficult
guapo - good-looking
fácil - easy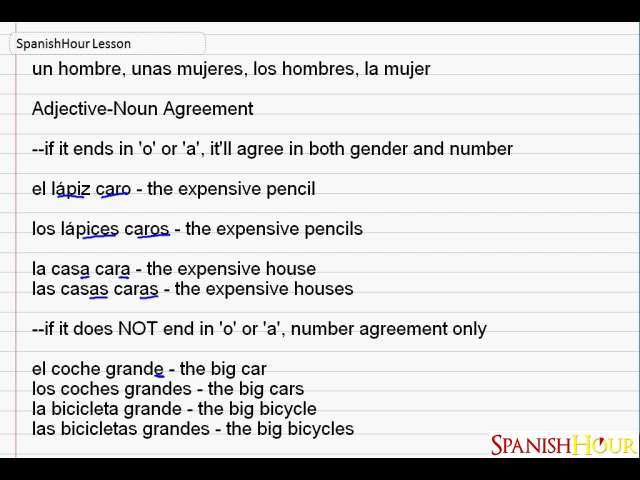 You've learned that the article needs to agree with the noun it comes before in both gender and number.

For example, UN hombre, UNAS mujeres, LOS hombres, LA mujer.

In the same way, adjectives must also agree with the noun.

If the adjective ends in 'o' or 'a', then it will agree in both gender and number.

For example, "caro" is an adjective that means "expensive".

"el lápiz caro" means "the expensive pencil". Notice that lápiz is masculine and singular, so caro is also masculine and singular.

"los lápices caros" means "the expensive pencils". In this case, "lápices" is plural, so "caros" is now plural.

Let's look at two other examples. "la casa cara", which means the expensive house, "las casas caras", which means the expensive houses. Notice that since "casa" is feminine, "caro" has become "cara", which is feminine.

Casas caras are both feminine plural.

Now, if the adjective does not end in 'o' or 'a', then you only have to worry about number agreement--is the noun plural or singular?
"El coche grande" means "the big car"
"los coches grandes", "the big cars"
"la bicicleta grande", the big bicycle
"las bicicletas grandes", the big bicycles

As you can see, since grande does not end in 'o' or 'a', it only changes from singular to plural-it doesn't matter if the noun is masculine or feminine.