Lesson Objectives:
In this lesson, we will learn the singular subject pronouns -- I, you, he, and she. We will then cover the names of some of the most common academic subjects.

Vocabulary:
alemán - German
chino - Chinese
español - Spanish
francés - French
inglés - English
la lengua - the language or tongue
ciencias naturales - natural sciences
humanidades - humanities
biología - biology
física - physics
ingeniería - engineering
matemáticas - math
química - chemistry
antropología - anthropology
arqueología - archeology
historia - history
la música - the music
el arte - the art
negocio - business
la materia - the subject (referring to an academic subject or course of study)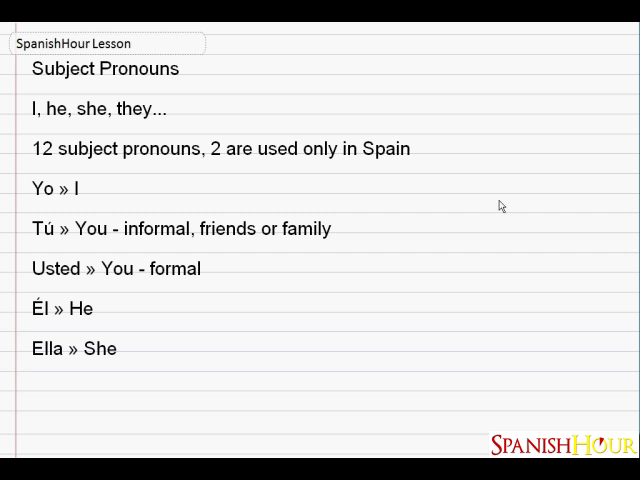 In this lesson, we will look at subject pronouns. Subject pronouns are used in place of the subject. In English, they include I, he, she, they, etc..

There are 12 different subject pronouns in Spanish, two of which are only used in Spain.

The first subject pronoun is...

Yo, which means 'I' - Yo

Tú means 'You'. It is an informal way to say "you." It should only be used with friends or family. Tú.

Usted also means You, except it's more formal. You will often use 'usted' with someone you've just met or with someone that you have a professional relationship with—for example, your doctor.

Él means 'he'. Él.

Ella means 'she'. Ella.