Lesson Objectives:
In this lesson, we will learn the plural subject pronouns for we, you all, and they. We will also cover the days of the week and related words.

Vocabulary:
el lunes - Monday
el martes - Tuesday
el miércoles - Wednesday
el jueves - Thursday
el viernes - Friday
el sábado - Saturday
el domingo - Sunday
el fin de semana - the weekend
hoy - today
mañana - tomorrow
el horario - the schedule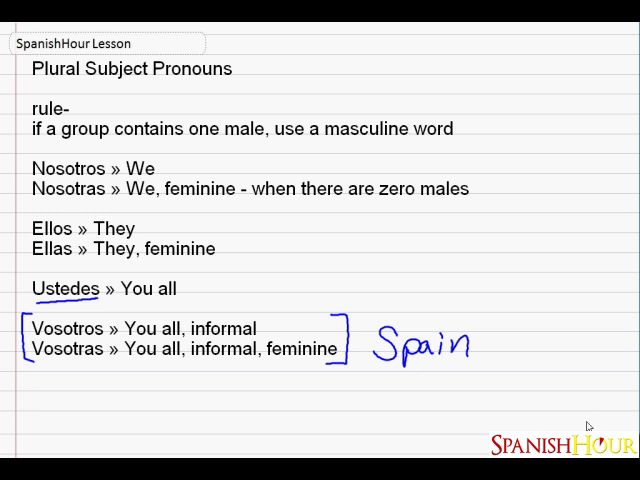 We are now going to look at subject pronouns that refer to more than one person.

First, you should know that in Spanish, a general rule is that if a group contains even one male, you use a masculine word to refer to the group.
So let's take "we" for example:
Nosotros means 'we.'
Nosotras means 'we', but it's feminine. You would only use 'nosotras' if the entire group is female.

Ellos means 'they'.
Ellas means 'they', but it's feminine. Again, you'd use it only if the entire group is female.

Ustedes means 'you all'.

Vosotros means 'You all' but it's informal. Basically, it's the plural form of 'tú'.

Vosotras is 'You all', informal, but it's feminine. Again, it'd be used only for an all female group.

Note that vosotros and vosotras are used ONLY in Spain. In every other spanish-speaking country, 'ustedes' is the only way to say 'you all'. It is used regardless of formality.