Lesson Objectives:
In this lesson, we will discuss when and how the present indicative tense of a verb is used, since which tense you should use when translating from English to Spanish is not always obvious. We will also learn a few more useful verbs and then work on forming some longer sentences.

Vocabulary:
acabar - to finish
buscar - to look for
empacar - to pack
investigar - to research
llamar - to call
llegar - to arrive
llevar - to take (i.e. to carry or to transport)
mandar - to send
practicar - to practice
tomar - to take (i.e. to grab something or to take your medicine)
terminar - to finish
usar - to use
visitar - to visit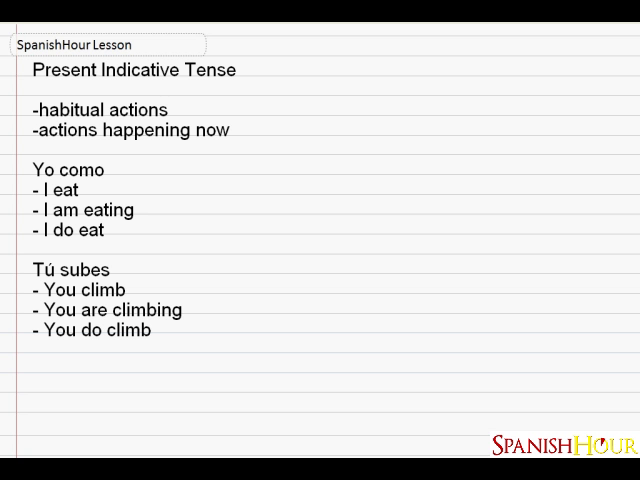 In this lesson, we have been learning to conjugate verbs in the present indicative tense.

Use the present indicative to describe habitual actions or actions happening right now.

For example, yo como could be used to say:
I eat, I am eating, or I do eat

Another example:
Tú subes could mean:
You climb, you are climbing, or you do climb




In Spanish, when you want to ask a question, just like in English, raise your voice at the end of the question.

For yes and no questions, you can simply add a word like:
--no?
--verdad? (verdad is like adding "right?" to the end of a statement)
--no es cierto? (this translates into "isn't it true?")

There are many interrogative words, such as:

"cuál" or "cuáles?" This means "which" or "what"
cómo? This means "how"
qué? This means "what"
por qué? Which means "why"

We will be covering these and many other interrogative words in the upcoming exercises.