Lesson Objectives:
In this lesson, we will learn our first "be" verb, "ser," and how it is conjugated. Since Spanish actually has two different verbs for "to be," we will spend some time discussing when you use "ser" instead of the other verb we will learn later, "estar." We will also learn some adjectives for describing personality.

Vocabulary:
atractivo - attractive
cómico - funny
excepcional - exceptional
fascinante - fascinating
inteligente - intelligent
organizado - organized
romántico - romantic
serio - serious
tímido - shy or timid
agradable - pleasant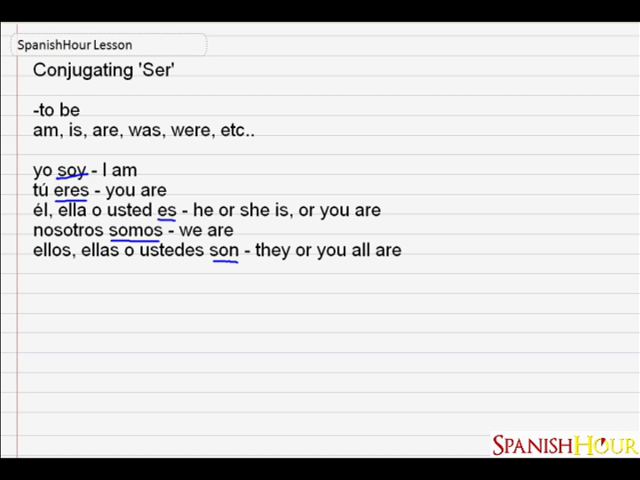 In the last lesson, we learned how to conjugate verbs in Spanish.

Unfortunately, there are some irregular verbs that don't follow the standard rules of conjugation.

In this lesson, we will learn about "ser". "Ser" is the verb "to be". In English, "to be" is conjugated as am, is, are, was, were, etc..
Am, is, are, was, were, etc.

Let's look at the list of conjugations for "ser":
Yo soy – I am
Tú eres – You are
Él, ella o usted es – He or she is, or you are
Nosotros somos - We are
Ellos, ellas o ustedes son – They or you all are

So to review, 'ser' can be conjugated as soy, eres, es, somos, or son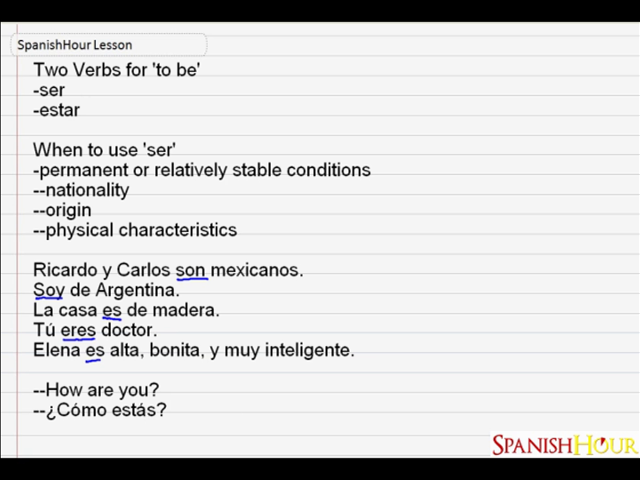 In Spanish, there are actually two different verbs that mean "to be".

The first is the one that you've just learned, "Ser".
The other is "estar". Sometimes you have to use 'ser', and in other cases, the proper verb to use is 'estar'.
We'll learn about 'estar' in a later lesson; for now, let's focus on when to use 'Ser'.

"Ser" is generally used for permanent or relatively stable conditions. If you're talking about someone's nationality, origin, physical characterstics, etc. you would use 'ser'.

Here are some examples of common uses of 'ser':
-Ricardo y Carlos son mexicanos. Ricardo and Carlos are mexican.
-Soy de Argentina. I am from Argentina.
-La casa es de madera. The house is wooden.
-Tú eres doctor. You are a doctor.
-Elena es alta, bonita, y muy inteligente. Elena is tall, pretty, and very smart.

So looking at each of these sentences, here we used 'ser' because we're talking about nationality, which is fairly permanent.
Soy, I'm from Argentina, this is talking about origin, which is permanent.
La casa es, the house is made of wood, that's permanent.
Tu eres doctor, talking about profession.
Elena es alta, talking about physical characteristics.

Now to give you an example of when you wouldn't use 'ser'-If you ask "how are you?", you would not use Como eres? You'd have to use the verb 'estar' – cómo estás?