Lesson Objectives:
In this lesson, we will learn how to say "and" in Spanish and also how to negate sentences. In the exercises, we will get some practice with the use and conjugation of "ser," and learn some new vocabulary for describing personality.

Vocabulary:
amable - kind or nice
antipático - unpleasant
bueno - good
envidioso - envious
hermoso - beautiful or lovely
bonito - pretty
listo - smart
malo - bad
perezoso - lazy or idle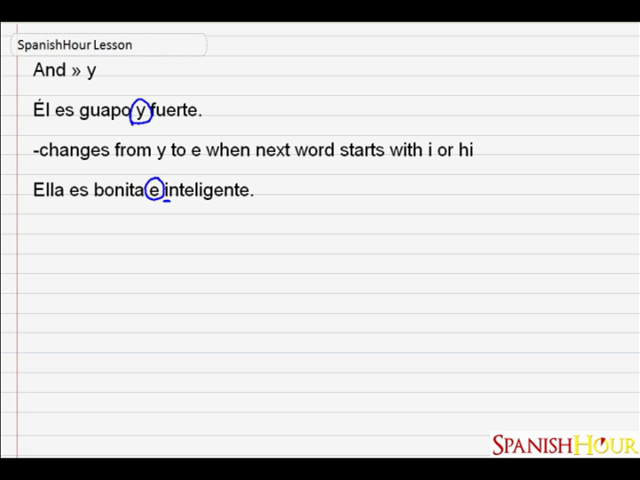 The word for 'and' in Spanish is 'y'

For example:
Él es guapo y fuerte. He is handsome and strong.

Note that it changes from a 'y' to an 'e' when the next word starts with 'i' or 'hi'

For example:
Ella es bonita e inteligente. She is pretty and intelligent.

As you can see, in the first example, we used a 'y', but in this last example, inteligente starts with an 'i', so we used the letter 'e' instead.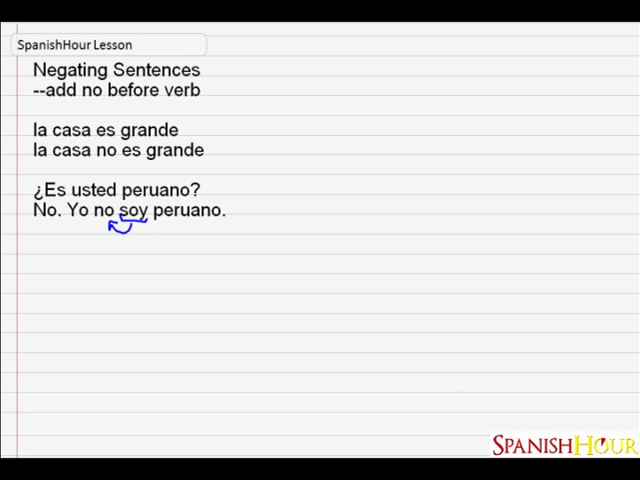 To negate a sentence, add 'no' before the verb.

For example, "la casa es grande" becomes "la casa no es grande".

If you're responding negatively to a question, you should add an additional 'no' to the beginning of your response.

Es usted peruano? Are you peruvian?

You respond "No. Yo no soy peruano."

Notice that the second 'no' comes right before the verb 'soy'.