Lesson Objectives:
In this lesson, we will learn how to specify at what time something happens and what part of the day it is (i.e. AM or PM). Finally, we will learn some phrases for describing activities people may do in their leisure time.

Vocabulary:
dar un paseo - to take a walk
alquilar videos - to rent videos
hacer ejercicio en el parque - to exercise in the park
pintar - to paint
tocar la guitarra - to play the guitar
escuchar música - to listen to music
practicar deportes - to play sports
navegar por internet - to surf the Internet
jugar al fútbol - to play soccer
mucho - a lot (referring to quantity)
pero - but
también - also
bailar en una discoteca - to dance in a club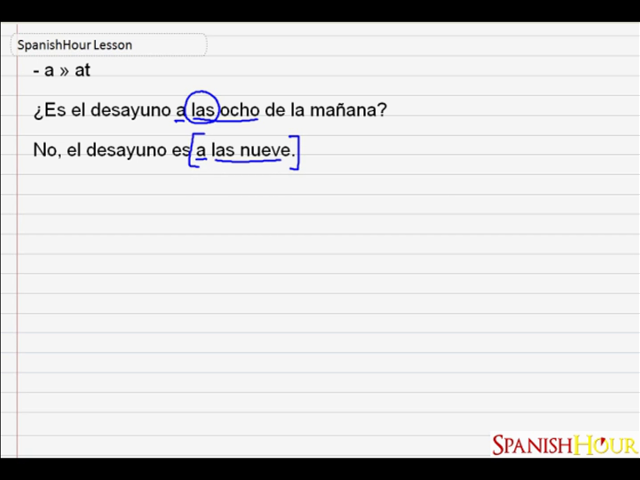 To say at what time an event happens, use 'a' and then the time.

'a' means 'at', in this case.

For example, "Es el desayuno a las ocho de la manana?".
Is breakfast at eight in the morning?

"No, el desayuno es a las nueve".
No, breakfast is at nine o'clock.

As you can see, we used 'a' to say 'at', and then 'las ocho' which literally means 'the eight'. Because we're talking about time, you have to use the article 'las' in front of the number. Here we used 'las nueve', which literally means 'the 9'. Together, "a las nueve" means "at 9 o'clock."




To specify the time of day, you use 'de la manana' for "in the morning", 'de la tarde' for "in the afternoon", and 'de la noche' for 'in the evening'.

Some examples are:
'La clase es a la una de la manana.' The class is at one in the morning.
'Son las once de la noche.' It's 11 at night.
'Son las cinco de la tarde.' It's five in the afternoon.

When expressing a general period of time, like for instance, whether something generally takes place during the morning, afternoon, or night, use 'por la manana," or 'por la tarde,' or 'por la noche.'

'Yo duermo por la noche.' means 'I sleep at night.'
'Tu comes por la tarde.' means 'You eat in the afternoon.'
'Ella corre por la manana.' means 'She runs in the morning.'