Lesson Objectives:
In this lesson, we will learn about the other "be" verb -- "estar." After learning how to conjugate it, we will cover some common situations which use "estar." Finally, we will cover some adjectives for describing emotions.

Vocabulary:
aburrido - bored
alegre - happy
contento - happy
feliz - happy
preocupado - worried
borracho - drunk
enojado - mad or angry
cansado - tired
decepcionado - disappointed
enamorado - in love
listo - ready
fascinado - fascinated
el examen - the exam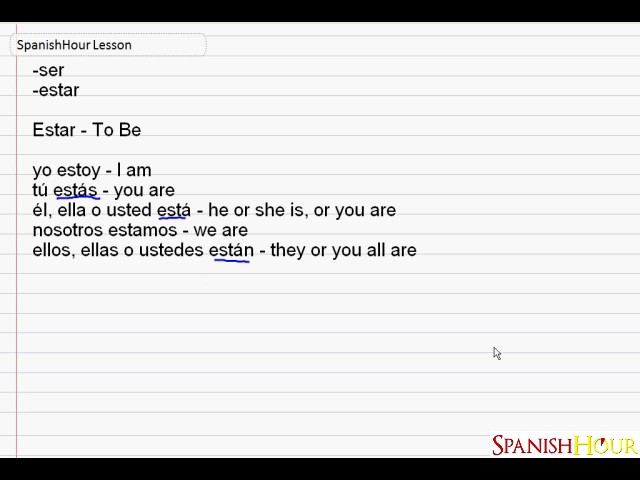 A couple of lessons ago, we mentioned that there are two verbs for "to be" in Spanish-'ser' and 'estar'

In this lesson, we will focus on 'estar'

First, let's look at how to conjugate 'estar'. It's an irregular verb, so you'll have to memorize the different forms:
Yo estoy - I am
Tú estás - You are
Él, ella o usted está - He or she is, or you are
Nosotros estamos - We are
Ellos, ellas, o ustedes están - they or you all are

Note the placement of the accent in estás, está, y están. It's important to remember the accent because there are other words that are spelled identically but have a different meaning.