Lesson Objectives:
In this lesson, we will go into more depth on the use of "ser" versus "estar," since this can often be a confusing concept for students to master. The vocabulary will cover some more adjectives for emotions.

Vocabulary:
entusiasmado - enthusiastic
nervioso - nervous
deprimido - depressed
seguro - sure
alterado - upset
calmado - calm
triste - sad
enfermo - sick
la entrevista - the interview
la reacción - the reaction
el ejemplo - the example
la actividad - the activity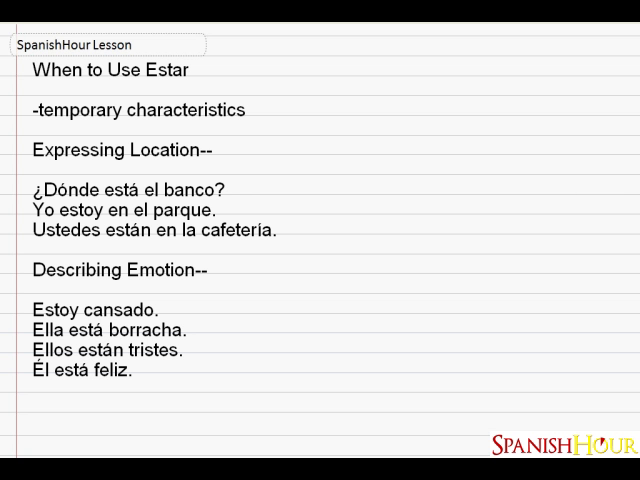 Let's talk about WHEN to use Estar

'Estar' is used when describing temporary characteristics.

One of the main uses of 'estar' is expressing the location of people, places or things. The location of some things, such as buildings, tends to be fairly permanent, but as long as you're talking about location, you use 'estar'

For example:
Dónde está el banco? Where is the bank?
Yo estoy en el parque. I am in the park.
Ustedes están en la cafetería. You all are in the cafeteria.

Another common use of 'estar' is describing emotion and other temporary states.

"Estoy cansado." I am tired. Note that even though we didn't include 'YO estoy cansado', the conjugation "estoy" indicates who the subject is - YO.

"Ella está borracha." She is drunk.

"Ellos están tristes." They are sad.

"Él está feliz." He is happy.