Lesson Objectives:
In this lesson, we will learn the verb "tener," which means "to have." Not only will we learn how it is conjugated, but through the vocabulary, we will see a bunch of special ways "tener" can be used which do not translate literally from English.


Vocabulary:
tener hambre - to be hungry
tener sed - to be thirsty
tener frío - to feel cold
tener prisa - to be in a hurry
tener sentido - to make sense
tener razón - to be right
tener ganas de - to feel like (doing something)
tener sueño - to feel sleepy
tener miedo - to be scared
tener calor - to be hot
tener que - to have to (do something)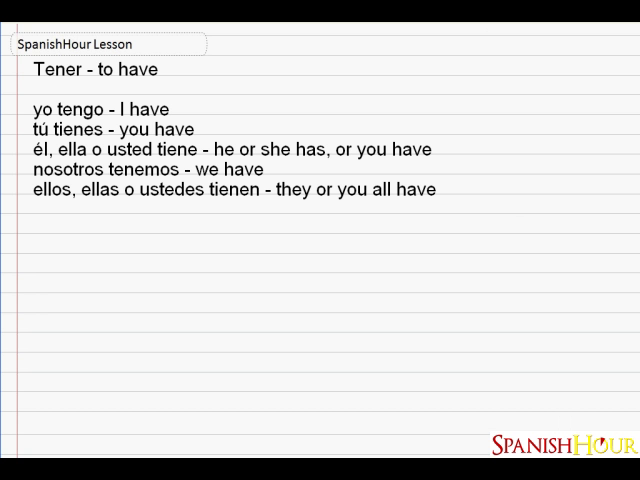 The verb "tener" means "to have", and can also be used to show ownership.

Just like 'ser' and 'estar', it's an irregular verb.

Let's go through the conjugations:
"Yo tengo." I have.
"Tu tienes." You have.
"El, ella, o usted tiene." He or she has, or you have.
"Nosotros tenemos." We have.
"Ellos, ellas, o ustedes tienen." They or you all have.

You will get a lot of exposure to the use and conjugations of "tener" in the upcoming exercises.