Lesson Objectives:
In this lesson, we will learn how to conjugate -go and -zco verbs. These are specific verbs that are irregular in the 'yo' form. We will then learn a bunch of words and phrases related to talking about the weather.

Vocabulary:
poner - to put
traer - to bring
salir - to leave or go out
traducir - to translate
conducir - to drive
producir - to produce
deshacer - to undo or destroy
casi - almost
el tiempo - the weather
norte - north
sur - south
este - east
oeste - west
hace sol - it's sunny
hace calor - it's hot
hace frío - it's cold
hace viento - it's windy
hace buen tiempo - it's good weather
hace mal tiempo - it's bad weather
hace fresco - it's cool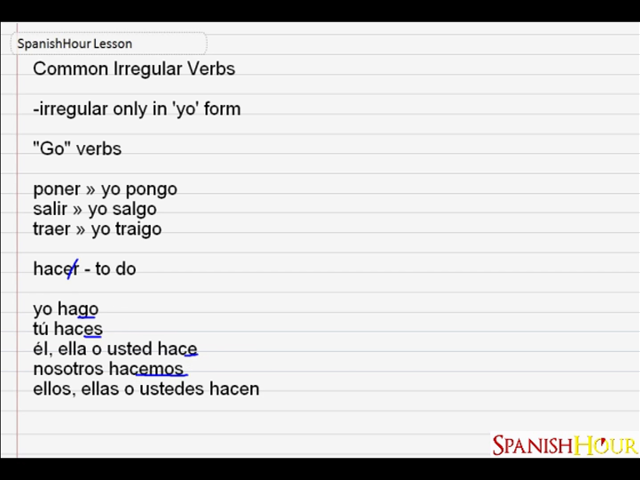 In this lesson, we will look at the conjugations for some commonly used irregular verbs.

Many of them have a pattern, so if you learn how to conjugate one verb, then you'll recognize many other verbs that are conjugated the same way.

The verbs we're going to look at right now are irregular only in the 'yo' form. The other forms are conjugated normally.

The first major pattern refers to what is known as the "go" verbs. These verbs end with 'go' when conjugated in the 'yo' form.

For example,
poner becomes yo pongo
salir becomes yo salgo
traer becomes yo traigo

Let's run through all of the forms for hacer, which means "to do".
Yo hago. I do.
Tú haces. You do.
Él, ella, o usted hace. He or she does, or you do.
Nosotros hacemos. We do.
Ellos, ellas, o ustedes hacen. They or you all do.

Notice that the 'yo' form is the only one that is conjugated differently. All of the other forms follow the standard rule--drop the '-er' off of 'hacer', and add on the appropriate ending.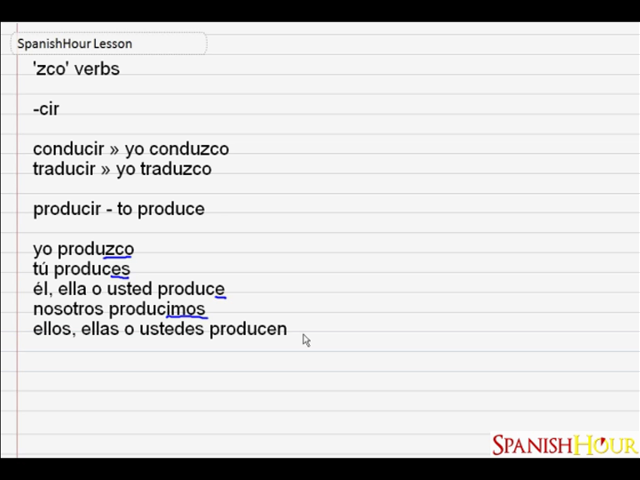 The other major pattern refers to the 'zco' verbs. They're called 'zco' verbs because the 'yo' form of the verb ends in 'zco'.

'zco' verbs usually end in 'cir', like
conducir (to drive), which becomes "yo conduzco",
traducir (to translate), which becomes "yo traduzco."

Let's go through the conjugations for producir (to produce):
Yo produzco. I produce.
Tú produces. You produce.
Él, ella, o usted produce. He or she produces, or you produce.
Nosotros producimos. We produce.
Ellos, ellas, o ustedes producen. They or you all produce.

Again, you see that only the 'yo' form is irregular. All other forms of the verb use the standard rules of conjugation.